Making the Most of the Cheat Sheet Creator
A complete guide on how to use the FantasyPros Cheat Sheet Creator to prepare for and dominate your fantasy football drafts.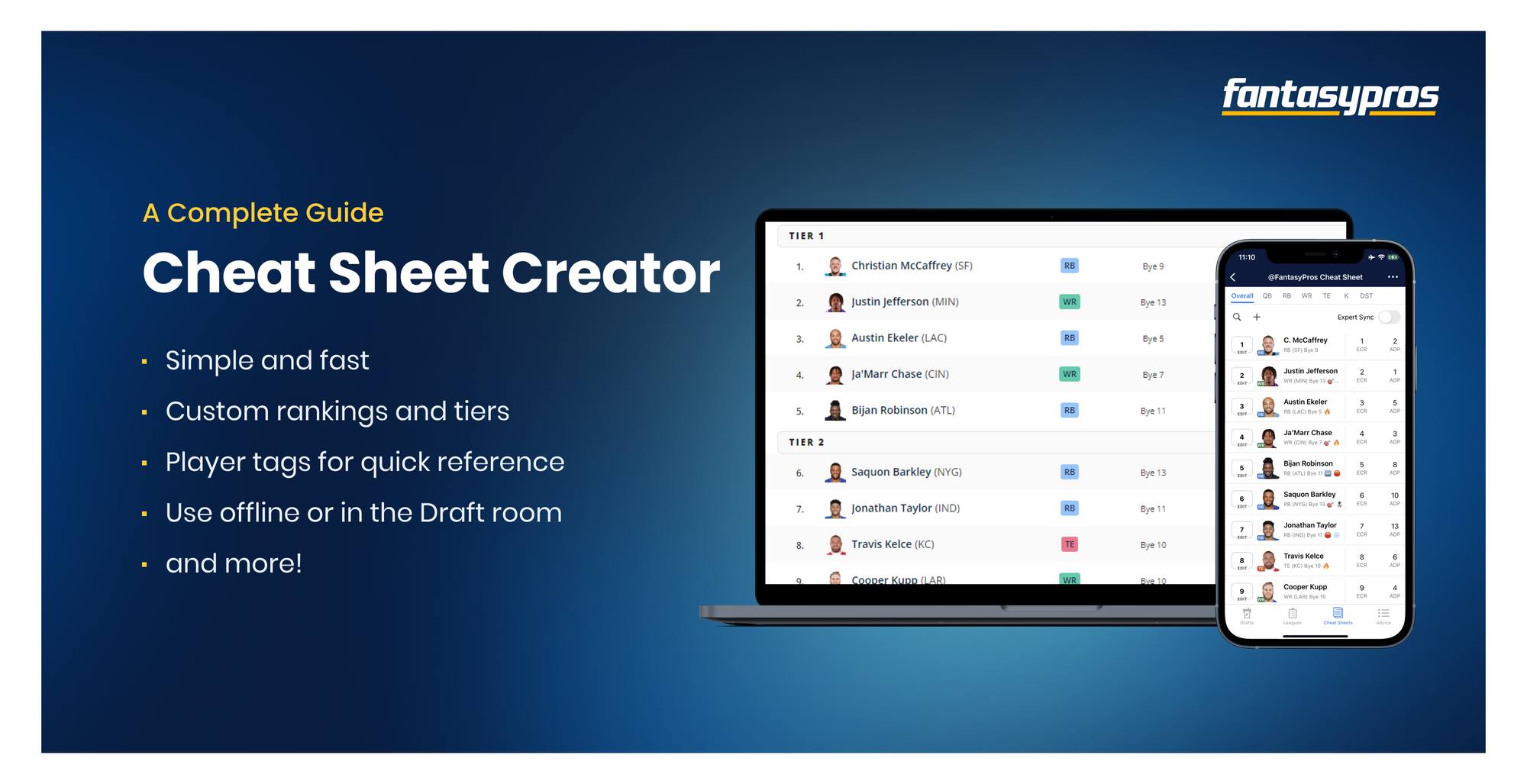 The Cheat Sheet Creator is the best tool to turn rankings into easy to use cheat sheets for your your fantasy football drafts.
Let's take a look at how to get the most out of the Cheat Sheet Creator.
Take Your Cheat Sheet Anywhere
Be sure you're logged into your FantasyPros account when creating your cheat sheet to save your updates automatically for use across devices.
For example, you can first create a cheat sheet within the mobile app and then make updates to it on a desktop later. Your cheat sheet will be saved to your account and can be used anywhere, anytime.
Cheat Sheet Settings
If you haven't already done so, you can sync your fantasy football league with FantasyPros. It's free! By syncing your league, you can apply your league settings to your cheat sheet automatically.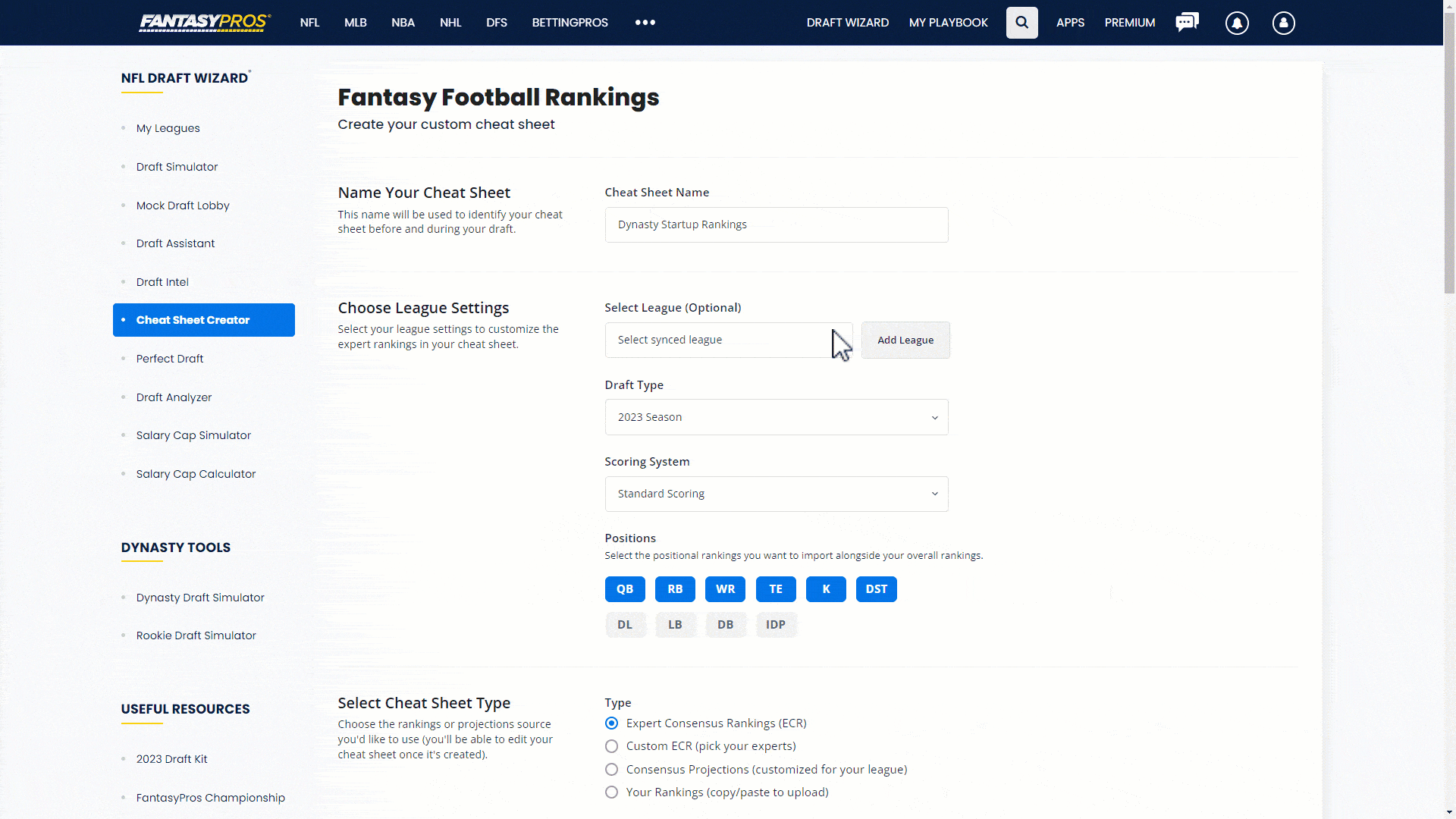 You can also update your cheat sheet settings manually.
League Settings
Select your Draft Type to match the league you're drafting for. If you're in a Redraft, Keeper, or Salary Cap league, you'll want to select 2023 Season. For Dynasty leagues, you can select Dynasty for a startup draft or Dynasty (Rookie Only) for rookie-only drafts.
Update your Scoring System to reflect your league's settings. For custom scoring, be sure you have selected your synced league.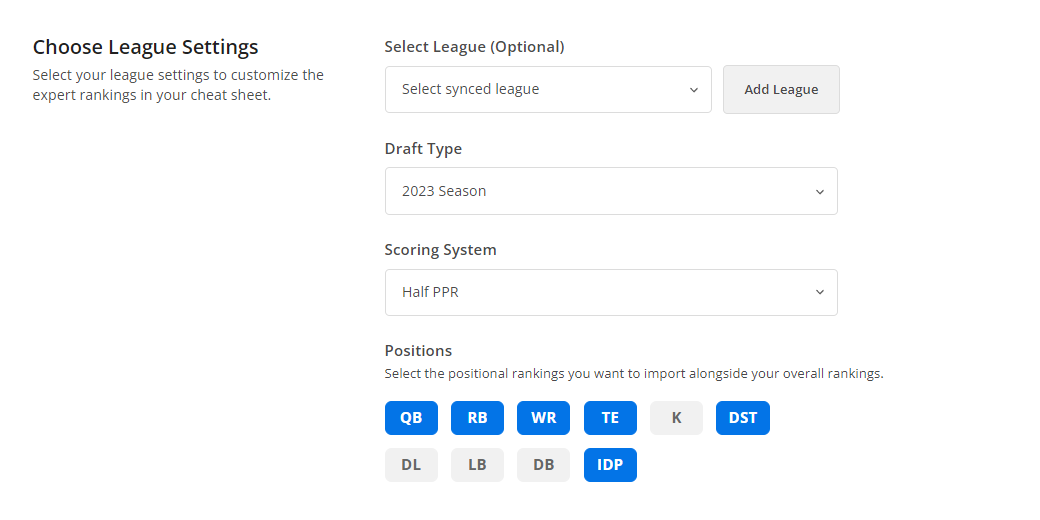 Select or de-select player positions to match your league. For example, if your league doesn't use Kickers, you can de-select Kickers. If your league has IDP positions, either enable IDP for flex options, or select individual IDP positions.
Cheat Sheet Type
Next you'll choose the initial rankings or projection source for your cheat sheet.

Use Expert Consensus Rankings (ECR) to use the base rankings used across FantasyPros. You can also hand-select which experts to factor in with Custom ECR. Use Expert Sync to keep your cheat sheet updated automatically whenever the consensus rankings change.
Use Consensus Projections to turn league settings and any rankings into projected scoring values, complete with values for Salary Cap leagues, or create a sheet with Your Rankings which will allow you to copy/paste your rankings into cheat sheet form (from a spreadsheet, for example).
And... you're all set! Go ahead and create your cheat sheet.
Updating Your Cheat Sheet
Click on individual players or drag and drop to move them around to your desired ranking. You can also move your player tiers or click between players to create new tiers altogether.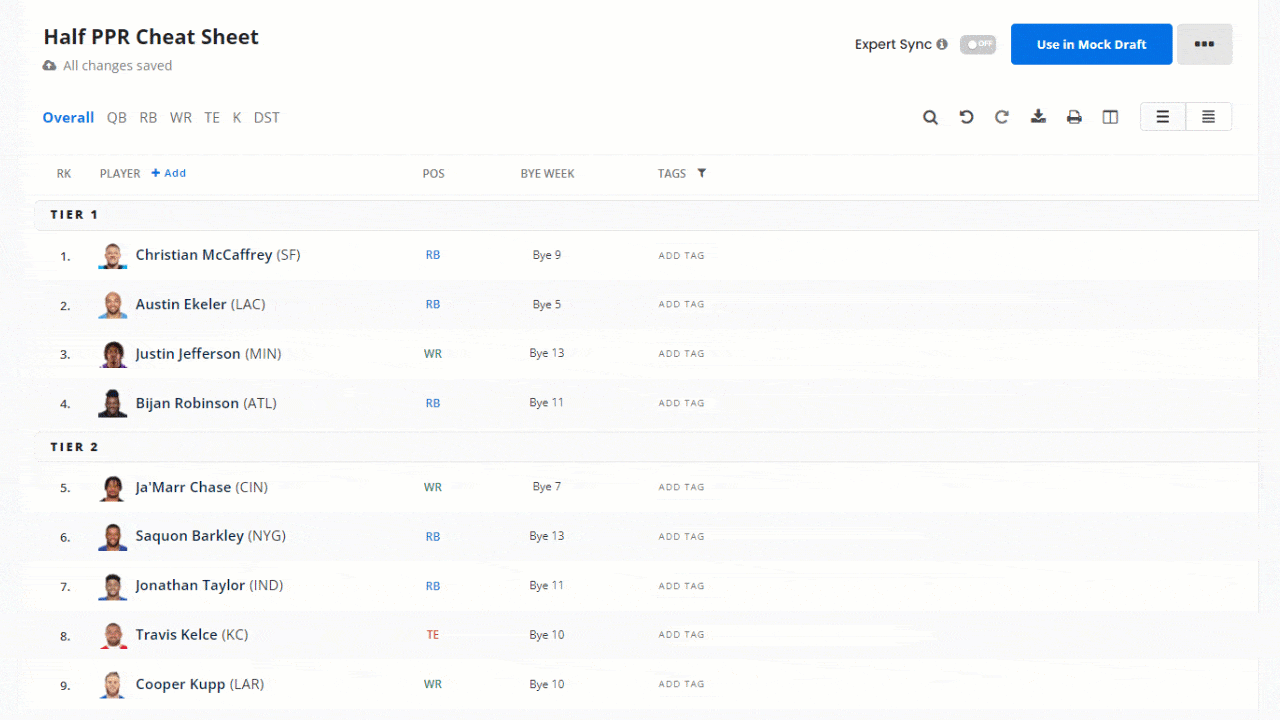 You can adjust overall rankings or individual positional rankings. Note that if you adjust one set of rankings, the other will update automatically.
Use player tags to quickly categorize players for your fantasy draft. The default available tags are 🎯Target, 💤Sleeper, and 🚫Avoid.
You can also create and add your own custom tags. Player tags carry across all of your cheat sheets for ease of use.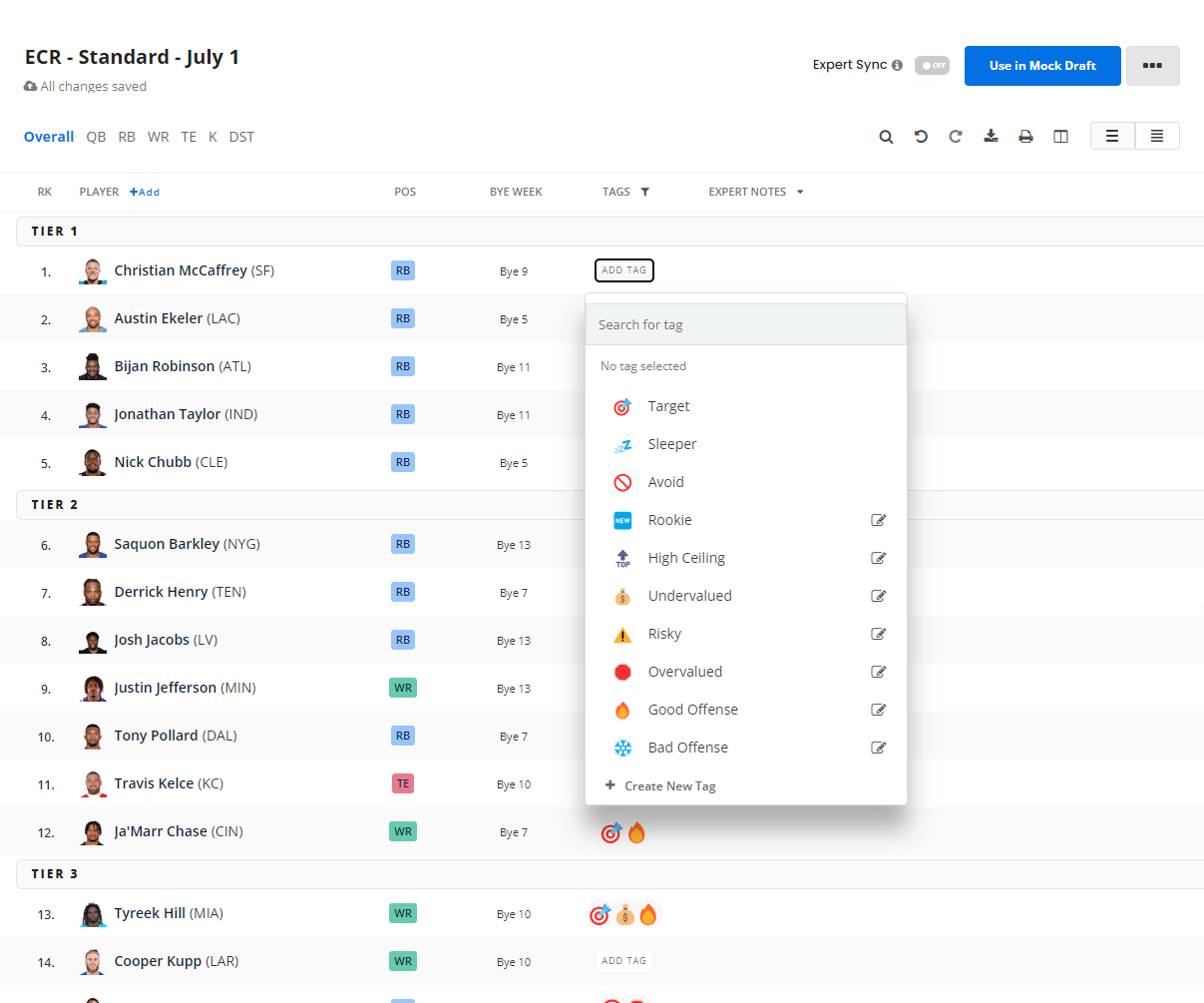 Note: Feel free to steal these tags!
For additional details, add notes to any player. Expert Notes are prepopulated for your convenience from a mix of experts, or you can add your own write-ups (My Notes).
Putting Your Cheat Sheet in Action
Use your custom cheat sheets in a number of ways.
Easily turn your cheat sheet into a printer-friendly format for offline drafts, or download your cheat sheet for external use, complete with your player tags.
Your cheat sheets can also be carried directly into the FantasyPros Draft Room - both in the Draft Simulator or with your live draft when using the Draft Assistant.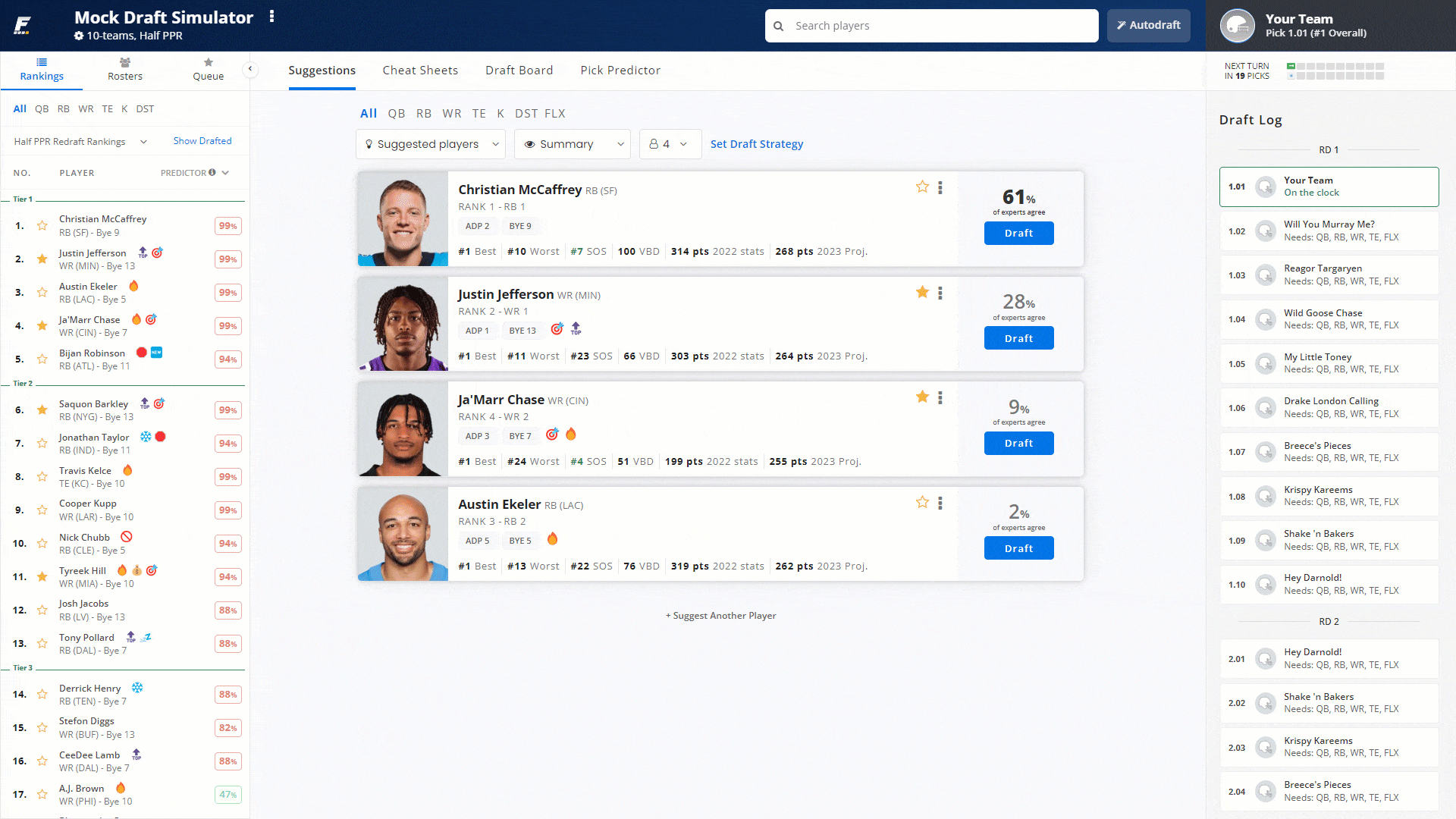 Use any of your created cheat sheets within the Draft Room, and switch between them freely. View them in their entirety in the Cheat Sheets tab, or at-a-glance in the Rankings pane.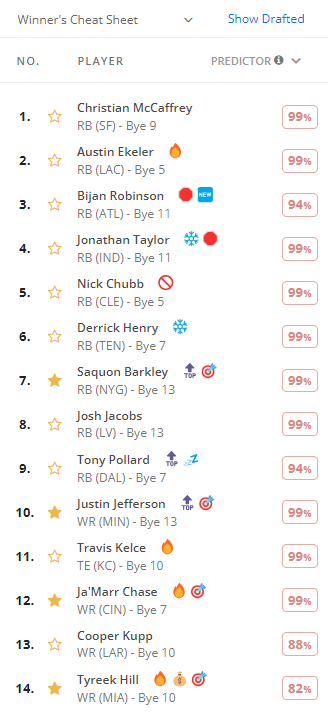 Player suggestions will update automatically to reflect your cheat sheet rankings. As a reminder, suggestions also include other factors such as scoring settings, positional scarcity, etc. so they may not be a 1:1 mirror to your cheat sheet.
Your player tags are shown within the Draft Room, and you can include your custom player notes by configuring the View at any time.
Create Your Cheat Sheet Today!
Combine any set of expert or custom rankings into one easy-to-use cheat sheet with ease. The Cheat Sheet Creator is available via the web and within our mobile apps.
Create your own cheat sheet and get started on draft domination today!