[9/30/20] Expert Consensus Rankings 2.0: A Freshened Up Experience
An update to our world renowned Expert Consensus Rankings, including an improved interface, better matchup advice, and a better way to pick experts.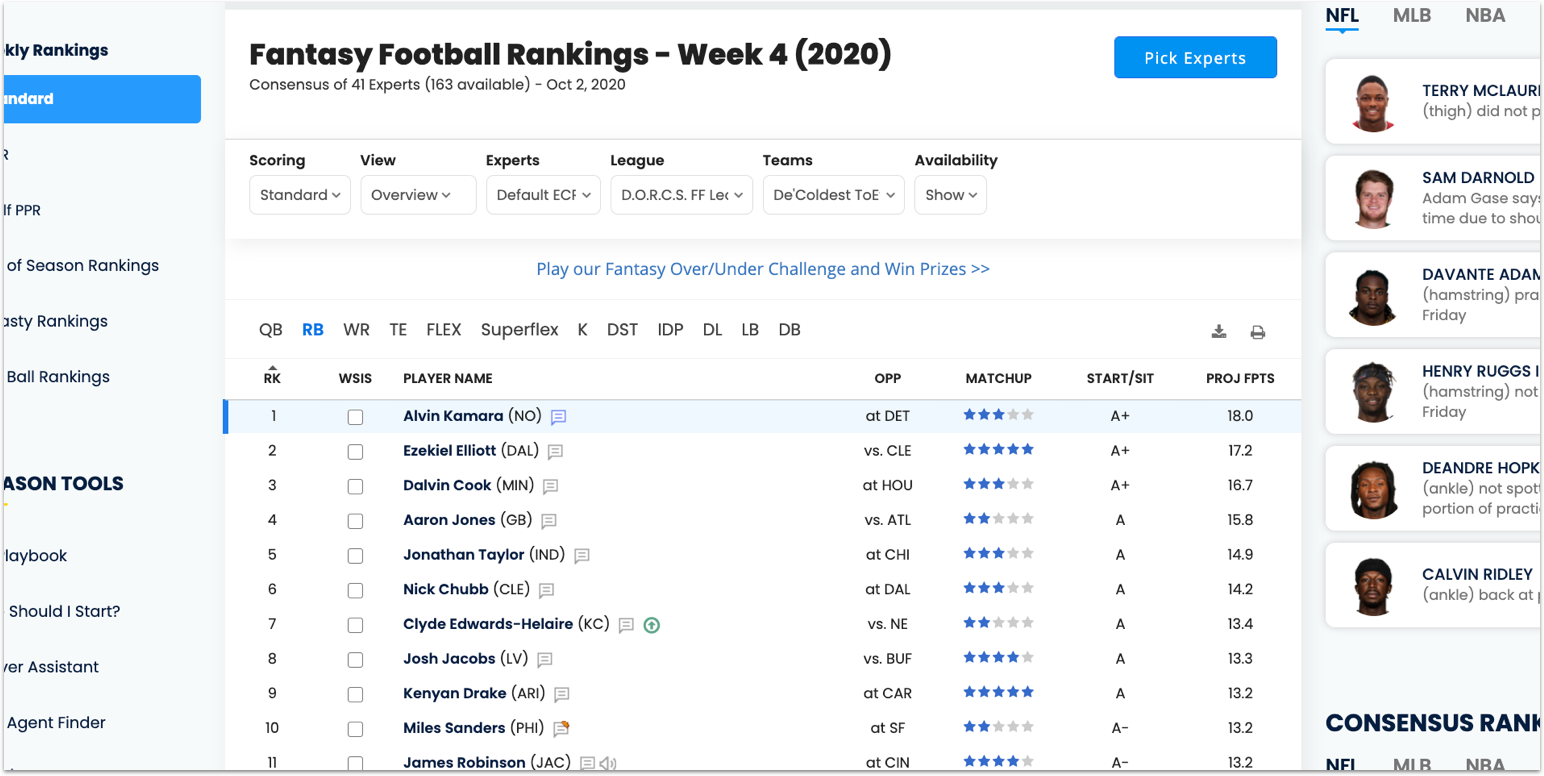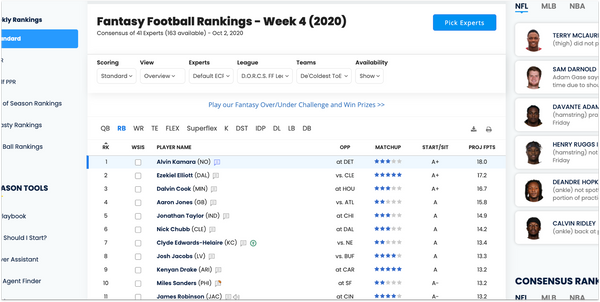 Our extremely popular Expert Consensus Rankings received an update this week, including an enhanced look and feel, improved start/sit grades, and some nice quality of life improvements.  This also includes a new Pick Experts module to better select the experts you want included to generate rankings.
While it's always difficult to make changes to something that is used and beloved by so many, we wanted add some functionality that you've been asking for. So let's dig in.
Improved Look & Feel
ECR is now easier on the eyes. The font was changed to read better on all screens, from giant desktop monitors all the way down to your mobile devices.
If you have your league synced with My Playbook, you'll also have the ability to filter players that are taken, available, and on your team and distinguish them more easily. Previously, the colors we used were at times a bit too hard to identify especially on older screens.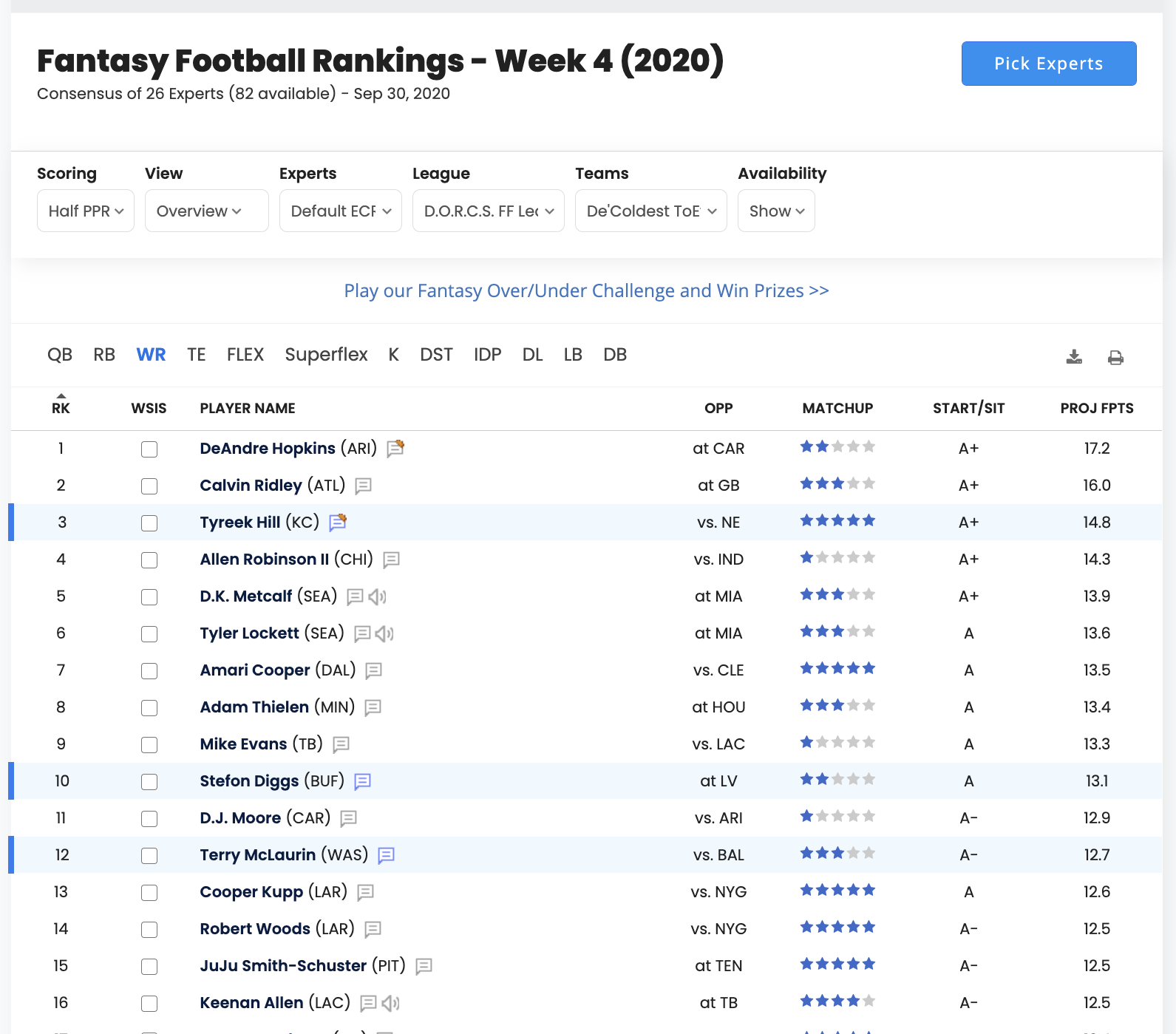 Additionally, you can still view the matchup rating using the 1 - 5 star rating system, which is based on how a position performs against that week's opponent. For example, if running backs perform better than average against CLE, that you'll see a 5/5 star rating for that player.
Next is the Start/Sit grade. This is calculated based on a mix of that individual player's performance, ranking, and matchup. Obviously, the higher the grade the better.
You're also going to see projected fantasy points for that week based on the scoring system you have selected: standard, half PPR, or PPR.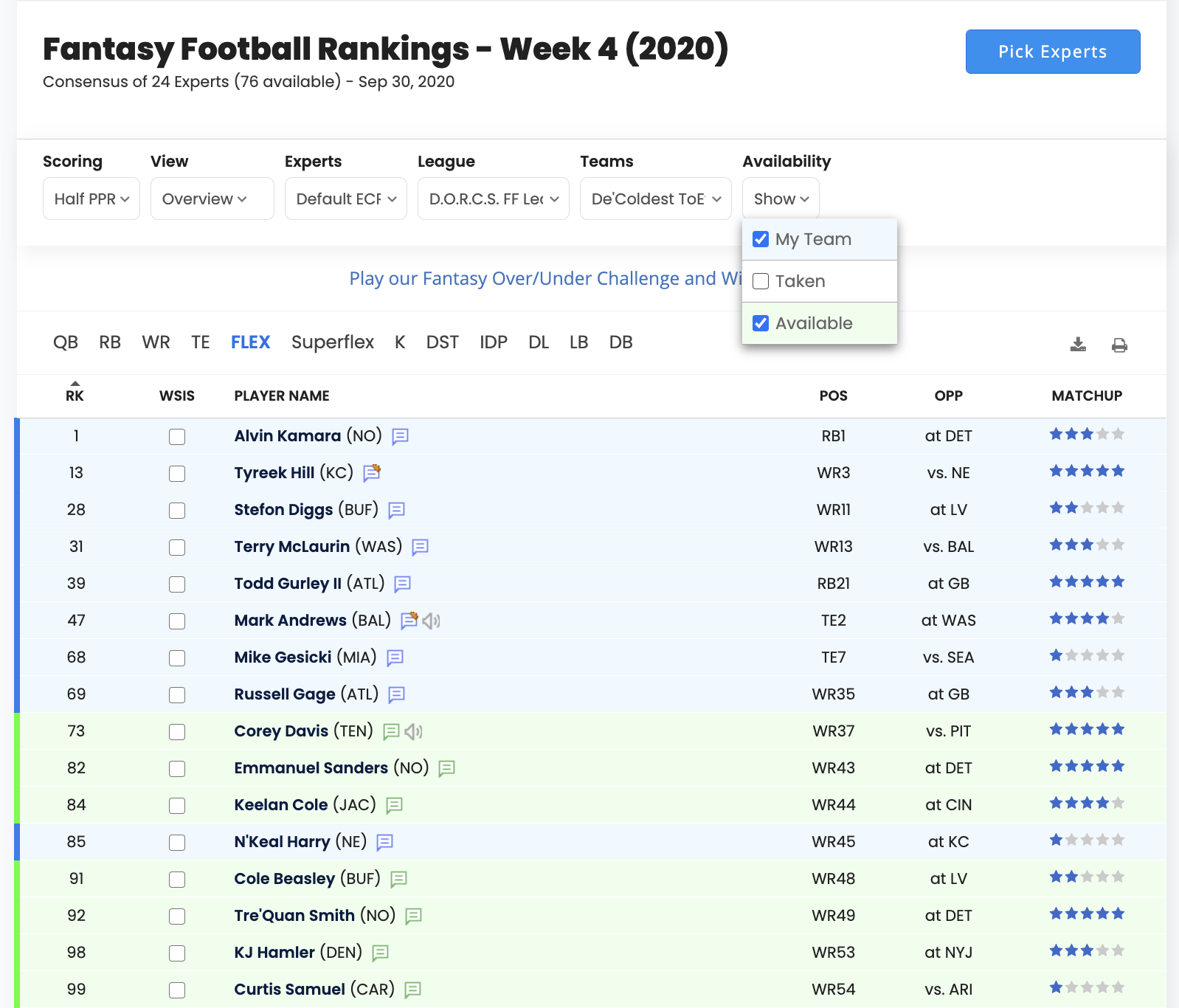 See Matchup Information for Rest of Season
When viewing Rest of Season rankings you'll get Strength of Season (SOS) difficulty ratings as well as SOS Playoffs ratings. This is really helpful when looking at potential trade targets or when preparing for a playoff run (as I hope you are).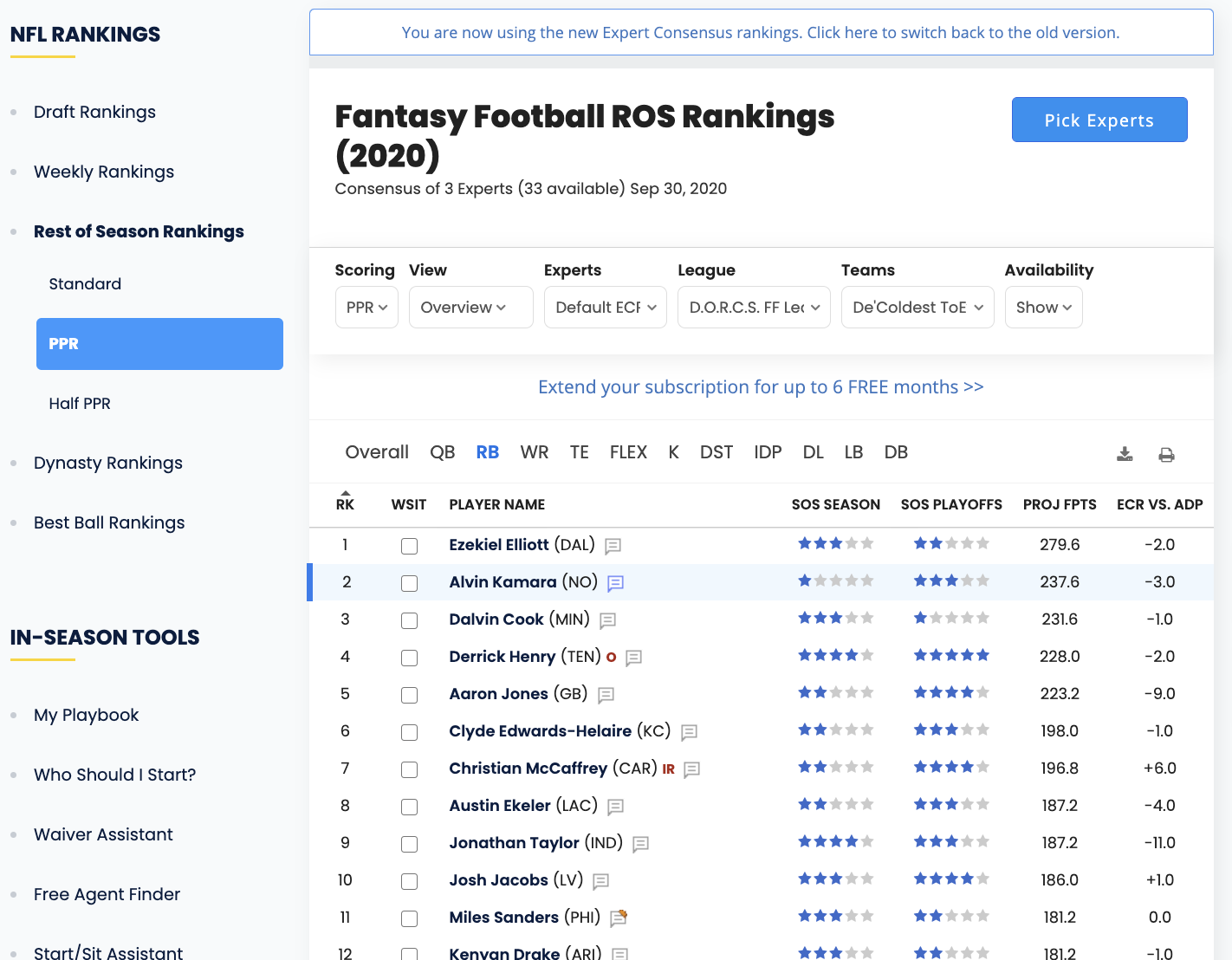 Pick Your Experts in Style
The Pick Experts feature allows you to select the experts you want included in the rankings that you're viewing. With this latest update, you have the ability to easily filter and select experts based on Latest ECR (default), top 10/20 experts overall draft for 2019 and 2020, top 10/20 experts overall for in-season 2019 and 2020, and top 10/20 experts for the positional rankings that you're viewing.
This will allow you to refine the advice that you're getting and have a few different looks to help you make a better decision.
You can also see get more information about each expert, including links to view their individual rankings (if they choose to provide it).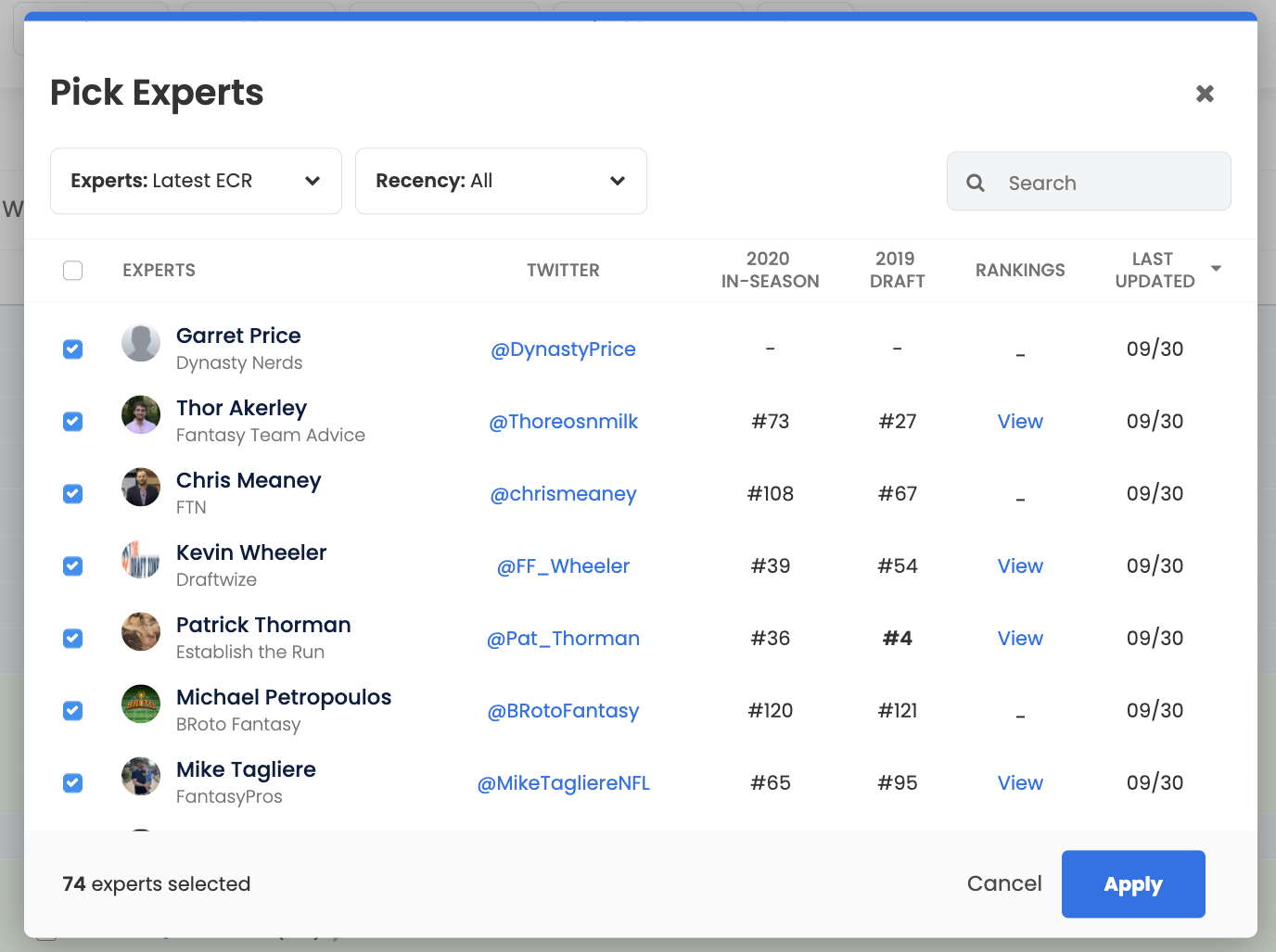 We'll soon be adding back the ability to save experts based on the ones you select, along with some nice enhancements for our Premium users.
Give Expert Consensus Rankings 2.0 and updated Pick Experts a shot today and let us know what you think.