[6/18/2020] Modern Redesign to the FantasyPros Home Page
We've redesigned our home page that presents our tools, articles, podcasts, and videos in a cleaner, more modern design.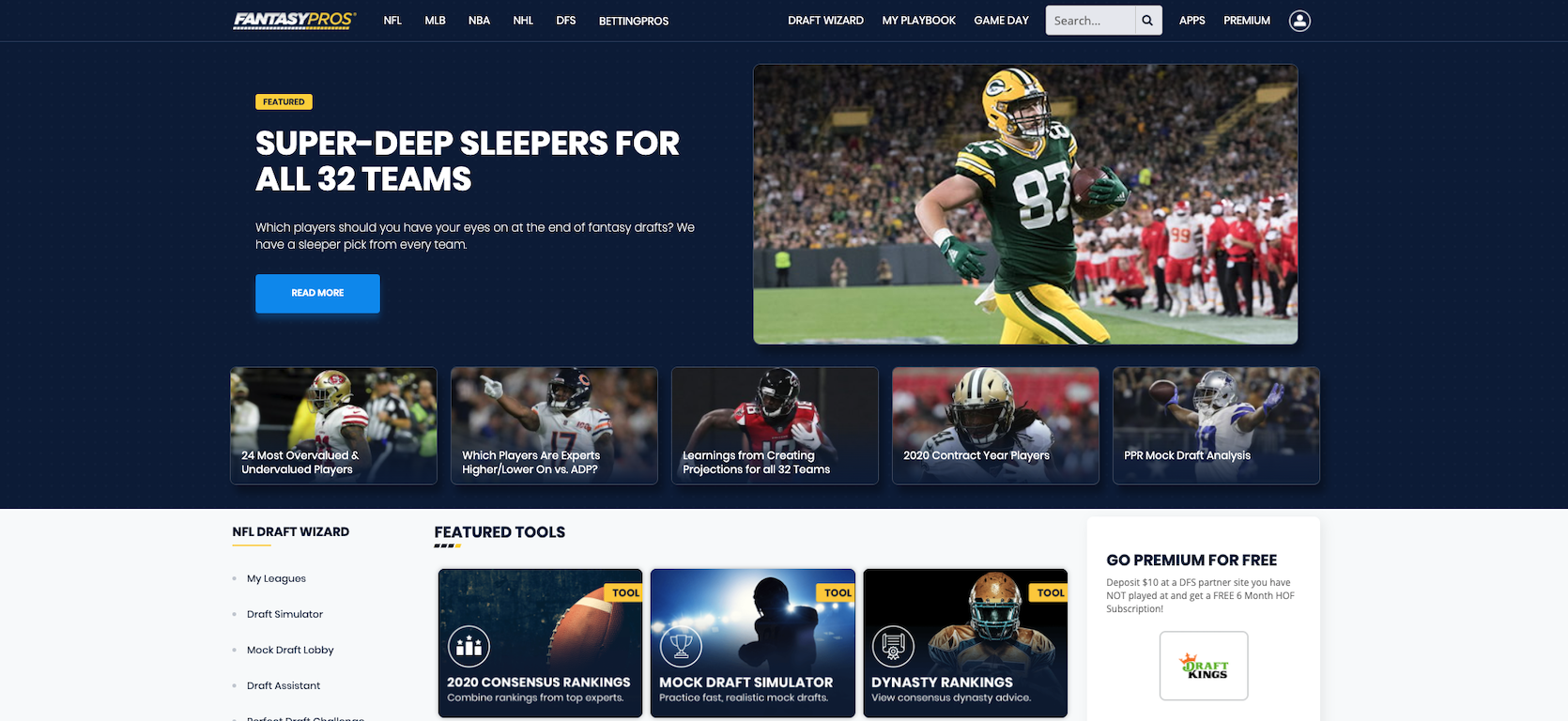 Today, we're happy to launch our newly redesigned home page that presents our tools, articles, podcasts, and videos in a cleaner, more modern design.
With fantasy football drafts starting to kick off, our team is excited to bring you a bunch of improvements and updates to our website this season to help you dominate your fantasy leagues.
Improved Billboard Presentation
Our featured content from your favorite experts will be at the forefront in our new billboard, which spotlights our key articles that will help you find that late-round sleeper, set your lineup for the upcoming week, and give you expert insights that will take your fantasy game to the next level.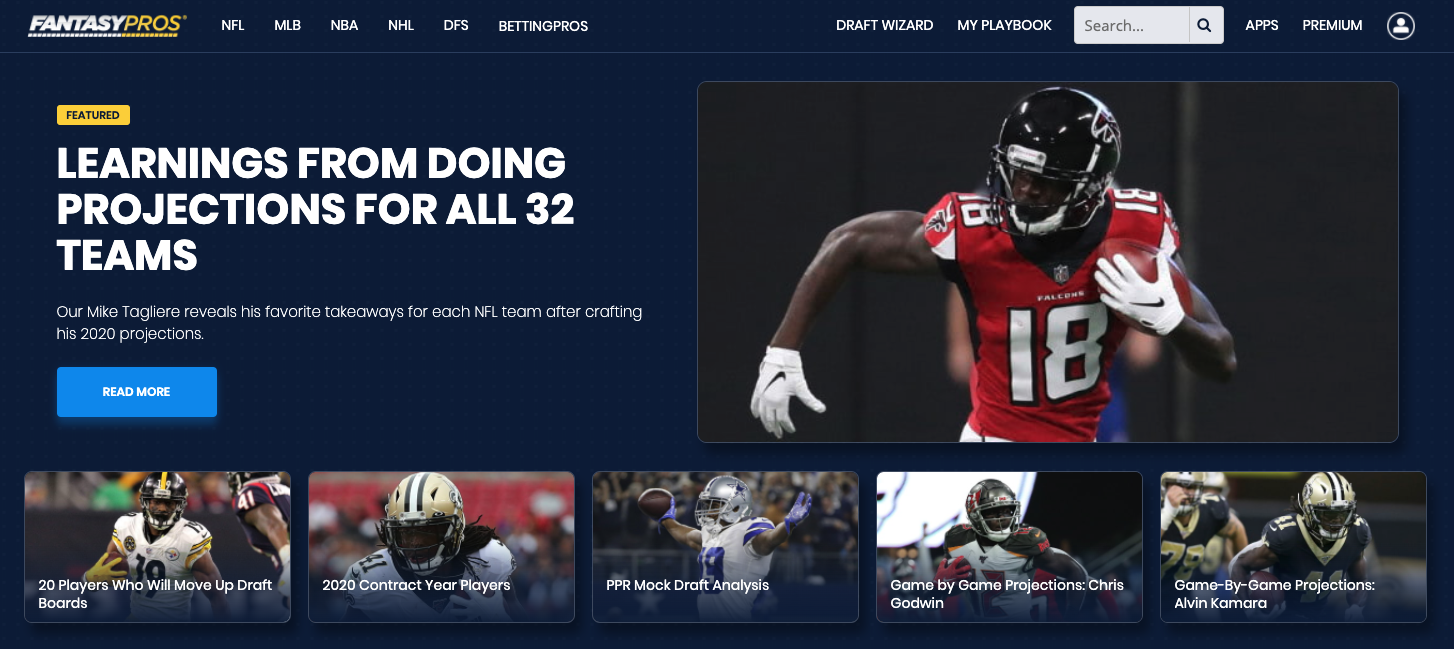 Slick Featured Tools Section
The new home page showcases our award-winning draft and in-season tools that will help you draft and manage your championship team this season.

Enhanced Articles Section
We've also enhanced the Articles section of our home page to make it more organized and compact by adding the ability to filter our latest articles by sport or by DFS.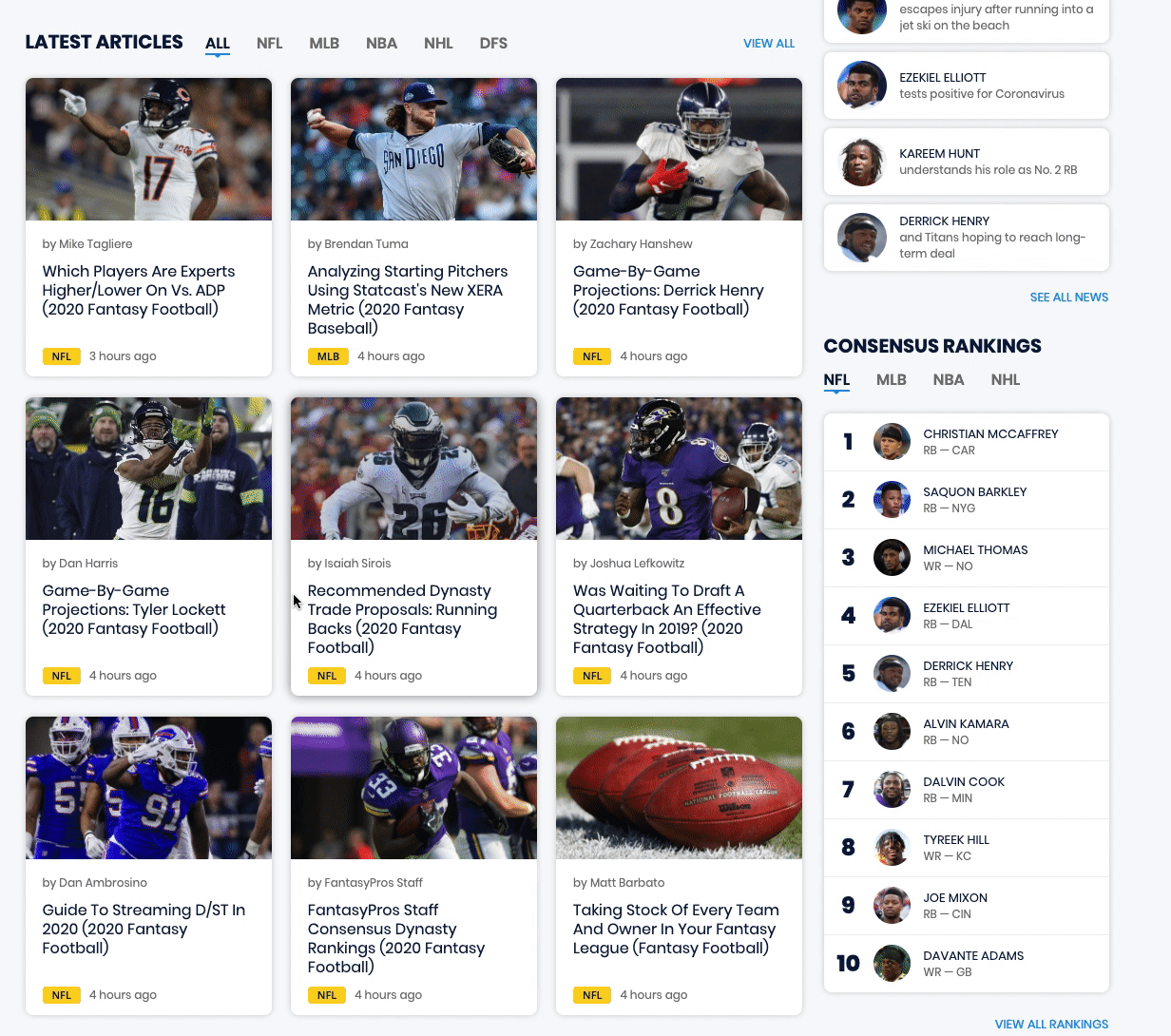 Fresh Videos Module
Our YouTube video feed has a fresh new look. With the built-in video player, you can choose a video to watch while browsing the rest of the page.


Brand New Feed Section
The Feed section is a new addition to our home page. The Feed compiles player-specific news, notes, and content from our experts. Like the Articles section, the Feed section can be filtered to your liking so you can find the content you are looking for in a couple of seconds. The Feed will be extremely useful during the NFL preseason, where there will be tons of player updates and valuable fantasy advice nuggets that will make you a championship caliber manager.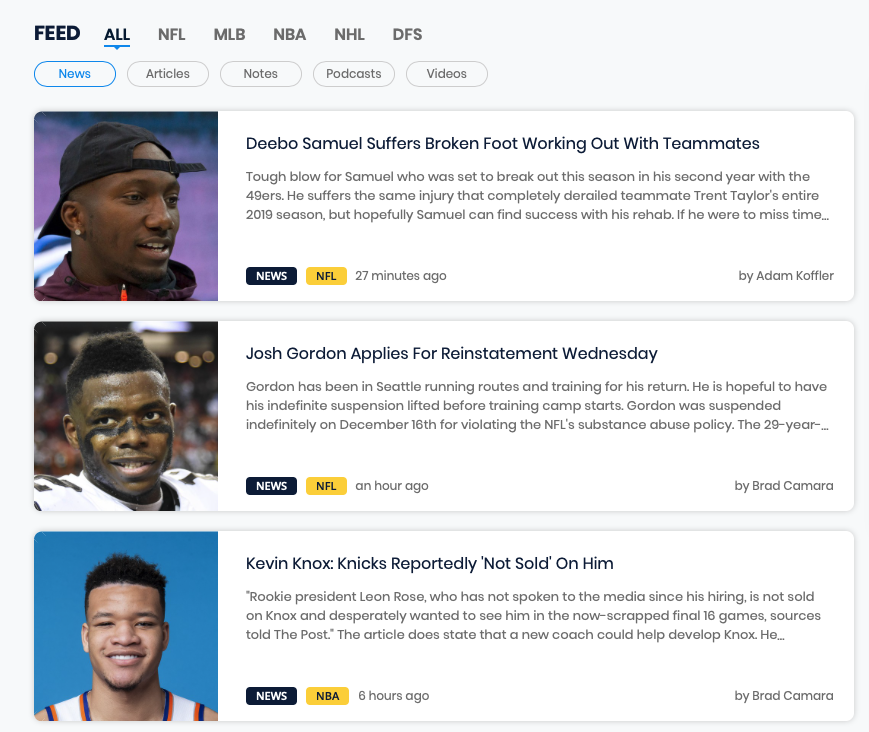 Revamped Sidebar Modules
We've updated the look of our sidebar as well, where you will be able to find our latest player news, consensus rankings, product updates, and podcasts. The Who Should I Draft module in the sidebar allows you to quickly compare two players and see who the experts would draft based on our consensus rankings.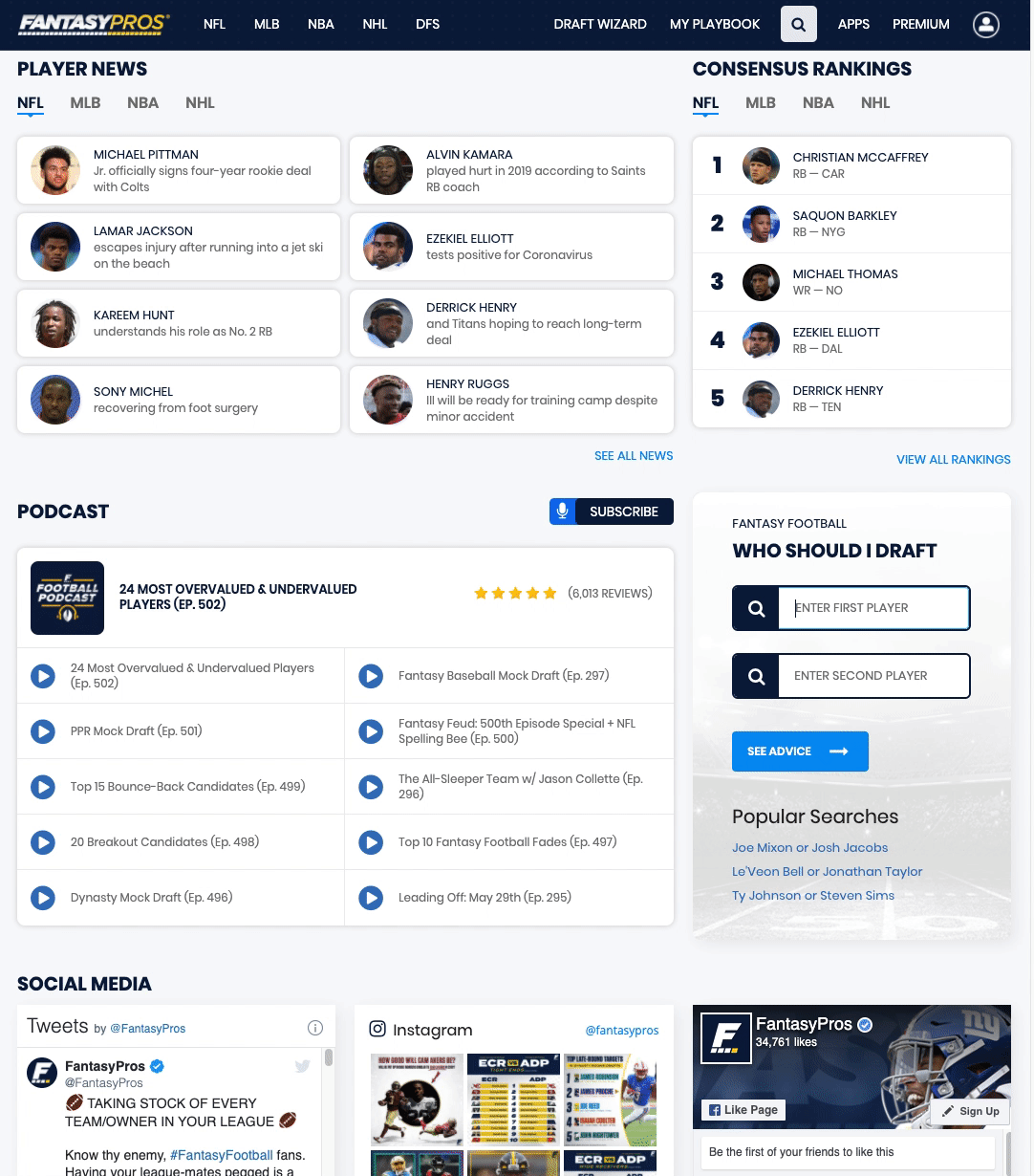 Responsive Design for Mobile and Tablet
Our redesigned home page looks sleek on tablet and mobile web browsers as well! The responsive design of our website maintains our modern aesthetic across all devices.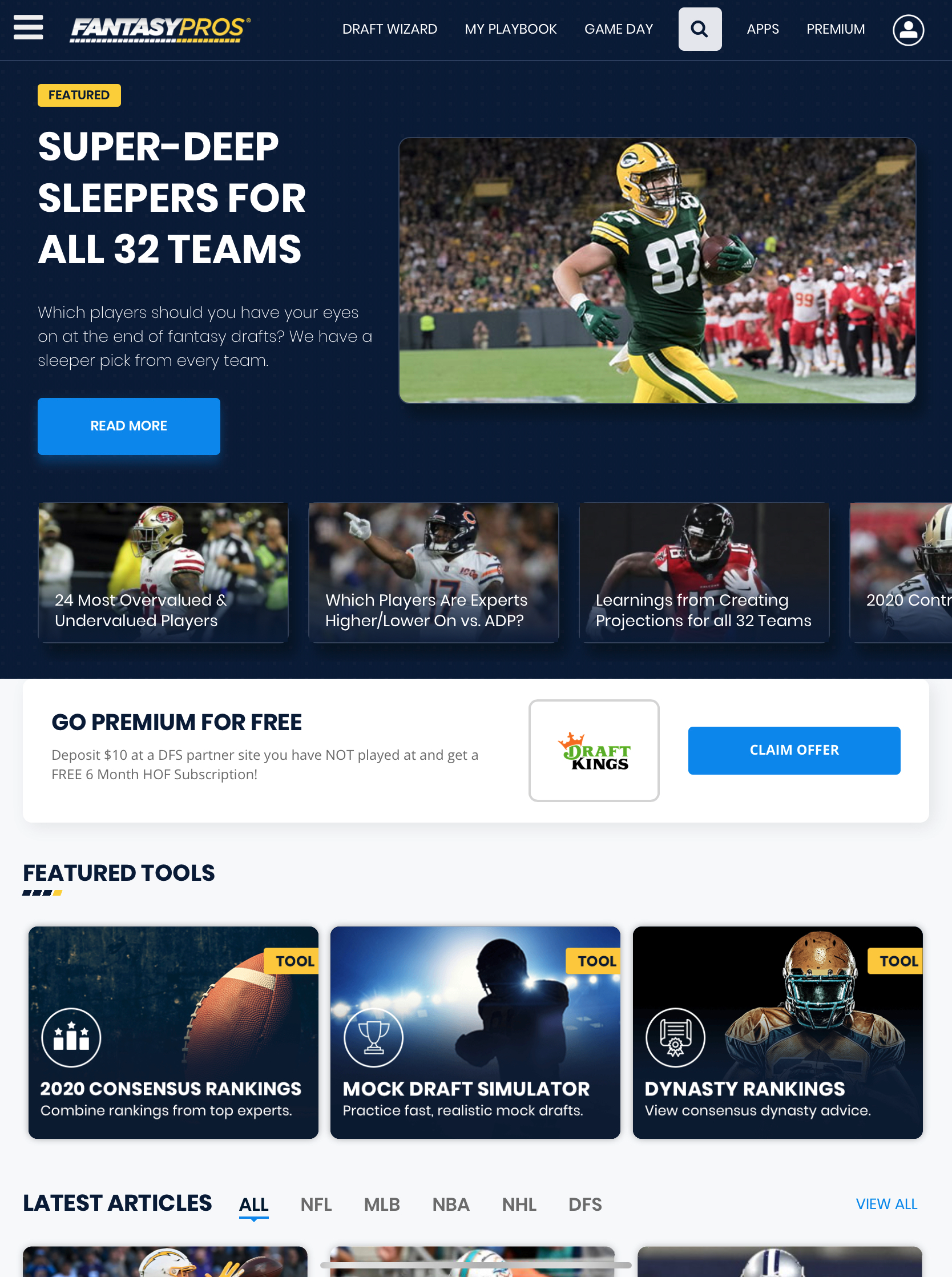 At FantasyPros, we're proud to give you the most accurate fantasy sports advice, and provide it in the cleanest way possible with these enhancements. Get a leg up on the competition and check out our new home page.