[7/15/2020] Dominate your Drafts with Draft Wizard: Fantasy Football 2020
Ready to win a fantasy football championship this season? Find out how Draft Wizard will make your path to glory easier.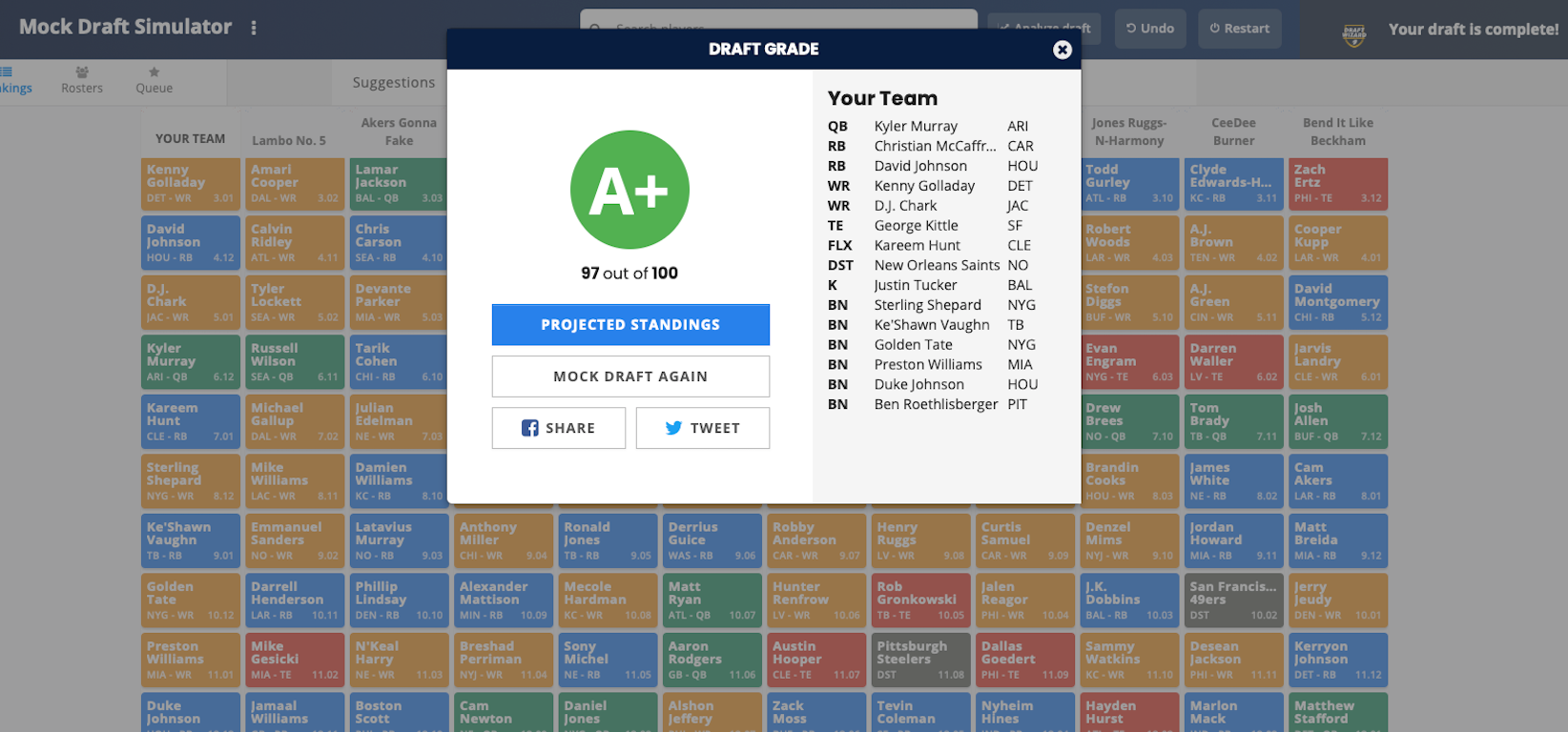 We are 59 days away from the kickoff of the 2020 NFL season. Tom Brady and Rob Gronkowski are Buccaneers, DeAndre Hopkins is a Cardinal, Cam Newton is a Patriot. Those are only a few of the unprecedented moves made during this crazy offseason.
Not sure how all of these trades, signings, and key draft picks will affect the fantasy landscape this season? Don't worry. We're here to provide you with advice from the best experts in the fantasy football industry to make your road to your next fantasy football championship easier. Here are five tips to lead you on the right track to fantasy football dominance in 2020 with Draft Wizard.
1. Enjoy the perks of syncing your league.
Getting fantasy advice is easy after syncing your league with Draft Wizard. Once your league is synced and added to our website, all the tools and expert advice in Draft Wizard will be tailored to your league's settings.
Premium users can sync leagues from multiple league hosts, which makes it easier to prepare for all of your leagues in one place.
2. Prepare like an expert with the Draft Simulator.
The Mock Draft Simulator allows you to quickly replicate the experience of a draft, while getting the assistance of our expert rankings. The Mock Draft Simulator uses advanced logic to realistically simulate the picks of your opponents with your league settings being taken into account.
When it is your turn to make a pick, our expert suggestions let you know which player you should draft.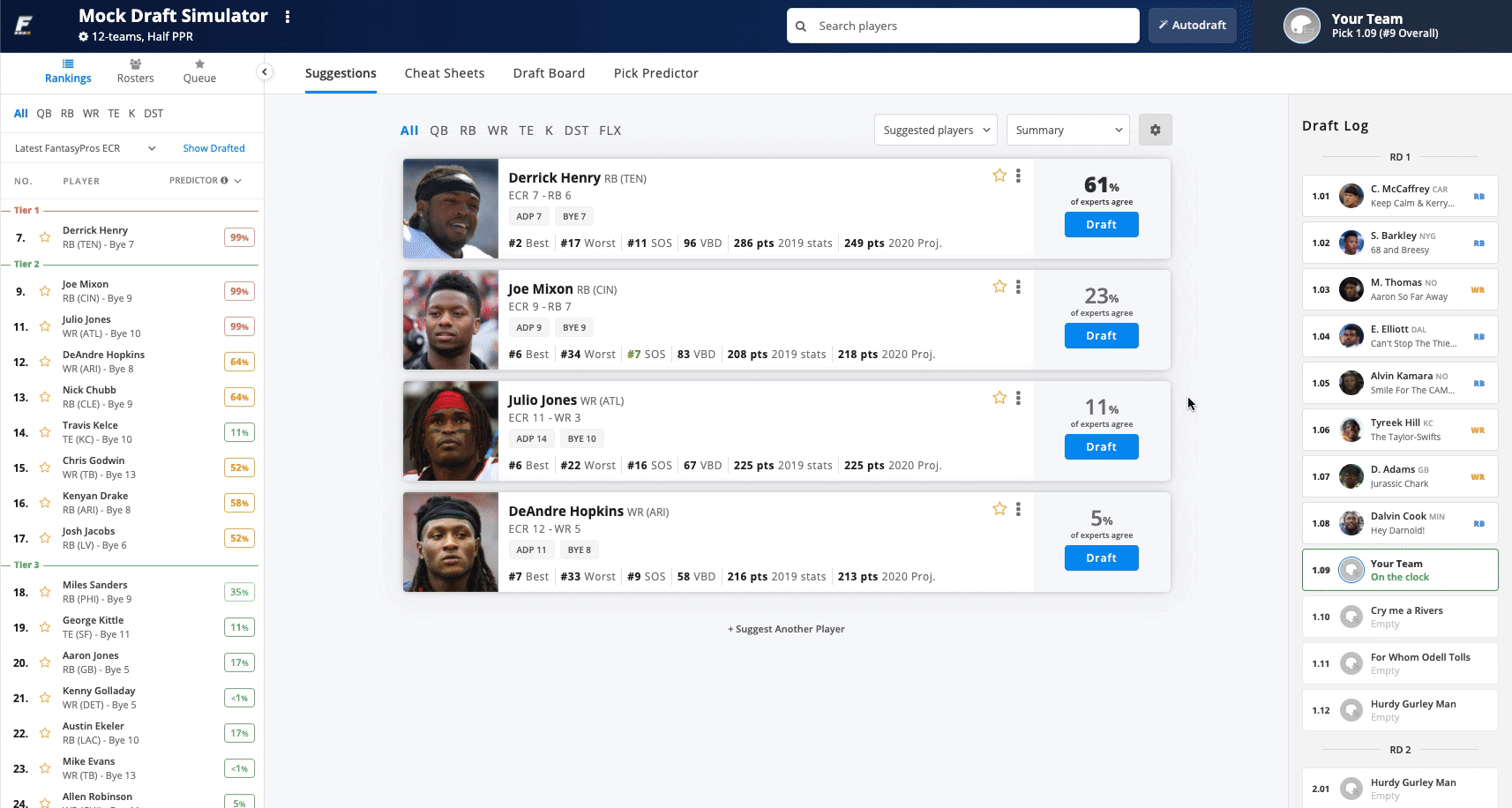 Within the Player Suggestions queue, you can view 2019 stats, consensus projections, news, and notes at a glance to give you more information about the suggested picks.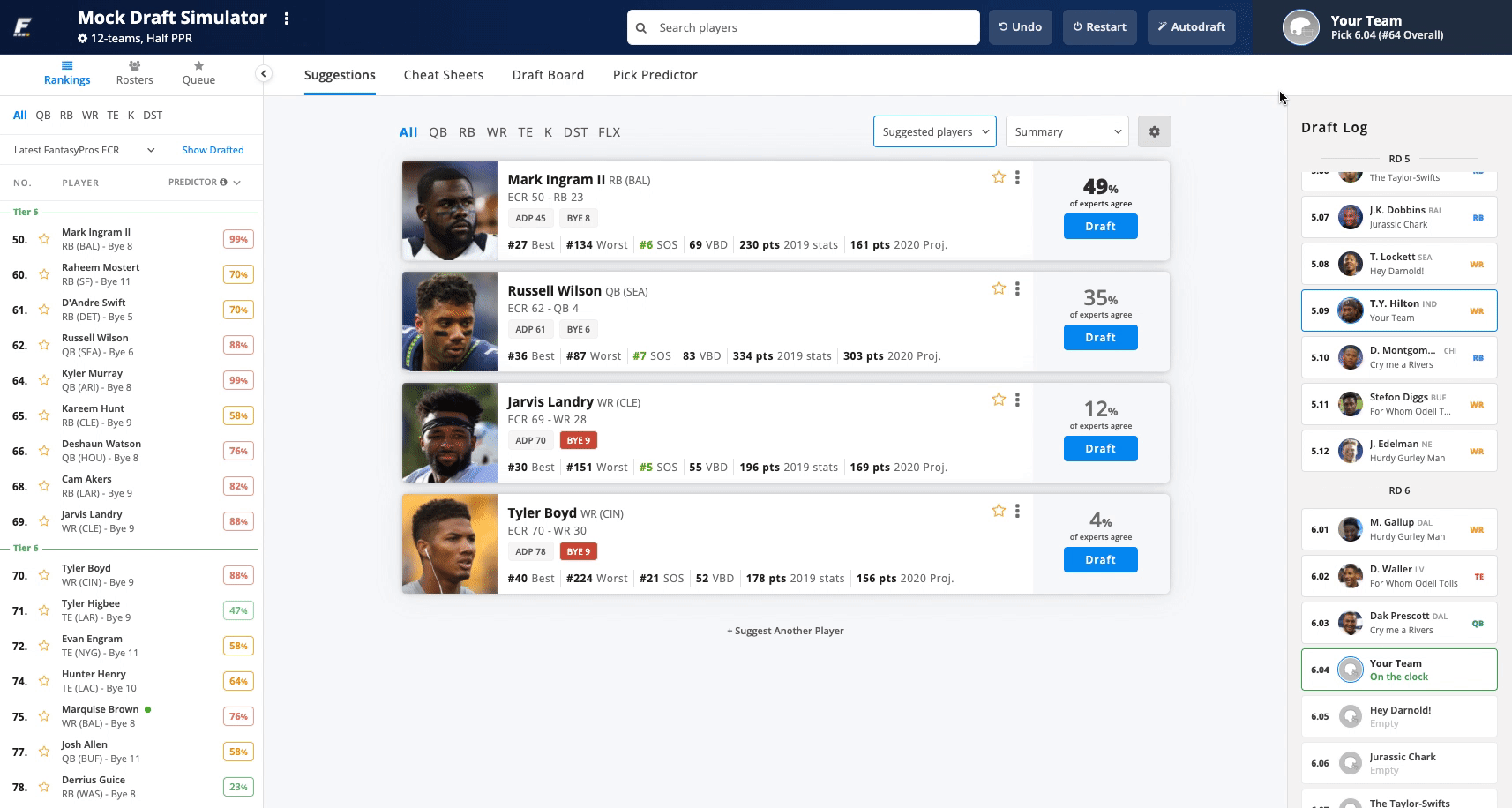 Throughout the mock draft, you will receive instant pick reactions on the player you selected. These notifications provide feedback on the players you selected, or inform you of an opportunity you can take advantage of.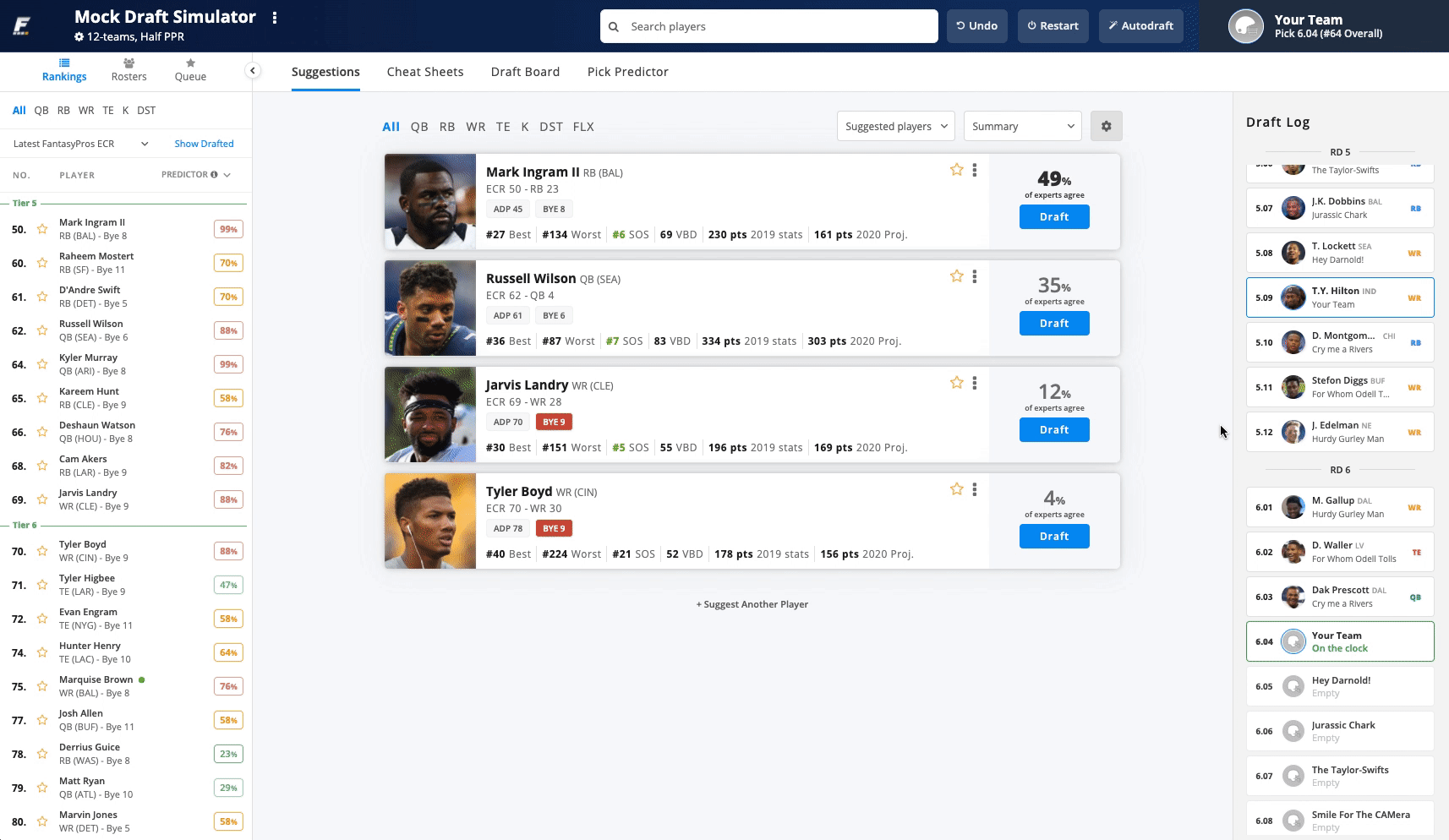 After you're done mock drafting, you can look back at your previous drafts that are saved in Draft Wizard. You can look at how our experts grade your team vs. your competition and find areas of improvement using the Draft Analyzer that appears after each mock draft.
3. Lay out the game plan. Create the perfect cheat sheet.
With the Cheat Sheet Creator, we help you build a cheat sheet based on your league settings. When creating a new cheat sheet, the Cheat Sheet Creator will leverage our expert consensus rankings and projections.

After doing more research and completing more mock drafts, you can start editing your cheat sheet based on your preferences. Drag-and-drop to move players up and down the rankings order.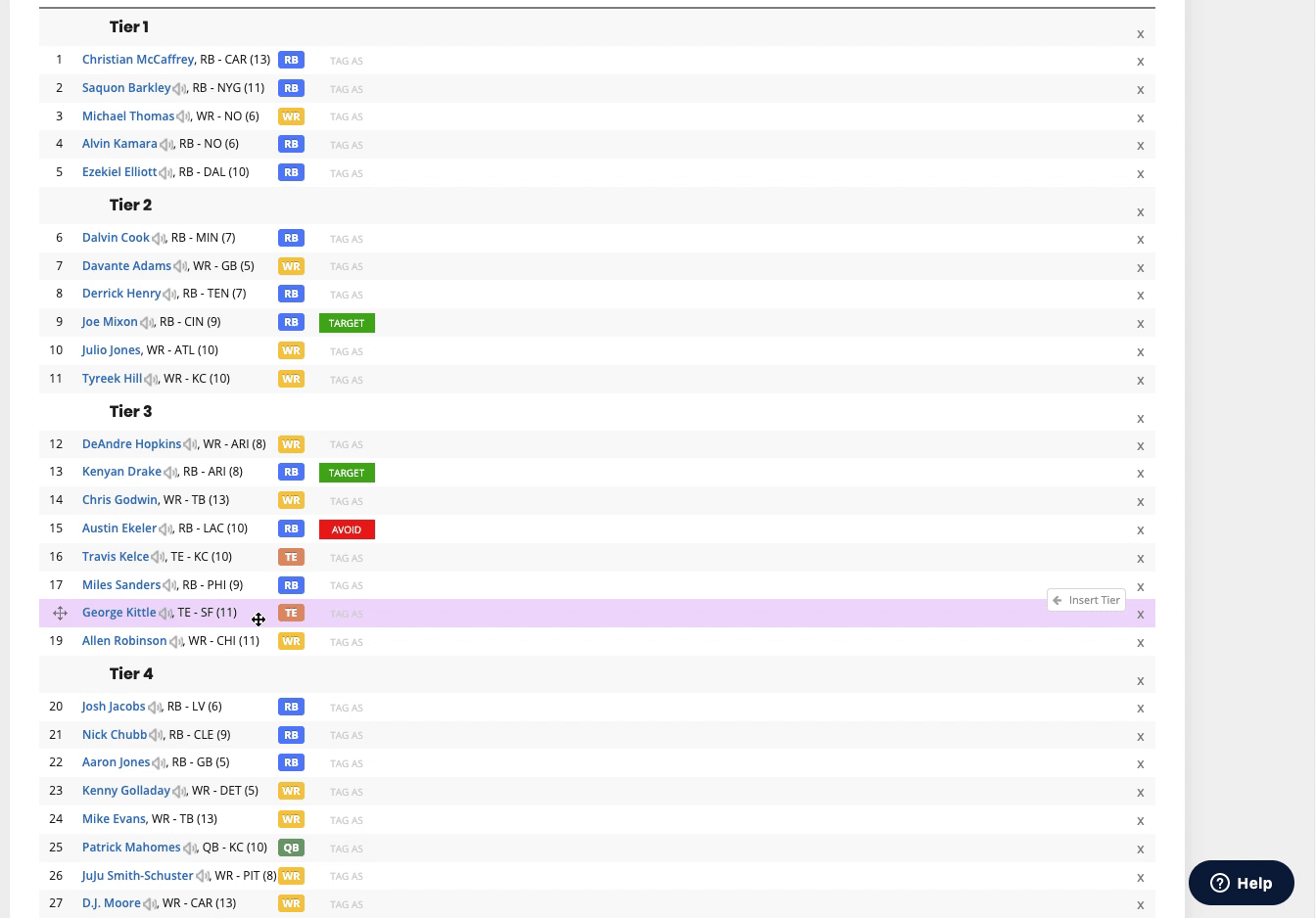 To take it a step further, you can mark players you want to target or avoid with our player tags feature. You can also create custom tags with your own tag names and colors.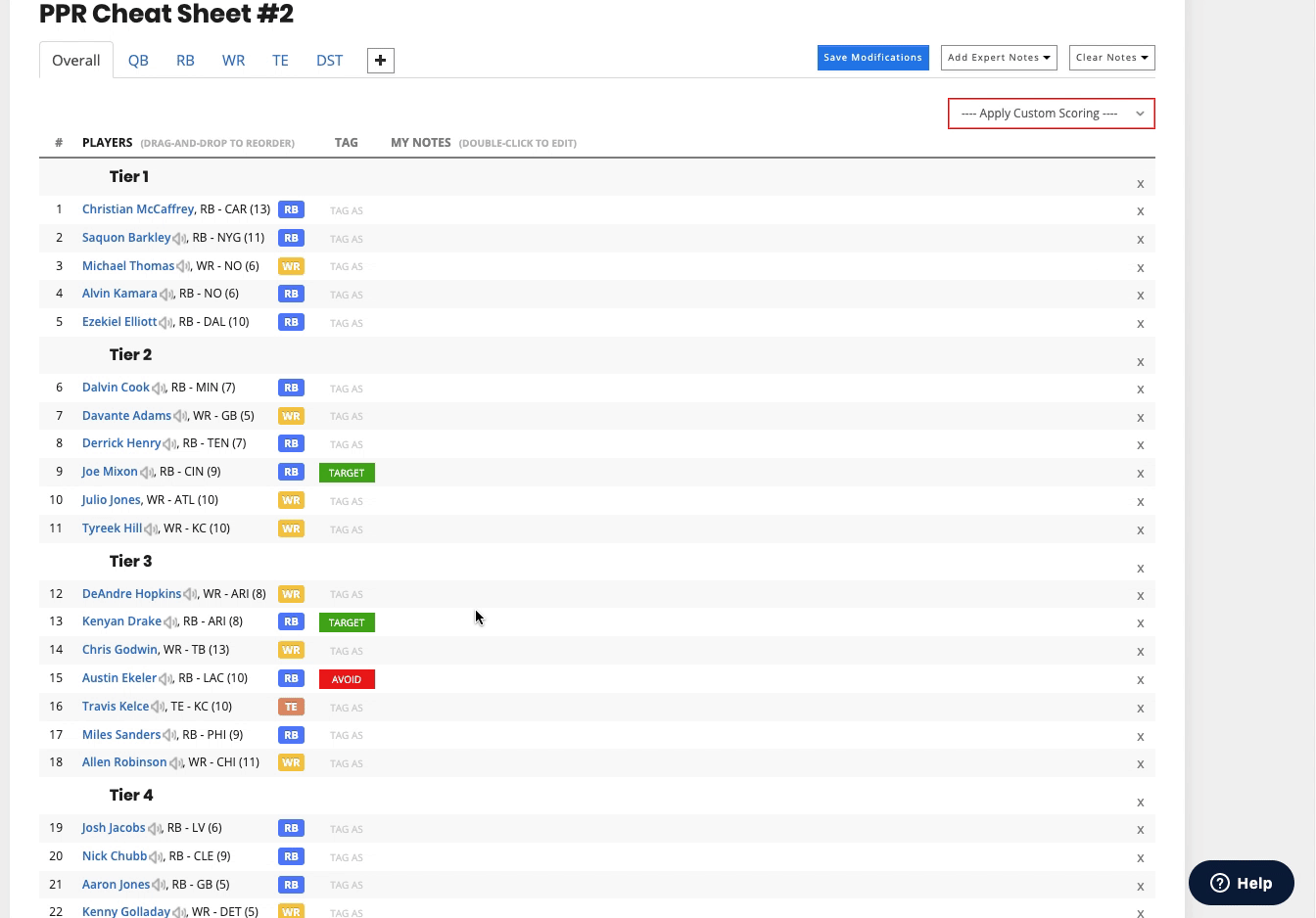 For auction leagues, we re-calculate our rankings into auction values, so you can get a better understanding of the value of the players in your league.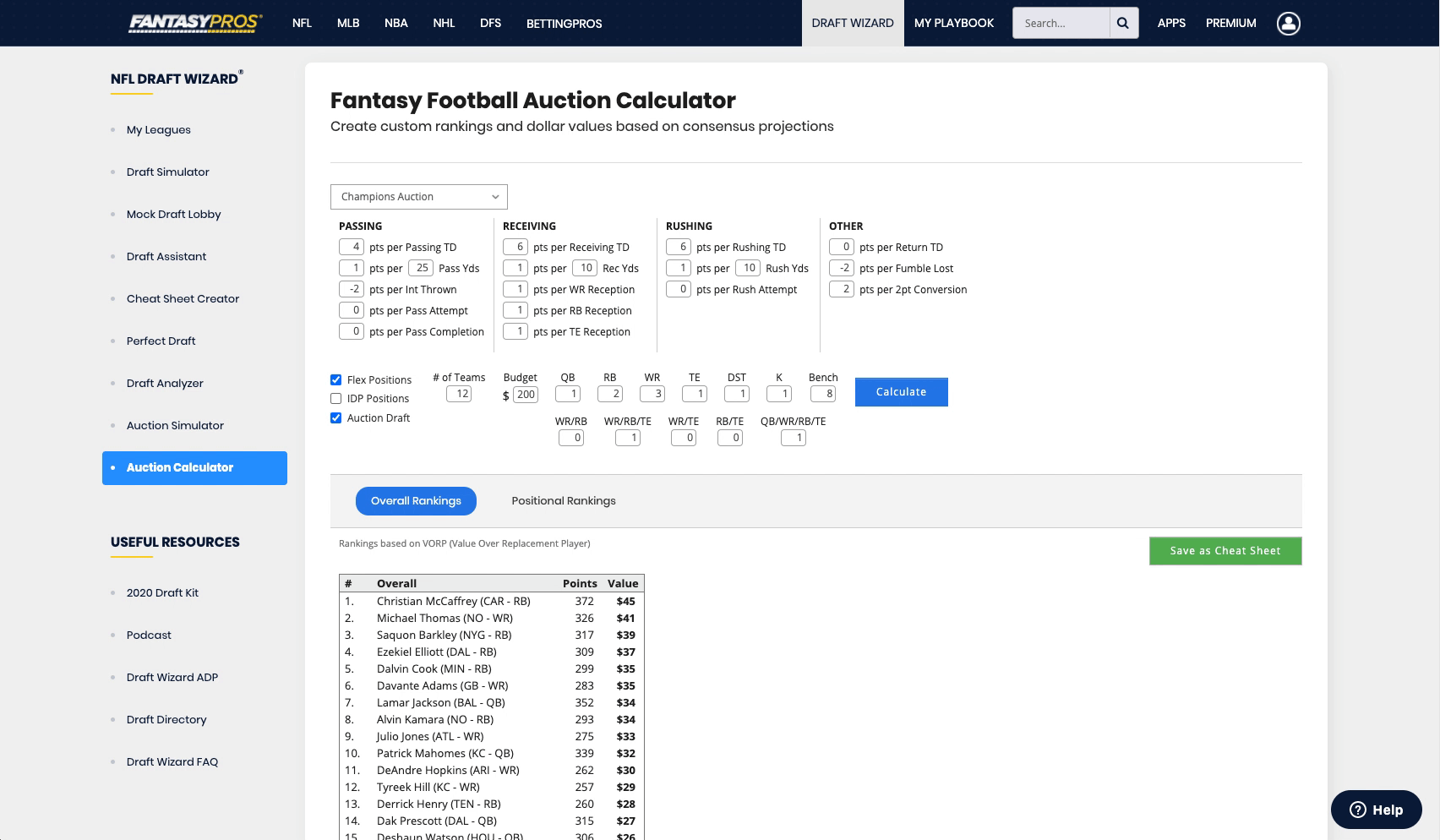 4. Practice on the go with the Draft Wizard apps on iOS and Android.
Your leagues and cheat sheets are available on your phone or tablet, wherever you go. Being able to breeze through a quick mock draft using your league settings or with other FantasyPros users during your spare time is super convenient. The Draft Wizard apps sync up with our website, so any updates that are made to your leagues or mock drafts in the apps will also be reflected on our website. You can start a mock draft in the Draft Wizard app, and pick up where you left off on the Draft Wizard website or vice-versa.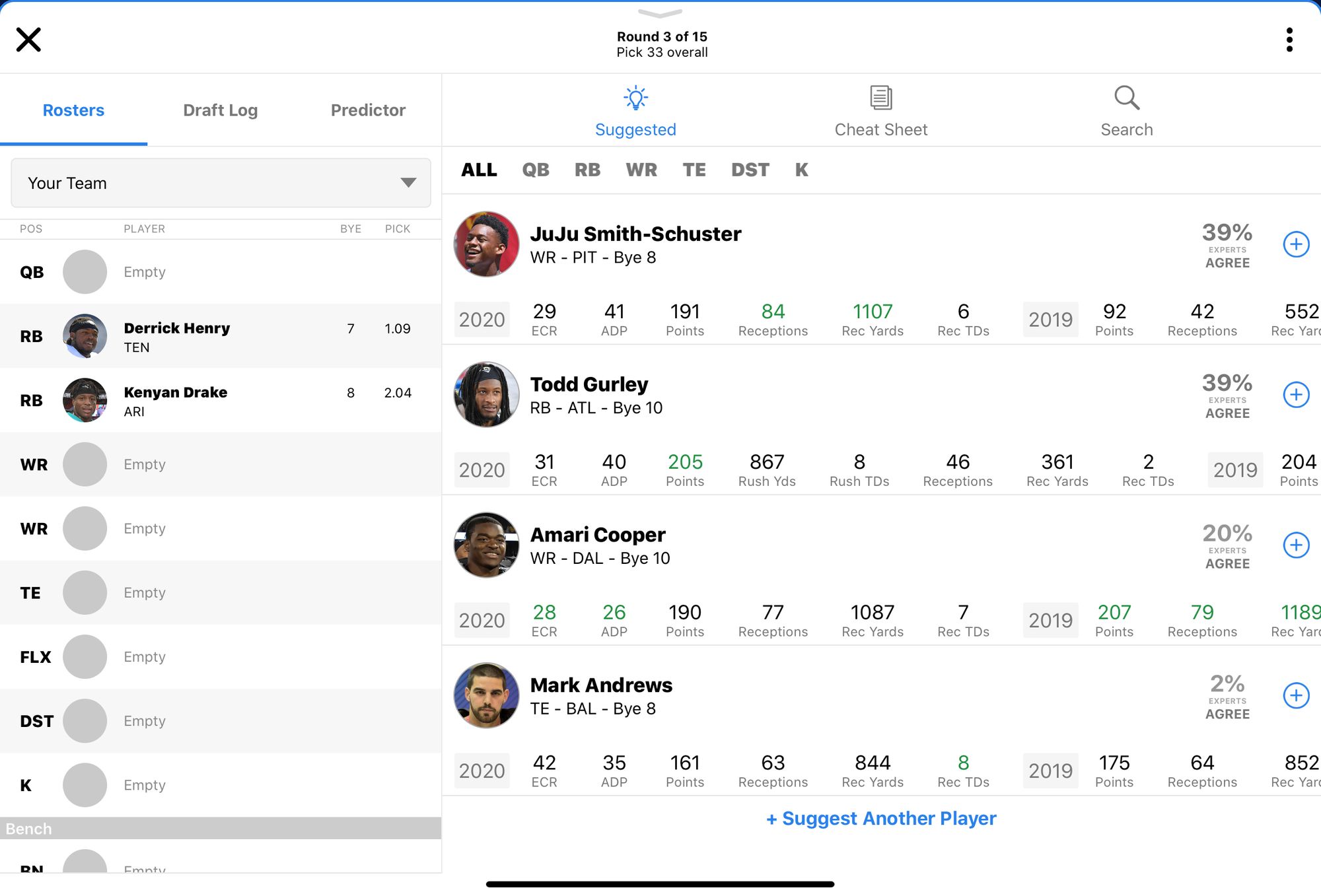 You'll always have an advantage because you'll be getting updates and tips first before your leaguemates. Receive notifications that link to breaking news and fantasy football articles to stay informed on the latest training camp and depth chart trends.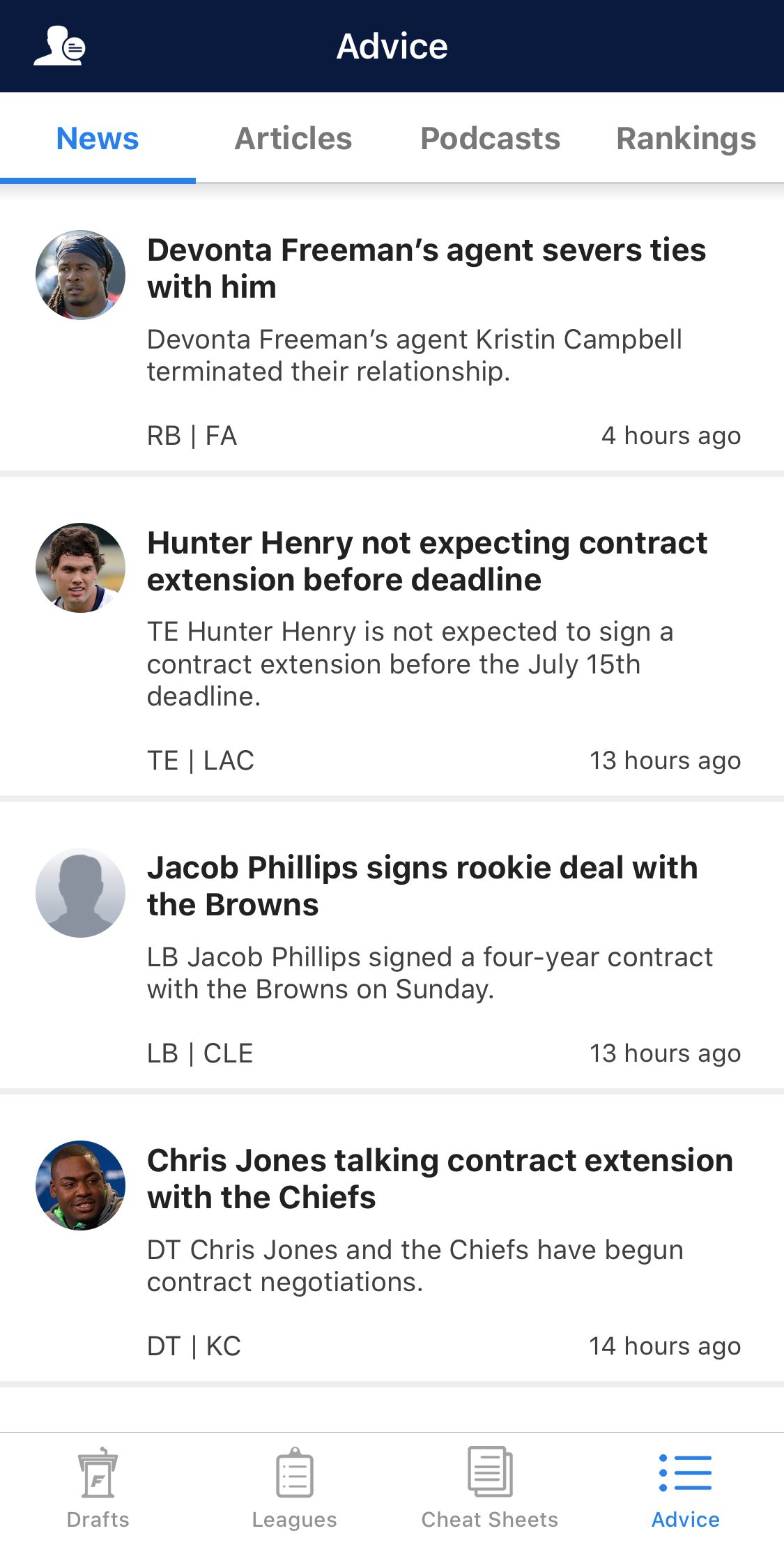 5. Make the right picks under pressure. Let the Draft Assistant guide you through your draft.
Making the right pick while on the clock can be extremely stressful. The Draft Assistant will alleviate your stress on draft day, as it will help you make expert decisions while under pressure during your draft.
Our Chrome Extension seamlessly integrates with your online draft room and allows you to conveniently view your personalized cheat sheet and expert suggestions.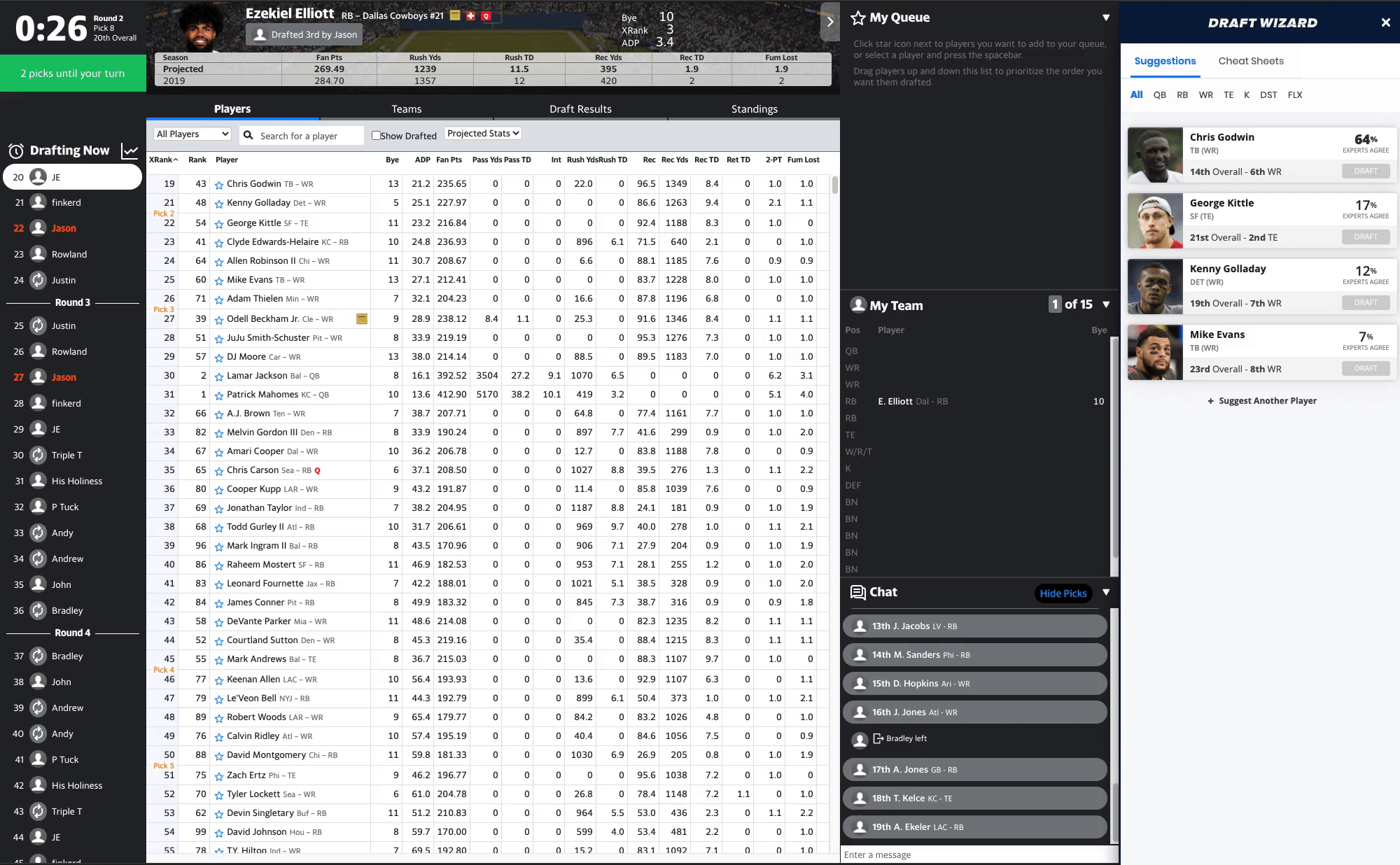 The Pick Predictor updates after each pick and will let you know the chances a player will be available in the next round so you can always stay one step ahead of the game.
Don't waste any more time. Add your league in Draft Wizard and start mock drafting to begin your fantasy football championship season!