[09/03/2020] Building The Perfect Fantasy Football Cheat Sheet
Walk into your drafts prepared with a cheat sheet designed to guide you through each pick and make your draft night stress-free.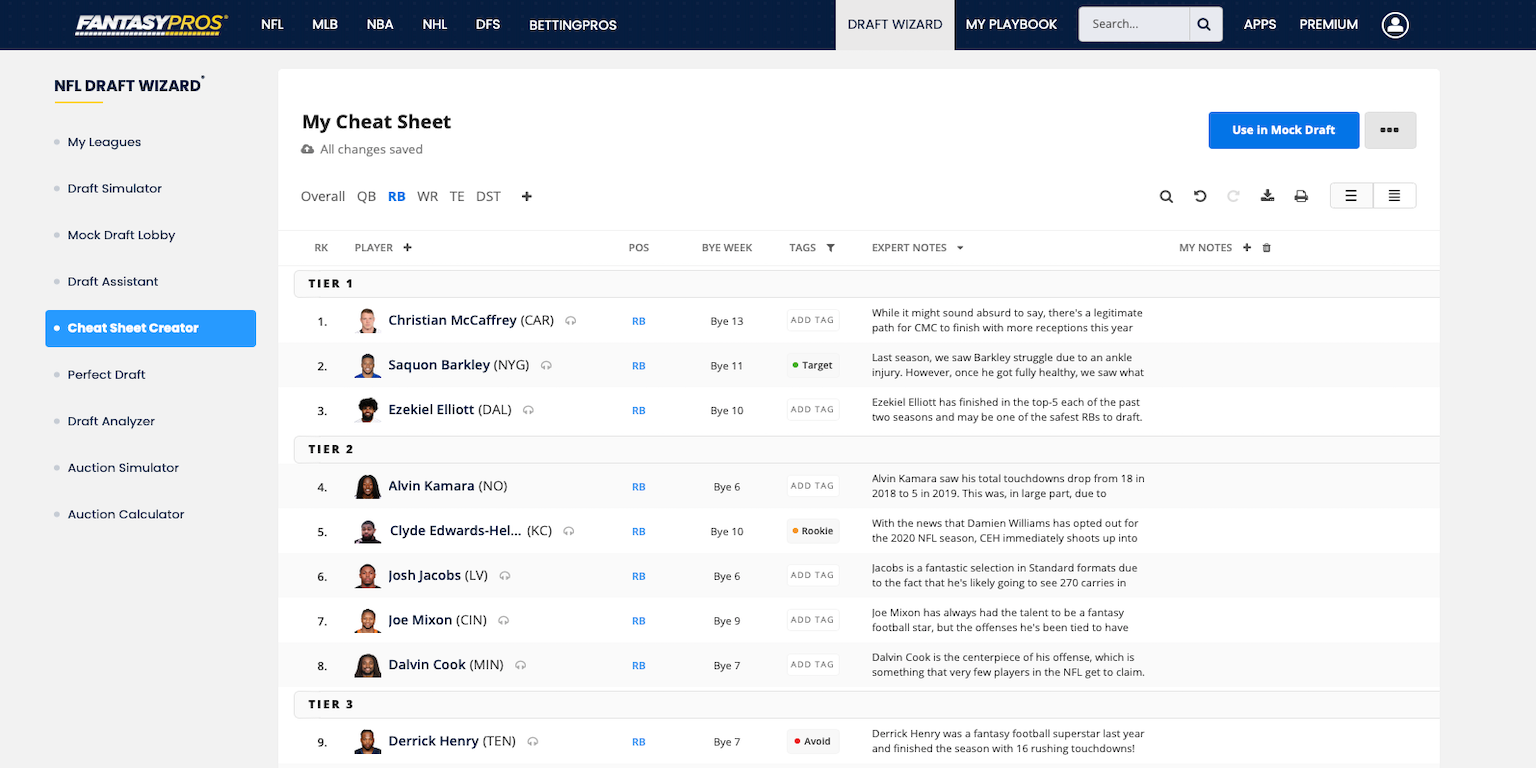 Is your draft coming up, and you haven't been keeping tabs on offseason moves or training camp buzz? No need to worry, we've got you covered. You'll be ready for your draft in a matter of minutes after using the Cheat Sheet Creator. The Cheat Sheet Creator is the simplest way to create a custom cheat sheet for your league, as it combines rankings from the best experts in the industry into one consensus cheat sheet.

Here's a quick walkthrough of how to use the Cheat Sheet Creator to build the perfect cheat sheet, and why it will be your ultimate ally when preparing for your draft.
Quickly create an expert cheat sheet in seconds
It's easy to get started. If you have your league synced in Draft Wizard, all you need to do is select your league, choose your cheat sheet type, and name your cheat sheet. Simple as that! Your cheat sheet will be created based on your league settings.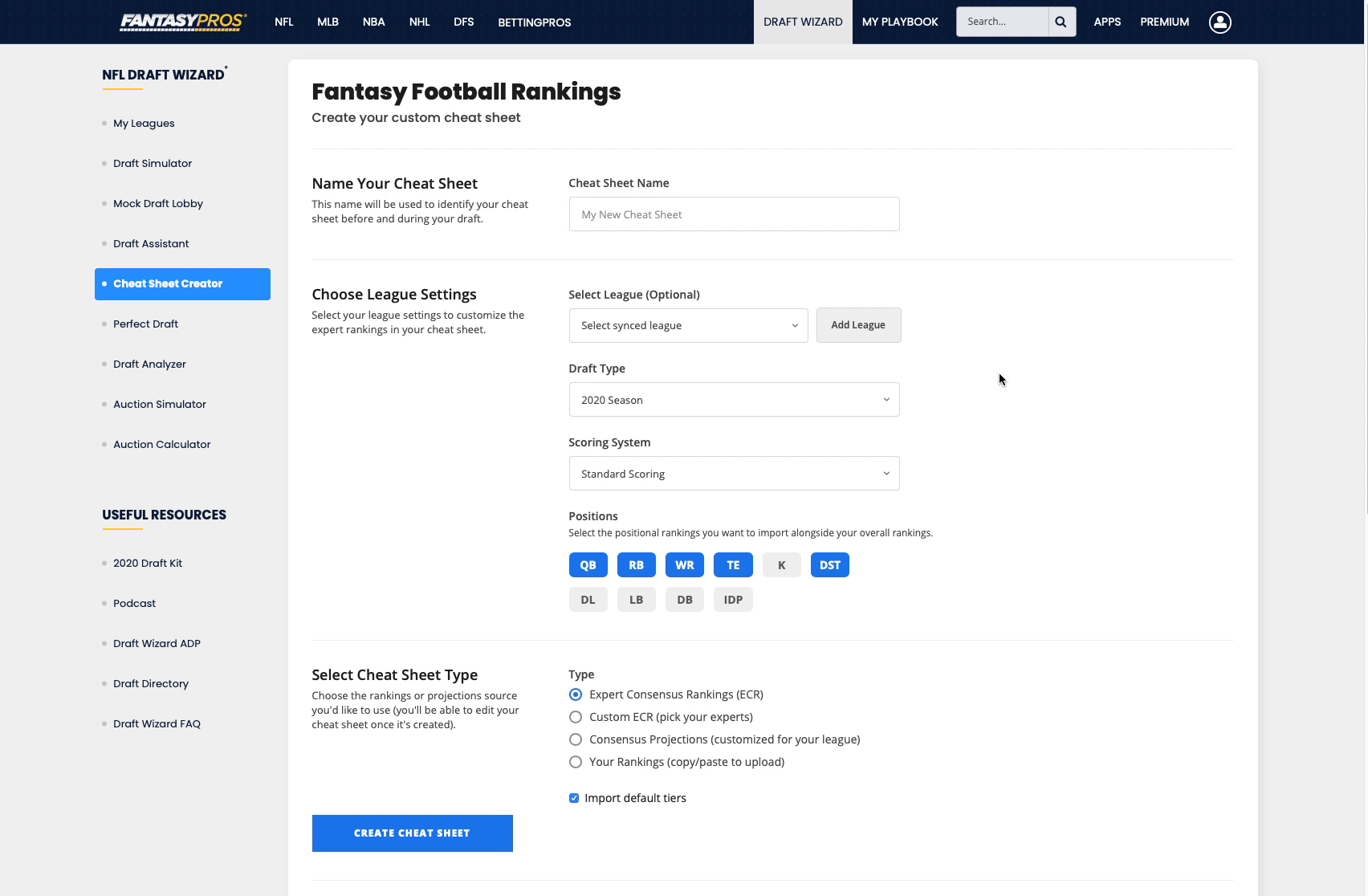 For the cheat sheet type, the cheat sheet can be created based on our Expert Consensus Rankings, or based on our consensus projections. You can even choose which specific expert rankings you want to use.
If you're in an auction league, we've got you covered as well. Our Auction Calculator (available for MVP and HOF subscribers) will calculate recommended values for each player based on your league settings. In the example below, for my Champions Auction League which is a Superflex league, the Auction Calculator appropriately increased the value of quarterbacks.
Customize your cheat sheet
You could walk into your draft with the cheat sheet you just created and be good to go. But if you want to take it a step further to make it perfect, there are a number of ways you can customize the cheat sheet to build it to your personal preferences so you can make your draft night a breeze.
Reorder your rankings
Your opinions on players will change as you start completing more mock drafts, and as more news come out. If you think a player should be higher or lower within your rankings, you can simply drag and drop the player's name to your desired position. Updating a player's ranking in the overall rankings will also update their positional rankings, and vice-versa.
Highlight players with tags
A simple way to highlight key players within your cheat sheet is by using the Tags feature. By assigning a tag to a player, you can label a player to a characteristic, such as our default tags: Target, Sleepers, and Avoid. Each tag has its own unique color so it is easily distinguishable when you look at it during your draft.

You can also create custom player tags based on your personal strategy to highlight specific player traits. For example. I like to highlight rookies in my cheat sheet, as they are often valuable in drafts if the rookie comes into the league with noticeable talent and are fortunate to be in a fantasy-friendly offense. However, drafting rookies does come with risk as well, and this is reflected in their individual rankings.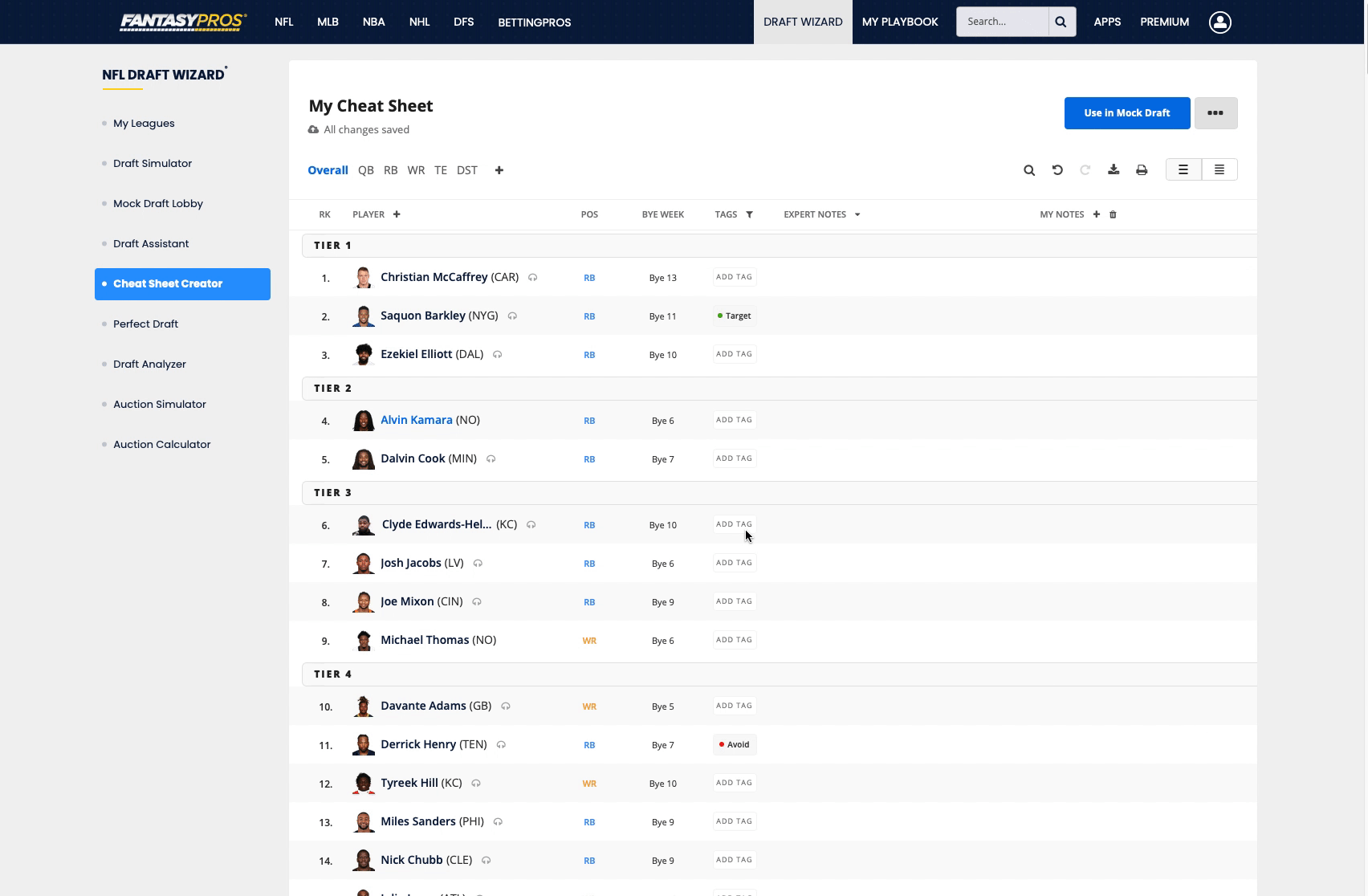 Insert player tiers
Tiers allow you to organize groups of players based on value, and help identify players that are basically interchangeable.
If you compare your rankings and tiers to the players' Average Draft Position (ADP), you will be able to find value in players that are high in your rankings but lower on ADP. Tiers become more valuable at the end of your drafts, as it helps determine which players to wait on and which players to target.
You can add a new tier by clicking the Add Tier button that pops up on the right. If you want to change the tiers, it is as easy as dragging the tier up or down.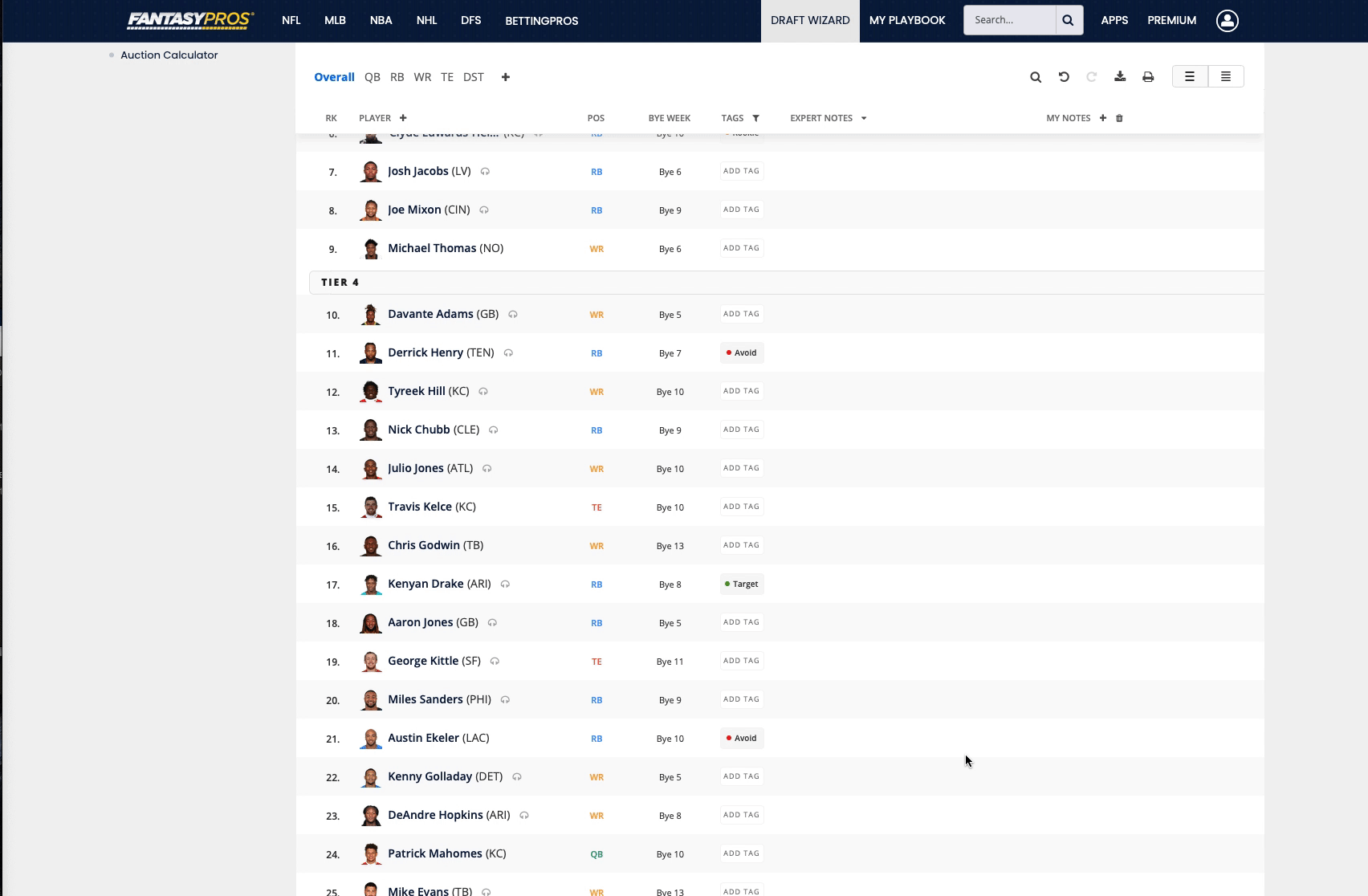 Add important notes
Creating player notes within your cheat sheet will make important information and research more accessible during your draft, since looking up information for players while waiting for your next pick can be hectic. I like to add notes on my overall thoughts on a player, recent news or trends on the player, or any other stats that could factor in my decision-making. To create or edit a player note within the cheat sheet editor, click the My Notes section in the player row, and start typing your note.
In addition to your own personal notes, you can also add notes from a variety of experts including Kyle Yates, Mike Tagliere and Dan Harris.
Use your cheat sheet in the Draft Assistant and dominate your draft.
All the customizations to your cheat sheet will be integrated within our Draft Simulator and Draft Assistant. Draft Wizard helps track draft players taken throughout your draft, and the Sync Draft Assistant does this automatically for you! The Draft Assistant paired with your cheat sheet will be your best friend on draft day because it takes a ton of stress out of the draft-- it is a more organized and informative way to analyze your draft as it happens, which makes it much better than the old fashioned pen-and-pad cheat sheet.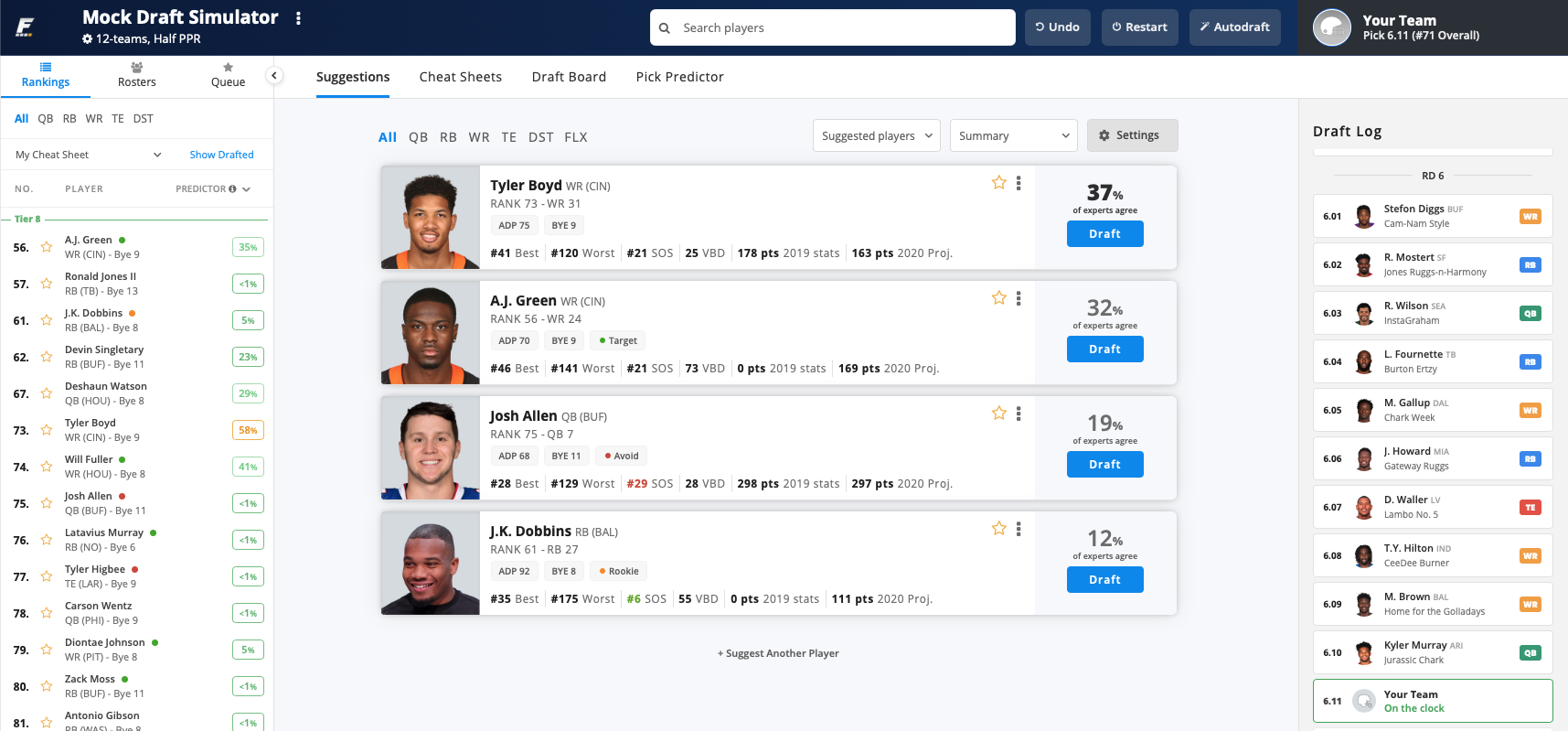 The players that are suggested utilize the player rankings from your custom cheat sheet. Your cheat sheet gives you a edge over the competition because the foundation of your cheat sheet is our expert rankings and projections, and because your cheat sheet is specifically tailored for your league. The other managers in your league will be at a a disadvantage if they are using your league host's default rankings or are using a set of rankings that isn't customized for your specific league.

We hope this quick walkthrough helps you create your perfect cheat sheet in preparation for your drafts.

Get a leg up on the competition and start building your cheat sheet now!