[2/17/2022] Draft Wizard MLB: Win Your League Before It Even Begins
Our award winning Draft Wizard® suite of tools is ready for the 2022 MLB season, complete with updated projections, rankings, and complete with our brand new Draft Analyzer experience.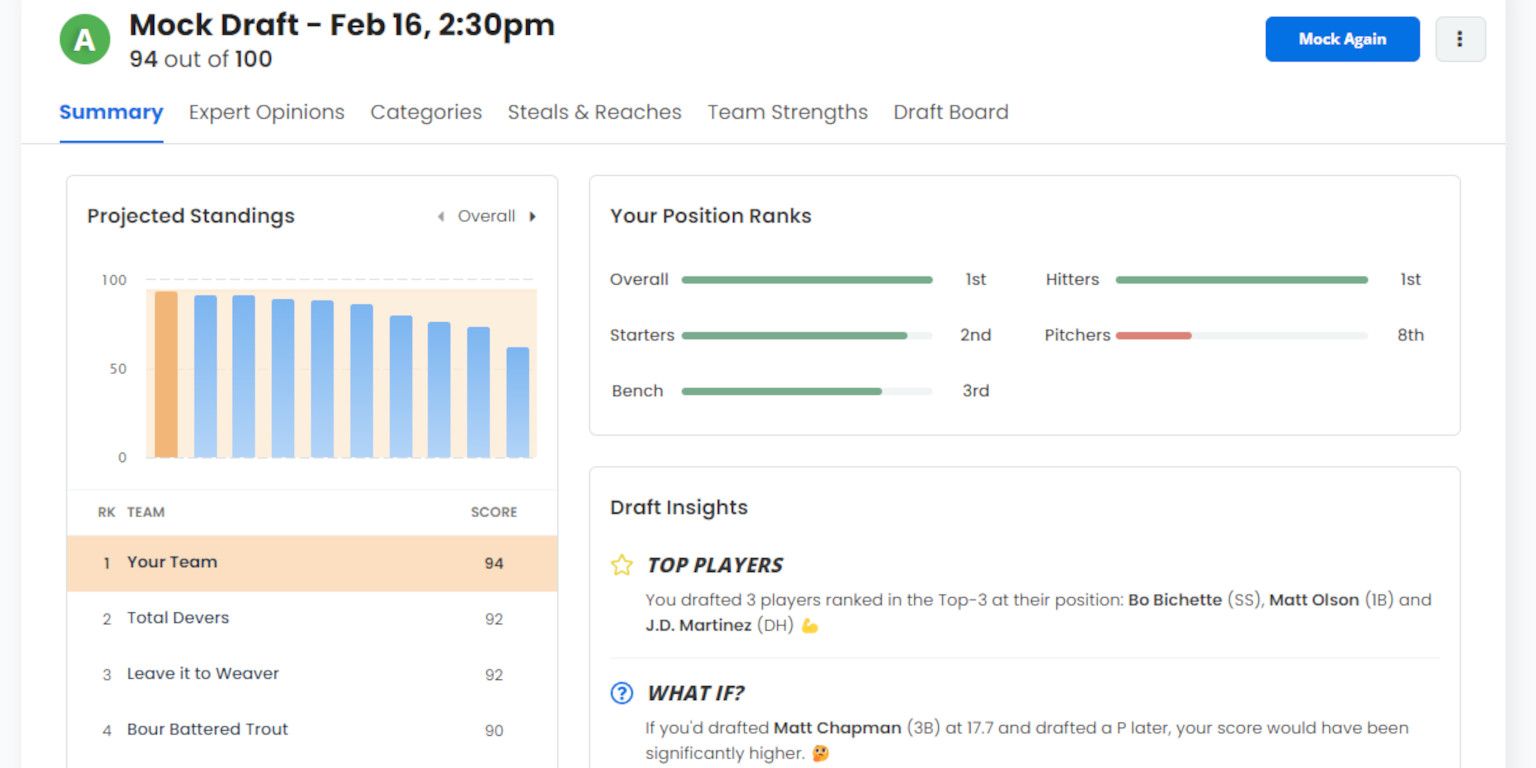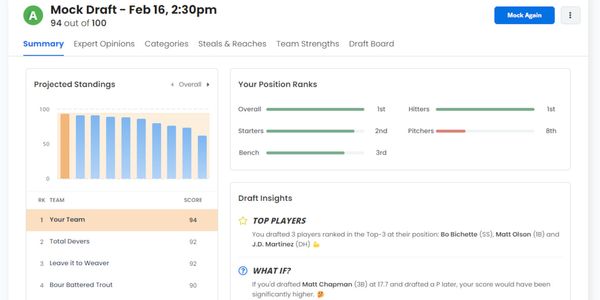 With the MLB season fast approaching, it's time to get ready for our fantasy baseball drafts. There's no better way to prepare for draft day than with Draft Wizard, our suite of tools designed to help you leverage projections, rankings, and expert opinions all in one place. Draft Wizard has been updated for the 2022 MLB season, complete with our brand new Draft Analyzer experience.
Customize Your Draft Settings to Test Your Draft Strategies
Within Draft Wizard, you can customize the settings and strategies to most accurately reflect your league. As a reminder, if you sync your league, your settings will be imported automatically.
Do your league mates tend to focus on starting pitchers early and often? Have one friend who you're pretty sure will over-extend for their favorite team's players, regardless of their ADP? Customize the Bots to tailor their behavior to how your draft is likely to shape up through league-wide or team-specific customization options. This feature is available to all premium subscribers.
When using the Draft Assistant or Draft Simulator, you can customize the suggestions based on the experts you like most, a category you want to lock down immediately, or the strategies you'd like to explore. Want to punt a certain position or a category all together? We've got you covered.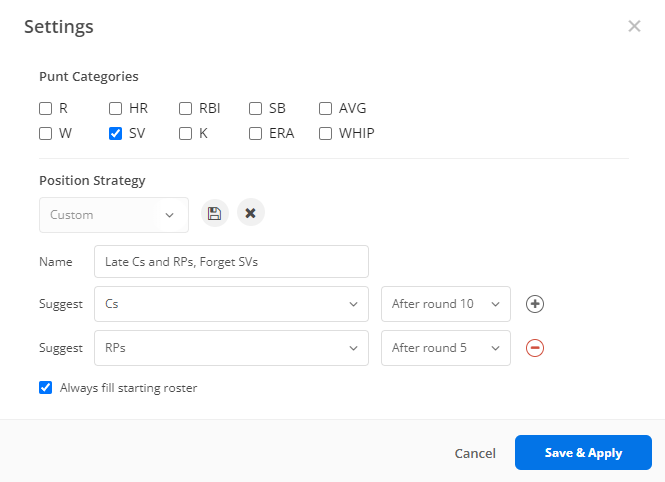 Remember - the more you practice with these settings and strategies, the more prepared you'll be when draft day comes.
Draft Simulator: Practice? We're Talking About Practice!
The Draft Simulator is your go to place to test out your draft strategies, and also familiarize yourself with the Draft Assistant, which will give you that winning edge come Draft Day. Unlike other host platforms, the Draft Simulator carries those league specific settings over and helps you replicate a more personalized, realistic experience.
You can complete a mock draft in just minutes. Or, round by round, undo and redo your picks to play out various scenarios and ensure you get the right players at the right time.
View Your Draft Your Way
In the Draft Assistant and Draft Simulator screens, you'll find Suggestions, Cheat Sheets, the Draft Board, Projections, Categories, or the Pick Predictor tabs.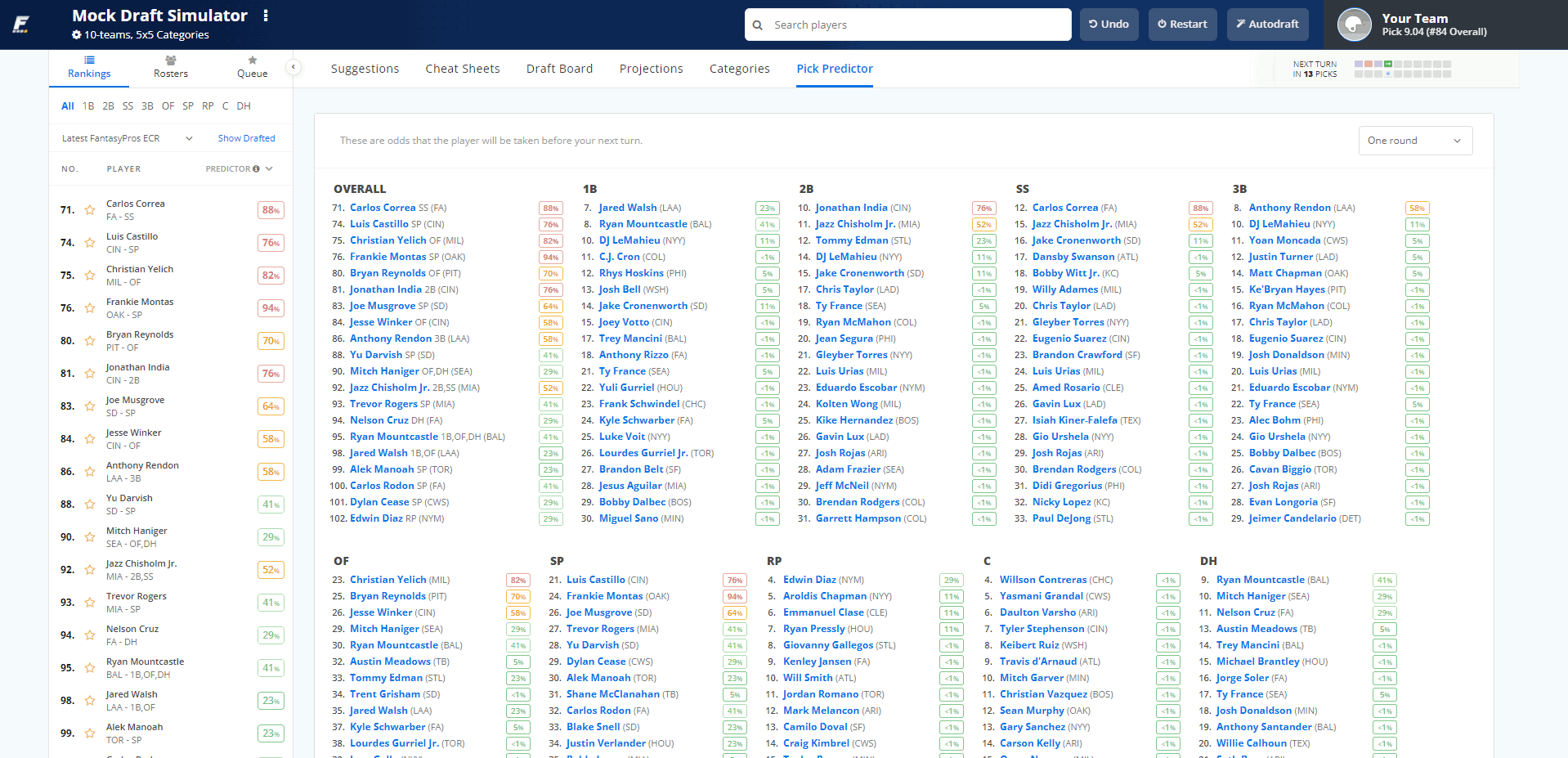 Quickly switch between views to see which players you've marked to aim for over the next few rounds versus who may not be there for your next pick, what categories you still need to improve on, and of course, what the experts suggest you do next. Open player cards from any tab to make your selection from every view.
Our New Draft Analyzer Comes to Fantasy Baseball
Raise your hand if, within 5 seconds of your draft ending, you've questioned the whole thing. Was it really the best idea to take that Pitcher in the 6th round, or could you have waited another pick? Should you have punted Catchers? Which categories are you likely to come out on top in this year, and where can you improve?
After a successful season with Draft Wizard NFL, we've brought over the new Draft Analyzer and tailored it to fantasy baseball - just for you. The Draft Analyzer will breakdown your draft into an easy to understand summarized view, showing you ways you could have drafted for better value, and sharing multiple views with you to see how your team stacks up against the competition.
New Look, New Ways to Evaluate and Dominate Your Drafts
Available immediately following your drafts, use the updated Draft Analyzer to quickly break down the strengths of your draft and find ways where you can improve. The new Draft Insights section will give you a quick glimpse into some of the highs and lows of your draft. Use the Draft Analyzer for a deeper dive into which categories you're projected to perform best in throughout the season, which players went far too early or far too late, and how you stack up against the competition. Take this new insight and mock your way into a championship winning draft.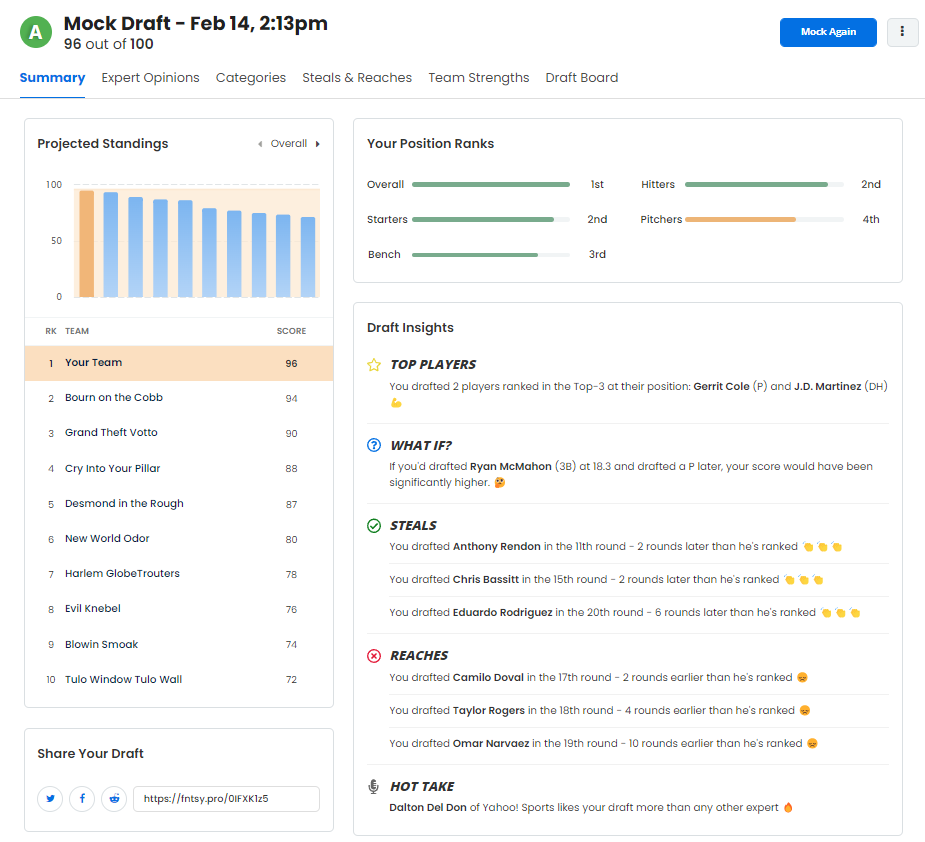 Drafts conducted through Draft Wizard (with the Mock Draft Simulator or any synced drafts with our partner platforms) will automatically be loaded into the Draft Analyzer and will be available after your draft has concluded. If you conducted drafts (including mock drafts) from other sites, you can manually import them in and let the Draft Analyzer run its magic.
Use Draft Wizard on the Go
Our Draft Wizard suite of tools is also available in mobile form. Find the Fantasy Baseball Draft Wizard app on both the Google Play Store and Apple App Store. The Fantasy Baseball Draft Wizard apps have been updated for the 2022 season, including a brand new look and feel while you draft.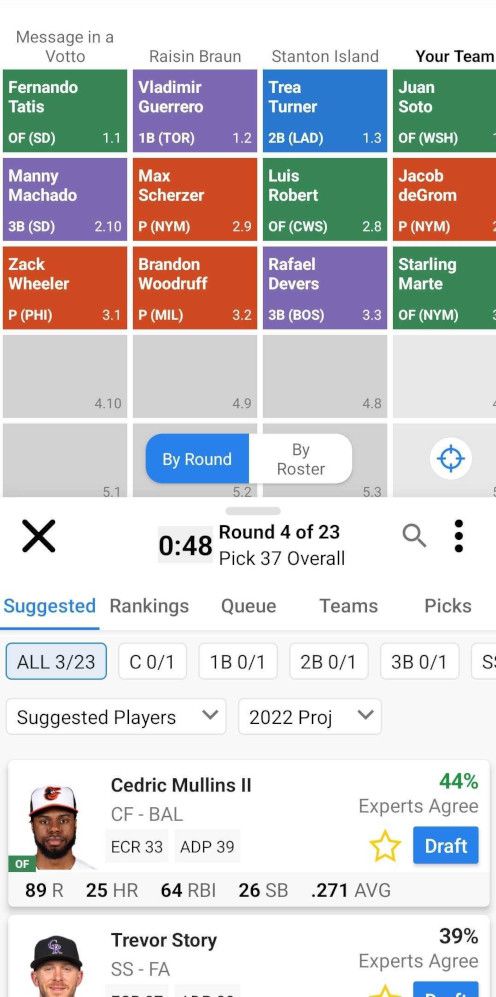 Access your synced leagues, conduct mock drafts, and use the Cheat Sheet Creator all within the mobile apps. Leagues, custom settings, drafts and all other information carry over between platforms within your account. Start a mock draft on your phone and finish it later on your computer, or vice versa - choose whichever platform works best for you.
Start your Fantasy Baseball drafting experience with Draft Wizard MLB today!