[3/14/2022] Optimize Your Men's NCAA Bracket and Win Prizes in our FREE Bracket Contest
Use the updated Bracket Optimizer to leverage the BettingPros experts and algorithms to quickly create a winning bracket. Plus, enter into our free bracket contest to win prizes.


🎵🎶 It's the most wonderful time of the year 🎵🎶.
Selection Sunday has come and gone and the field of 64 (well, 68) is set. With the quick turn-around, we're all clamoring to fill out our brackets as quickly as possible. Which 1-seed will be the first to fall? Just how many upsets are needed to make your bracket competitive, yet unique?
With our 2022 NCAA College Basketball Bracket Optimizer, you can make filling out your bracket easy, intuitive, and stress-free. We'll show you key matchup information for every game including consensus rankings, odds and records right within the bracket, giving you a quick glance at a summary of each team.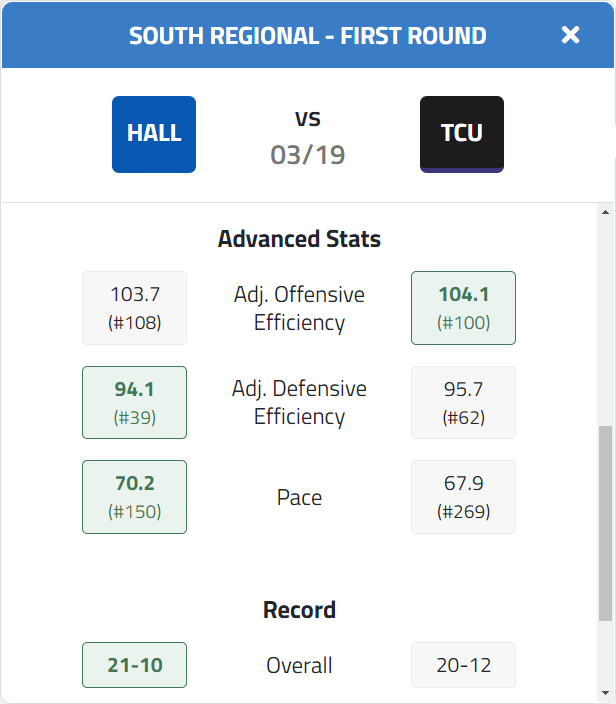 To make things even easier, you can start with your winners and work your way back. Lock in teams anywhere in the bracket and we'll automatically backfill your bracket for you. Simply click on any teams directly in their matchup, or select them from any round's dropdown menu.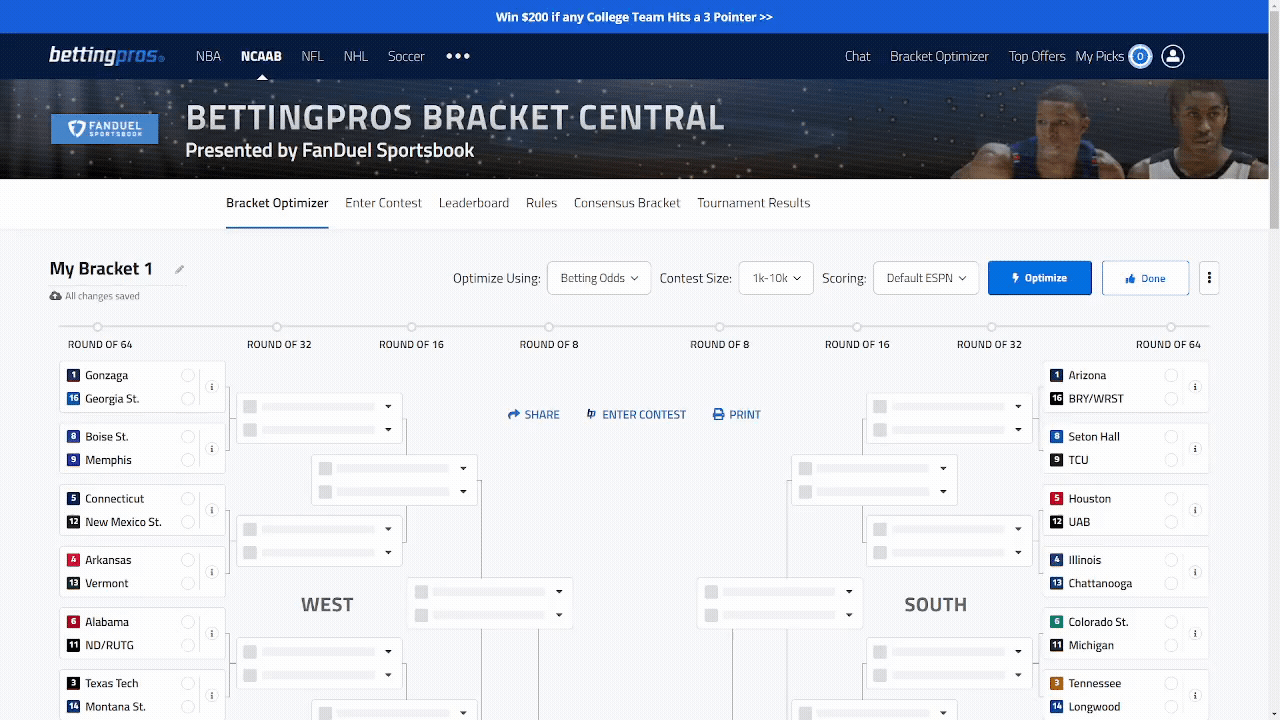 Feel free to make as many (or as few) picks as you're confident in, and let us help you with the rest. Each team you select will be "locked in" to their predictions, and the Bracket Optimizer will fill in the rest. You can then click the lock icon next to your winners to "unlock" teams that you're not feeling as confident in (or, if you're like me, when you change your mind 100 times over the course of this week).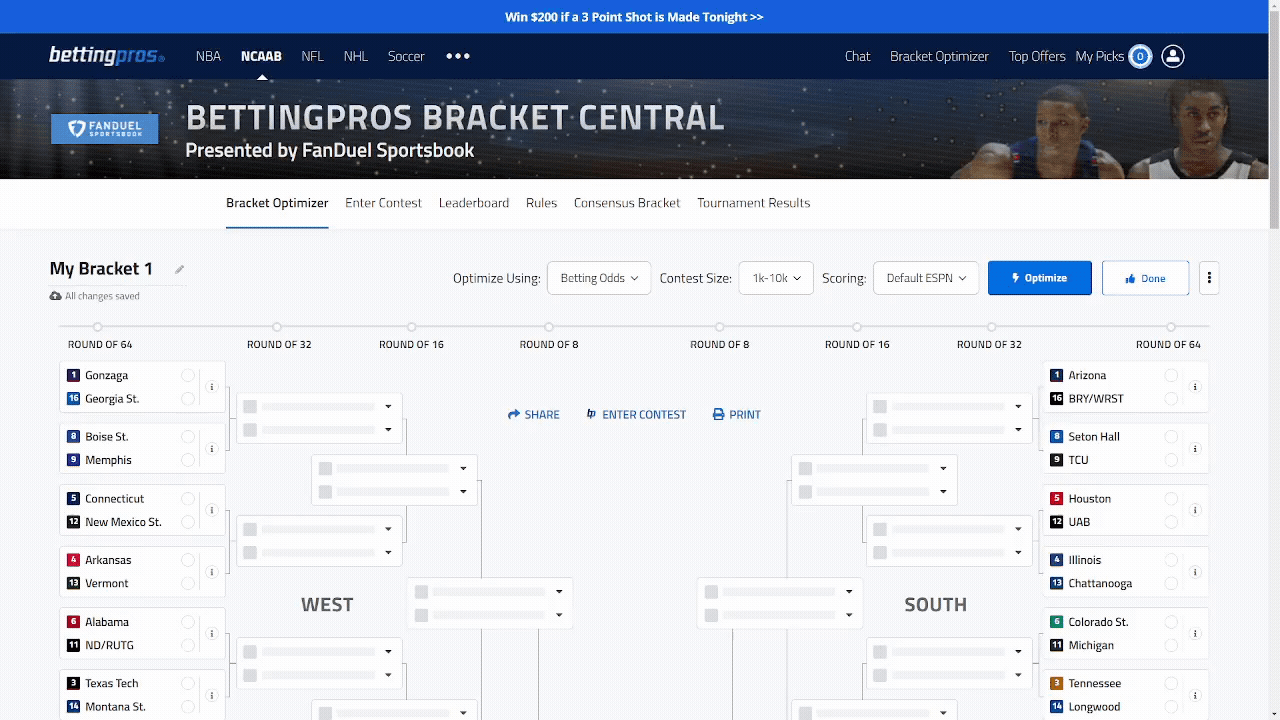 We'll optimize your bracket using our leverage algorithm that factors in seeding, historical performance, betting odds, and more. Customize your bracket to fit any scoring settings and contest size and the Bracket Optimizer will pick just the right upsets to give you a competitive and unique bracket.
After you're done creating your winning bracket, enter into the FREE BettingPros Bracket Contest for your chance at bragging rights and a chance to win some great prizes, including signed basketball memorabilia and DFS credits to FanDuel. For full information on prizes as well as terms and conditions, check out the BettingPros Bracket Contest page.
The Bracket Optimizer and Bracket Contest are available on desktop and mobile-web at BettingPros.com as well as within the BettingPros mobile apps on iOS and Android now.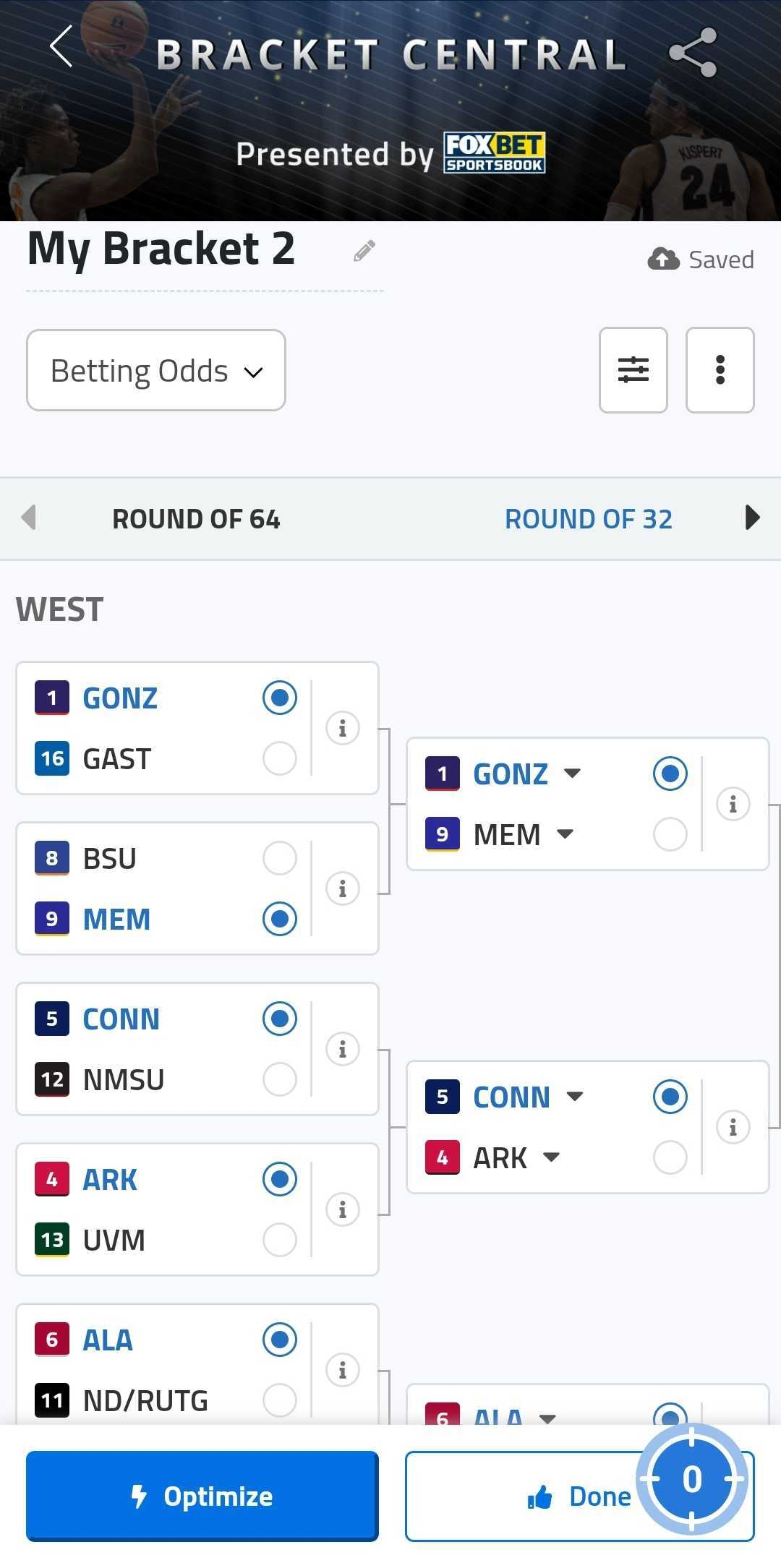 Optimize your brackets and enter into our free contest today!