BettingPros Spring Updates
Looking to make it easier to win more bets? Check out some recent updates BettingPros has to help you find and analyze winning bets.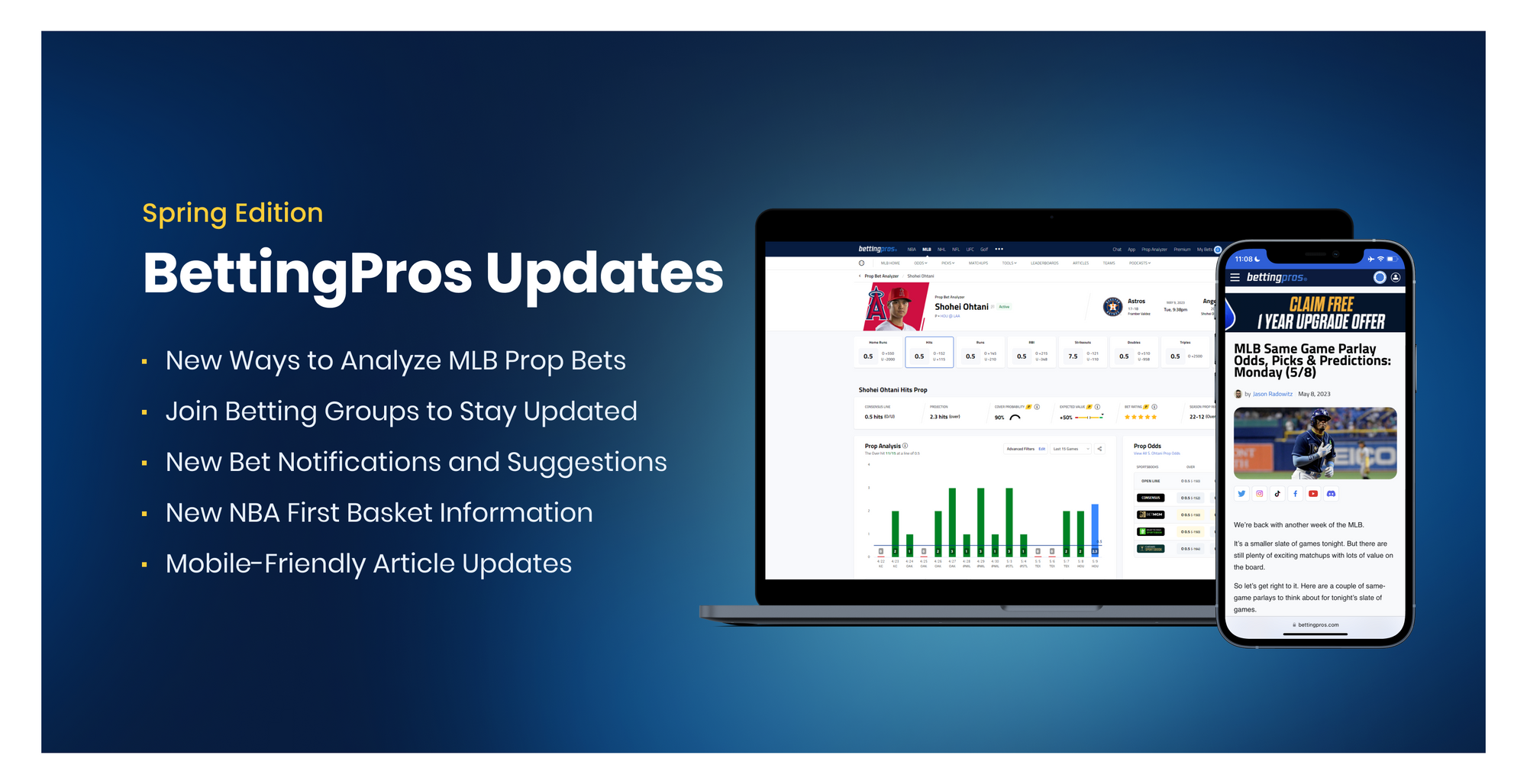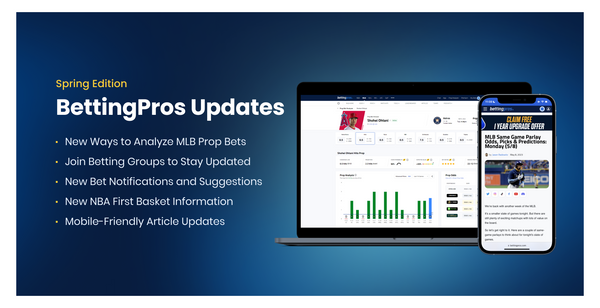 BettingPros's mission has always been about one thing: make it easier for you to make winning bets.
Here are some of our recent updates to help you do just that.
MLB Prop Bet Analyzer
In case you missed it: we recently launched the Prop Bet Analyzer for the MLB on BettingPros.com and in our mobile apps.
The Prop Bet Analyzer is the best way to get a complete breakdown of player prop bets. See current odds from multiple sportsbooks, historical stats, up-to-date projections, matchup stats, and more all in one place.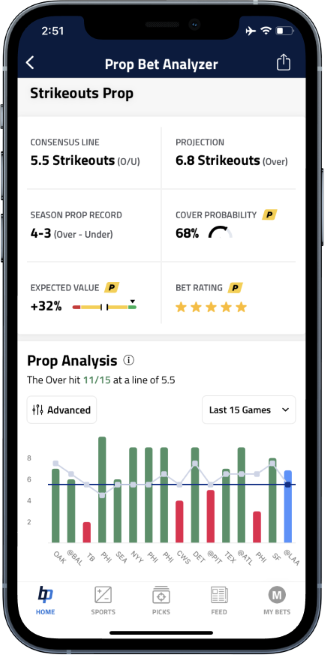 Plus, with BettingPros Premium, you can leverage advanced metrics such as Expected Value, Cover Probability, and Bet Ratings to find the best player props to wager on.
See here for more on the MLB Prop Bet Analyzer.
Betting Groups
Looking for inspiration for your next bet? Look no further than our new Betting Groups available exclusively in the BettingPros app.
With Betting Groups, you can join groups with other like-minded sports bettors.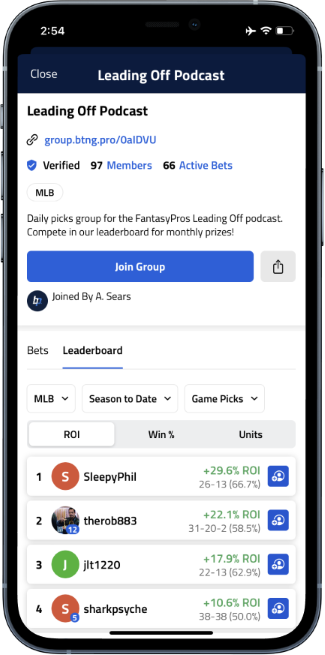 See all active and settled bets for other members of the group. Filter and sort by to find specific bets you're interested in, and place your own bet directly from those shown.
Betting Groups can show any combination of sports. Simply select the sports to include at the time of creation, and the group will automatically filter to show only those bets for all members.
Create and discover your betting groups on the BettingPros app now!
Updated Bet Notifications
Looking for the most up-to-date bets to tail? Get custom notifications from fellow bettors from the BettingPros app.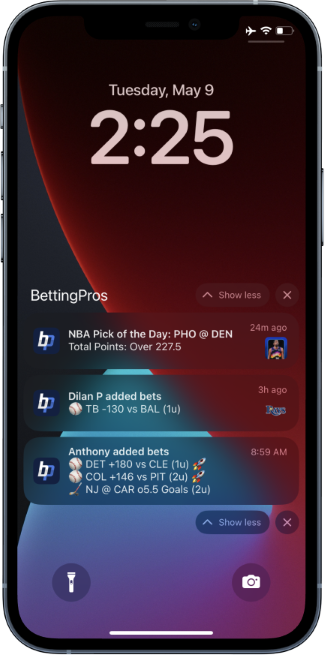 Customize notifications for each sports bettor you follow, types of bets you're interested in, and when to receive them.
All notifications can be customized and turned on/off  at any time from your settings page.
Updated Bets For You
The Bets For You section in your user profile has received some small updates to provide additional relevant bets you might be interested in based on your betting behavior.
See bets placed by users you follow, users on hot streaks, bets with strong consensus, and more.
Tap on any bet you see for a more complete rundown on the bet and to tail that bet directly.
NBA First Basket Prop Bet Cheat Sheet
The NBA First Basket Prop Bet Cheat Sheet is a fun way to get involved with the NBA playoffs. See how often each player takes the team's first shot, how often they make the first bucket of the game, and the best odds across each book.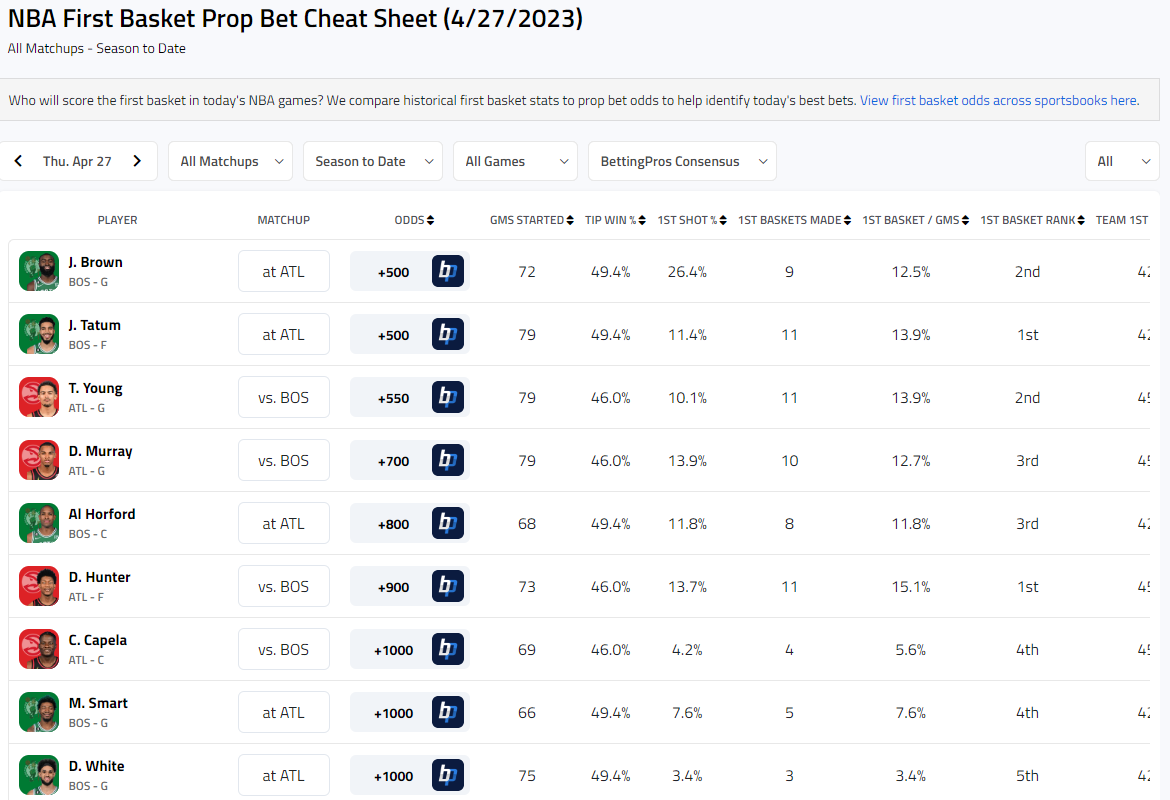 BettingPros Article Redesign
Our article pages recently got a nice facelift to make them easier to read and for you to get right to the information you're looking for.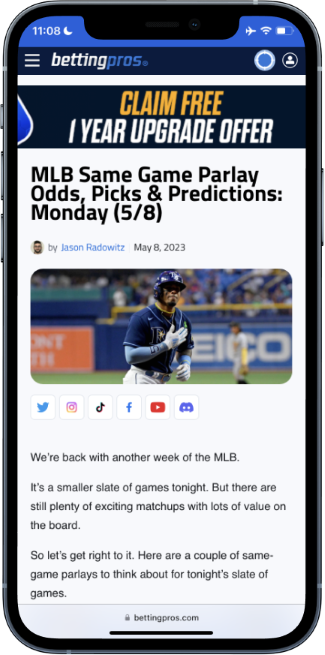 The redesign is also more mobile-friendly and greatly improves the experience when reading on a mobile device. Take your articles on the go to be the most up-to-date with your betting information.
Updates Available Now
All of these updates are available now on the BettingPros site and on the BettingPros app. Check out the latest to win more bets, now!