[7/1/2021] Draft Wizard Mobile: Enhanced Draft Experience and Dynasty Support
A major enhancement to the draft experience on both iOS and Android, including a brand new draft board, improved draft advice sheet, integrated pick prediction, and dynasty draft support.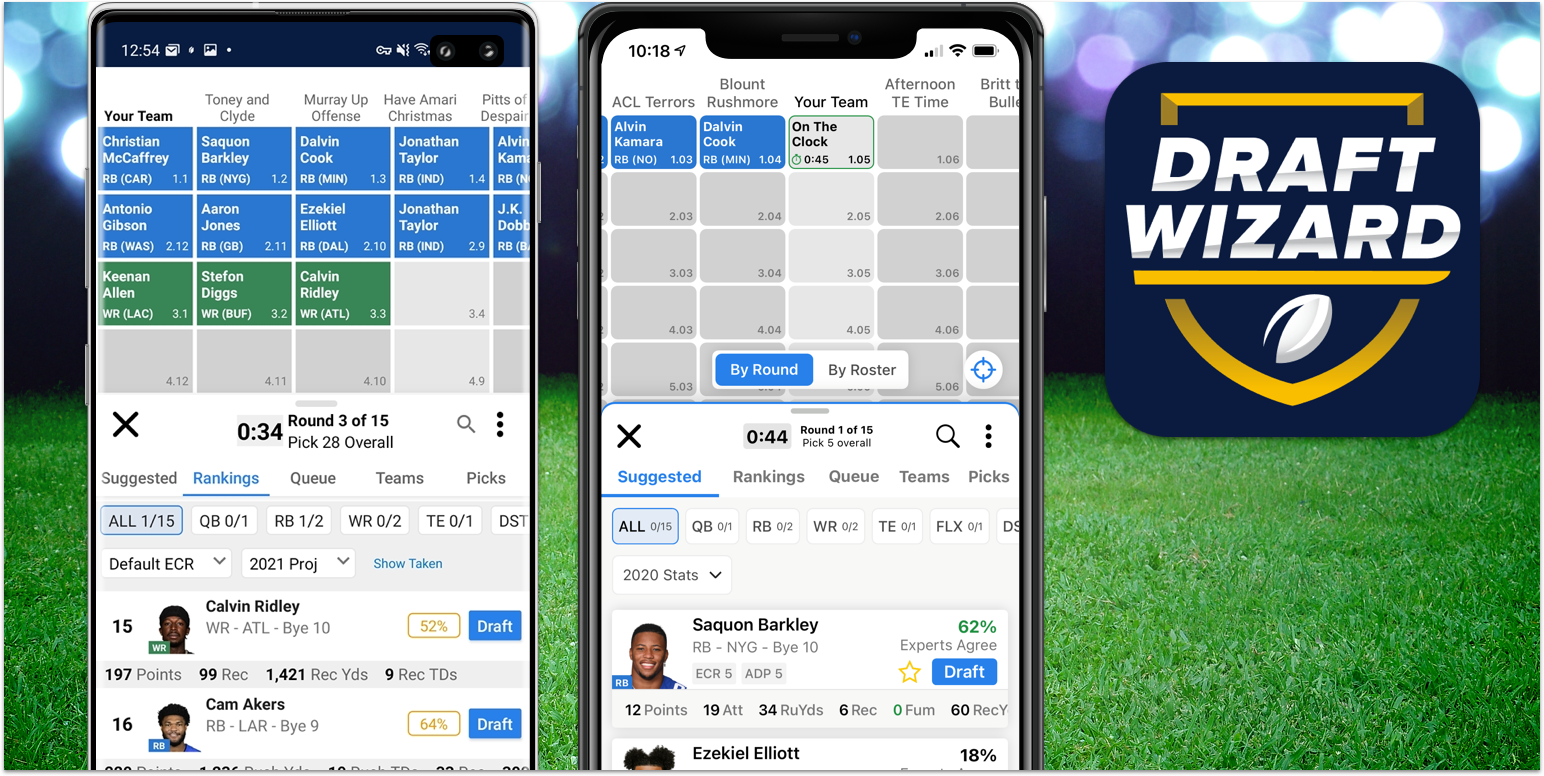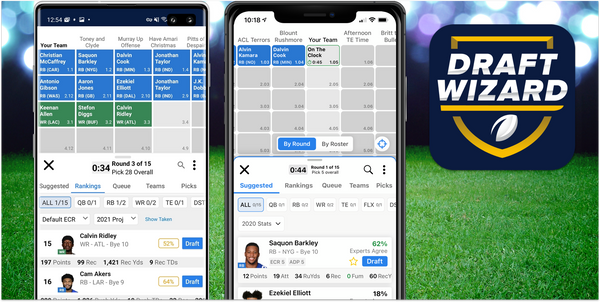 Fantasy football draft season is right around the corner – super exciting. All risers, fallers, rookies, and hype trains starting to build momentum.
With everything in flux, how are you preparing for your draft?
Every year, we work to overtime in the off-season to bring you fresh functionality to make your draft preparation and live draft experience as easy and stress-free as possible. This year is no exception.
We're happy to announce that both our iOS and Android Draft Wizard NFL apps have gotten a major update to the draft experience: this includes mock draft simulations and the Draft Assistant.
The enhanced draft experience adds a new draft board to more easily track the progression of the draft, an expandable draft advice sheet, better presentation of player information and advice, integrated Pick Predictor percentages, and new support for dynasty and rookie only drafts.
The New Draft Board
With the new draft board an integral part of the draft room experience, you can view advice and picks while optionally dragging the draft advice sheet for a near full screen view.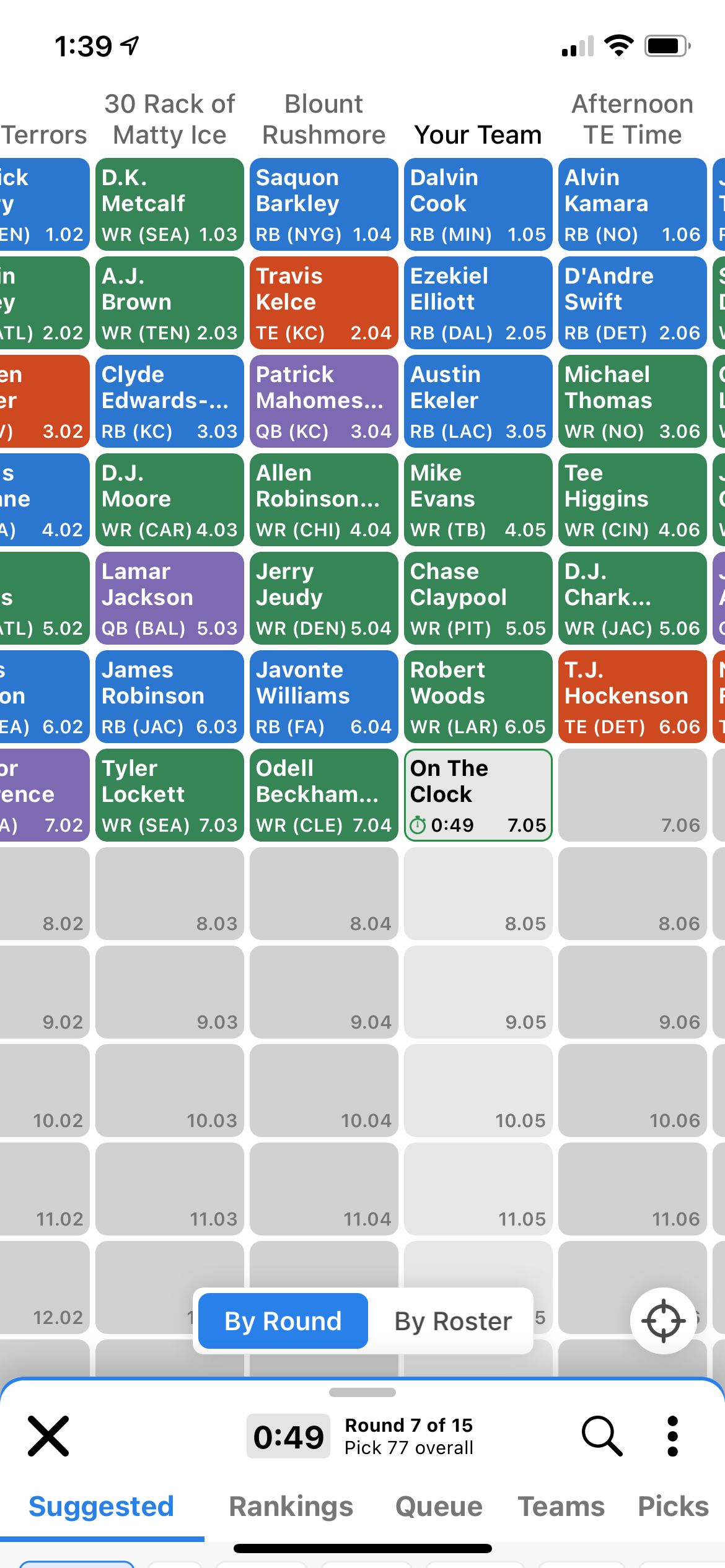 Each draft pick will be color coded based on position so you can quickly see how things are trending (e.g. will there be a run on TEs soon?). You can also view by round or by roster, to see how teams are faring through your draft.
A More Efficient Draft Advice Sheet
The draft advice sheet, where you can see player suggestions, rankings, a (new) player queue, has been updated to present information, such as stats, projections, and rankings, in a more efficient and easy to use format.
Additionally, the default view (seen below) allows you to split your screen between the new draft board and draft advice. Dragging the draft advice sheet up or down will allow you to see more or less draft advice, based on your preference.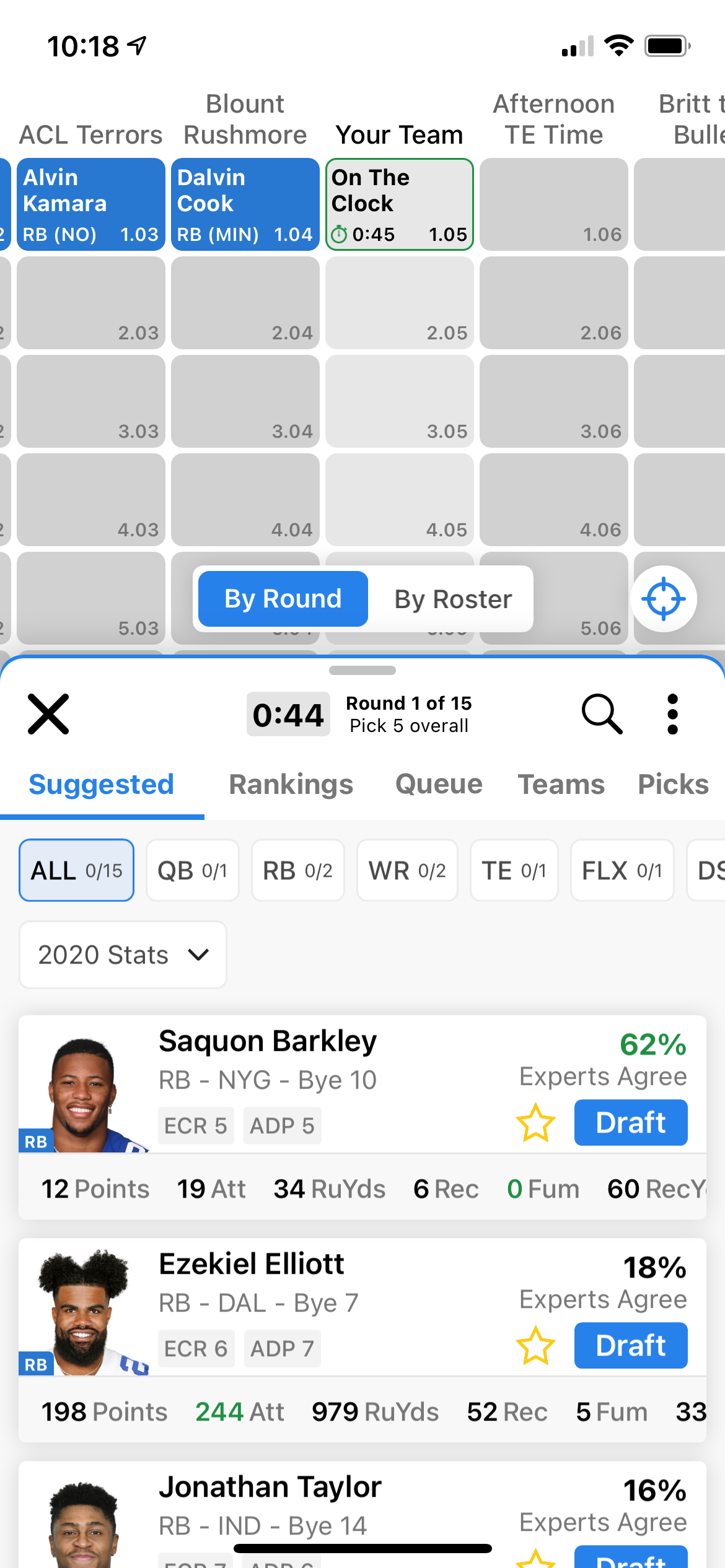 With the new draft advice sheet comes player queuing: from the Suggested tab, you can tap the star to add a player to your queue (viewable in the Queue tab); alternately, you can swipe right on a player from the Rankings tab to add them to your queue.
Additionally, we've improved the overall layout and presentation of player data so you can view more information at once. Information density usually comes with a tradeoff against usability, but I think you'd agree that we made it more usable as well :)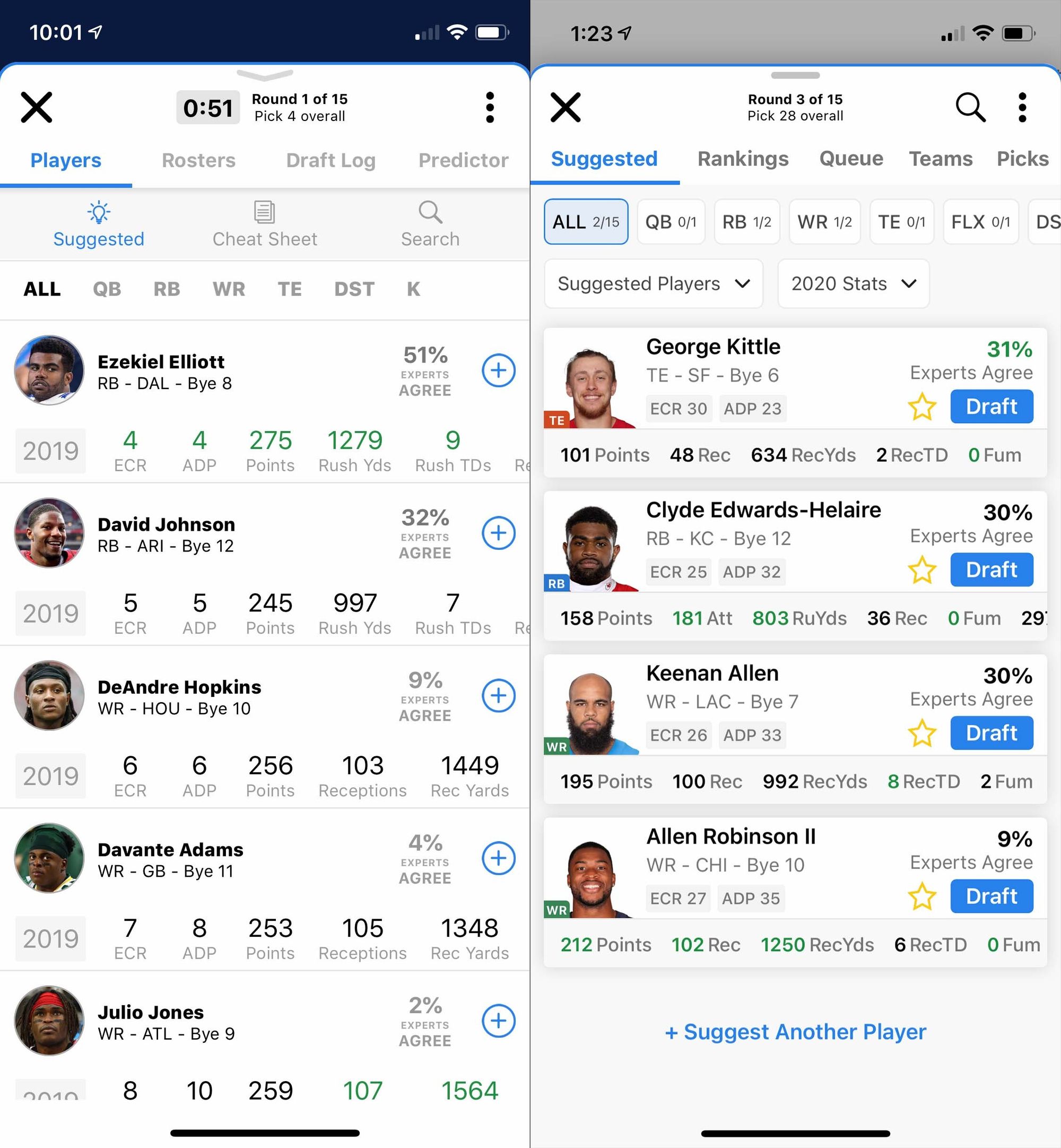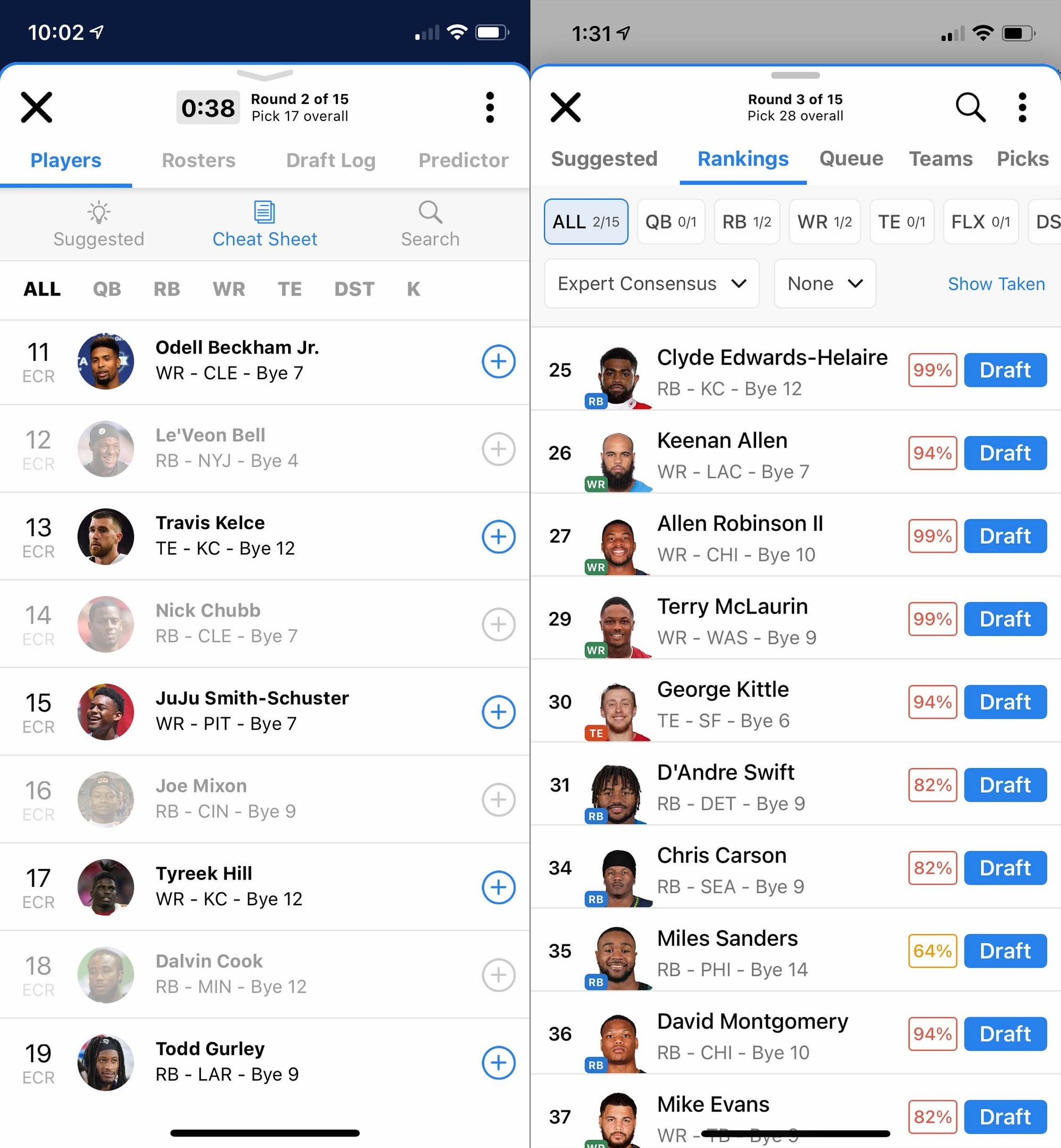 Pick Predictor Integrated Into Rankings
The Pick Predictor (a premium only feature) was previously off in its own tab; now, Pick Predictor percentages are integrated into the Rankings and Queue views. As a reminder, the Pick Predictor is the likelihood (expressed as a %) of a player being drafted before your next pick. This will help you make better decisions on whether or not to grab one of your draft targets now or wait until later and see if they come back around to you.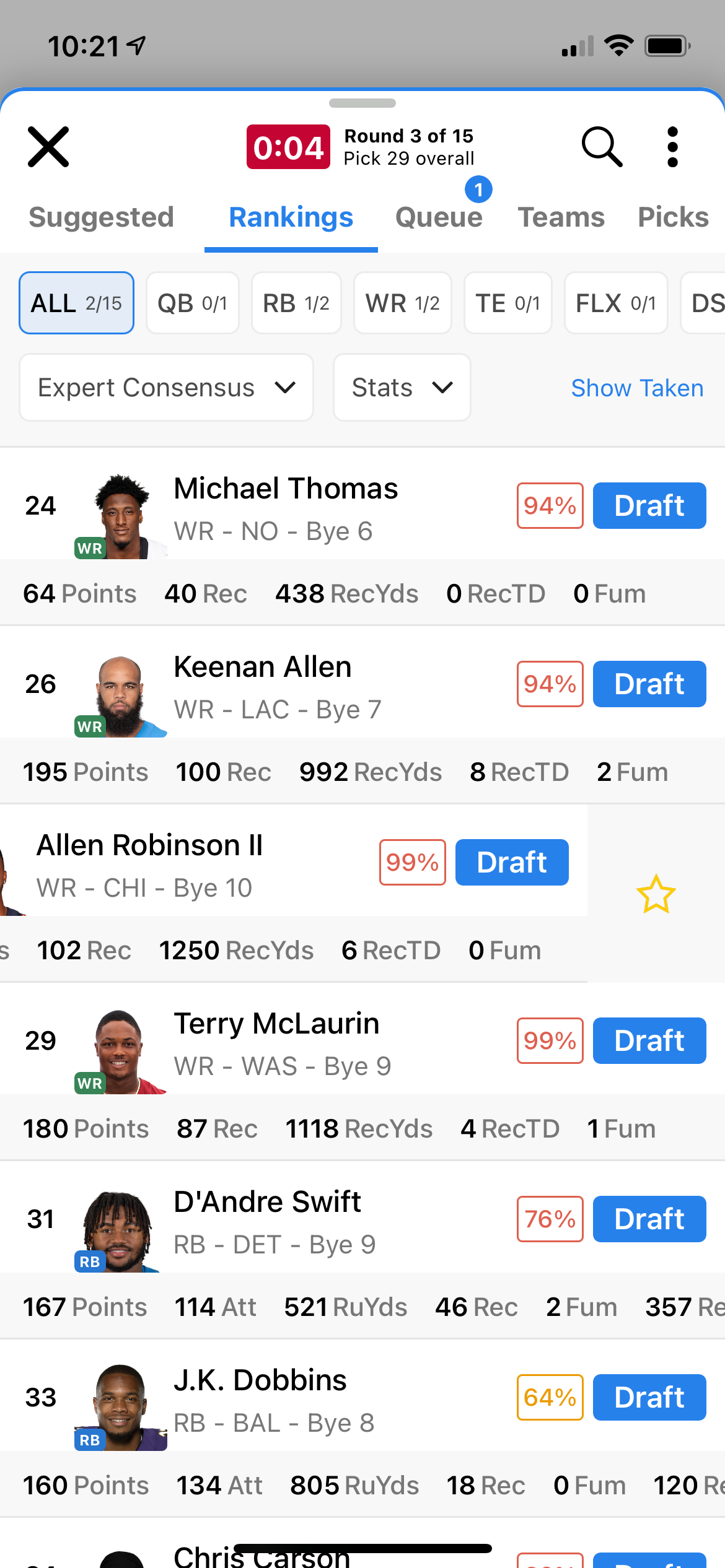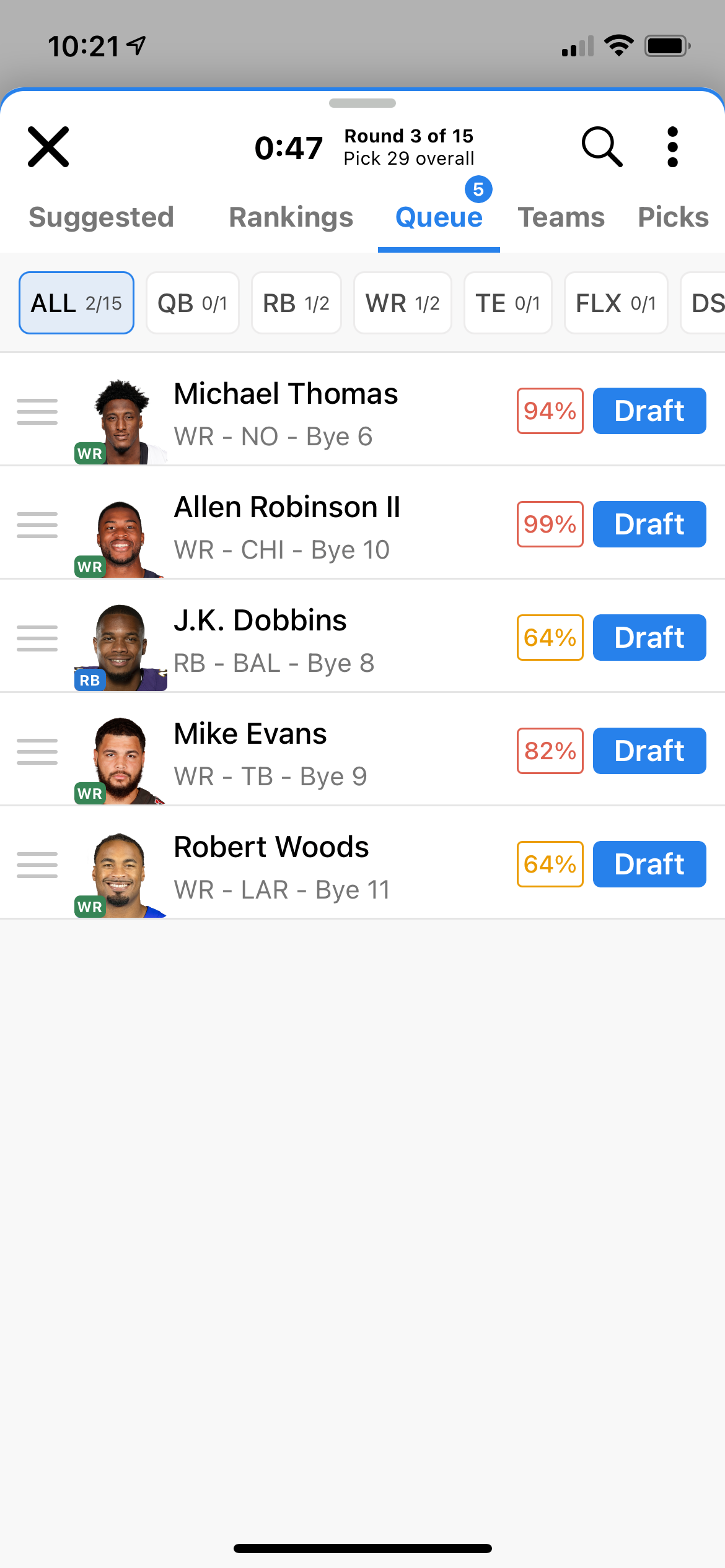 Dynasty and Rookie League Managers: Rejoice!
A feature of Draft Wizard on the web for quite some time, with this update we've added support for Dynasty and Rookie-only drafts. You can run simulations right out of the box, but – even better – you can sync your Dynasty league and run a mock draft simulation using your league settings.
In the mock draft settings screen, simply set the league format to Dynasty and optionally set the player pool to Rookies Only.
We're Pumped for the 2021 Season
With the sports landscape returning to some semblance of normalcy this year, and with an additional week added to the season, there's a lot to be excited about this draft season.
Download our mobile apps and start preparing for your draft. If you already have the apps installed it should auto-update.
Additionally, get the Pick Predictor feature and dynasty league support by upgrading to a FantasyPros Premium account.
Let's get ready for draft day!