[6/23/2021] Updated League Settings: A Better Way to Manage Your Synced Leagues
Modify and customize league settings, customize mock draft behavior, launch Draft Assistants, and more -- all from our new League Settings screen.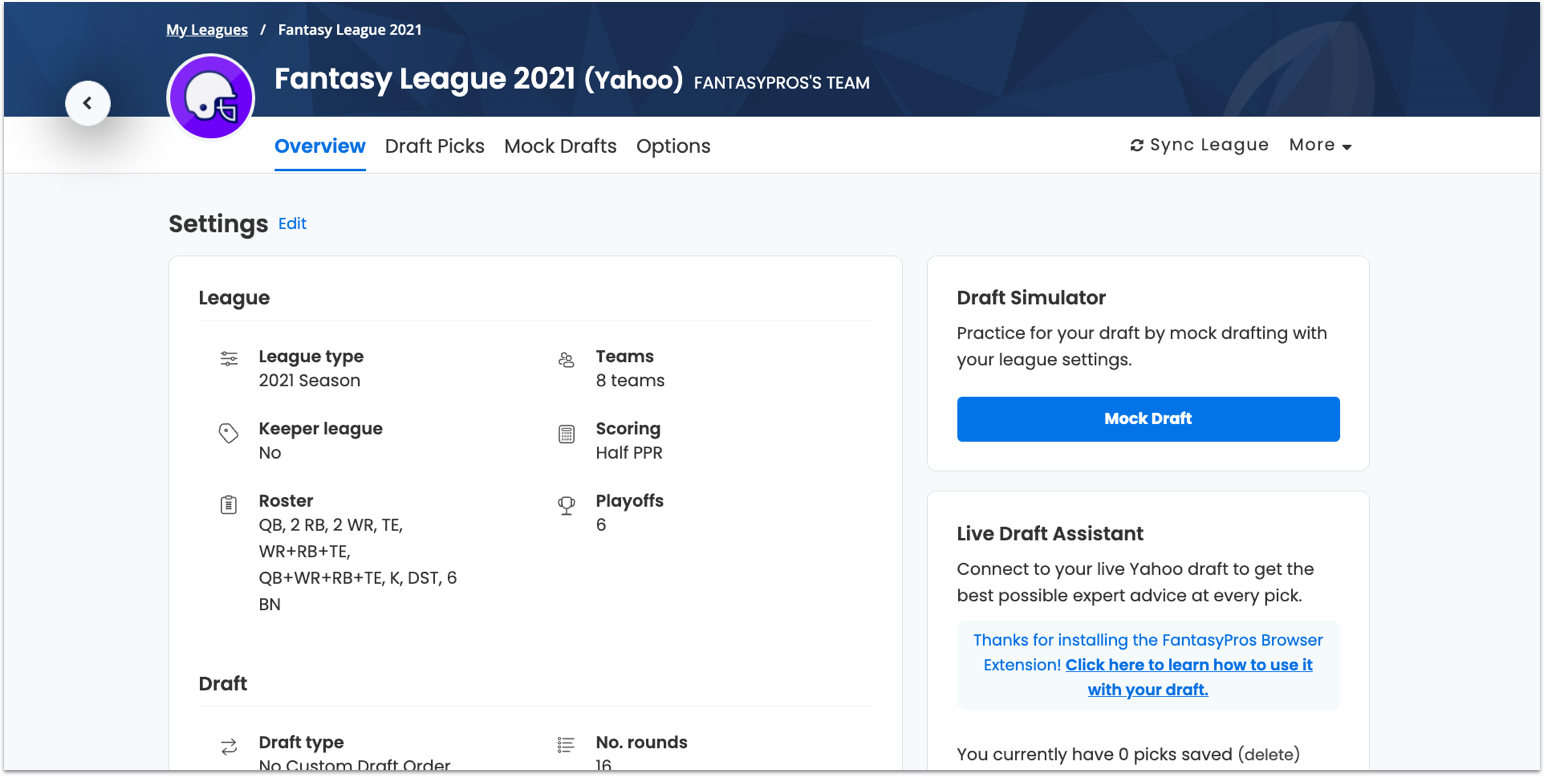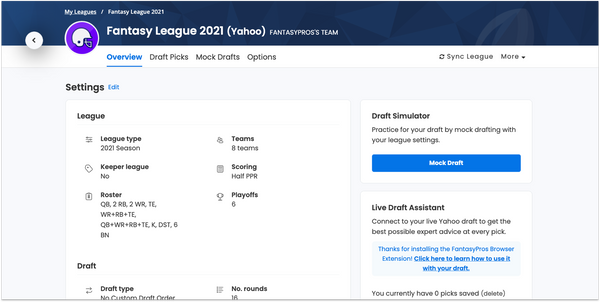 One of the most important ways to take advantage of everything FantasyPros draft and in-season management tools has to offer is to sync your league. Syncing your league allows our tools to customize advice for your league's settings.
We just updated the way you manage your league settings and options, giving you a cleaner interface to see what's going on under the hood and to allow you to more easily make changes to league settings, customize your mock drafts, launch Draft Assistants, manage league specific notifications, and more.
First, you'll need to sync your league. You can do this from the My Leagues screen. Once your league has been added, you can access your league settings by clicking the extended menu icon (three vertical dots) and clicking League Settings.  

You'll then be able to see the league settings that we've pulled in from your league host and validate they're all good to go.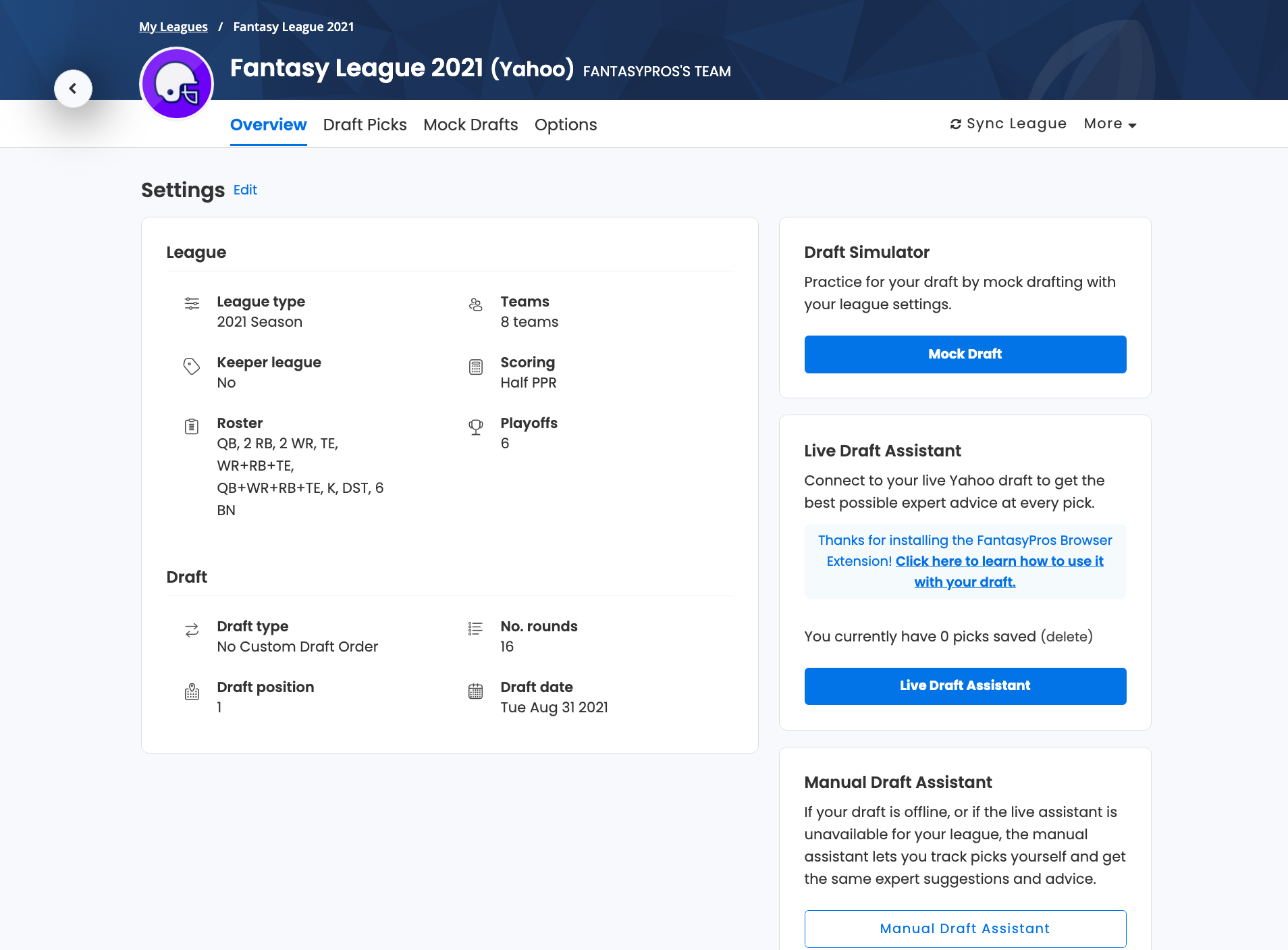 Additionally, you'll be able to launch mock draft simulations and your Live and Manual Draft Assistants from here.
Clicking "Edit" next to settings will let you update all sorts of settings like the number of teams, roster positions, scoring settings, draft details, and the draft order.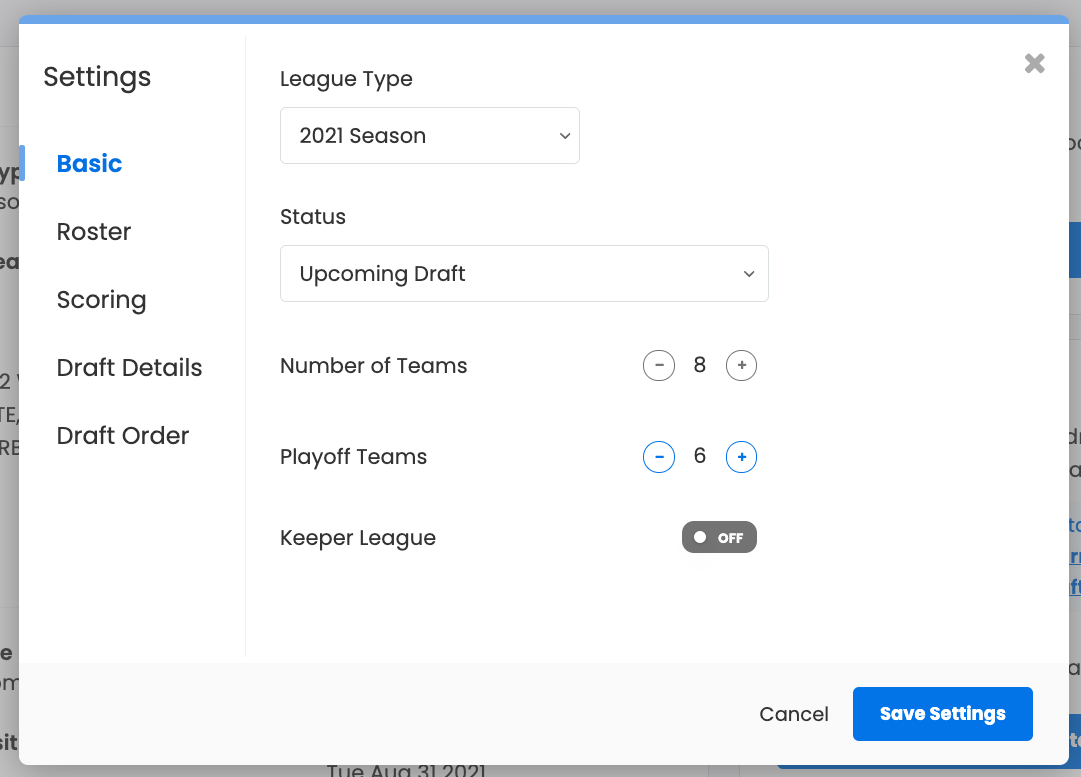 If you change your league settings and ever need to re-sync them with what is set on your league host, you can always click "Sync League" and re-sync everything: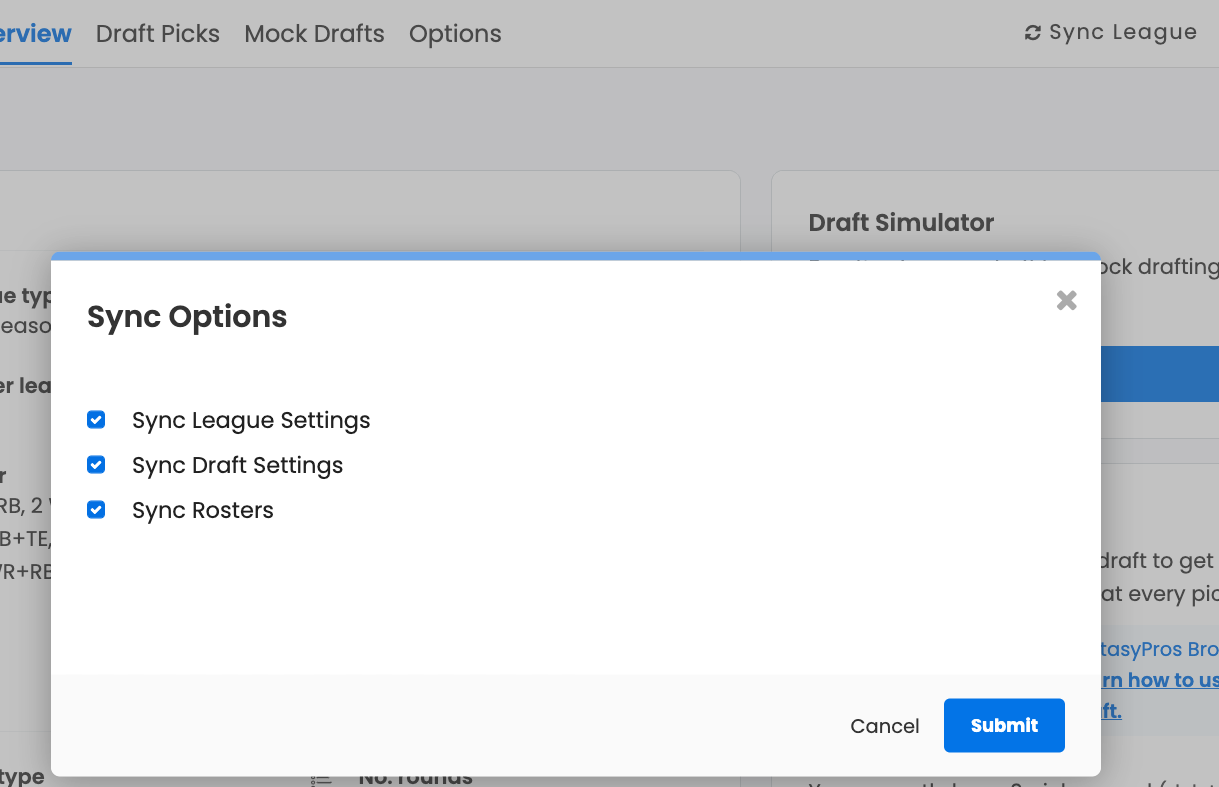 Customizing Mock Drafts
One of the major features we launched for Draft Wizard last season was the ability to customize your mock draft experience. This customization allows you to tailor the simulation behavior based on the tendencies of your fantasy league.
For instance, if you know your team overvalues quarter backs, you can adjust it. If you know John is a huge Patriots homer, you can set his team to heavily bias in favor of the Pats.
All of that can now be updated via the "Mock Drafts" tab in the new League Settings screen: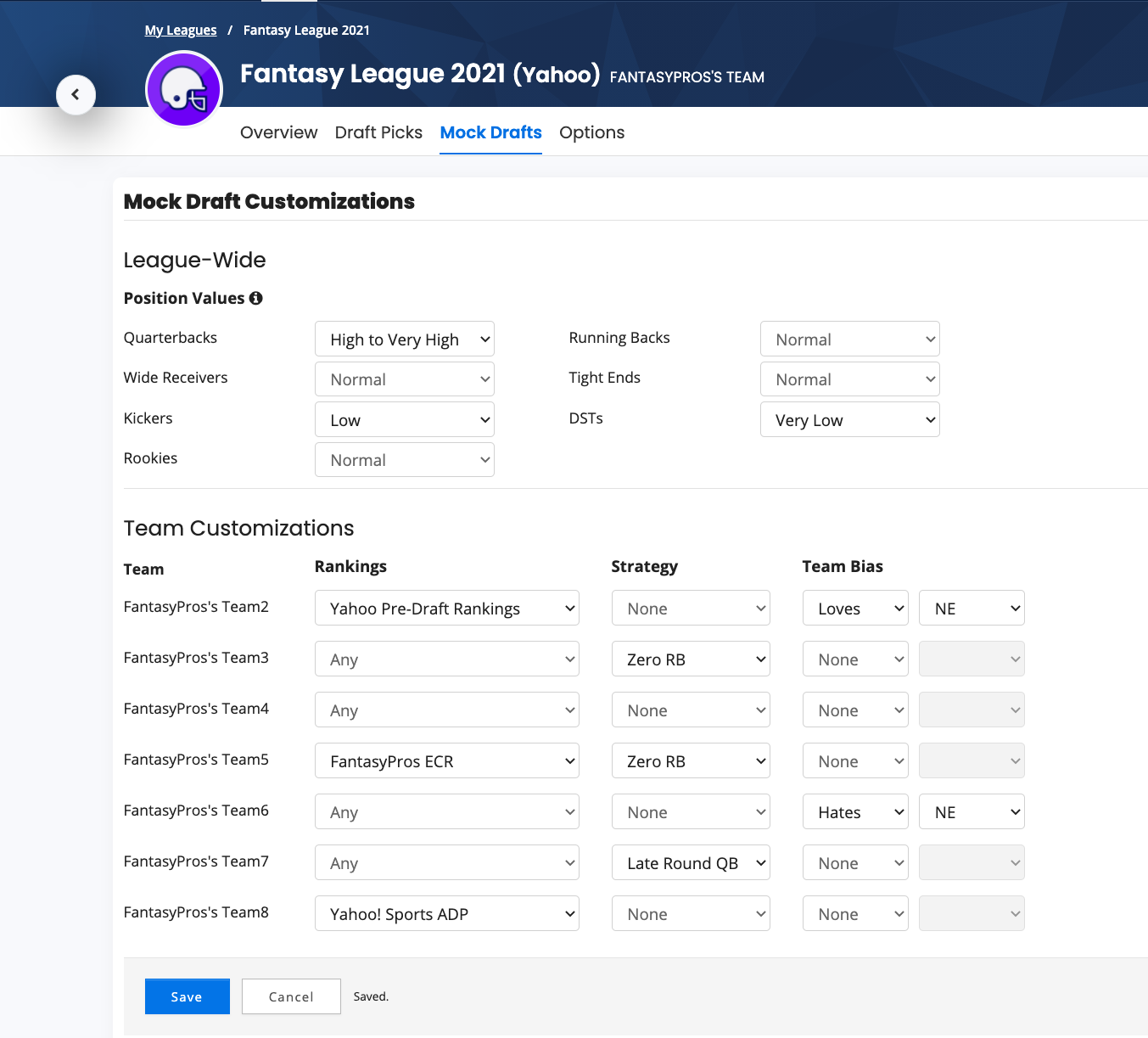 Finally, you can give your league a nickname for reference in our tools as well as toggle on and off our 2 in-season advice emails: the Weekly Insights email sent on Mondays and Waiver Suggestions email sent on Tuesdays.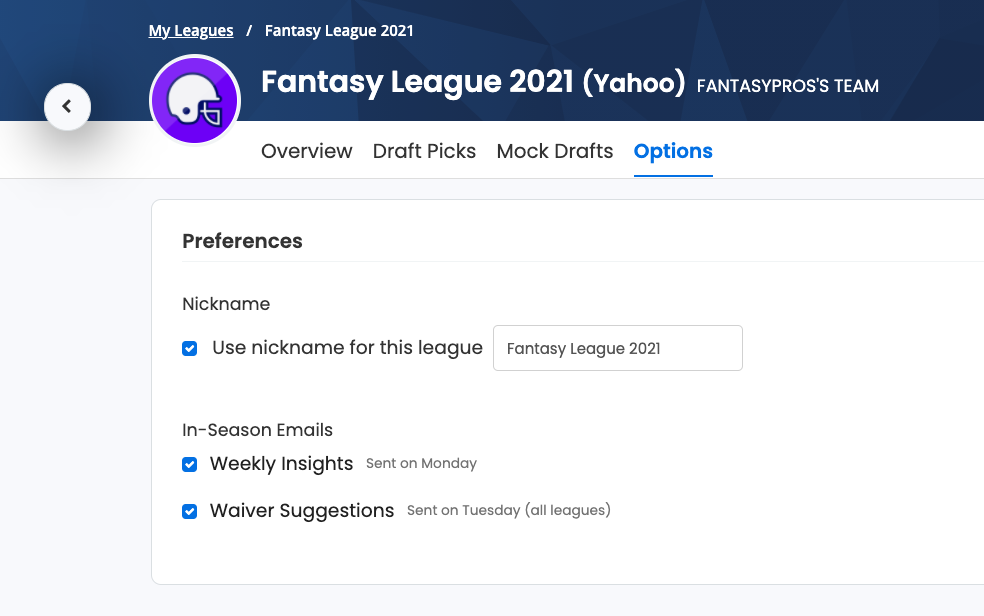 You can check it out today via My Leagues and clicking on Edit League Settings. Don't have a league synced? Sync one now and get customized draft and in-season advice.