[7/27/2022] Cheat Sheet Creator Update: Draft Wizard Mobile Apps
Try the all-new Cheat Sheet Creator in the Draft Wizard mobile apps, where you can customize your draft cheat sheets more easily than ever. Premium users can build their own rankings, add player tags, save notes, and use their cheat sheets in the Draft Simulator and Draft Assistant.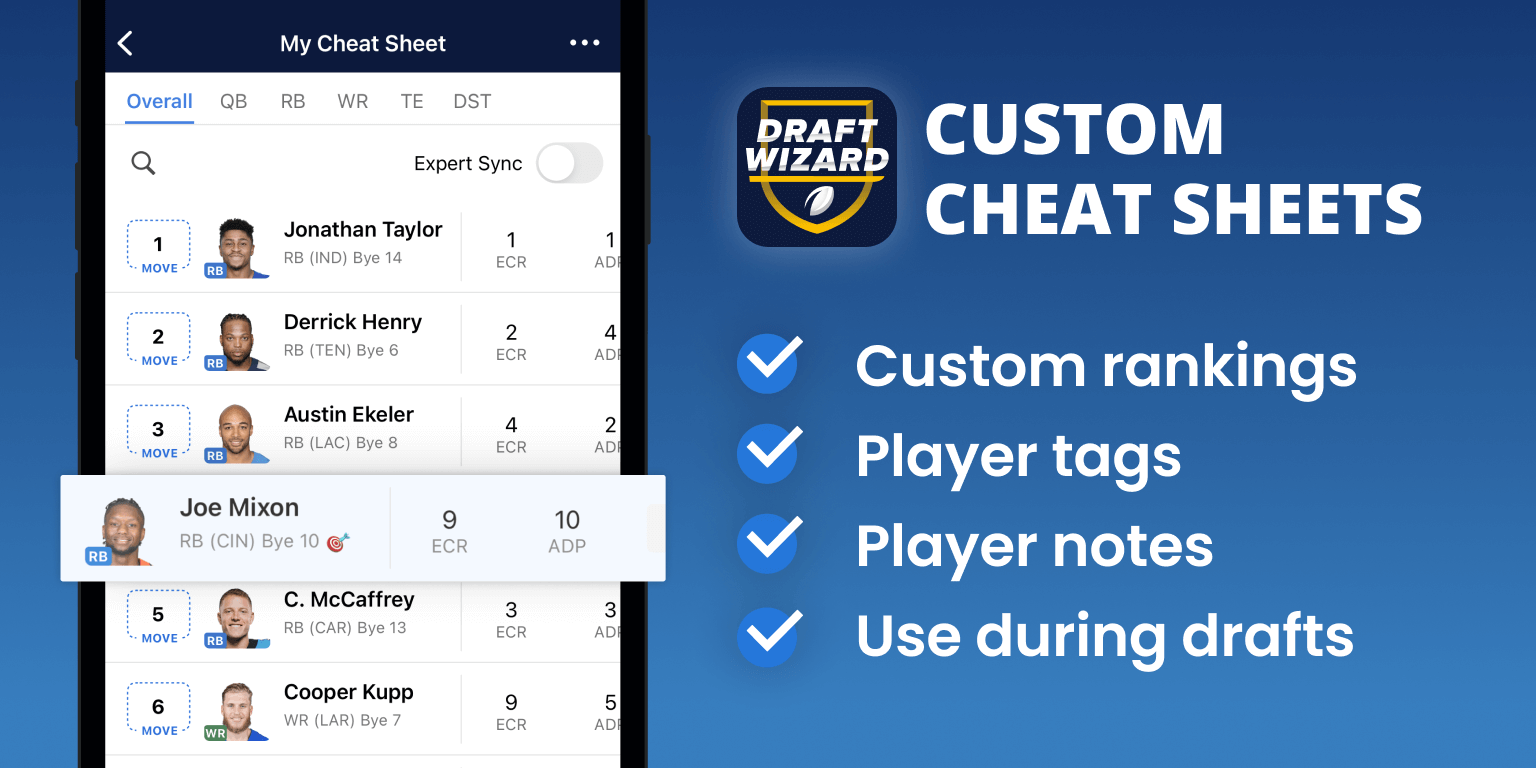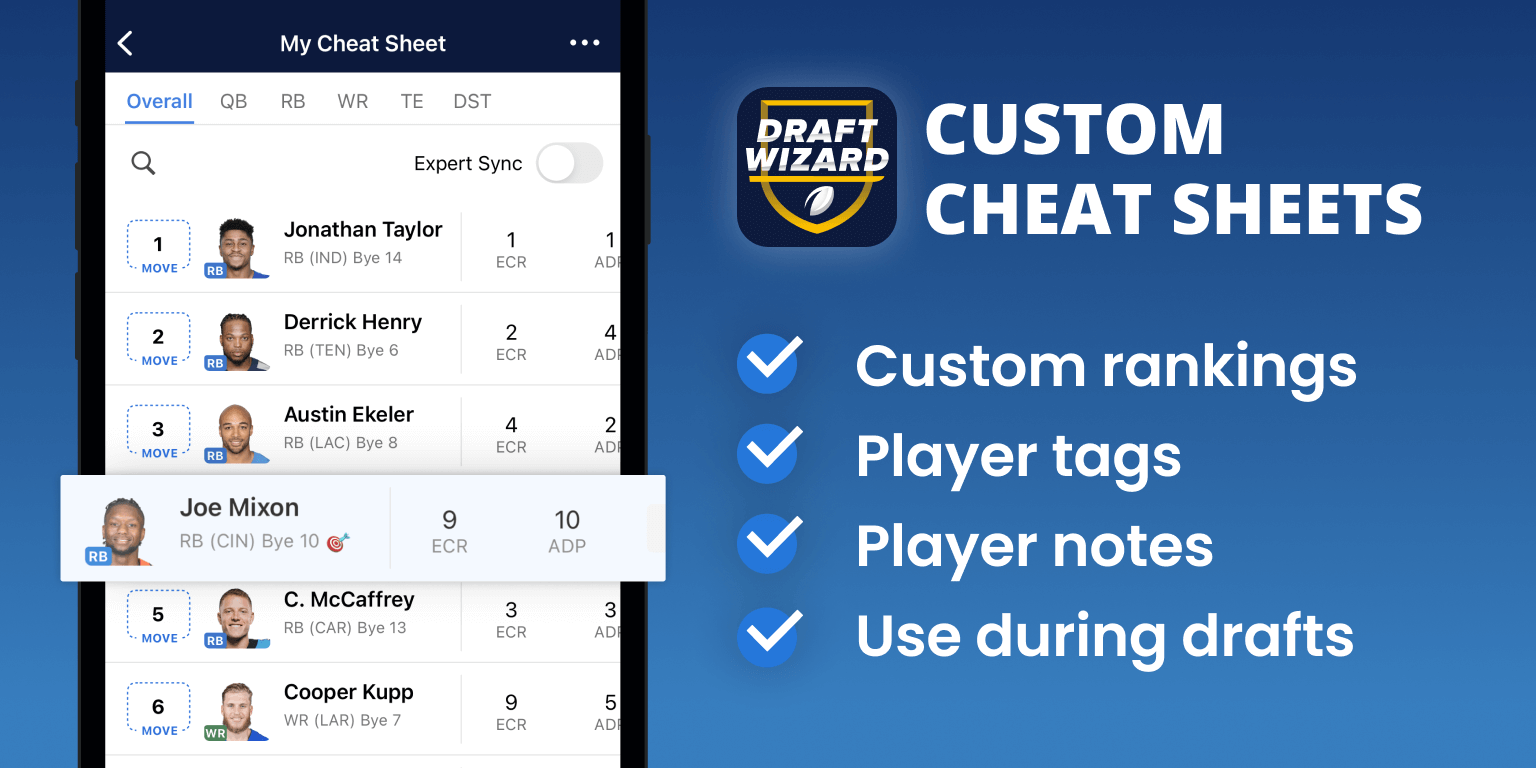 With the 2022 fantasy football draft season rapidly approaching, we're excited to announce an update to the Cheat Sheet Creator within our Fantasy Football Draft Wizard mobile apps. Customize your personal cheat sheets like never before*, including updating your rankings on the go and adding player tags and notes that you've crafted yourself to complement the notes from the experts. Then, use your cheat sheets in the Mock Draft Simulator or Draft Assistant any time!
*Note: Cheat Sheet Customization is available with a FantasyPros MVP or HOF subscription.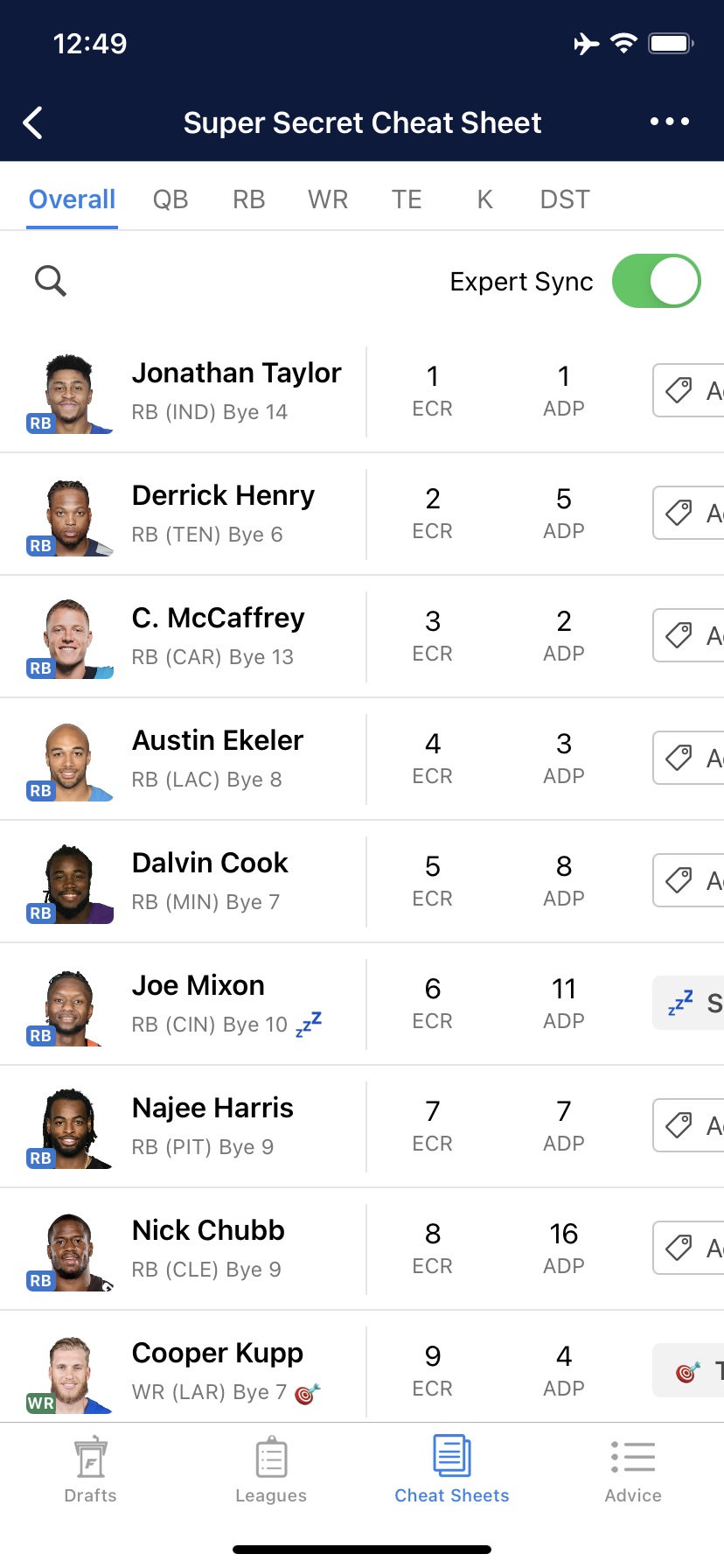 Expert Sync
When you build your cheat sheet, you can select which experts to pull to create your own consensus rankings. With Expert Sync enabled, your cheat sheets will sync and update automatically as experts make changes to their own rankings. Keep your cheat sheets up to date as players emerge during the pre-season, news of injuries surface, and starters are named (looking at you, Miami's backfield).
Want to update the rankings yourself and move players around freely? Simply turn off Expert Sync, and you can make your cheat sheet reflect your own personal rankings of players.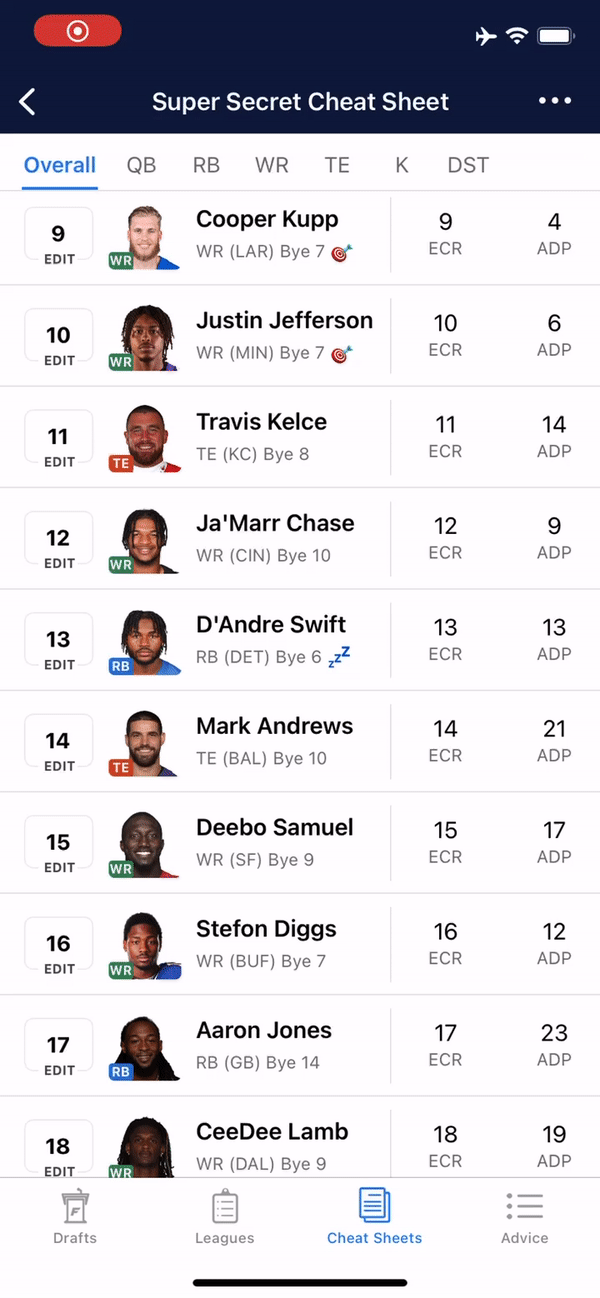 Player Tags and Notes
Have that one player you're telling yourself "Never again"? Well first, let's be honest... you'll probably still draft them. But until then, you can add tags to the players on your cheat sheet to separate them into your own personal categories.
Tag your players by Target 🎯, Sleeper 💤, or Avoid 🚫 to give yourself a quick reminder later how you plan to approach your draft. Player tags will even carry across cheat sheets to keep your strategies consistent.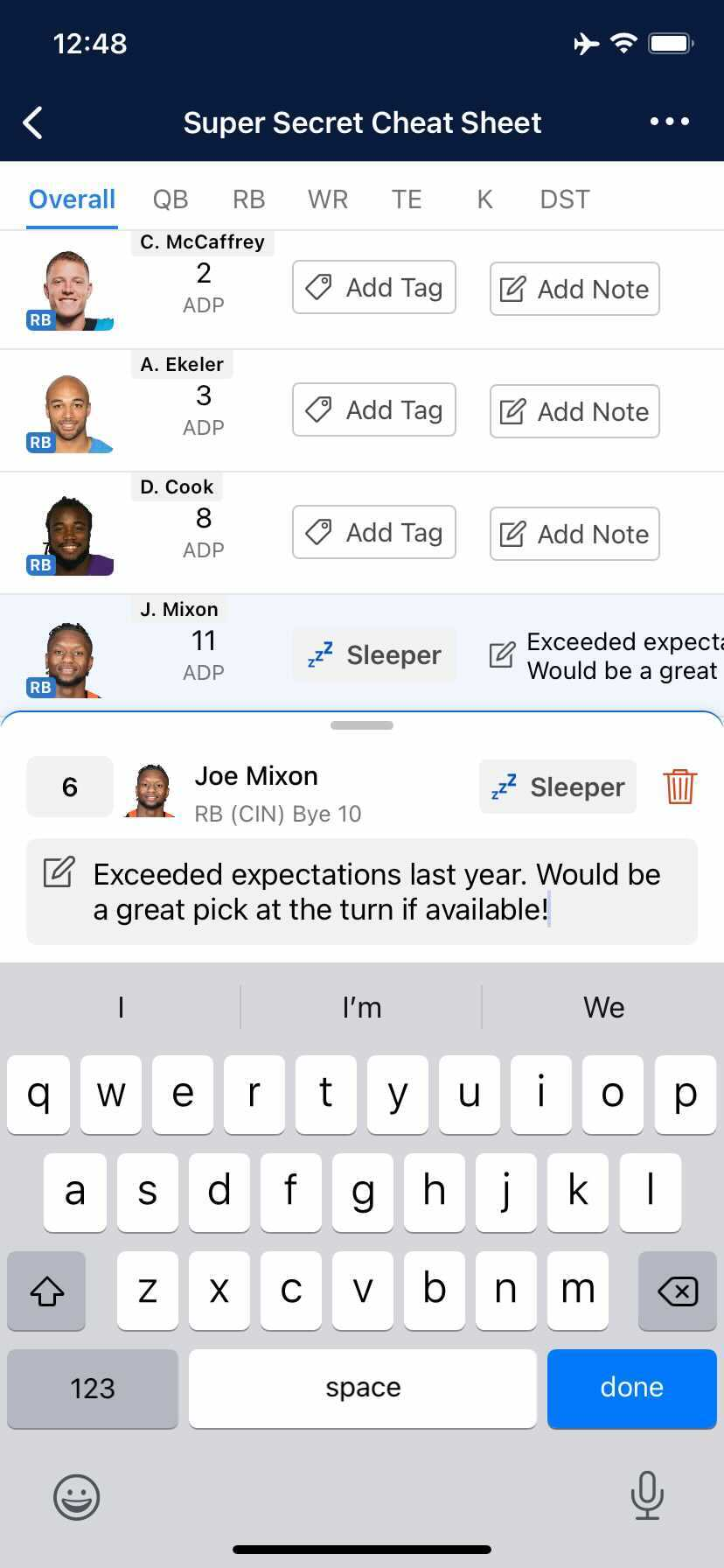 Add notes to players to keep track of narratives or stats you want to be mindful of when considering drafting that player. Expert notes are also automatically available to your cheat sheets for added context for each player.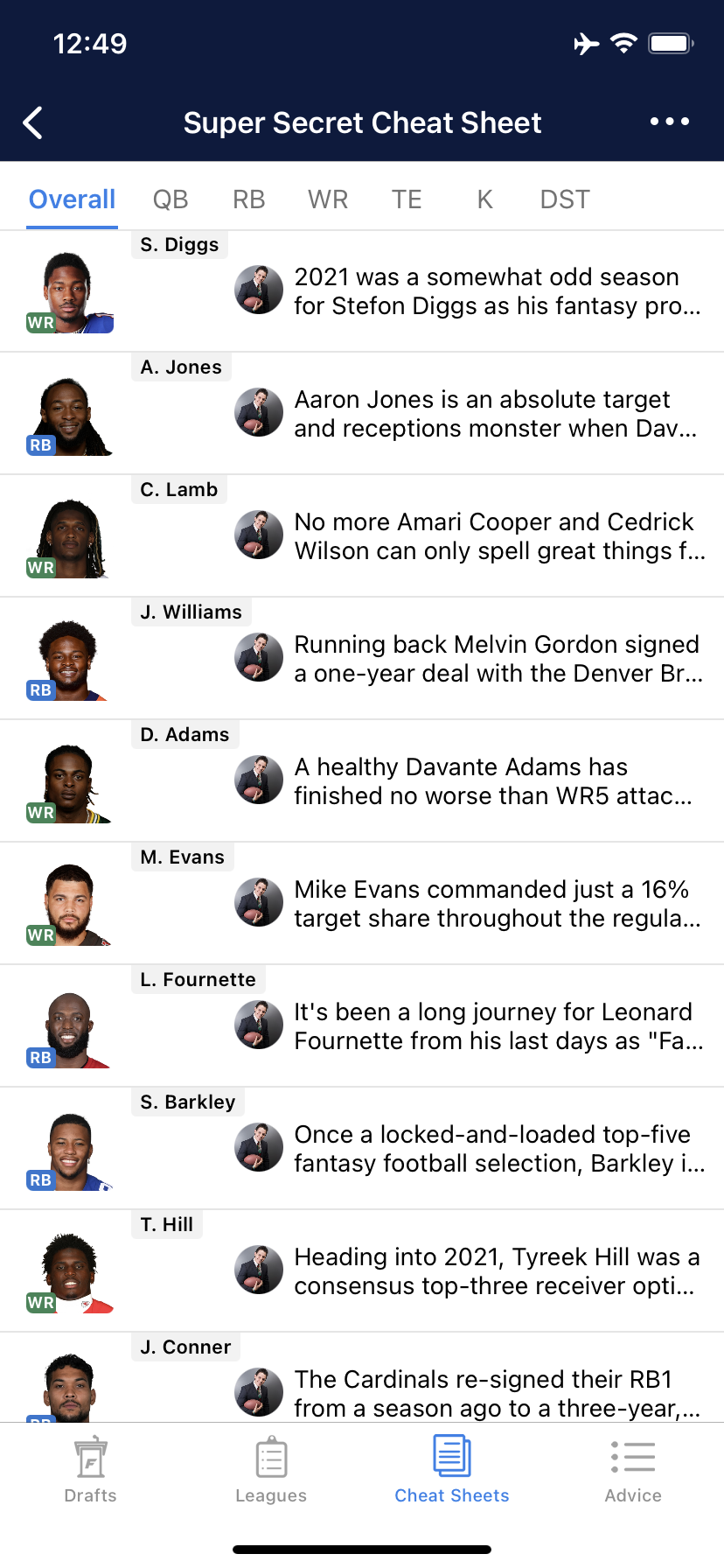 Your Cheat Sheets in Action
All cheat sheets will also show Expert Consensus Rankings (ECR) and Average Draft Position (ADP) alongside your cheat sheet rankings, so you'll never have to skip a beat when considering who to draft. Filter by position to see these updated automatically to positional rankings and positional ECR.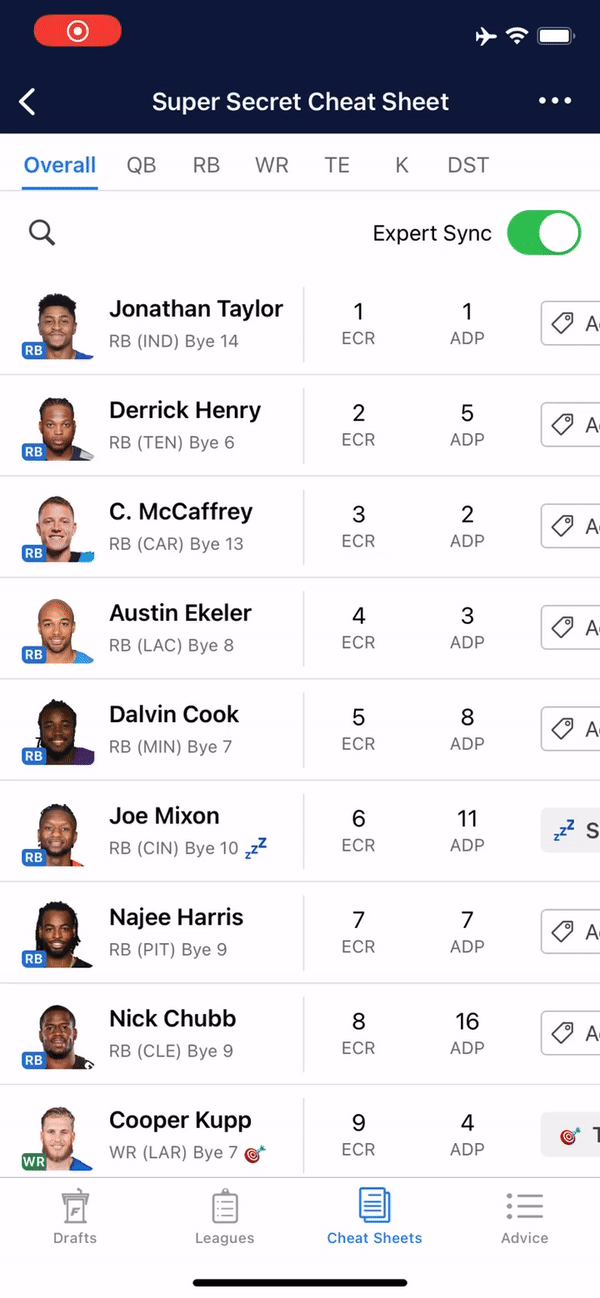 From the Mock Draft Simulator you can put your cheat sheets to the test. Make changes to your cheat sheets, and draft again! Come draft day, use your final cheat sheets in the Draft Assistant to dominate your real draft.
Fantasy Football Draft Wizard Mobile App Update - Available Now
The Fantasy Football Draft Wizard mobile app update, including the changes to the Cheat Sheet Creator, is available for both iOS and Android now. Download or update the Fantasy Football Draft Wizard app today, and start building your own cheat sheet to dominate your upcoming drafts anytime, anywhere!
*Note: Cheat Sheet Customization is available with a FantasyPros MVP or HOF subscription.