Draft Intel: Your Secret Weapon for Winning Your Fantasy Draft
Sync your league free and get intel on how your league mates draft!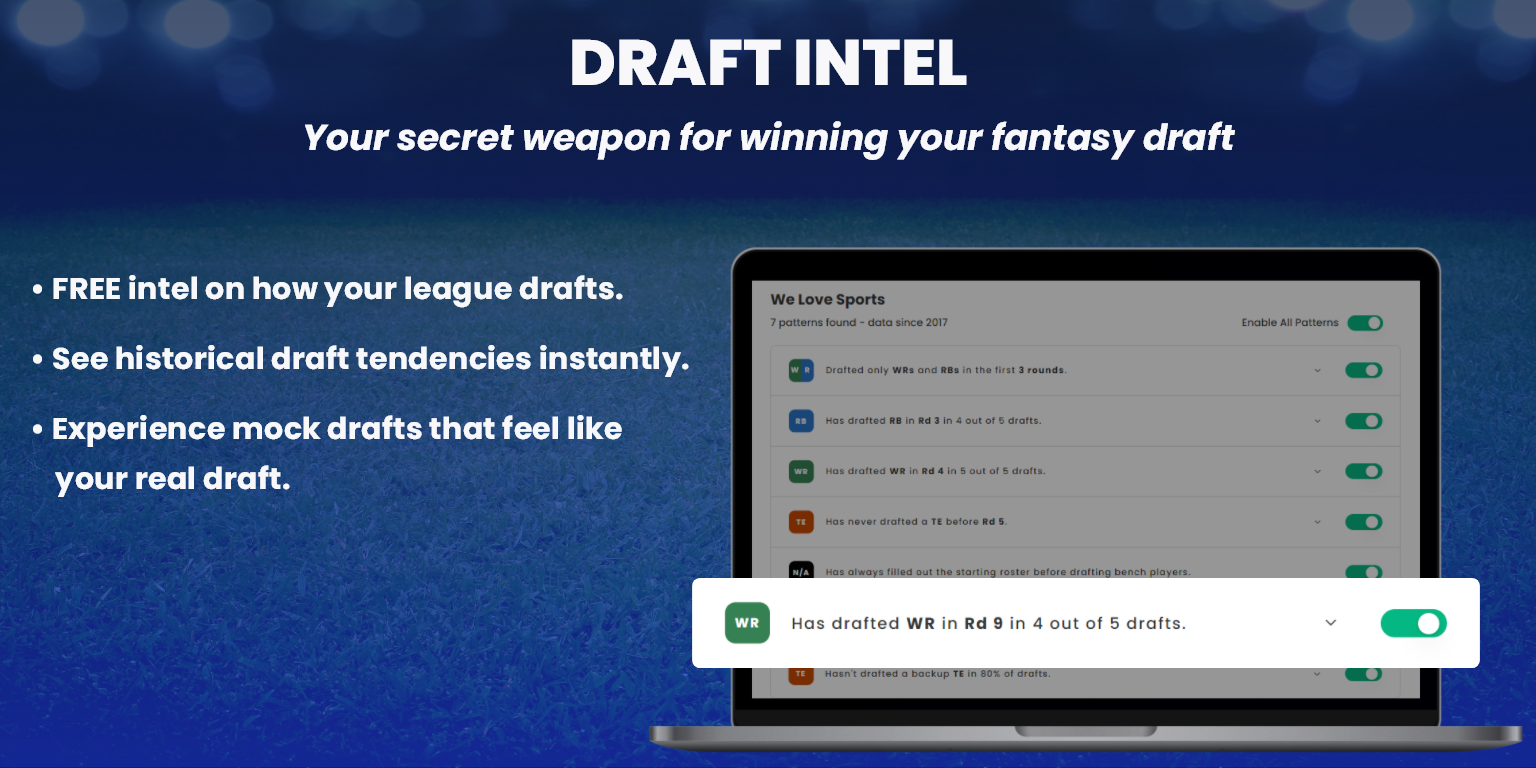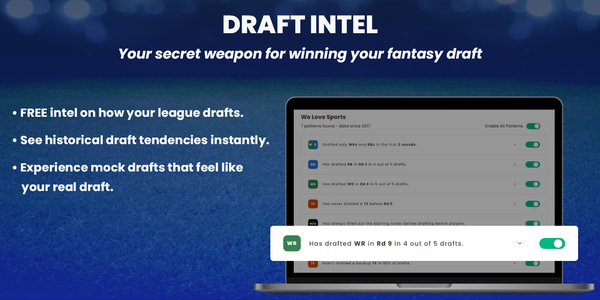 Wish you could wave a magic wand and know how your league mates are going to draft? How they'll use their picks? How early they'll go for a QB or TE? And which they'll skip drafting a backup for?
With Draft Intel, the newest tool from FantasyPros, you'll know how your league mates draft better than they do!
Draft Intel gives you an edge in your draft by showing you insights into how your league mates make decisions. Sync your league with FantasyPros and we'll analyze your league mates' tendencies over the last five years of drafts.
You'll see how long a manager waits to take their first QB, how RB heavy they are in the first few rounds, if they draft backups at TE, and so much more.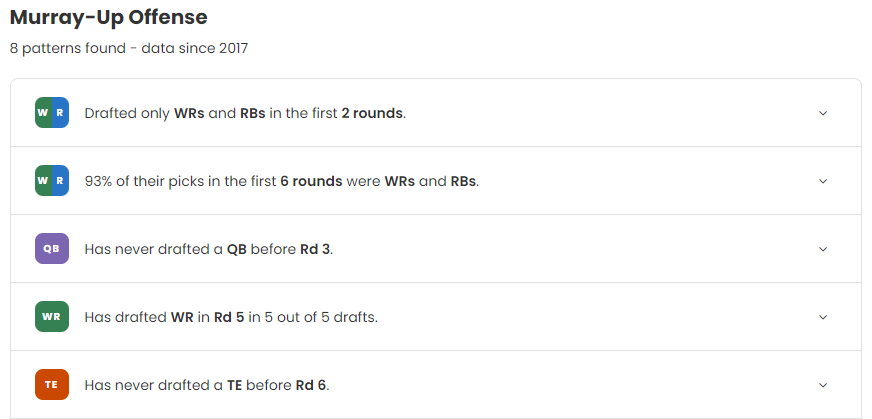 Getting Started
To start, navigate to Draft Wizard or directly to the Draft Intel page. If you haven't done so already, you'll be prompted to create or login to a FantasyPros account.
Next, sync your qualifying* fantasy football league with FantasyPros.
Once you've synced your league, we'll automatically pull in your draft history and analyze it. Simply head over to Draft Intel and to see all of the detected patterns for your league.
*Please note that Draft Intel currently supports leagues hosted on Yahoo, ESPN, or Sleeper. Qualifying leagues include full re-draft leagues and re-draft with keeper leagues with at least two years of previous draft history.
Draft Patterns & Behaviors
On the Draft Intel page, navigate between each team to see the draft patterns detected for each league mate. You'll see insights that range from showing you breakdowns of pick tendency by round to how early a manager might grab their first QB.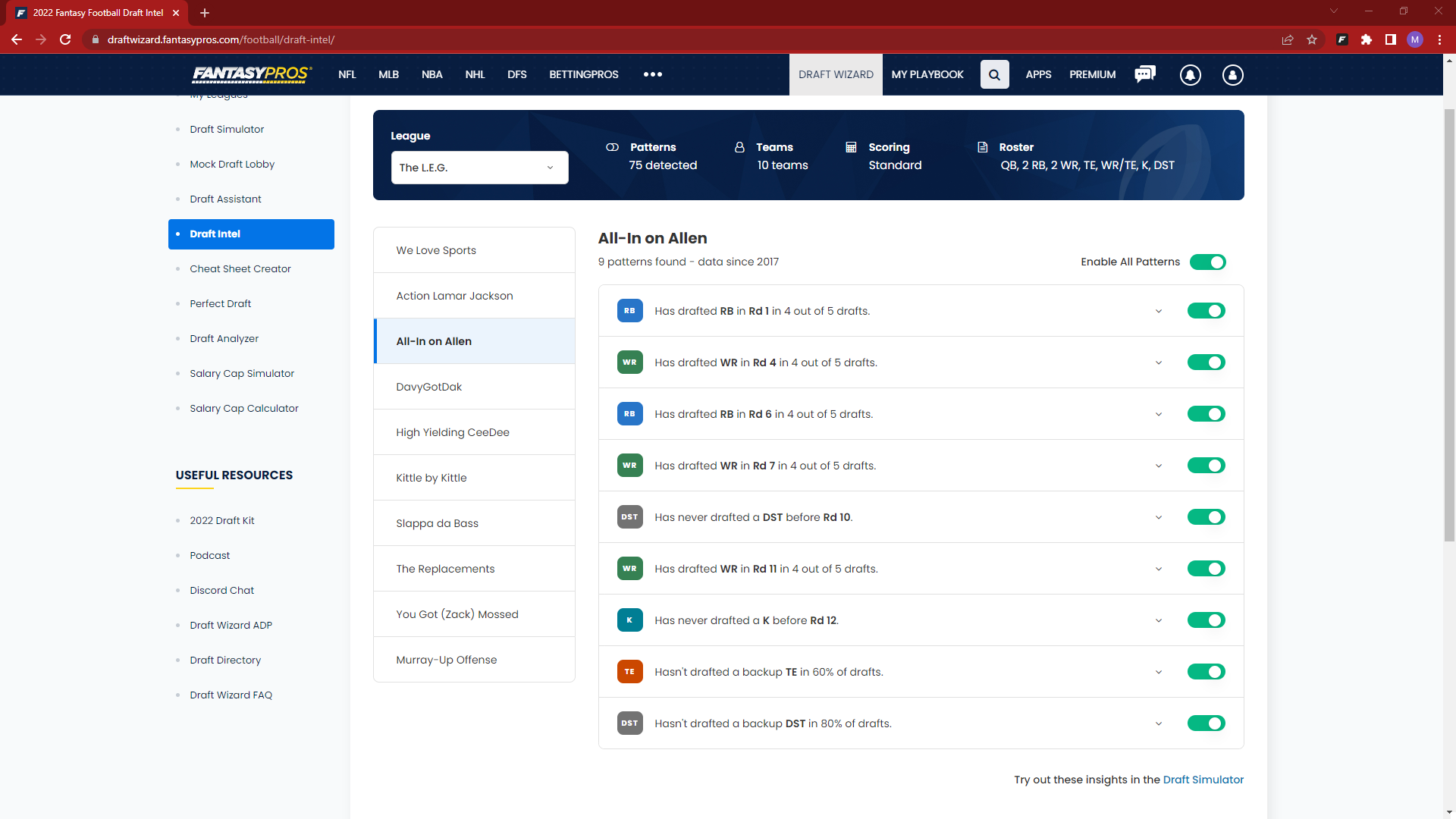 Each insight has a drop-down that shows the relevant draft picks for that pattern, giving you further understanding on what your league mates are aiming for and when.
With context on how your league mates typically use their picks throughout each draft, you'll get the complete story of how they select players and their overall strategy.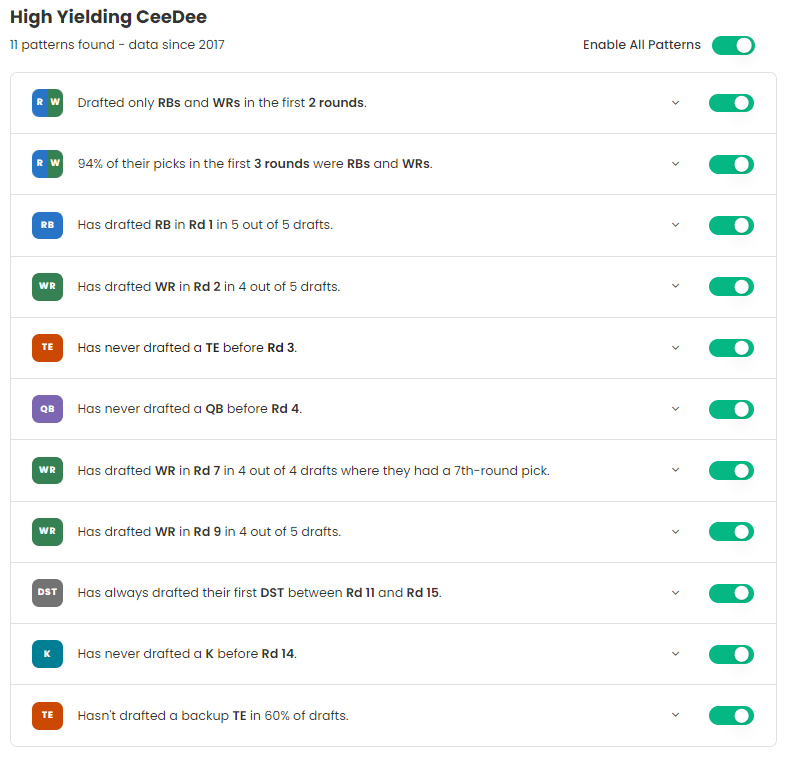 Using Draft Intel in the Mock Draft Simulator
The FantasyPros Mock Draft Simulator has always been the most accurate mock drafting tool available. Now with Draft Intel, your mock drafts are tailored directly to the people in your league.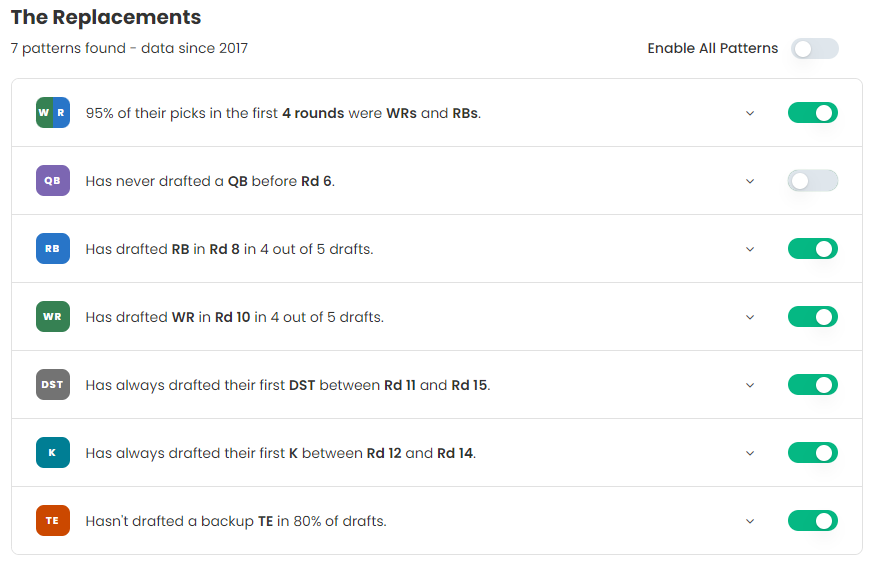 Note: Using Draft Intel patterns in the Mock Draft Simulator requires a premium subscription.
On the Draft Intel page, toggle any (or all) patterns you would like the team's bots to use in a mock draft. Customize each team to test out drafting with different strategies, and drafting against different strategies.
After deciding which patterns you want to use, Draft Intel will automatically apply those behaviors for you to mock draft with. From there, jump into the Mock Draft Simulator and experience mock drafts that feel like your real draft!

Check out Draft Intel to analyze your league's draft history and get intel on how your league mates draft today!