Game Day 2023: More Features, More Matchup Info, More Fun
Game Day is your home for a live play-by-play feed for every NFL game, full fantasy matchup details, highlights, and more.
With the start of the 2023 fantasy football season, we're excited that Game Day is once again ready for action.
Game Day is your home for a live play-by-play feed for every game including full details of every fantasy relevant-player, and every fantasy-relevant play.
See all of this and more on Game Day for free.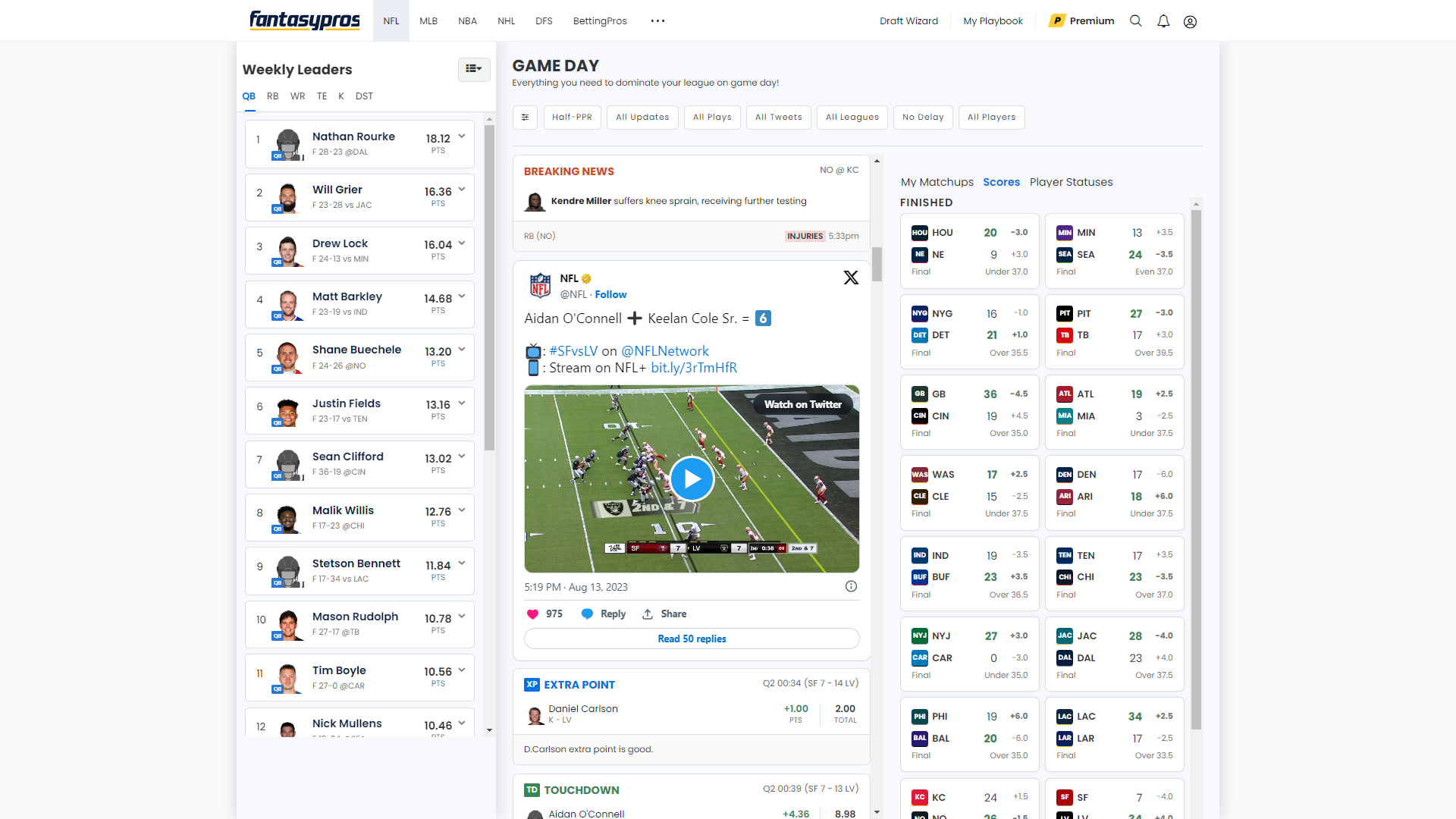 And for the 2023 season, we're introducing a range of enhancements to Game Day.
Stop toggling between 20 different apps to check live game scores, fantasy matchups, breaking player news, and to find highlight reels.
Simplify keeping track of every fantasy-relevant play and each of your fantasy matchups with Game Day.
Introducing Detailed Fantasy Matchups
See the full details of your fantasy matchup for your synced leagues.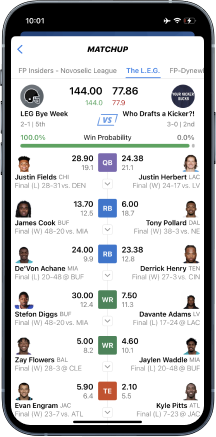 View your lineups, current scores, live projections, and the players' game time left for every matchup.
Tweets & News integration
We're excited to debut updated player news and embedded tweets directly into Game Day.
Stay informed with updated player news and injury reports, and rewatch big plays and game highlights from your Game Day feed.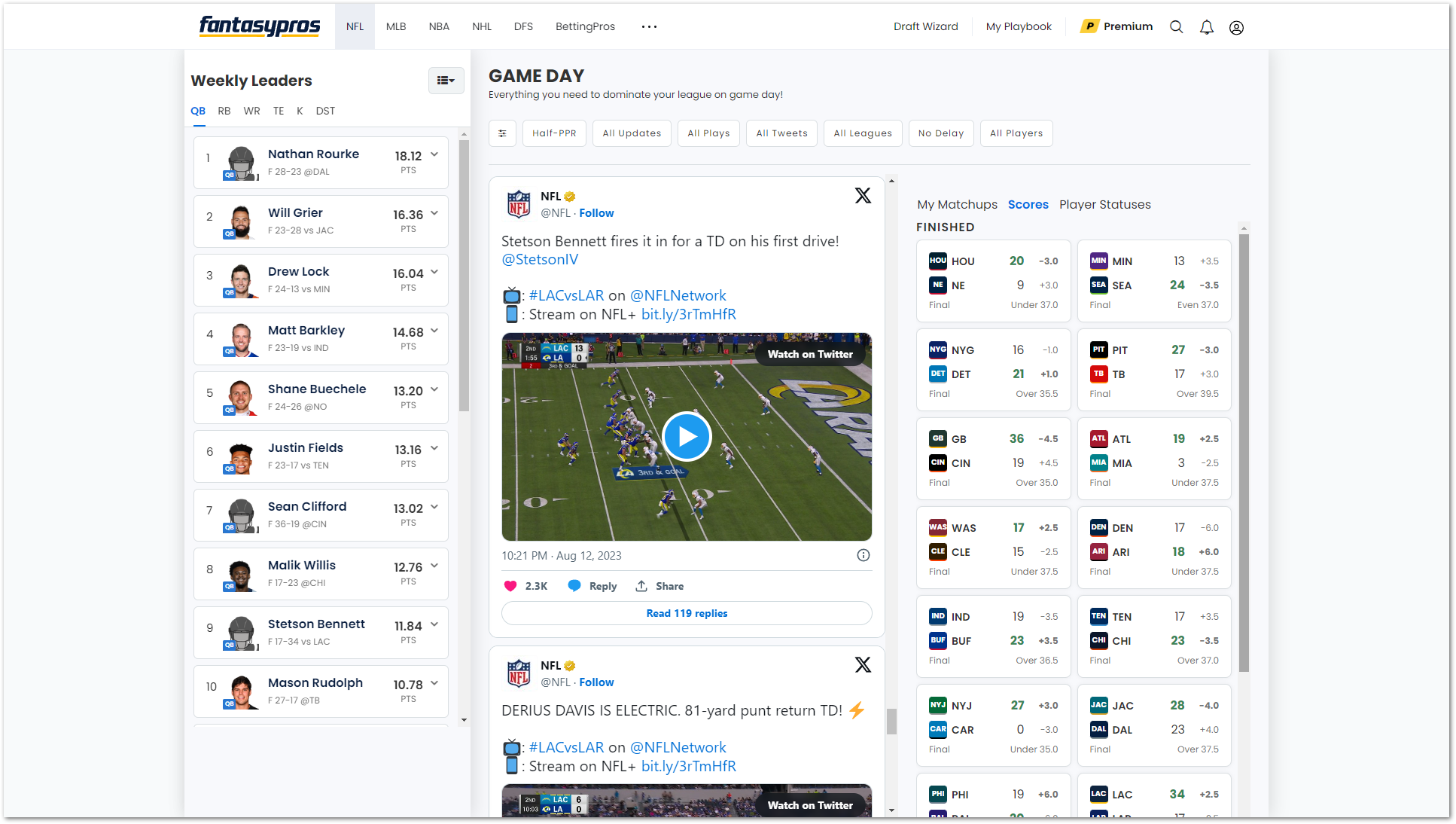 Updated Player and Play-by-Play Filters
By popular request, we've made some updates to add additional filters to what you see in Game Day.
With the recent addition of Tweets & Player News, you can toggle what types of updates show in your feed.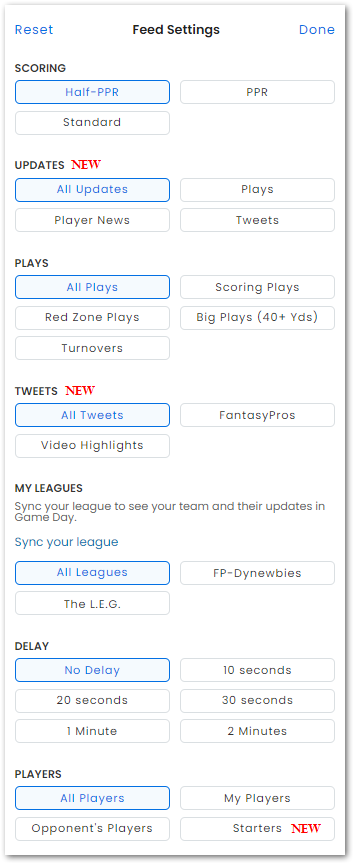 For fantasy plays, we've also added the option to only show your fantasy team's starters.
Exclude free agents and bench players to keep your feed a little neater when you're looking to monitor how your players are doing on any given day.
Available Now - and All Season Long
Game Day is available at FantasyPros.com as well as within both the FantasyPros and BettingPros mobile apps (within the My Playbook, Fantasy News & Scores, and BettingPros apps for both Apple and Android devices) and is free.
Be sure to check out Game Day, every game day!