[10/13/2020] Free Agent Finder Update: Improve Your Team, Now in HD
Easily find and add available free agents in all of your fantasy football leagues, using the current week's waiver rankings.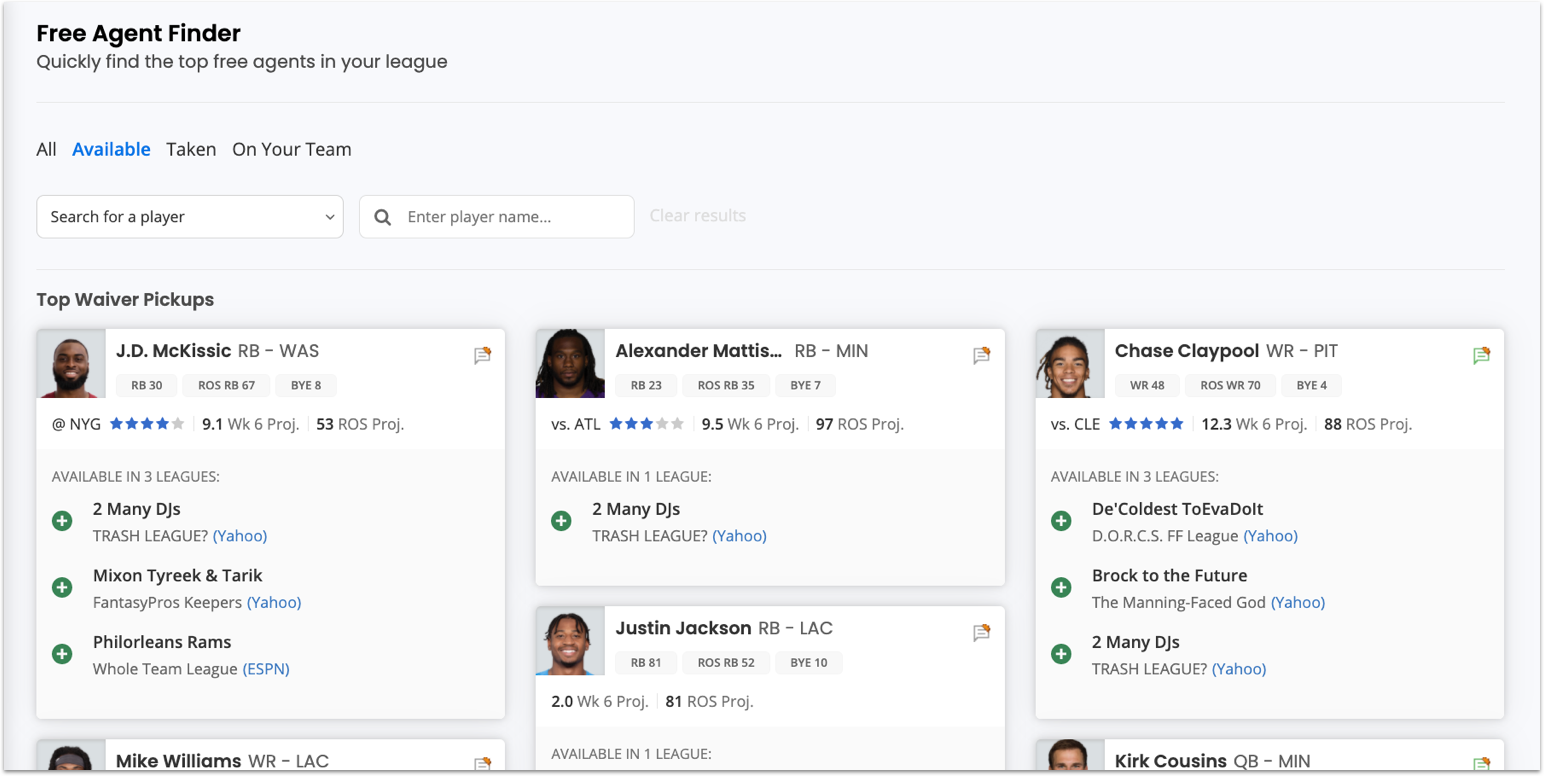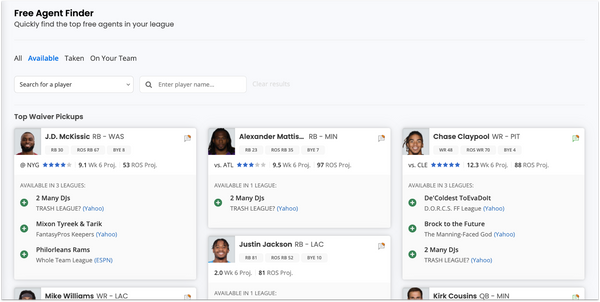 Now that we're in the thick of fantasy football season (even with all the postponements and schedule changes...) it's extremely important to keep your roster up-to-date, either finding replacements for your injured players or improving your bench depth via free agents.
One of the most challenging aspects of working the waiver wire, however, is finding those players that are worth picking up. It is made even more challenging if you are in more than one league.
That's where our Free Agent Finder comes in. We recently updated the Free Agent finder with a cleaner presentation, loading players by default (where previously you had to search for a player), and adding a lot of useful player in formation such as their rankings, matchup info, projected fantasy points, and more.
The FAF is a bit different from the Waiver Wire Assistant in that it doesn't give you detailed analysis for a potential add/drop, but it lets you find available players across all of the leagues that you have synced with My Playbook.
It also allows you to make a waiver claim for supported league hosts with an add button.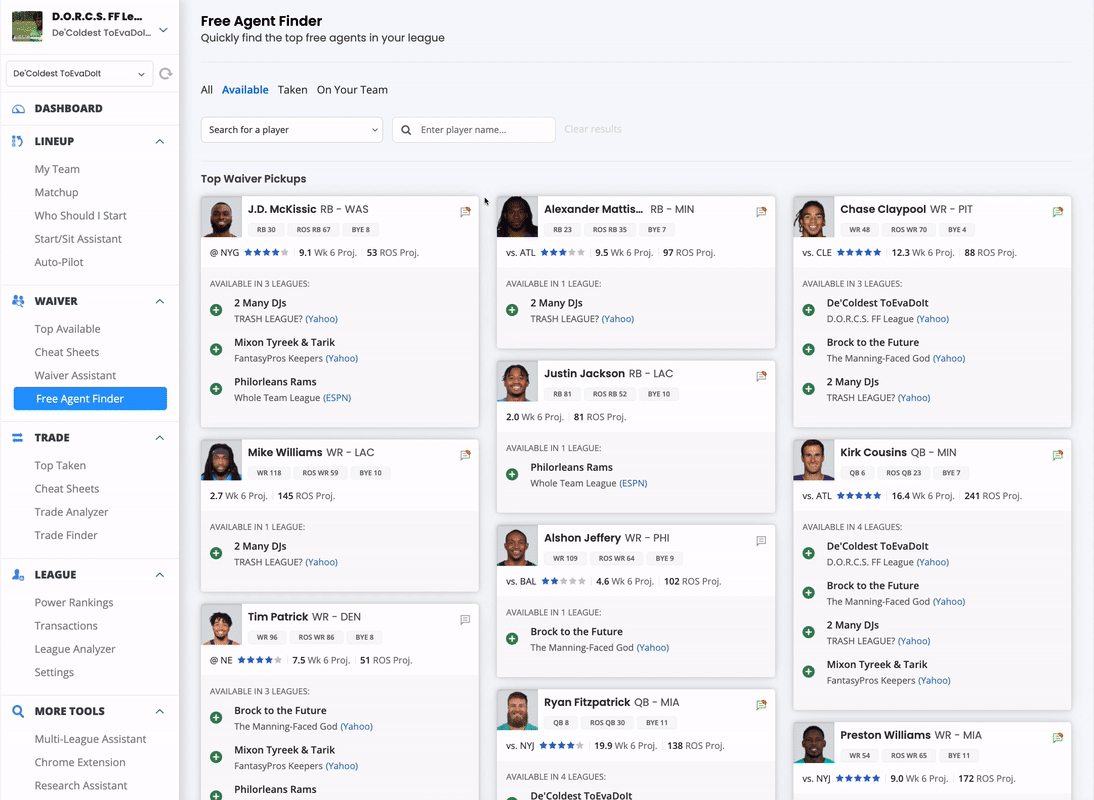 It's great for situations like:
Player A goes down with an injury and you want to pick up their backup, Player B. Just go to the Free Agent Finder and search for the player and you'll see which leagues he's available in.
You want to target a specific buy low candidate (Joe Mixon, anyone?) Type in that player's name and click on "Taken" to see where that player is rostered, with a quick link to initiate the trade offer.
By default, the Free Agent Finder loads available players based on that week's waiver wire rankings.
Another great feature is having it analyze any webpage or copy/pasted content for player names. This is a good for long form content (e.g. Tags' Primer) to quickly see who is available in your leagues.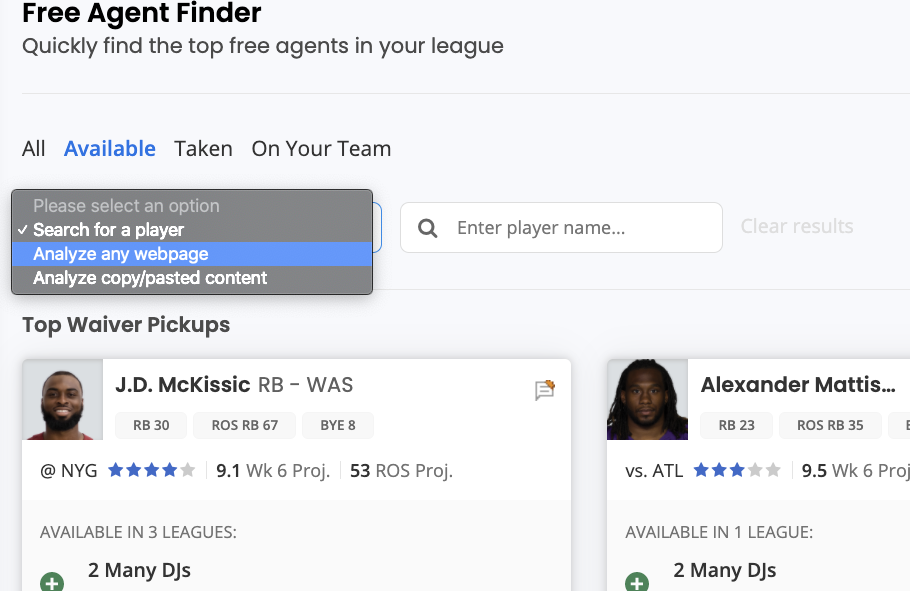 Check out the updated Free Agent Finder in My Playbook.