With week 6 all wrapped up, we are already almost halfway through the fantasy football regular season!

The beginning of each fantasy week is an opportunity for fantasy managers to evaluate their roster and look for ways to improve by picking up players on waivers. Our Waiver Assistant is the ultimate tool to help you uncover the waiver wire gems that will help you win your week and build your depth for the home stretch leading into the playoffs.
We've launched an update to the Waiver Assistant that will make it easier for you to make better waiver claim decisions. The Waiver Assistant update will provide improved analysis in a fresh, more intuitive design that gives you more useful information at a glance.

With the new design for the Waiver Assistant, we've made improvements to how we display our waiver recommendations and the details we provide in our analysis.
In both the Add and Drop Player columns, we've revamped the way players are displayed with a new card layout which shows:
The player's weekly or rest-of-season rank.
For the waiver recommendations, the percentage of experts that would add the recommended player to your roster.
The opponent and their matchup rating.
The player's bye week.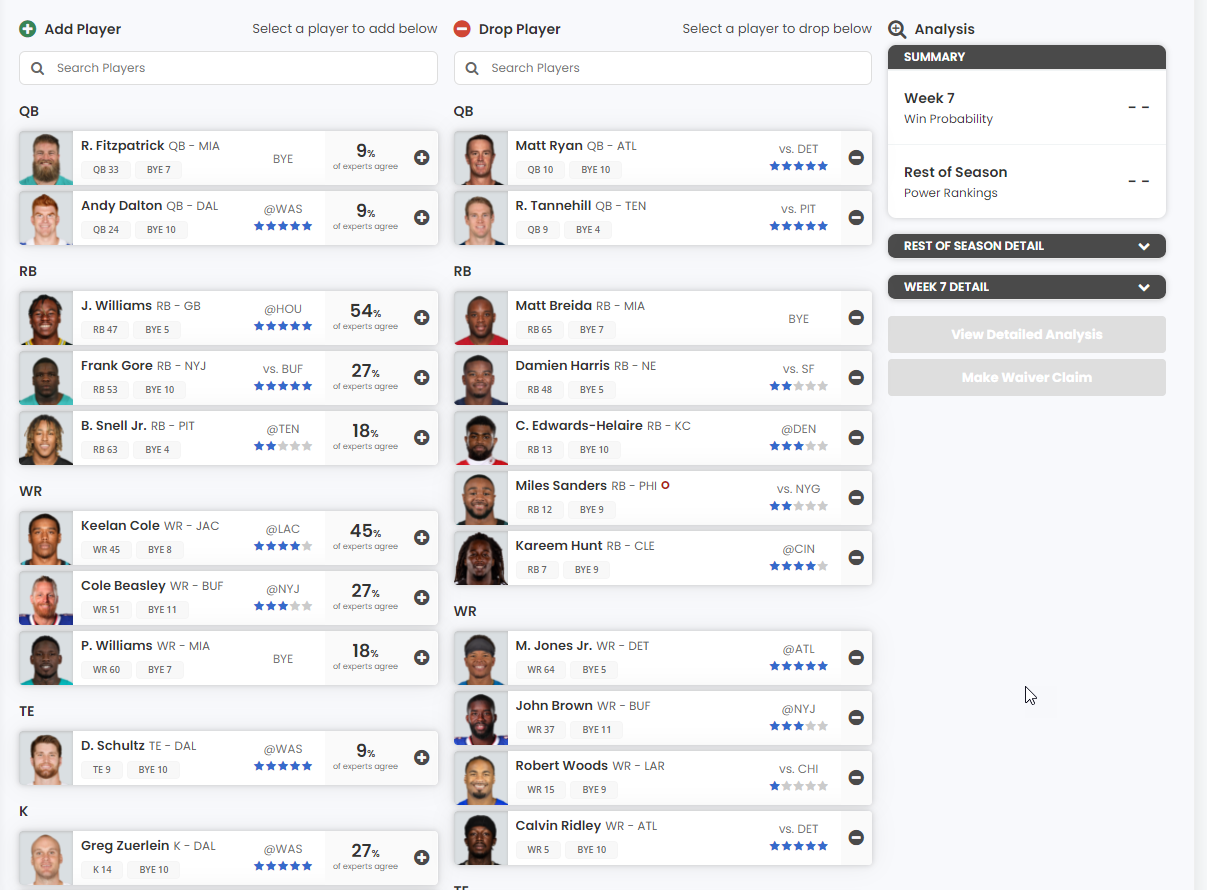 When selecting a player to add, we've included a new module that outlines the player's weekly and rest-of-season projections, as well as a player note from Tags' weekly Primer article that describes their outlook for the week.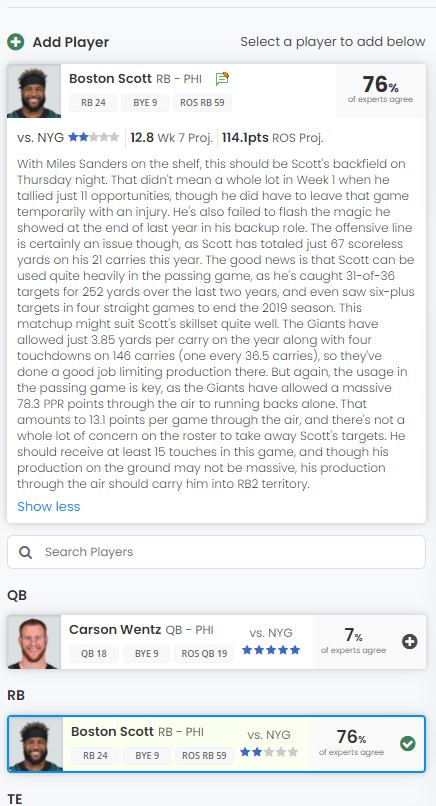 After selecting a player to add and drop, the Analysis section will let you know if the transaction will give a boost to your team. We've included new metrics to the Analysis section to give you a more helpful and refined outlook of the transaction from both a weekly and rest-of-season perspective.
For our weekly analysis, we've added information about how the transaction impacts your team's projected points and probability to win this week's matchup.
For the rest-of-season analysis, we've added how the transaction will impact your probability of reaching the playoffs.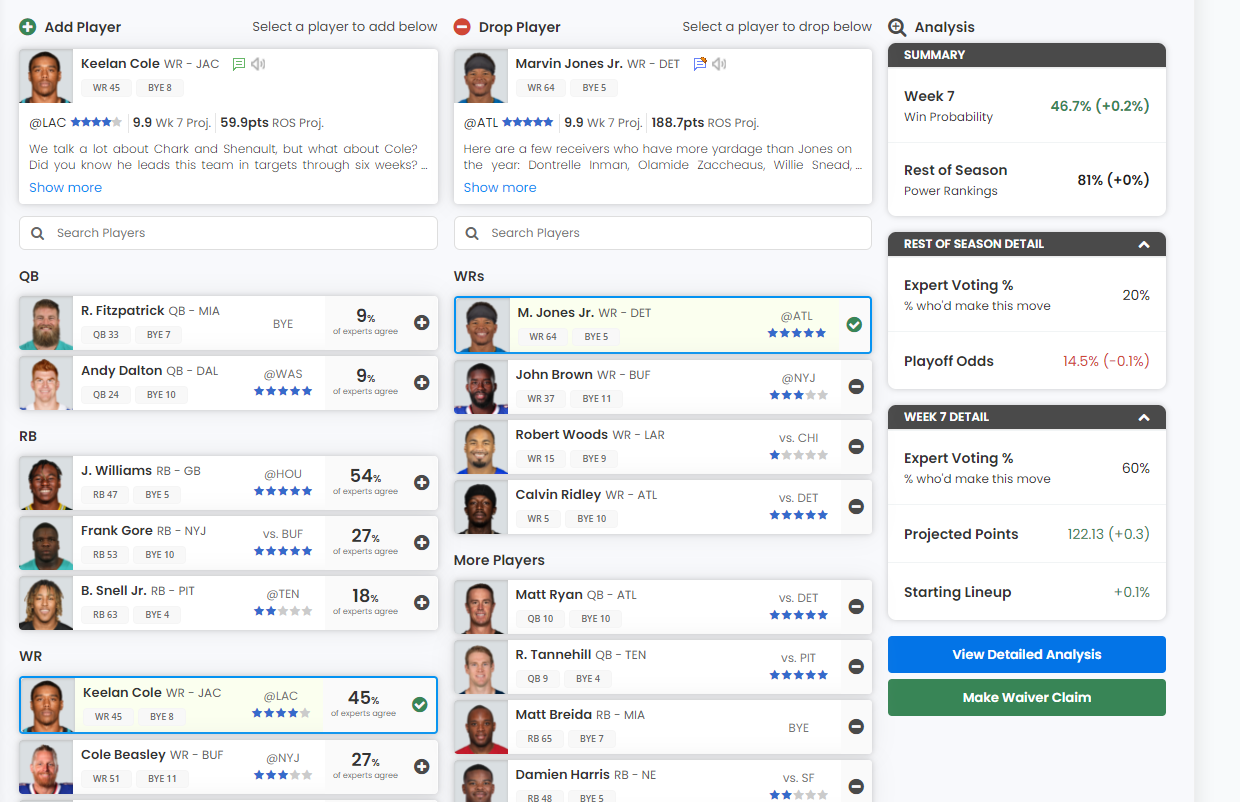 The new Waiver Assistant is also designed from the ground up to work better on your mobile device. This will make it easier for you to find the best available players on waivers using your phone or tablet.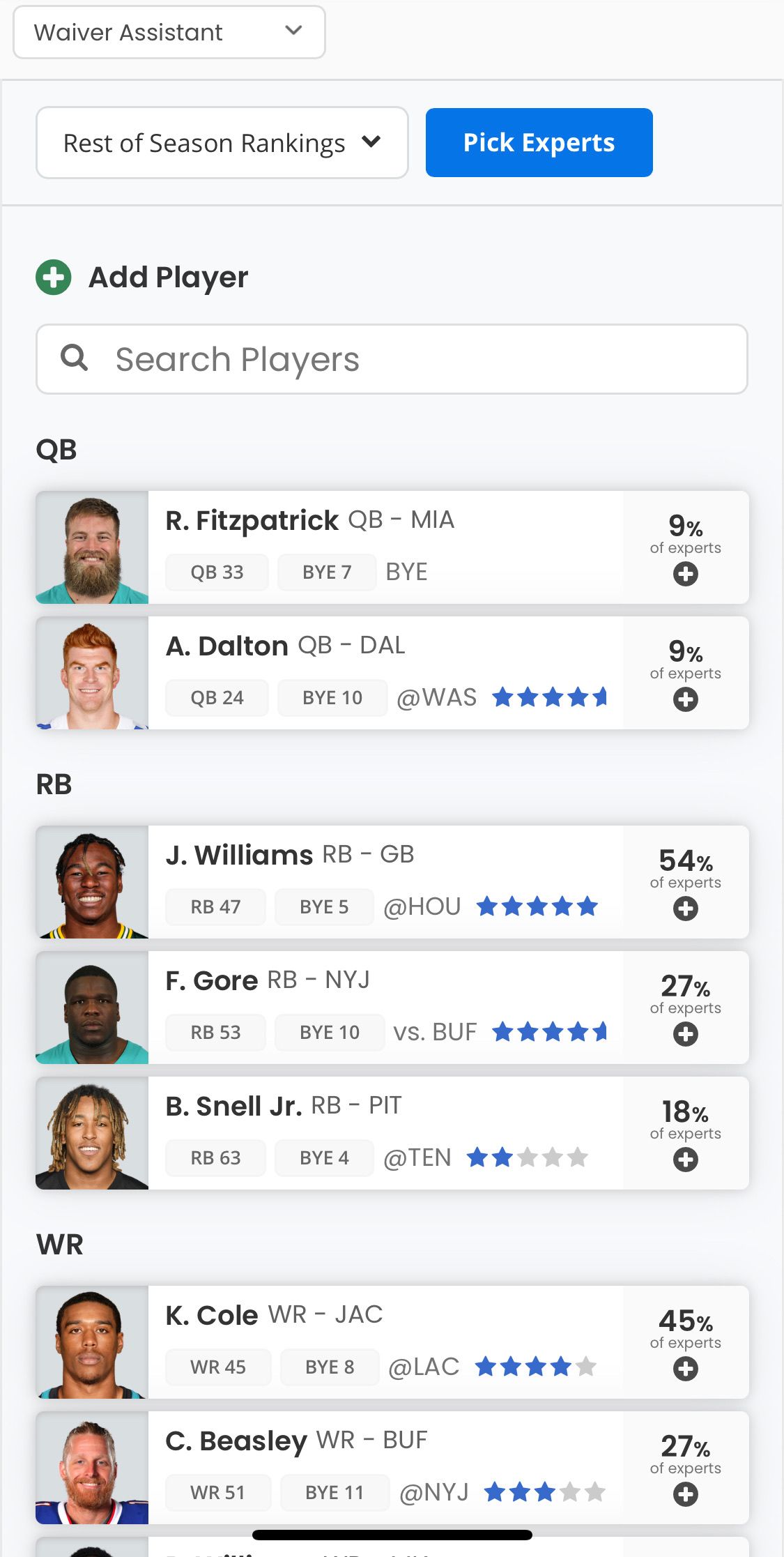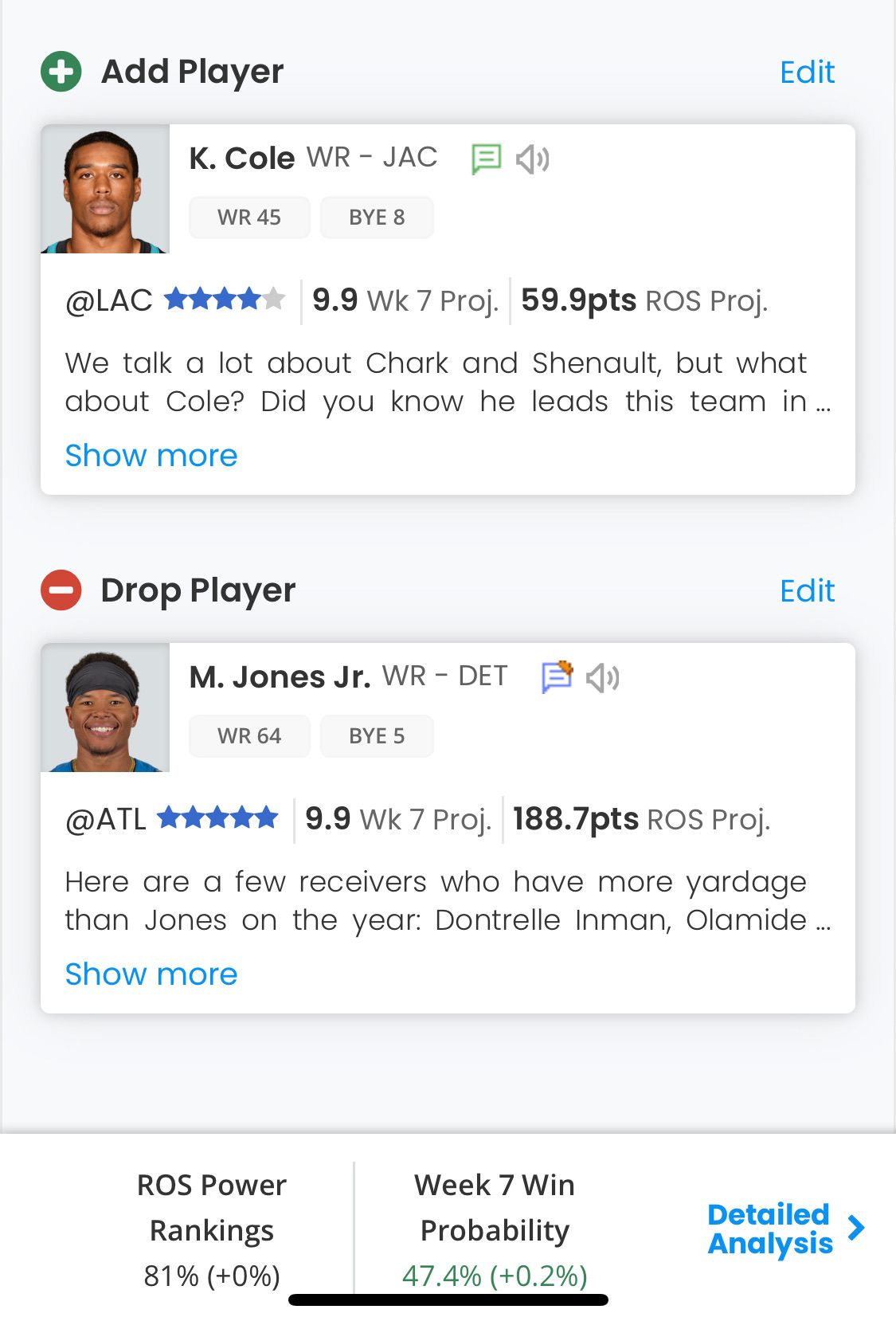 There are three new sections in our Detailed Analysis: Stats, News, and Notes. These sections will help you compare the players in the transaction and provide more up-to-date information before submitting your waiver claims.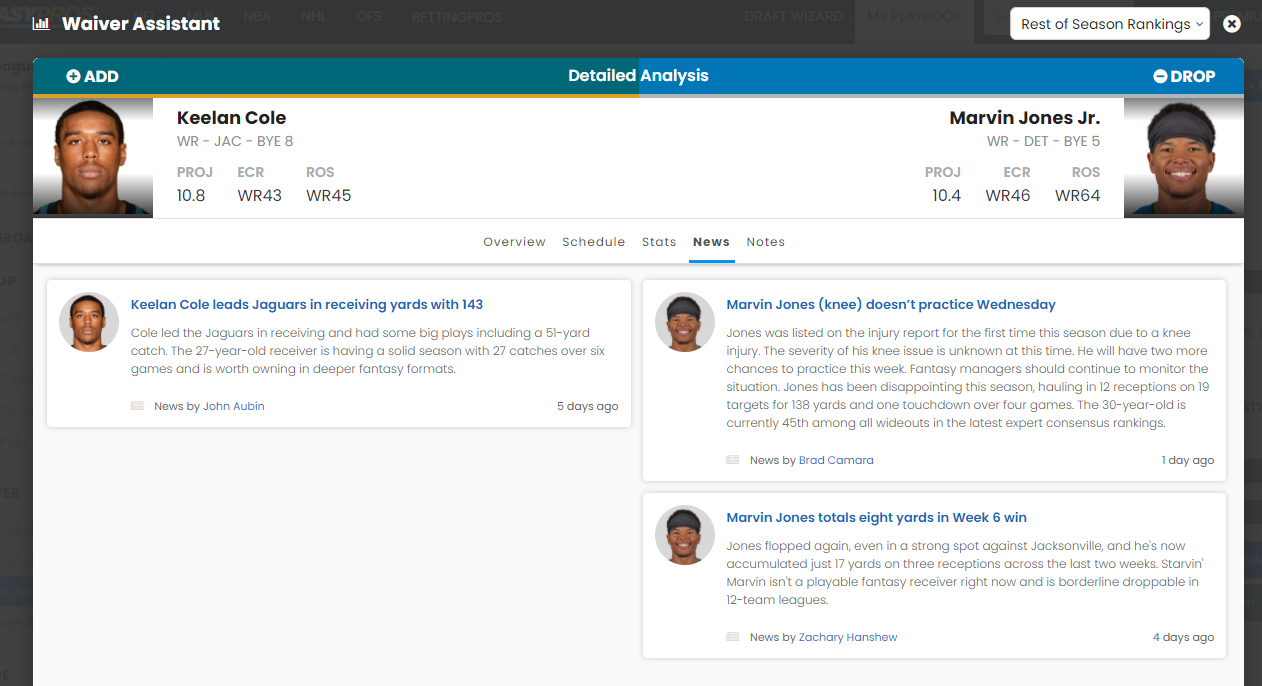 Another convenient feature we've added to the Waiver Assistant is Multi-League mode. When the setting is activated, we show our expert waiver recommendations for all of your leagues simultaneously.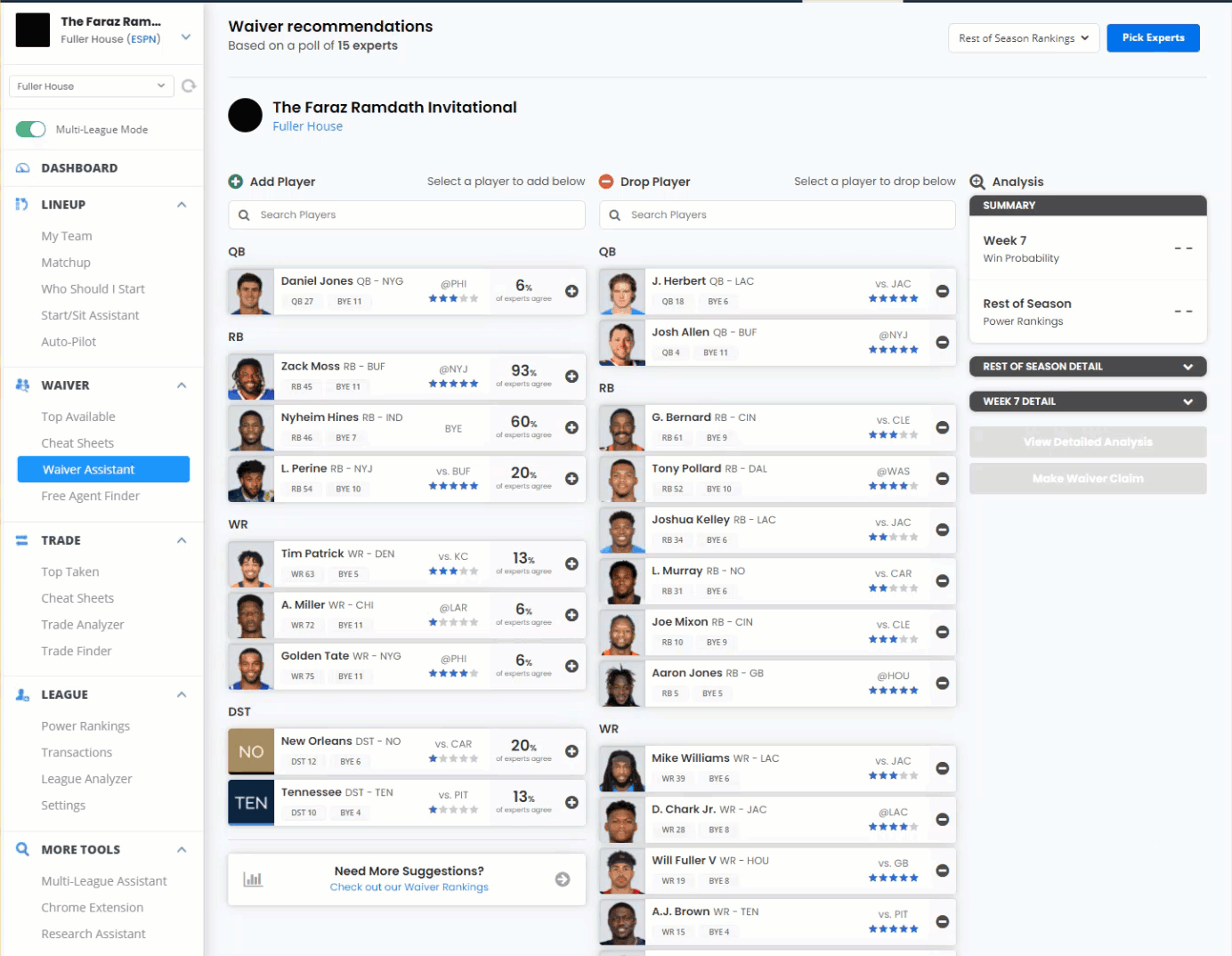 Start improving your teams now and pick up the best available players in your league with the Waiver Assistant.