Trade Central: Make Finding Trades Effortless
Finding the right trade on your own is time consuming and difficult. With Trade Central, it's insanely easy. See the best trades and trade partners for your team instantly!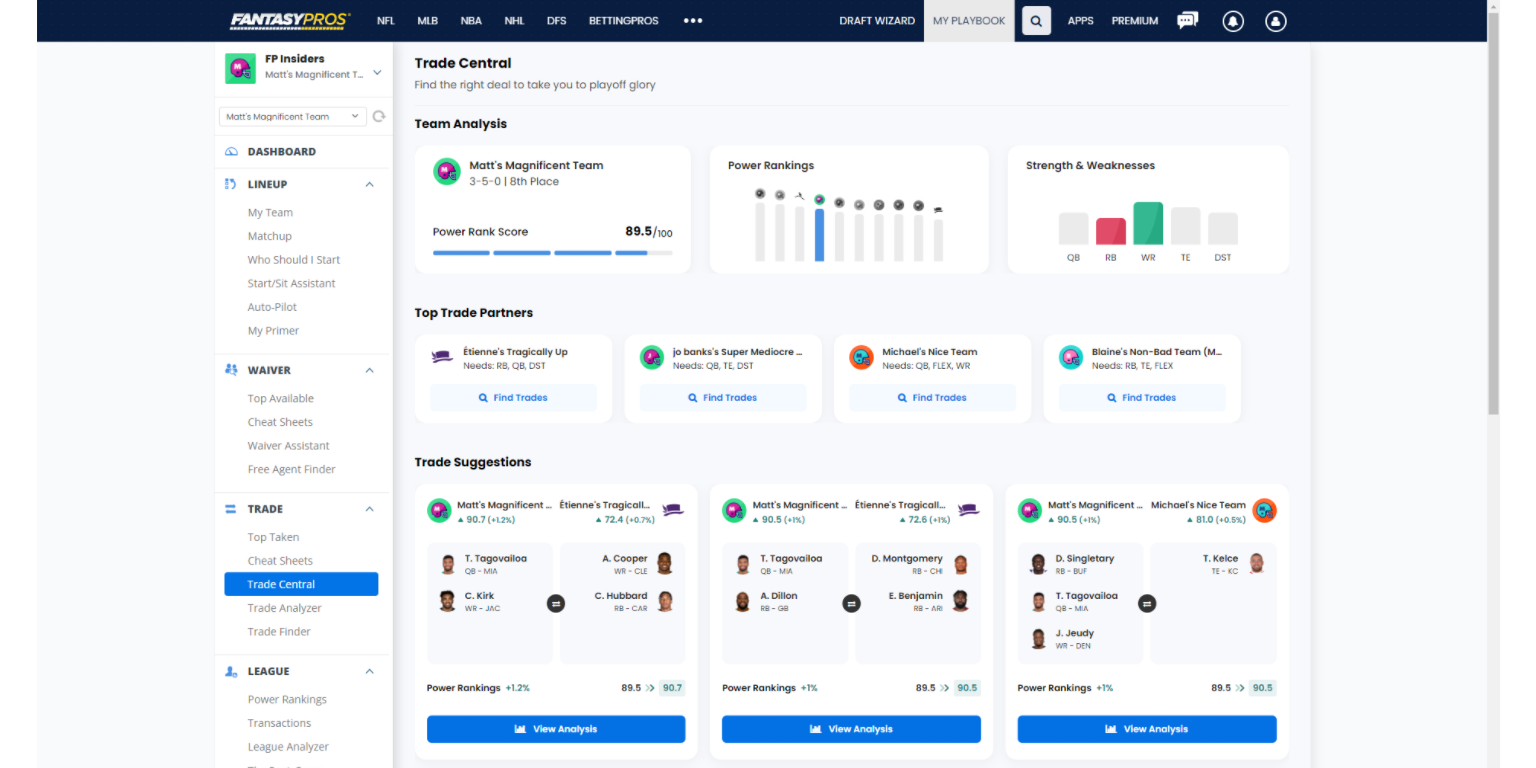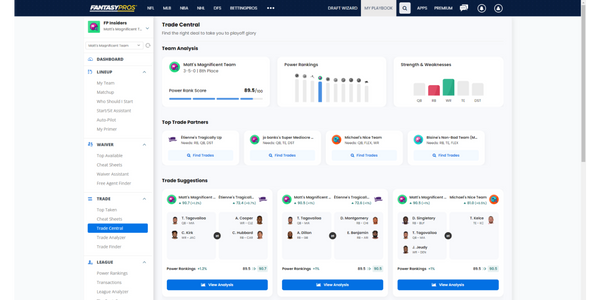 Trade deadlines are approaching quickly, but trying to improve your team can be difficult. Digging through rosters, trying to figure out strengths and weaknesses to find even one trade offer that seems fair and plausible is exhausting.
Note: Some features mentioned in this article will require a premium subscription. Please visit our Premium page for additional details.
Introducing Trade Central
With Trade Central, finding the right trades that can help give your team the kickstart it needs is effortless. Use just one screen instead of twenty tabs, and a matter of seconds instead of countless hours.
Fantasy managers can easily take the guesswork out of finding trade partners and a balanced trade proposal. You'll automatically see where your positions rank across your league, and will be shown top potential trade partners and their team needs.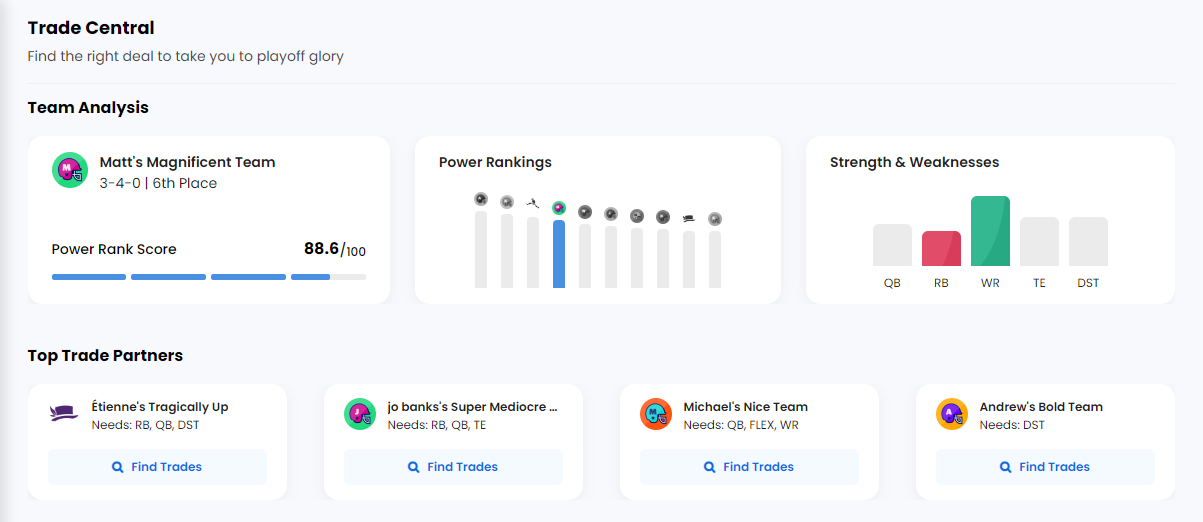 Use Trade Central to quickly identify the biggest need for each team, and target those needs to make trades more likely to be accepted.
Trade Suggestions
See all of the top potential trades to make finding the right trade dead simple. Trade Central will look at every team in your league and show you trade combinations that will improve your team.

We analyze the gains to both teams, the odds of a trade being accepted, rest-of-season strength of schedule, and more to find you the best offers to send to your league-mates.
Trade Analyzer
When you find a trade you'd like to consider, you can use the View Analysis button to see a detailed breakdown for both teams. You'll get weekly and rest of season analysis, team rankings and positional ranks, and your projected starting lineup before and after the trade.
Trade Finder
With the addition of Trade Central, Trade Finder is also receiving an upgrade. Trade Finder can now find trades that include up to three players on each side - but only if you want it to!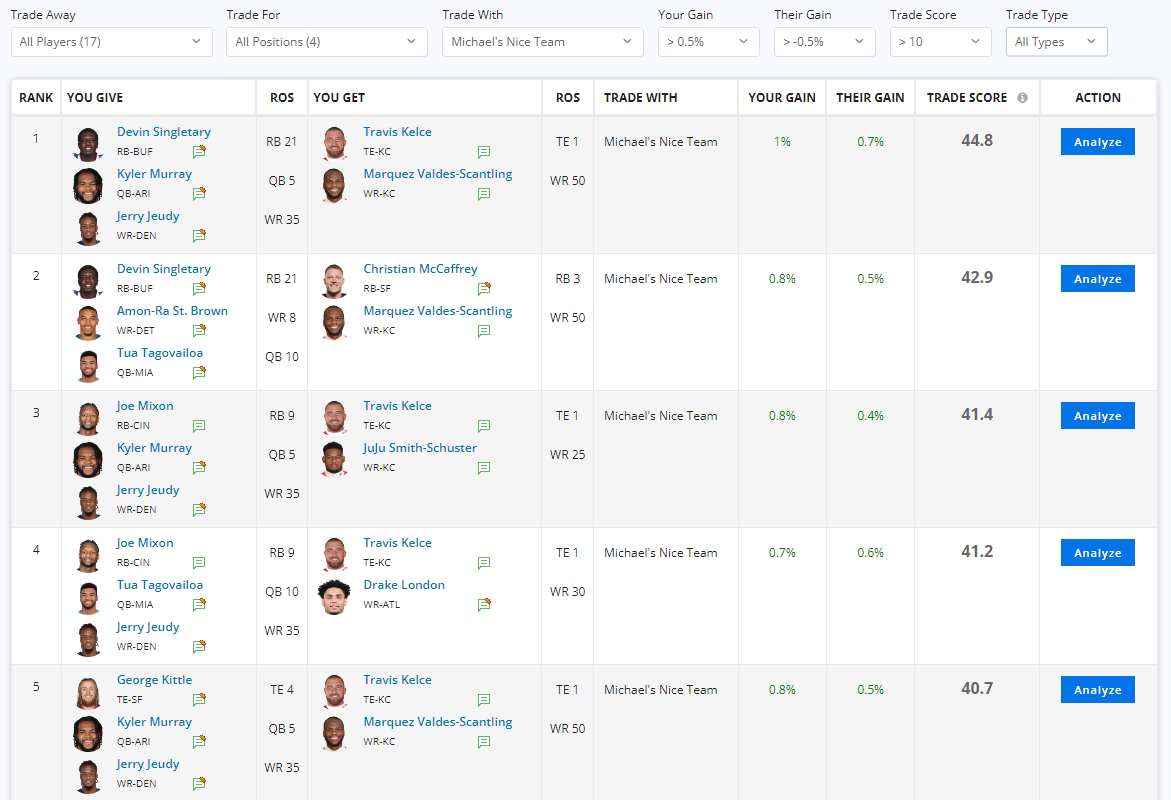 Trade Finder allows you to dig deep into your leagues to find the exact trades that fit exactly what you're looking for. Fully customize which players you're willing to trade away, what you're looking for, who you're willing to trade with, the flexibility of the trade, and how many players to check for on each side, allowing you to fine-tune the parameters we'll use to search for trades.
Just like with Trade Central, take any of the discovered trades directly to the Trade Analyzer for additional details.
Act Fast
Trade Central is available now - but act fast! The trade deadline for most fantasy football leagues is fast approaching. See our article on fantasy football trade deadlines to see default deadlines for each league host (custom league deadlines may vary). Trade your way to a better team today!