[11/09/2020] My Playbook Mobile: Waiver Assistant 2.0
A major update to the powerful and popular Waiver Assistant in our mobile apps makes it easier than ever to see the impact of adding a player from waivers, helping you to make the best decision possible en route to the playoffs.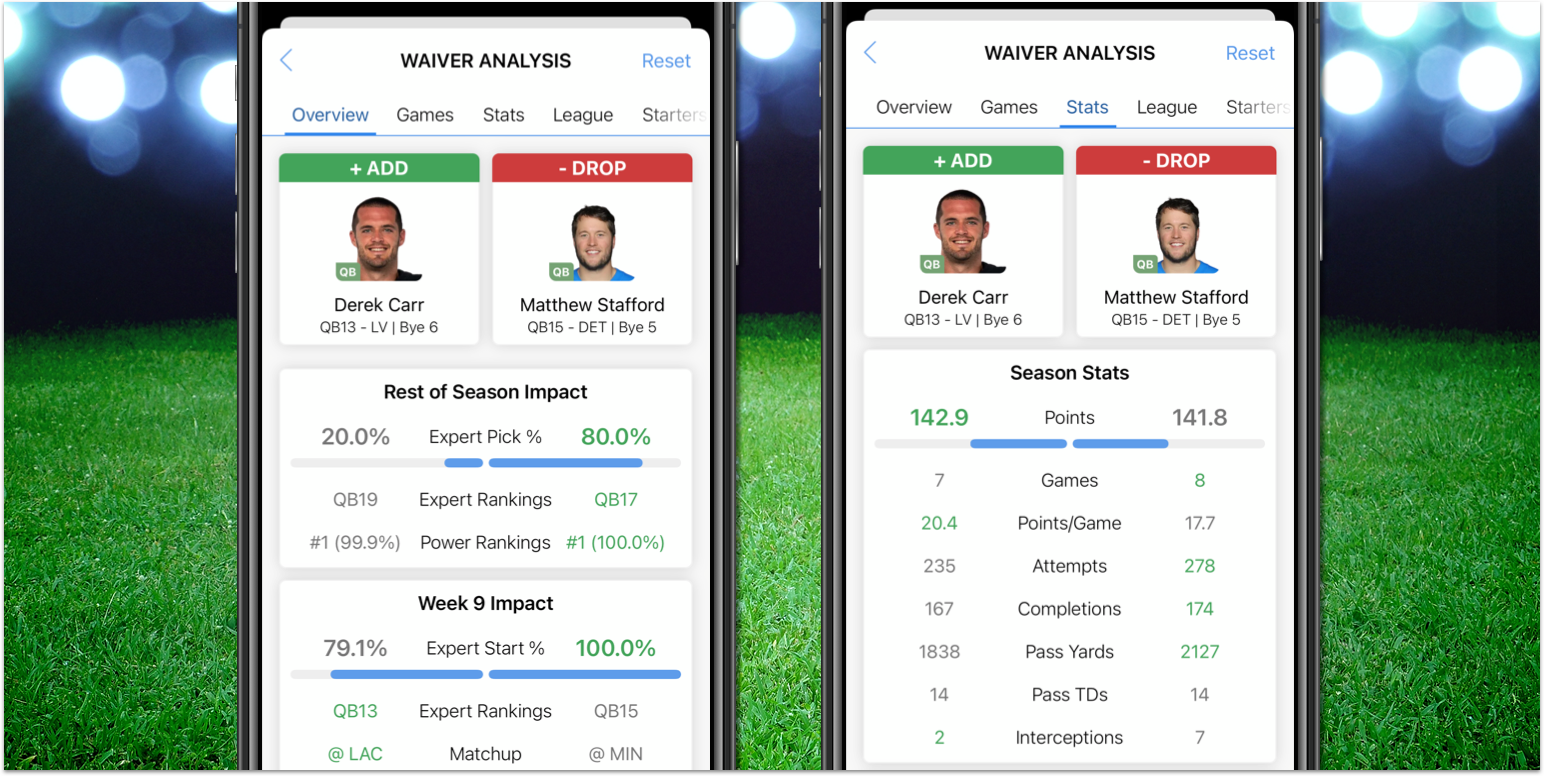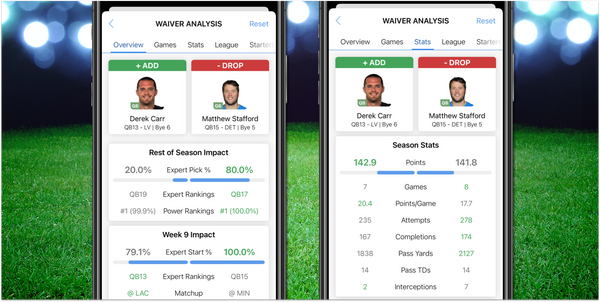 The mobile app versions of NFL My Playbook (download on iOS) was received a significant update to the Waiver Assistant. This is a feature available to all FantasyPros Premium subscribers.
Now, it's easier than ever for you to find the best available players on waivers and do add/drop comparisons to see how it would impact your team. It's a powerful way to find opportunities to improve your roster every week.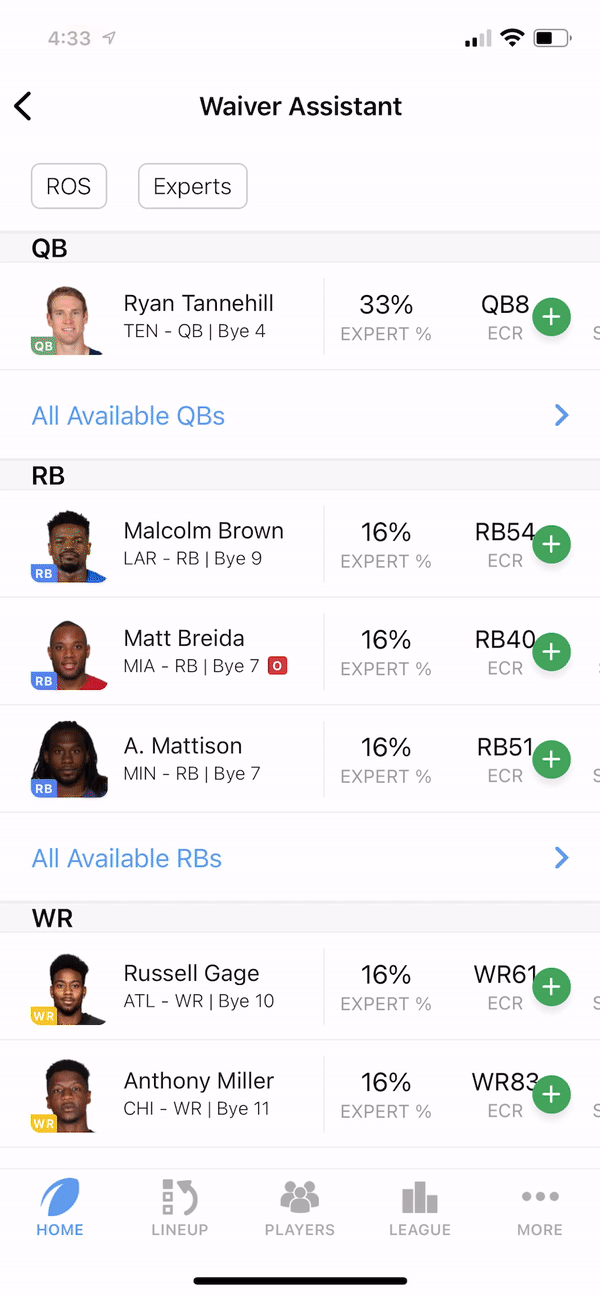 When you first launch the Waiver Assistant in the My Playbook app, you'll see a summary view of the best available players for each position. Any player that might be recommended by one of our experts to replace one of the players on your roster (starter or bench) is displayed with the expert % recommendation.
You can also view all available players from a specific position if you want to look at some deeper cuts.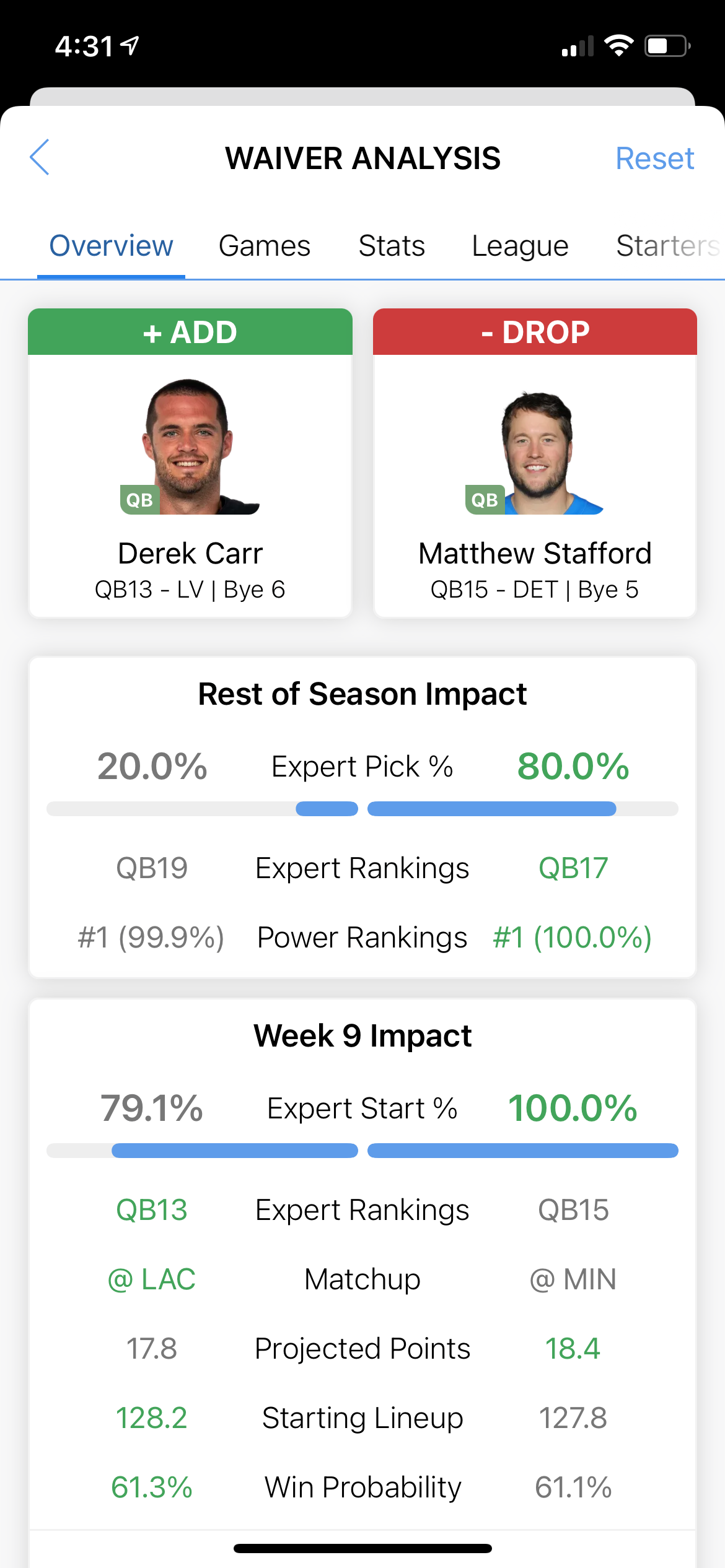 Tapping the "+" button to add that player takes you to the next screen, where you  select the player from your roster that you want to drop. You'll then be shown the add/drop comparison analysis, where you can get a rundown of the impact the decision would make on your team for Rest of Season (ROS), Weekly, and Dynasty.
Zoom. Enhance.
Once you've selected the players to add and drop, you'll be able to dig deeper into what the transaction would look like.
You have the "Overview" tab along a variety of other tabs that help you get a better idea of what the transaction entails. The "Games" tab is a breakdown of fantasy points scored by each player during the week, along with matchup ratings for the  remaining games.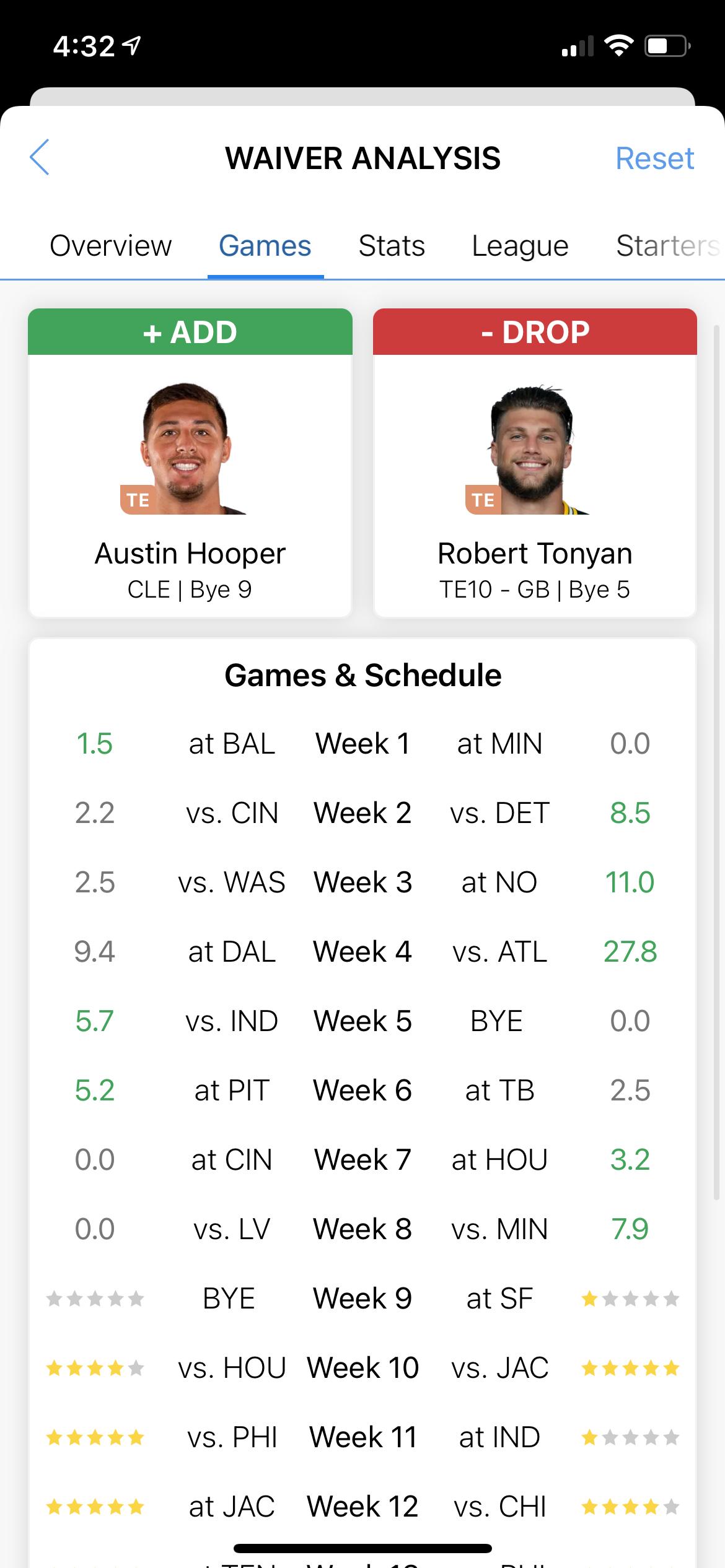 The "Stats" tab compares players' season stats, as well as the last 3 games, so you can get an idea of how a player is trending (Is a team's #1 WR out? How has that affected a QB's passing stats?)
You'll also see the "League" tab, which will give you a look at how your league's Power Rankings will change if you go through with this transaction. You can look at the change in Power Rankings using Rest of Season, the next Week, or Dynasty cuts.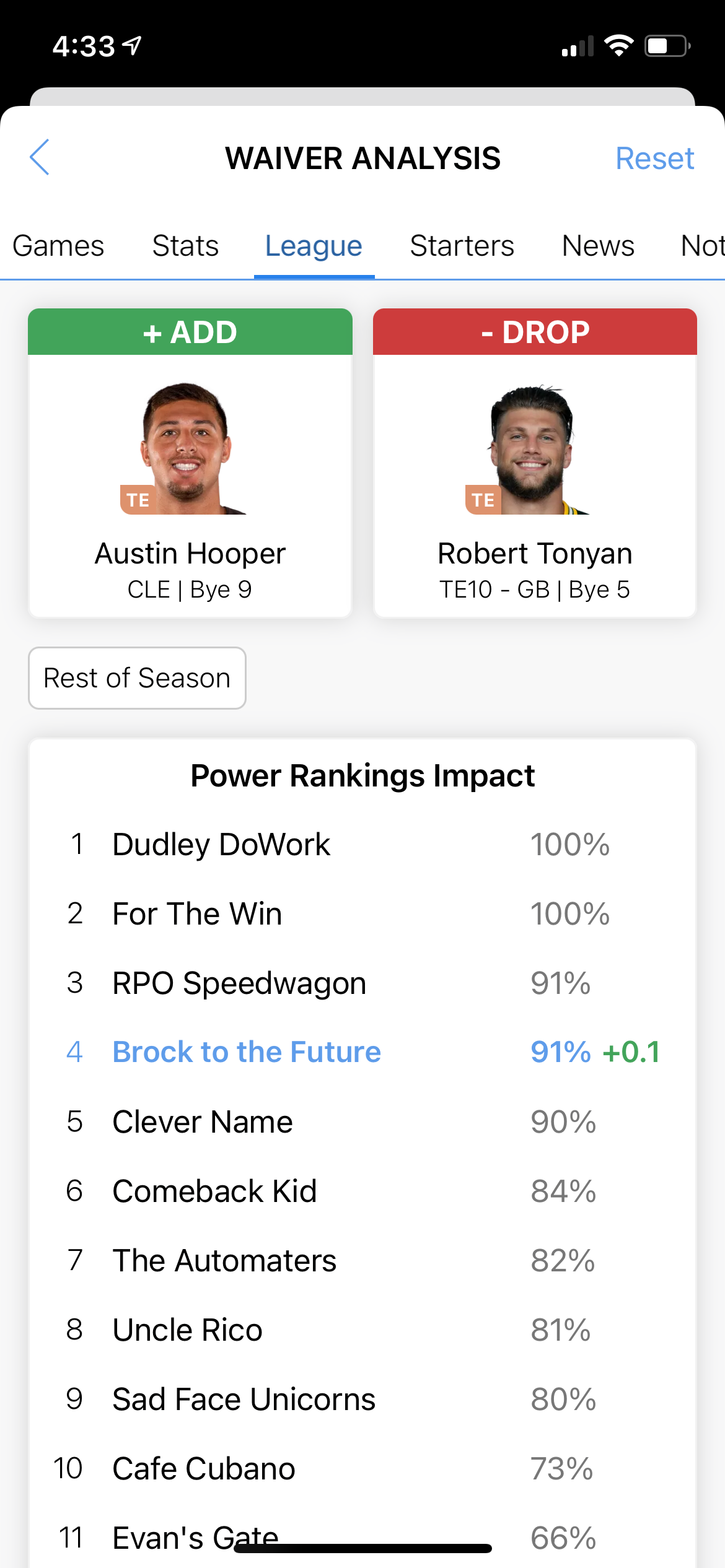 The "Starters" tab gives you an idea of how your starting lineup would potentially change if you went w with either player. If a player is a big improvement, you'll see them inserted immediately into your starting lineup. However, if you're going for depth, that player will likely be on your bench in the event one of your starters goes down (or they underperform).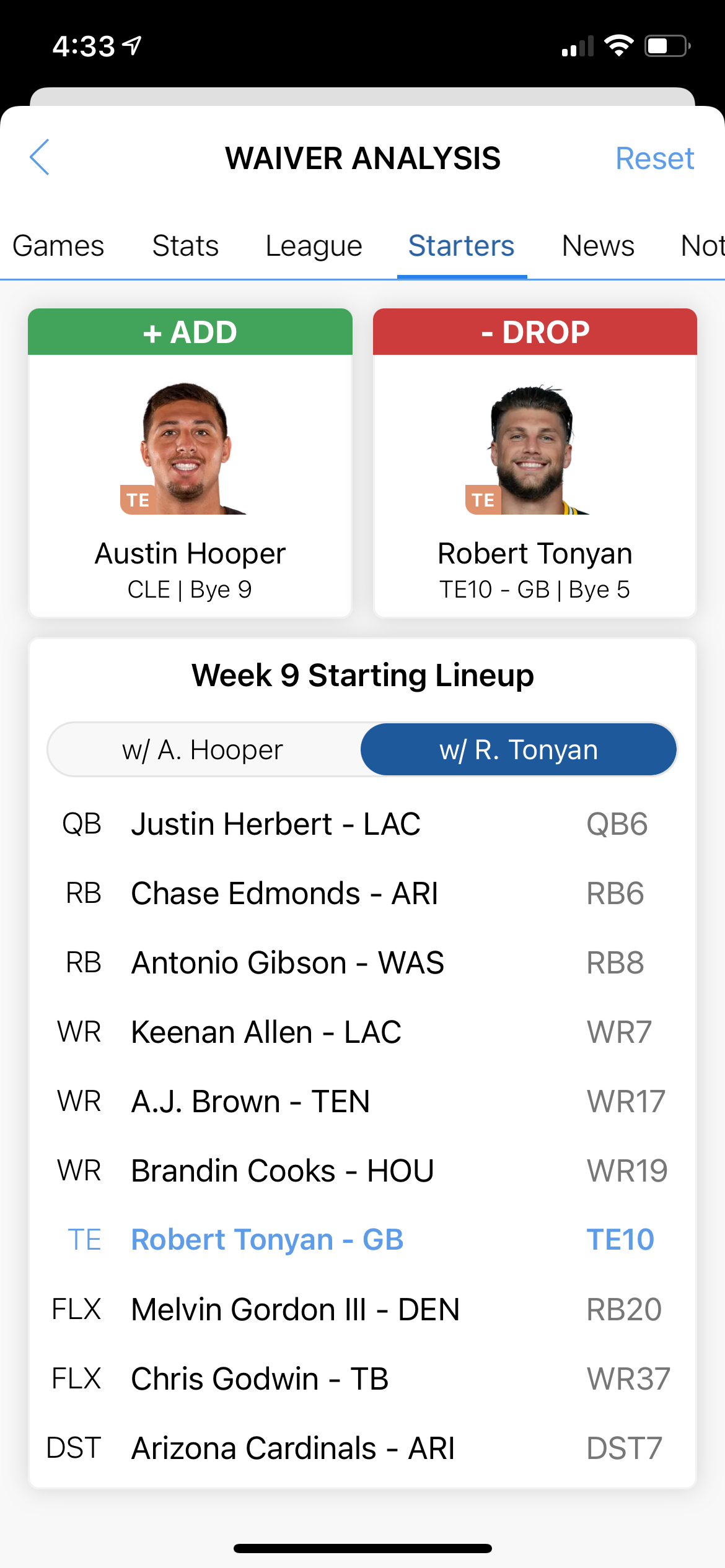 The "News" tab lets you see all the recent news items impacting both players. This is really helpful to get some context and insight into why players are trending certain directions. Are they returning from injury/suspension and can potentially contribute right away (Antonio Brown)? Or have they just been traded to a team that would use them better (or worse... lookin' at you, Le'Veon).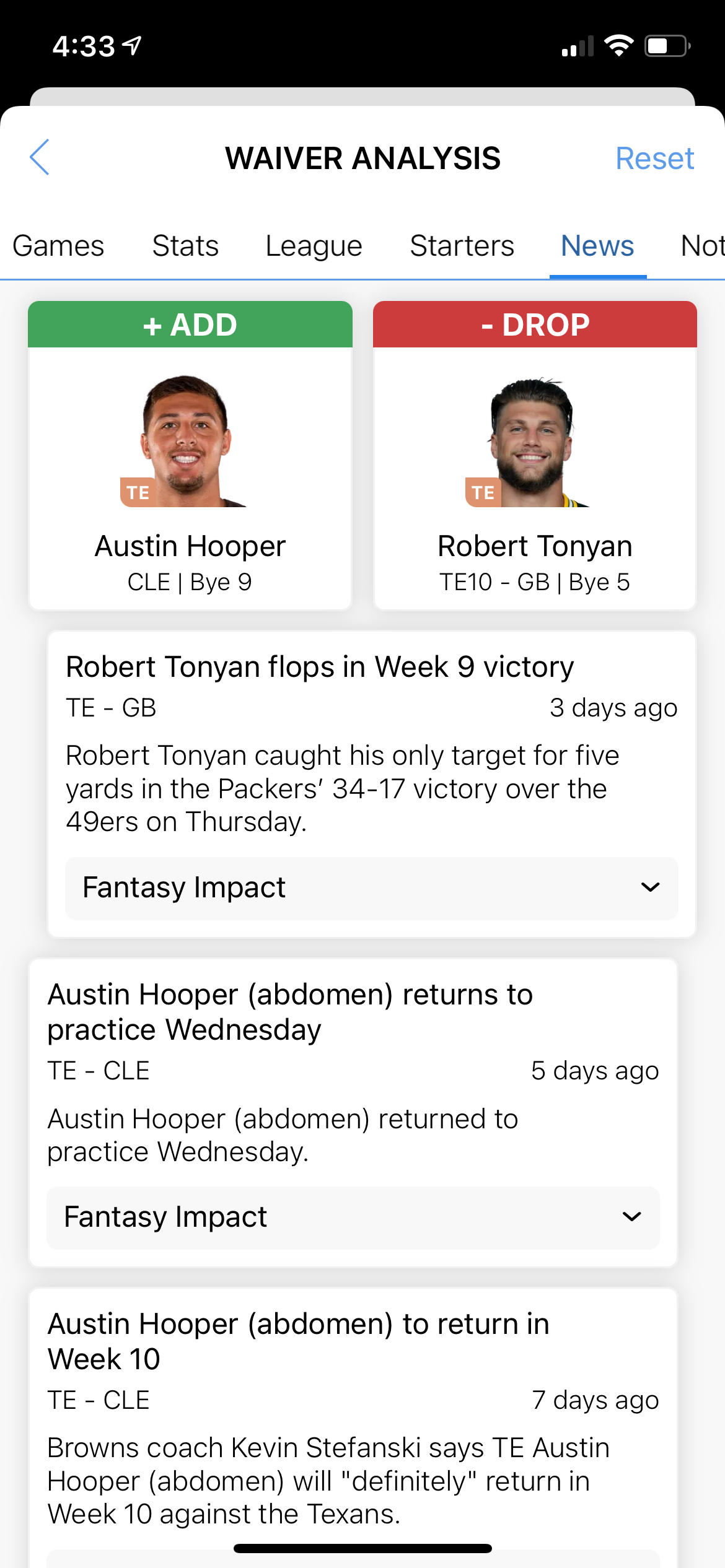 And, finally, the "Notes" tab, which gives you the most recent notes from Experts across the FantasyPros universe (FPU?). More forward looking than the notes, this is the best way to identify either a potential contributor or someone who is just a mirage due to a hot week.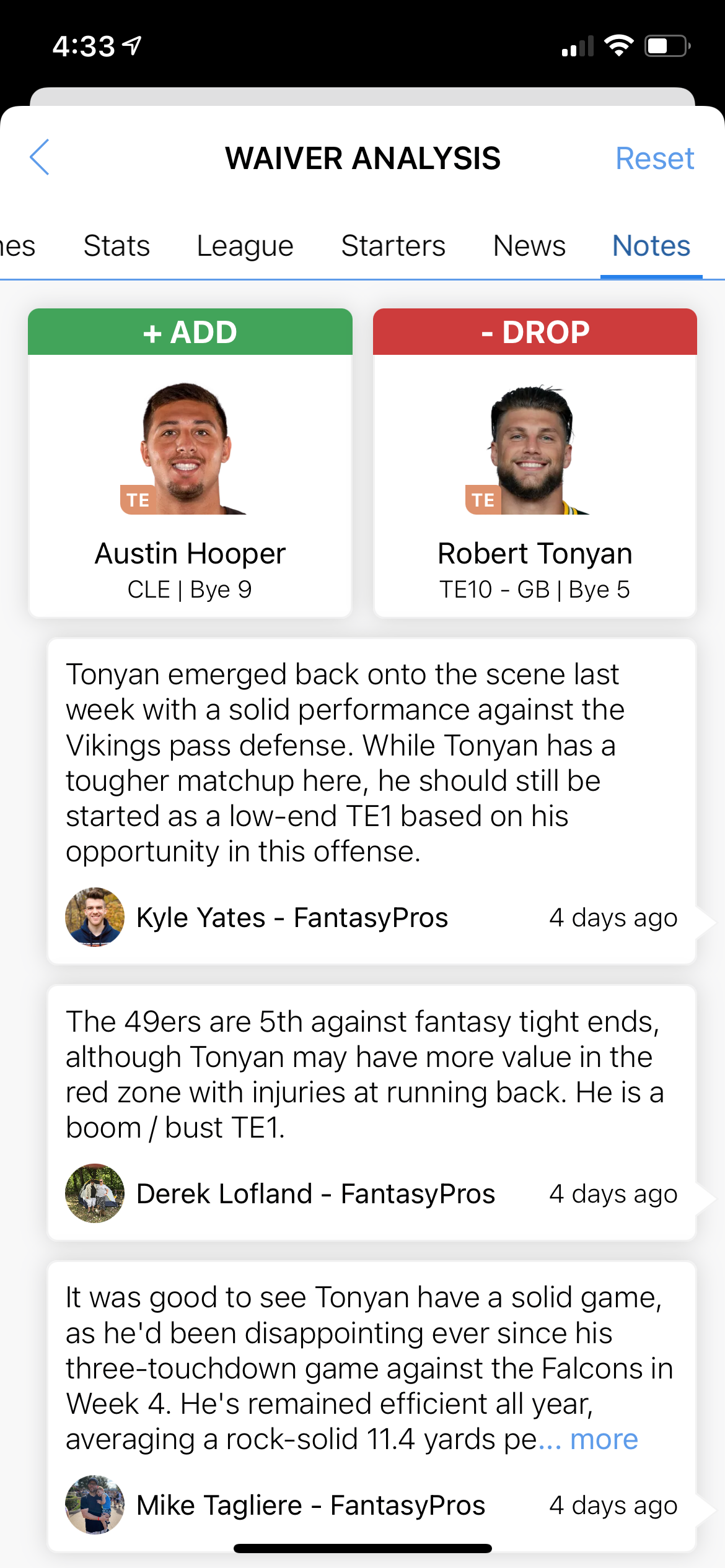 We're excited to bring you this update to one of our most powerful and frequently used tools.
Make sure you install the My Playbook iOS app today and give it a spin. If you aren't a FantasyPros Premium member yet (why aren't you?) subscribe today to see how you can start using our expert-driven tools to give you an edge.
The update is coming soon to My Playbook Android as well.