[12/31/2020] Perfect Draft Challenge: Can You Draft the Perfect 2020 Team?
Go back in time and see if you can draft the highest scoring team in 2020. Compare your scores with the FantasyPros community and compete for the top spot in the Perfect Draft Leaderboard.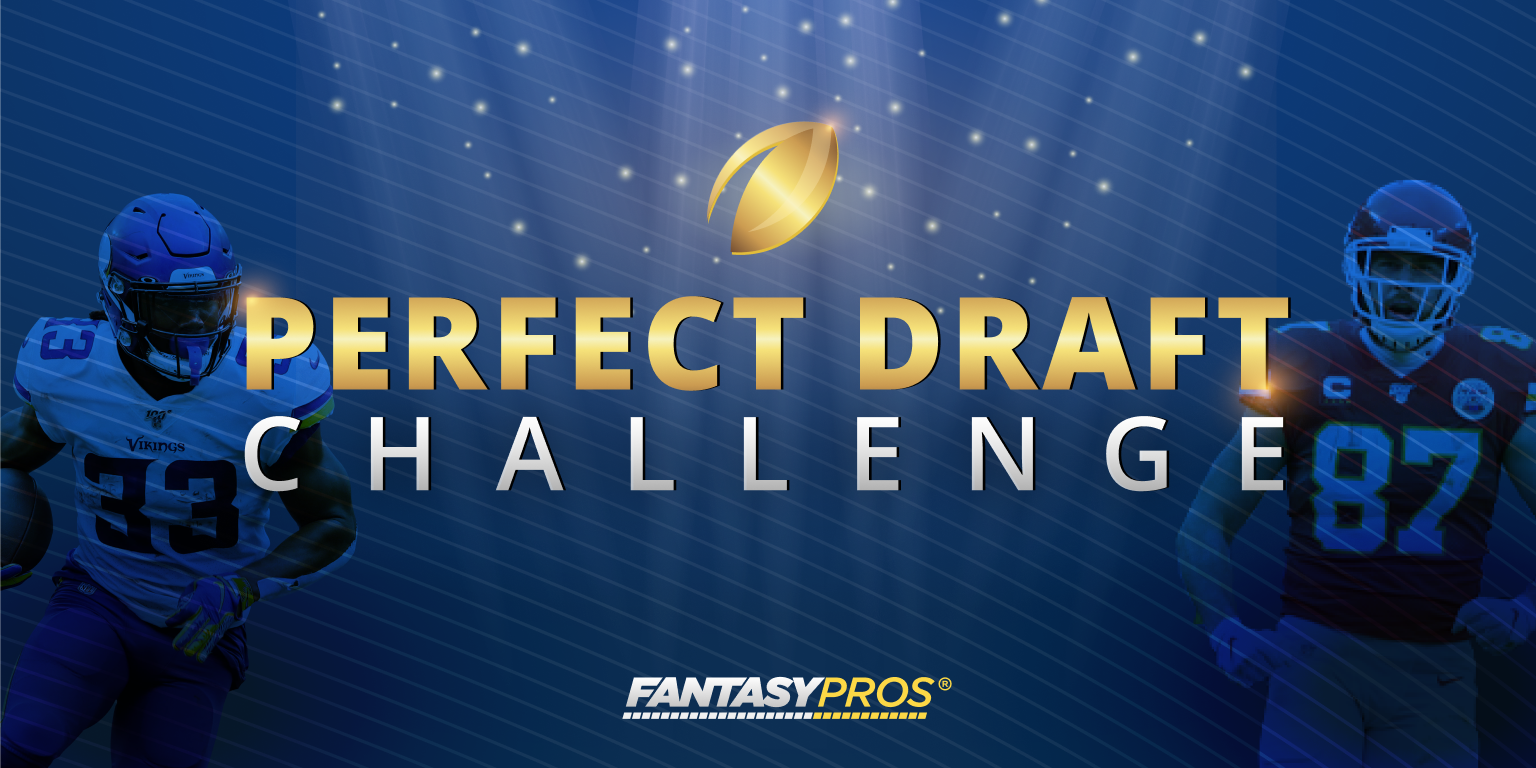 The 2020 fantasy football season has wrapped up for most of us, and boy, it was filled with surprises.
When we all had our fantasy drafts back in the summer, we had no idea that Josh Allen was going to be the highest scoring QB through 16 weeks, or an undrafted rookie RB James Robinson would finish as a top 5 RB. We couldn't predict the unfortunate injuries to our top draft picks like Saquon Barkley and Christian McCaffrey that decimated our rosters.
If you had a chance to go back in time, and draft again knowing what you know now, who would you pick to build the ultimate 2020 superteam?
Our Perfect Draft Challenge is back again to give you the opportunity to time travel and draft the best fantasy football team possible in 2020.
The Perfect Draft Challenge sorts players by 2020 average ADP and for each pick you'll be on the clock for 60 seconds, so it will look and feel very similar to what your draft was like in the summer.
You know who all the breakout stars and busts are, but do you know when to draft the best players, and how to construct the best possible roster with your picks?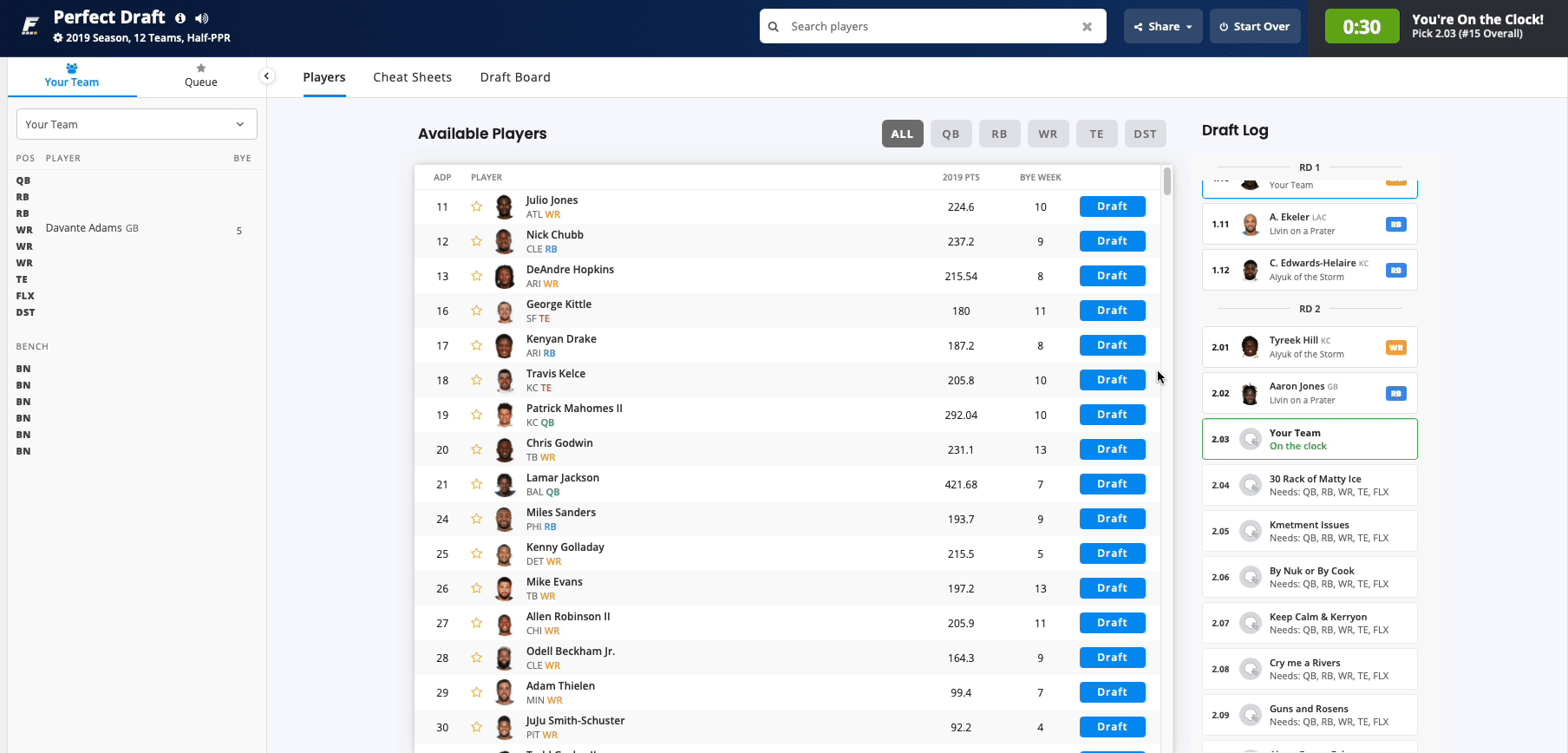 Travis Kelce was the best TE in 2020 by a large margin— is he considered a lock as a second round pick? Will you be targeting the RB or WR position more with your early picks? Are you willing to reach for a player that outperformed their ADP like Justin Jefferson a couple of rounds earlier to ensure you have him on your team, or do you take a risk and wait it out?
After drafting, you can view your analysis and see how you scored, what your weekly lineups look like, and get feedback to see where you can improve.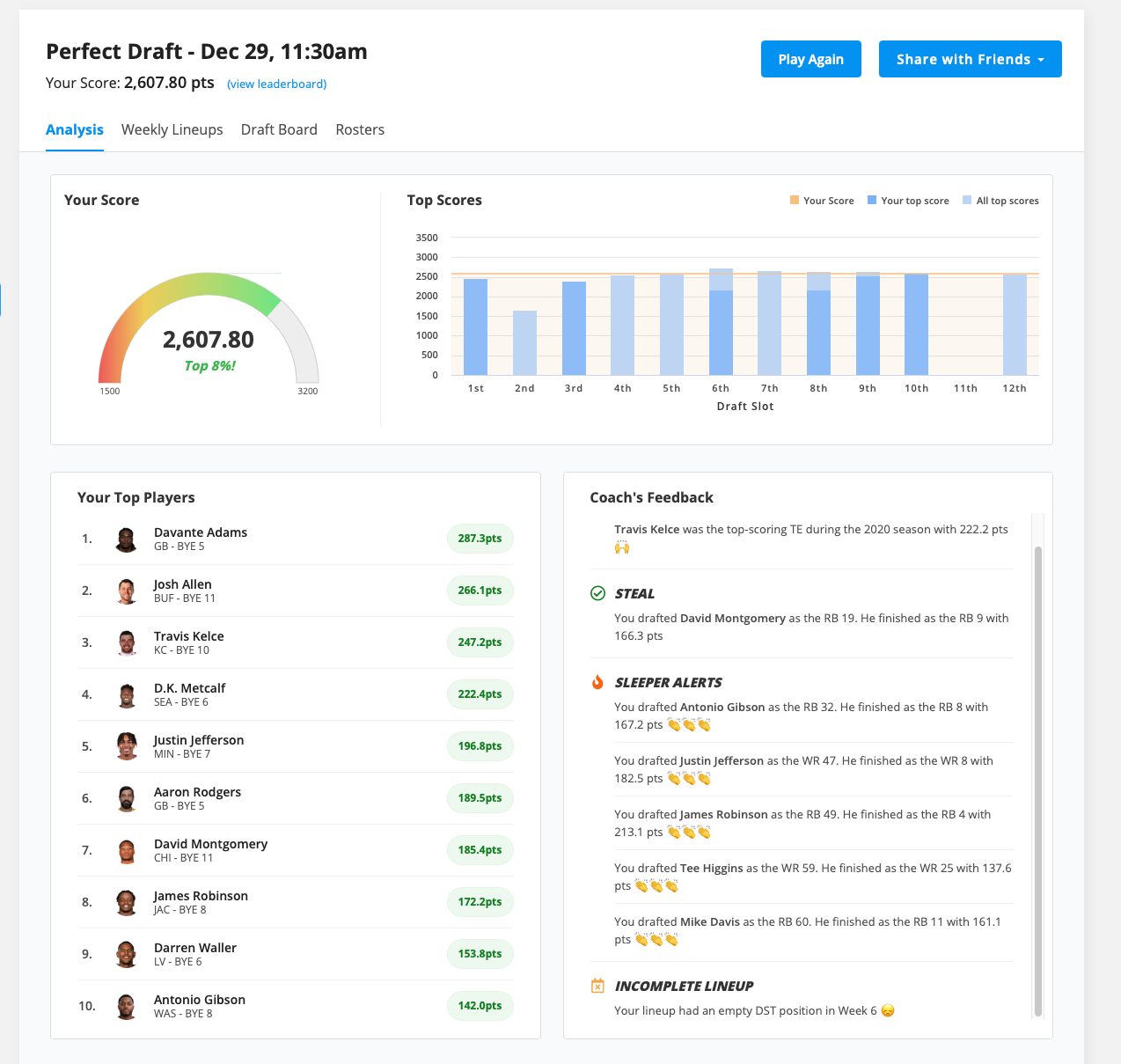 Scoring Rules and League Settings
Scoring is calculated in the best ball format. In other words, we calculate the fantasy points generated by your team based on the optimal lineup for each week. So, a player on your bench will be in your lineup if they outperform a "starter" that week. We add the total weekly points for weeks 1 - 16, and that's your score.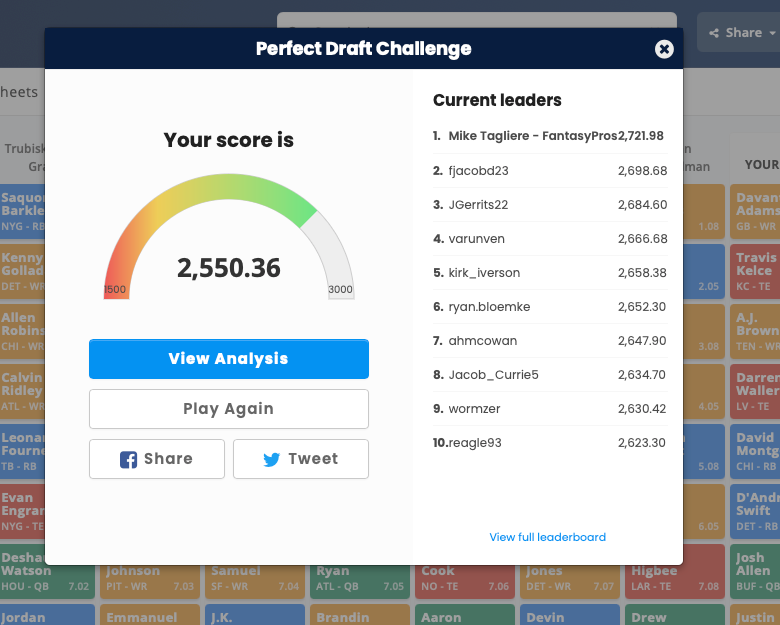 You'll be drafting as if you're in a 12 team Half PPR league with a roster consisting of: 1 QB, 2 RB, 3 WR, 1 TE, 1 FLX, 1 DST and 6 bench spots. You can pick your draft slot from 1st through 12th.
Rise To The Top and Become A Perfect Draft Master
Compare your Perfect Draft scores against the FantasyPros community, and see how you stack up against the competition in our two leaderboards.
The first leaderboard shows the highest overall scores, which can be filtered by individual draft slots from 1st through 12th.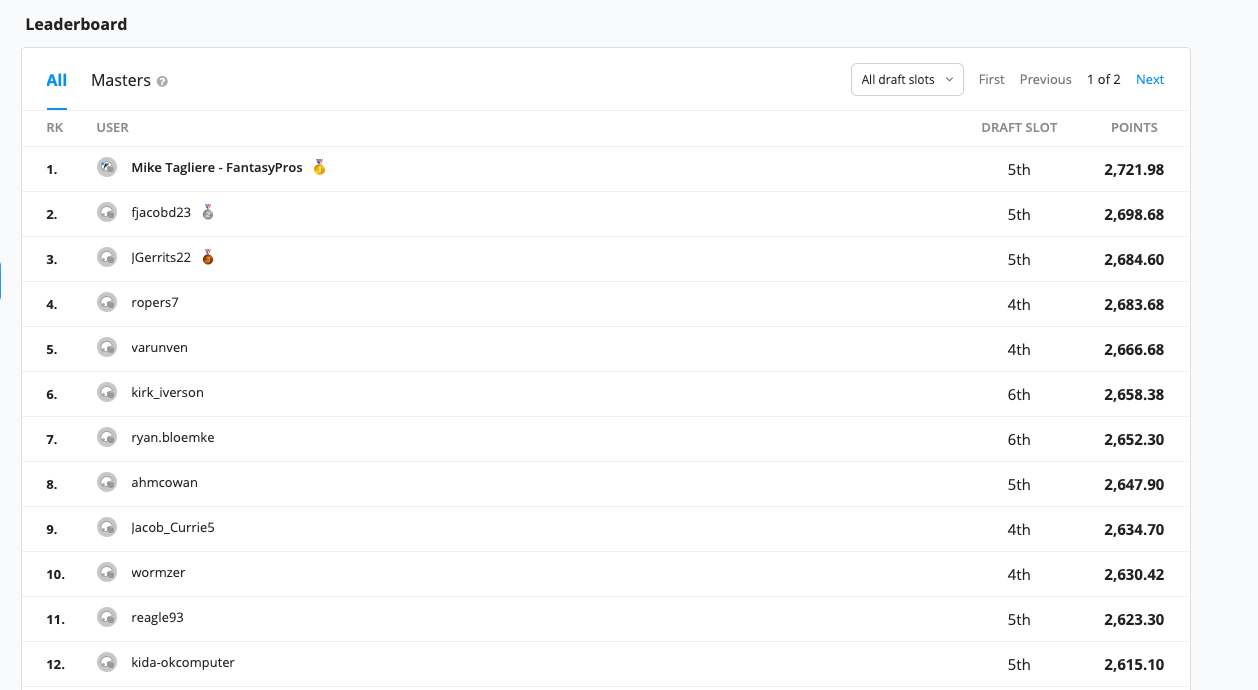 The second leaderboard is the Masters Leaderboard. In order to qualify for the Masters Leaderboard, you must complete a draft from each of the 12 draft slots. Your Masters score is the sum total of your best score from each completed draft slot.
You can draft as many times as you like, so feel free to keep drafting at different draft slots, and experiment with new strategies to see if you can come up with the gameplan to build the perfect superteam.
Try out the Perfect Draft Challenge today, and test your friends' knowledge of the 2020 fantasy football season by sharing the challenge & your results on social media with the hashtag #PerfectDraft.

Check out Tags and Yates taking on the Perfect Draft Challenge: