The 2022 Perfect Draft Challenge Has Arrived!
The Perfect Draft Challenge is back! Go back in time and see if you can draft the highest-scoring 2022 fantasy football team. Compare your scores with the FantasyPros community and compete for the top spot in the Perfect Draft Leaderboard and to win prizes!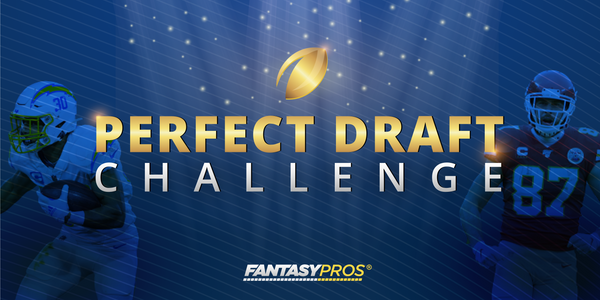 Get ready to relive the 2022 fantasy football season with the Perfect Draft Challenge!
Unless you already knew that Josh Jacobs would have the fantasy comeback year of a lifetime (ADP: RB22, Finish: RB3 in 0.5PPR); that two separate teams could sport two top-10 fantasy WR's (Tyreek Hill & Jaylen Waddle, MIA, and A.J. Brown & DeVonta Smith, PHI); or that Justin Fields could finish 26th in Passing Yards but still finish a Top-6 Fantasy QB, you now have the chance to go back in time and hand-select the perfect squad with the benefit of hindsight.
With the Perfect Draft Challenge, you'll be able to draft the highest-scoring team of the year from each draft position and compare your results against the rest of the fantasy football community. See if you have what it takes to secure the top spot on the Perfect Draft Leaderboard and win some fantastic prizes!
The Perfect Draft Challenge uses 2022 average ADP to sort players and gives you 60 seconds to make each pick. With the knowledge of how the 2022 season plays out, you now know who the standout stars and busts were, but the challenge is to determine the best time to draft them and construct the ideal roster.
Scoring Rules and League Settings
The Perfect Draft Challenge uses a 12-team Half PPR scoring format, with a roster consisting of 1 QB, 2 RB, 3 WR, 1 TE, 1 FLX, 1 DST, and 6 bench spots. Scoring will be determined using best ball format, meaning the optimal lineup will be automatically set. Top-scoring players for every position will be your starters for each week.
Pro-tip: There's no "in-season management" for this challenge, so be sure to draft at least two of every position, including two TEs and two DSTs so your roster is never empty!

You can draft from any of the 12 draft slots. After each draft, you can view your analysis and see how you scored overall, as well as your weekly lineups, and use feedback to identify areas for improvement. You're free to draft as many times as you'd like to test new strategies and improve your score.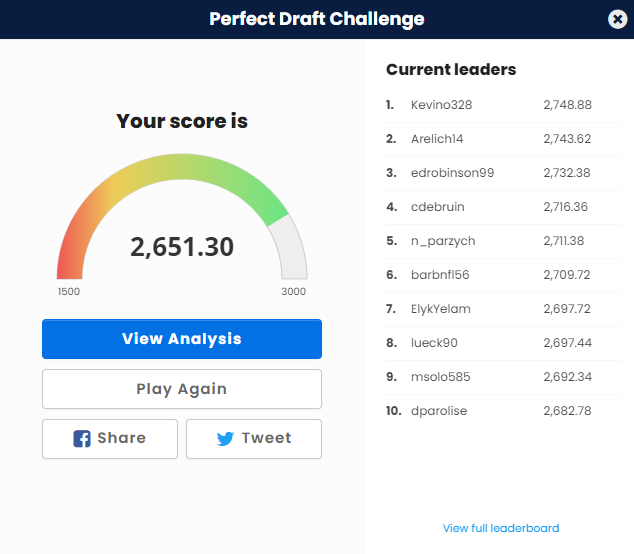 Compete and Win Great Prizes
This year, FantasyPros is offering a five-year HOF subscription and nine one-year HOF subscriptions to ten lucky winners of the Perfect Draft game. To qualify, score at least 2,500 pts, share your score on Twitter or Instagram, and fill out our prize form for your chance to win!*
Contest closes at 12AM Eastern on March 16th. See full terms and conditions here.
Become the Perfect Draft Guru
The Perfect Draft Challenge presents you with a number of intriguing scenarios. Will Travis Kelce, the best TE in 2022, be a lock for a first-round pick? Do you still plan to target running backs early in the draft, or can zero-RB work when you know the end-of-season results? Will you reach for the top QBs or take a chance and wait?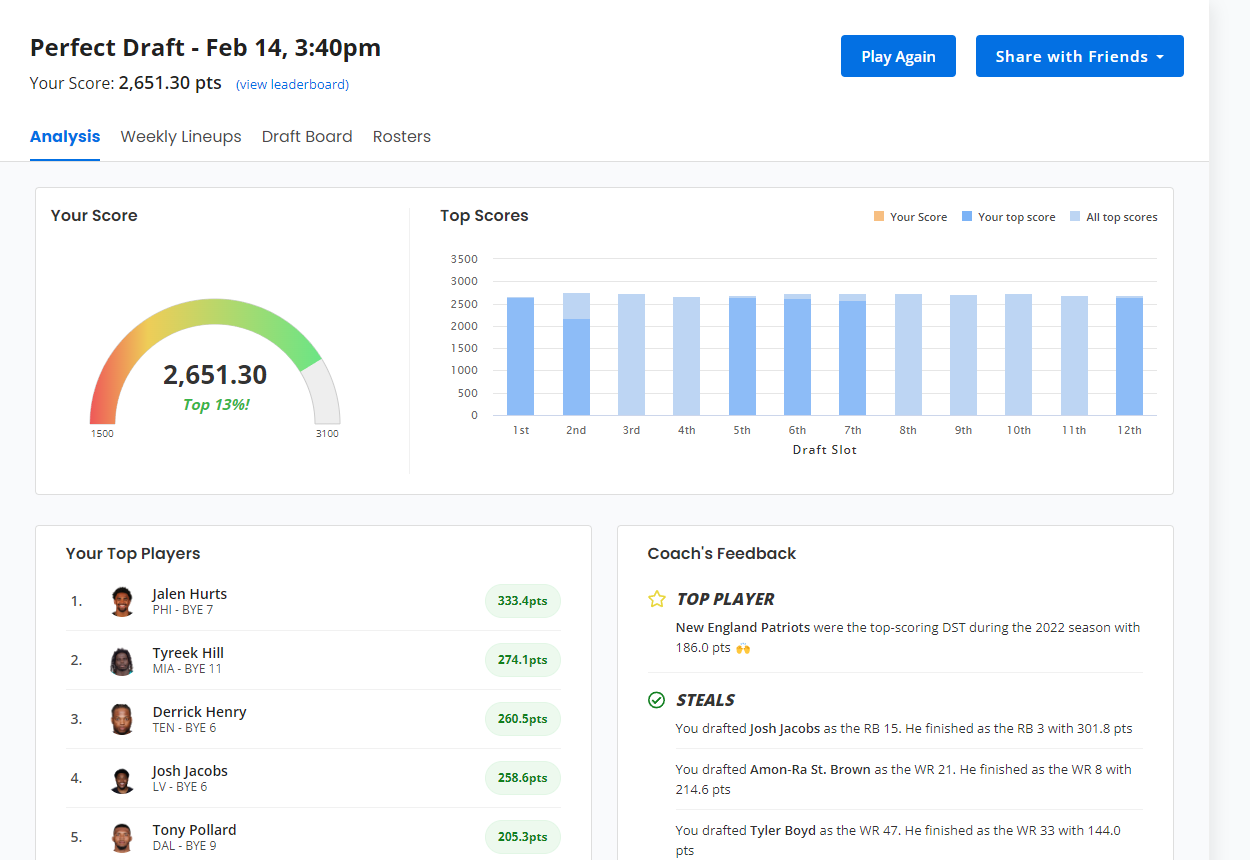 You can compare your Perfect Draft score against the FantasyPros community and see how you rank on the two leaderboards: the first displays the highest overall scores, filtered by draft slot, and the second is the Masters Leaderboard, which requires you to complete a draft from each of the 12 draft slots. Your Masters score will be the sum total of your best score from each draft slot.
Don't miss out on the chance to become a Perfect Draft Master and compete on the Perfect Draft leaderboards. Share your results on social media to win prizes and challenge your friends to see who has the best knowledge of the 2022 fantasy football season.
Plus, for inspiration, check out the experts' takes on the Perfect Draft Challenge and see how you matchup.