[3/18/2021] Fantasy Baseball Draft Wizard Updates: Customize your Mock Draft, Set Draft Strategies, and Punt Categories
A handful of new features to help you enhance your mock draft experience and test out different strategies so you can get ready to dominate your draft.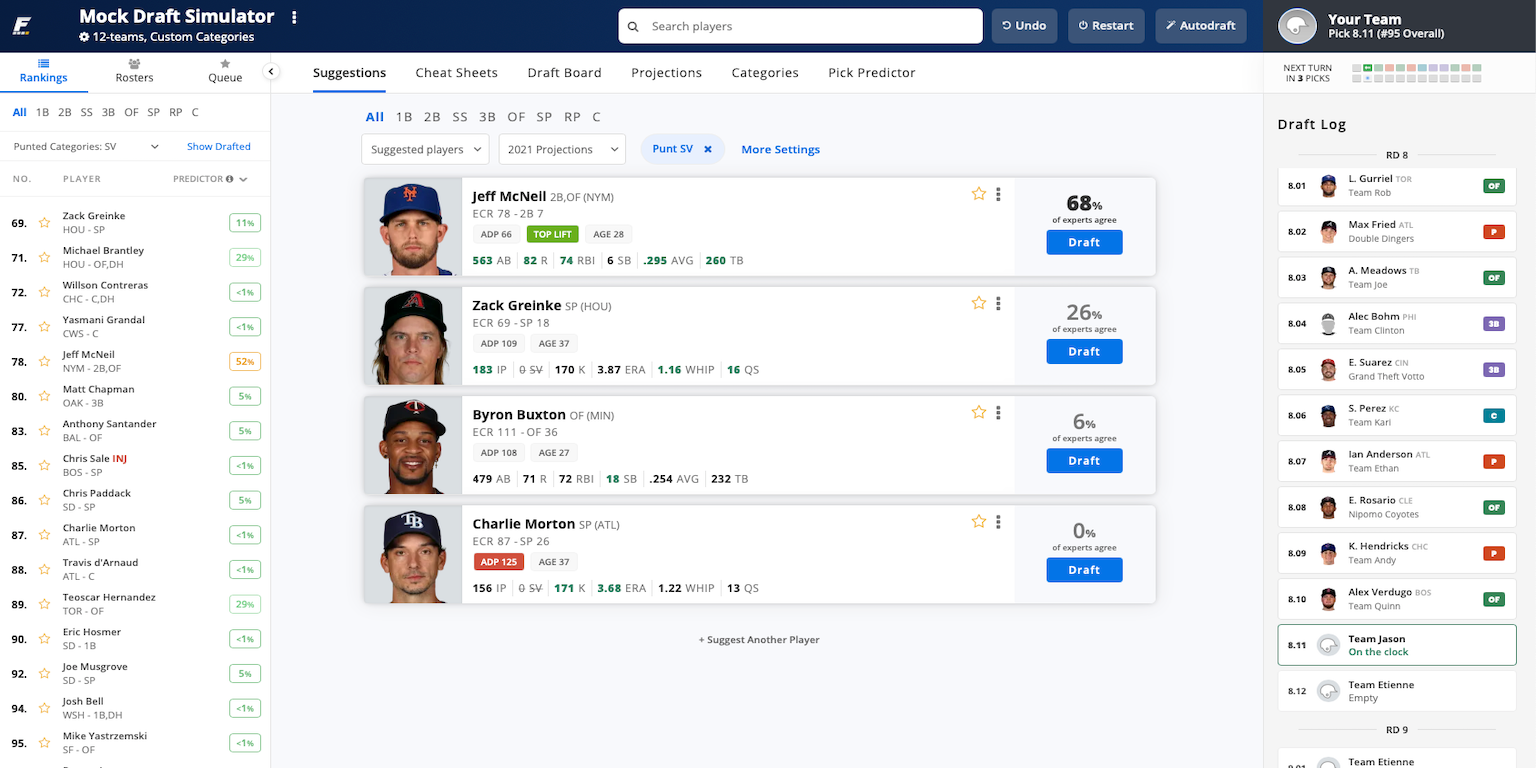 With spring training in full swing, fantasy baseball draft season has arrived-- and we're here to help you bring home championships this year.

Based on feedback from our user base, we've addressed some of the most popular requests  and released some new updates in Draft Wizard for this season. We've rolled out the following features to enhance your mock draft experience.

Punt categories: Ignore one (or more) categories, dominate the rest

This was a highly requested feature from our community, and we're happy to bring this to you this season. Punting a category means that a fantasy manager intentionally chooses to not focus on a specific category. The reasoning behind this is you can strengthen your team in the categories that you are not punting. You can invest less resources in one or more categories and allocate those resources to dominate the other categories. When you are dominant in a handful of categories, it will give you a very high probability you will win those categories against any opponent and win most of your head-to-head matchups. The Punt Categories feature can be accessed in the Draft Simulator settings by clicking the More Settings button: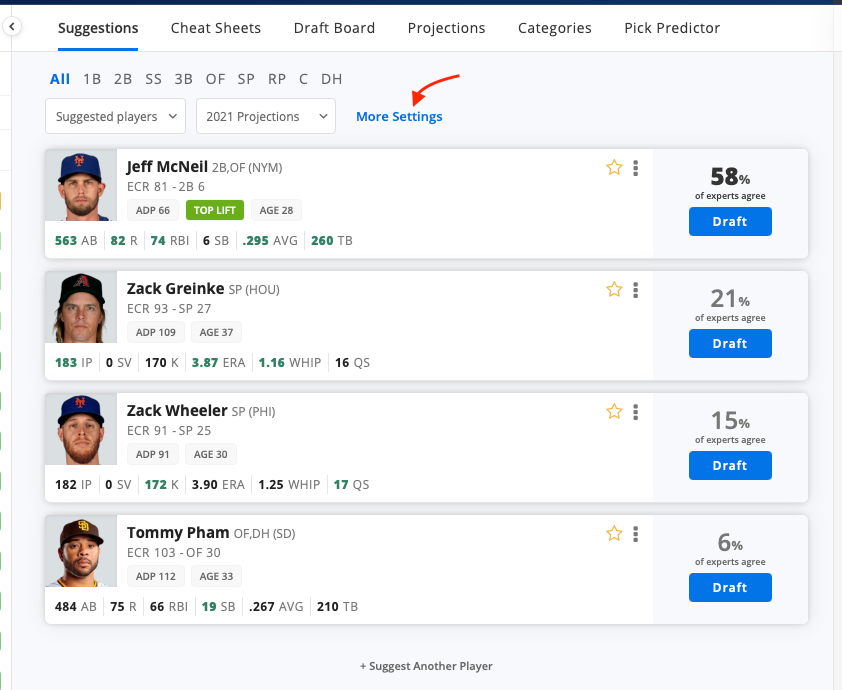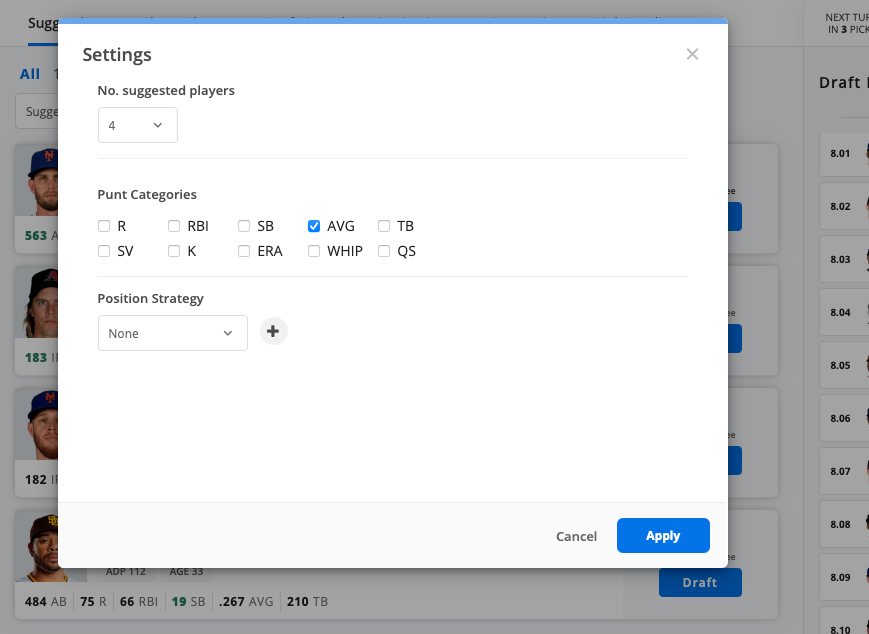 In your Draft Simulator settings, choose one or more categories to punt, and our rankings and recommendations will adjust to account for your punted categories.

Set draft strategies: Get tailored expert suggestions and test out new position strategies

Whether you want to focus on pitching early, or look to ignore a specific position until later in the draft, you can now tailor your suggestions to match your preferred draft strategy or to test out new strategies. We have a handful of built-in position strategies available for selection in the Draft Simulator:
Pocket Aces: We will suggest pitchers in the first two rounds so you can shore up your starting pitching early to dominate pitching categories first.
Hitter Heavy: We will suggest the best hitters in the first four rounds to focus heavily on hitting categories first.
Punt Catchers: For those who don't like drafting catchers until later in the draft because there are only a handful of average catchers, this is for you. The Draft Simulator will not suggest catchers until the end of the draft.
Punt Closers: Similar to the Punt Catchers strategy, the Punt Closer strategy only suggests closers at the end of the draft; this is ideal if you are also looking to punt saves.
You can also create your own custom position strategy. For example, if you want to draft two positions like 2B and RP later on at different points in the draft, it can be configured by setting the suggestion rules here:
Mock Draft Customizations: Simulate your opponent's tendencies in a mock draft

You can now modify the behavior of the teams you draft against in mock draft simulations to have a more realistic mock draft experience and closely match your league's tendencies.

League-wide position customizations help you increase and decrease the value of certain positions when you mock draft. For example, if you know your league highly values starting pitching, or does not value catchers as much as other positions, those tendencies can be customized to help you create a mock draft experience that will simulate your real draft more accurately.

These customizations can also be set for each team-- you can set specific strategies and team biases to simulate the drafting habits and trends of the members of your league. For example, if a team dislikes the Yankees and usually focuses of having a good hitting lineup, you can set the Strategy for the team to Hitter Heavy and set the Team Bias to Dislikes NYY; the bot for that team in the Draft Simulator will not draft any Yankees for the team and focus on picking hitters for the team's first four picks.
Your mock draft customization settings can be accessed by viewing your league in Draft Wizard and clicking the Edit button under Mock Drafts:

Try out these new Draft Wizard features now and take your mock drafts to the next level.