[5/5/2021] MLB Daily Fantasy: Tips and Tricks For Building Winning Lineups
Target high value players and build winning lineups for cash and GPP contests with the help from our MLB DFS Lineup Optimizer.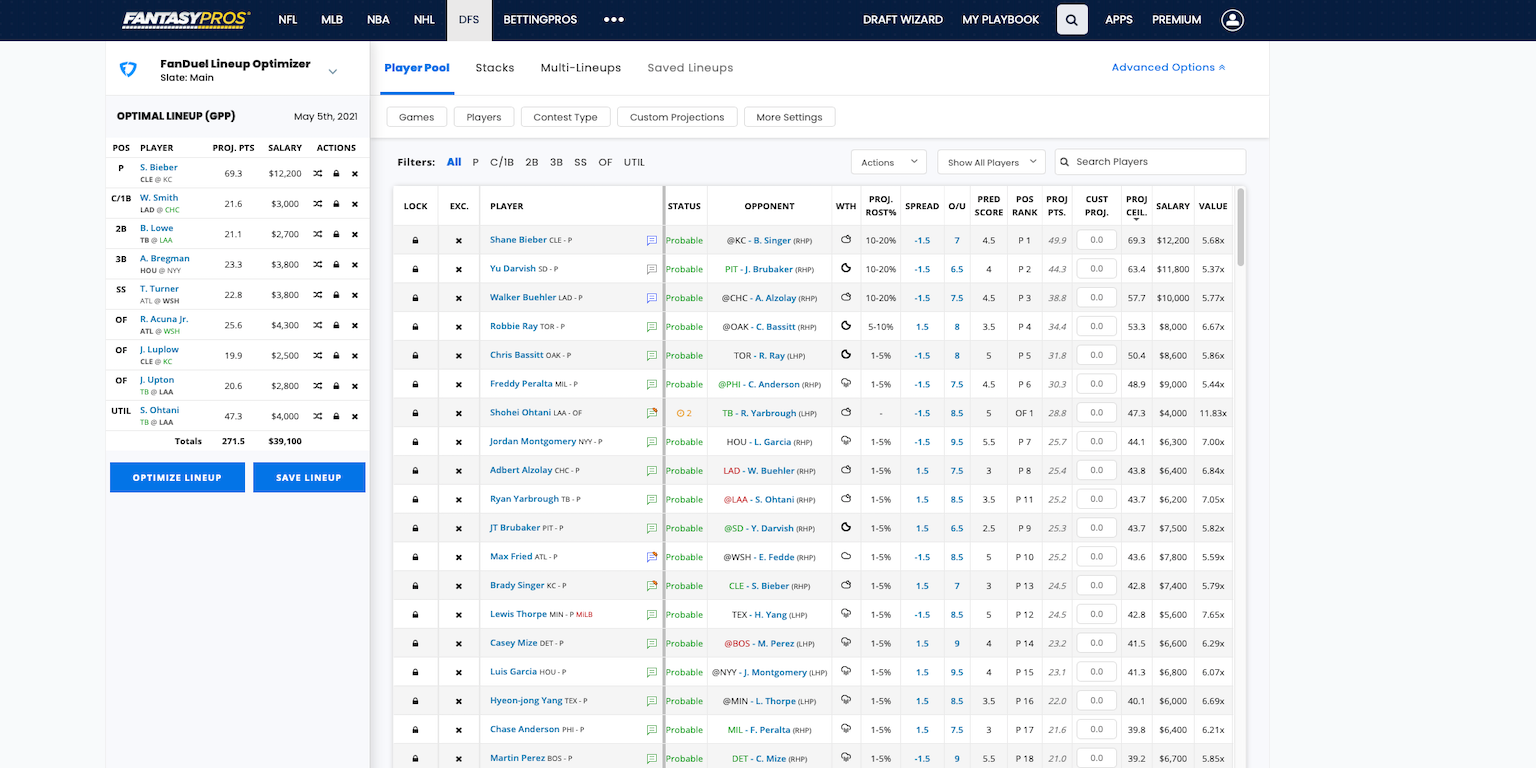 We hope everyone is enjoying the 2021 MLB season so far! It's great to have fantasy baseball back again. While season-long leagues are the most popular fantasy baseball format, daily fantasy baseball has rapidly grown in popularity, and for good reason. Being able to start fresh everyday with a new lineup and different players, and to compete against different groups of people everyday makes daily fantasy super fun.
If you're new to DFS and are looking to find an advantage against the competition, our DFS Lineup Optimizer will help you create winning lineups with a few clicks.
We wanted to share a few tips and tricks to guide you towards winning more daily fantasy baseball contests and help you take full advantage of our DFS tools.
GPP vs. cash game strategy
In DFS, there are two different contest types: cash games and guaranteed prize pool (also referred as GPP or tournament contests).
For cash contests, around 50% of the contest participants win the same prize amount. You will win a prize if your lineup scores in the top 50% of the entries. For cash contests, because you do not need the best lineup to finish in the top 50%, it is better to pick players who are more consistent, as there is no incentive to finish at the very top. The 1st place finisher and the 42nd place finisher in a 50/50 cash contest with 100 entrants will win the same amount of money.
In GPP or tournament contests, a smaller percentage of contest participants win (10-15% or fewer), and the top scoring lineups in the contest will win a larger percentage of the prize.
For GPP contests, it is better to pick high upside players who give you the potential to finish with a winning lineup and give you the best chance of hitting the highest score for the week. Our Lineup Optimizer takes this into account if you switch the Contest Type to GPP. When GPP is selected, the Optimizer uses our ceiling projections, which increase the projections of players who have a higher potential to produce a big game and will help you find the boom-or-bust player that can help you win your contest.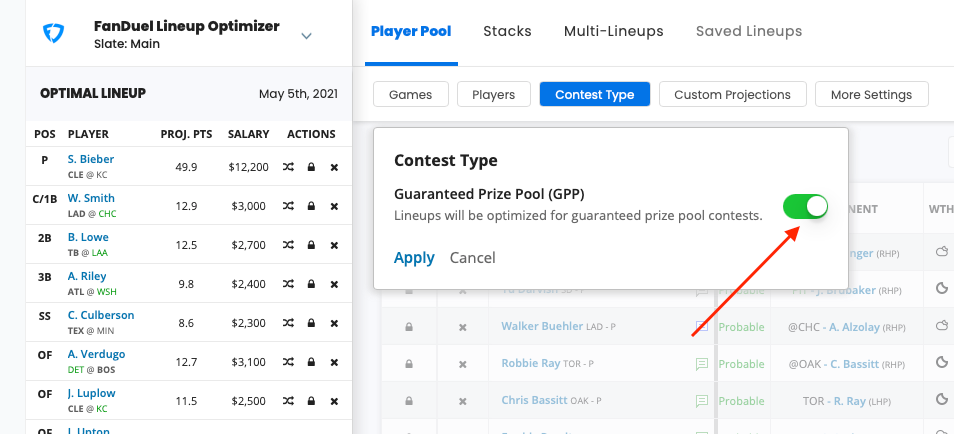 We recommend using the maximum amount of entries in a GPP contest if there is a limit, as it will increase your probability of finishing at the top in a tournament, and most experienced players will be entering at the limit as well.
Our Lineup Optimizer helps you build multiple optimal lineups that you can export as a CSV file. The CSV file can then be uploaded into DraftKings or FanDuel GPP contests, and boom, you can submit multiple entries for a tournament in seconds.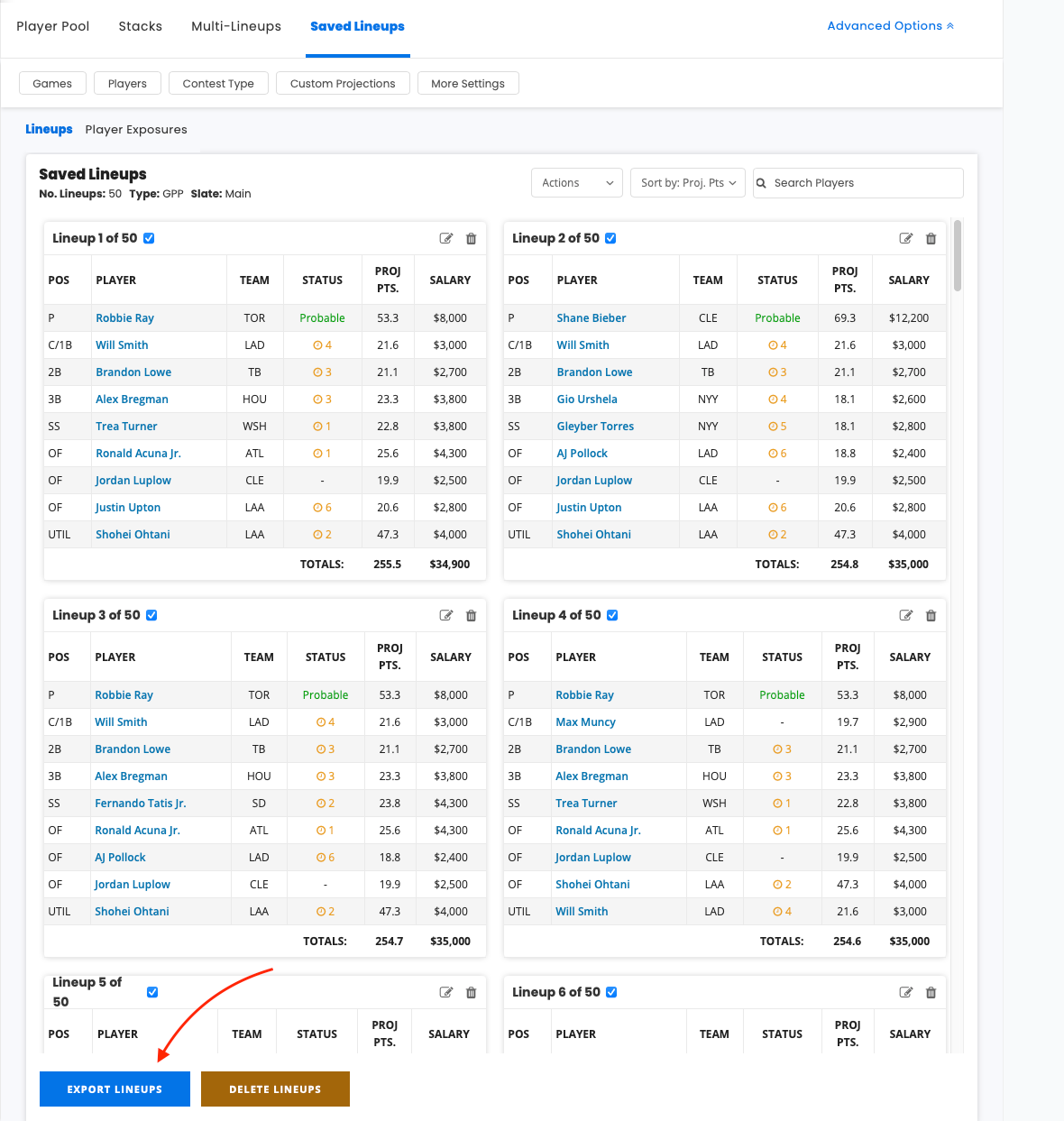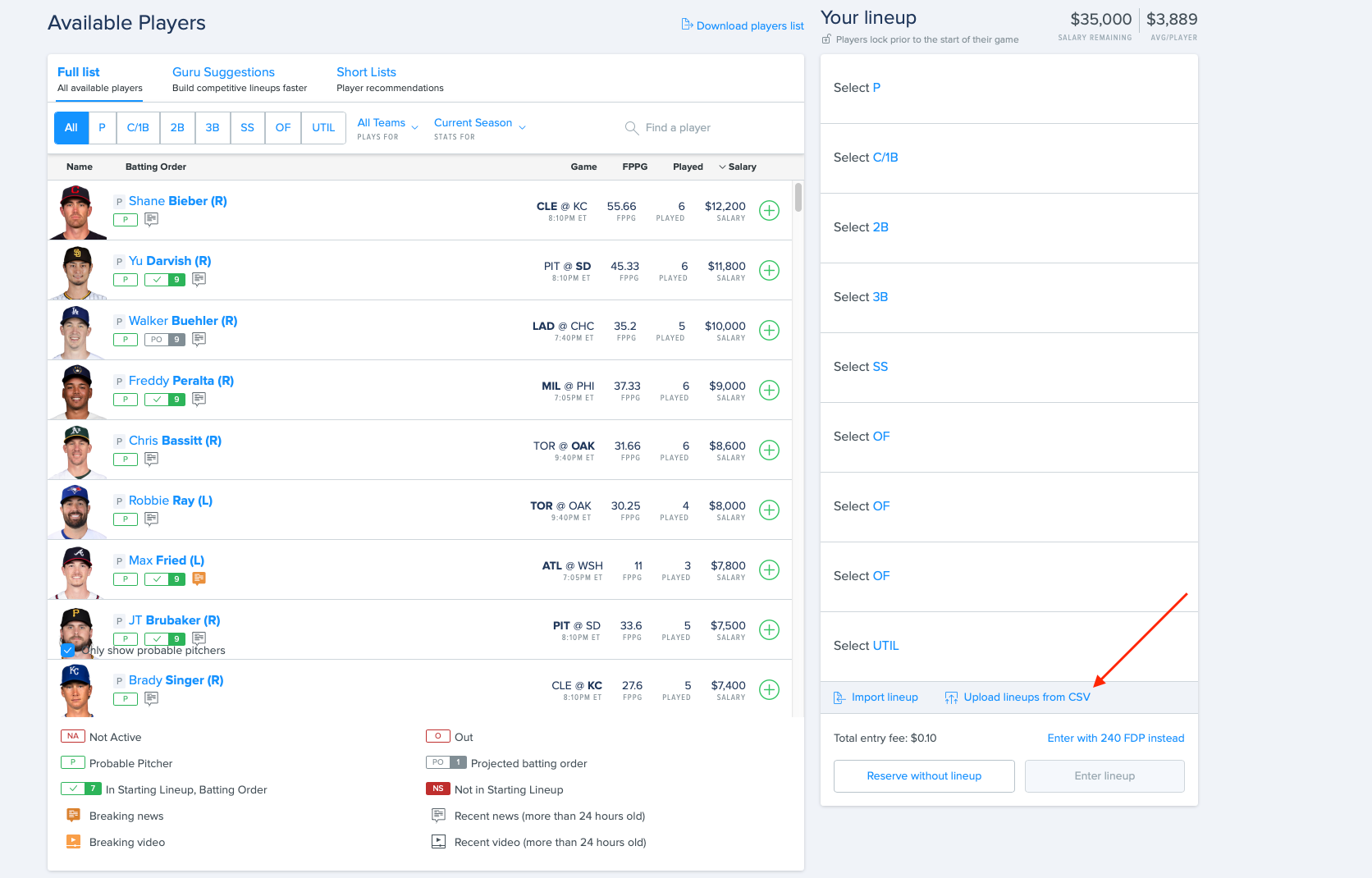 Find value in players hitting at the top of the lineup
For MLB DFS, batting order can play a big role in a player's point production. Typically, teams will place their best hitters at the top of the batting order, with hitters #3 and #4 being the top run producers. Although spots 3 and 4 typically produce the highest points per plate appearance, batting order spots 1 and 2 will get more plate appearances, so they also produce a high number of points per game due to volume.
Ideally, you want to target hitters in the top 4 batting spots. The higher up in the batting order, the better. Our Lineup Optimizer conveniently shows the lineup spot of each player in the Status column. An orange status indicates the projected batting order spot, and a green status indicates a confirmed batting order spot for today's game.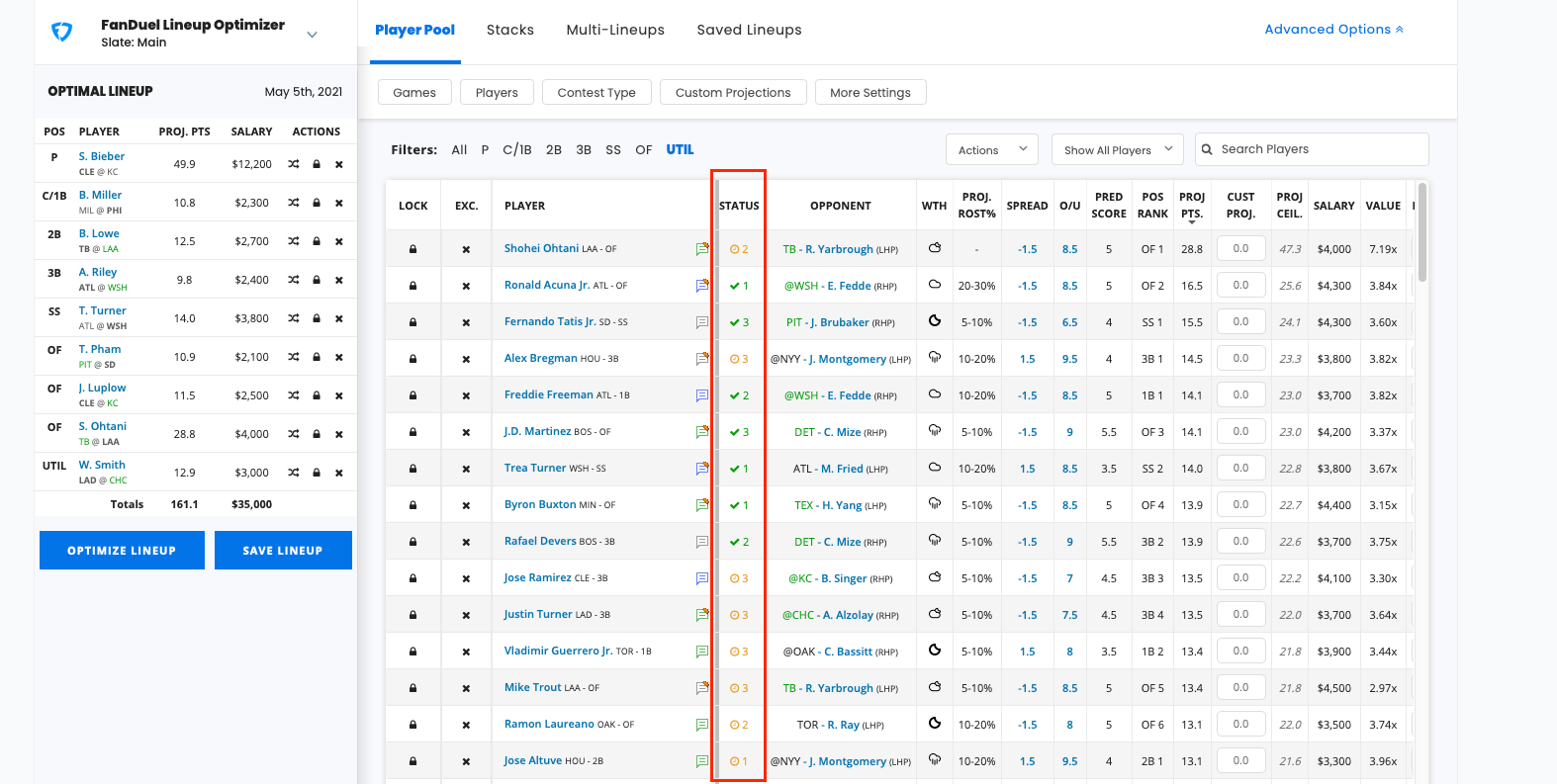 Stack players with advantageous matchups using the Stacks tab
Stacking in DFS means putting multiple players from the same team into your lineup. This is effective as if a team's offence has a big game, a group of players on the team will all score a generous amount of points; the success of the whole offence likely won't be pinned to one player having a great game. The Lineup Optimizer's Stacks tab lets you find the best stacks for your selected slate. Using the information that we previously mentioned regarding batting order, we can create high value stacks by stacking two or three players with a batting order spot between 1 and 4: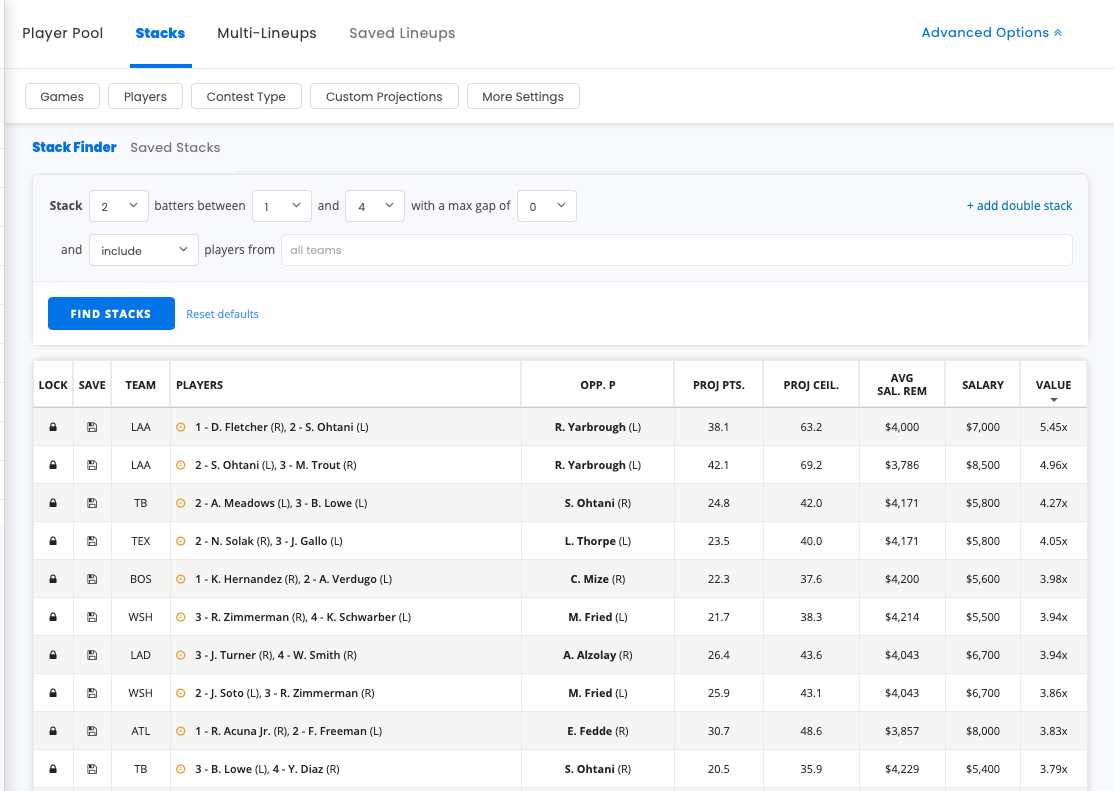 We can add these stacks when generating multiple optimal lineups to increase our chances of getting a winning lineup. We also want to choose stacks against opposing starting pitchers that have a lower salary. A low pitcher salary generally indicates that the pitcher is not expected to score many fantasy points, and therefore the hitters matching up against that pitcher have a higher likelihood of success.
Keep an eye on Vegas odds
Looking at the Spread, Over/Under, and Predicted Score of a game can reveal how bettors expect the game to unfold, and can help decide which players to avoid or use in a contest in combination with the other tips that were mentioned above. This information is included in the Lineup Optimizer in the Player Pool section: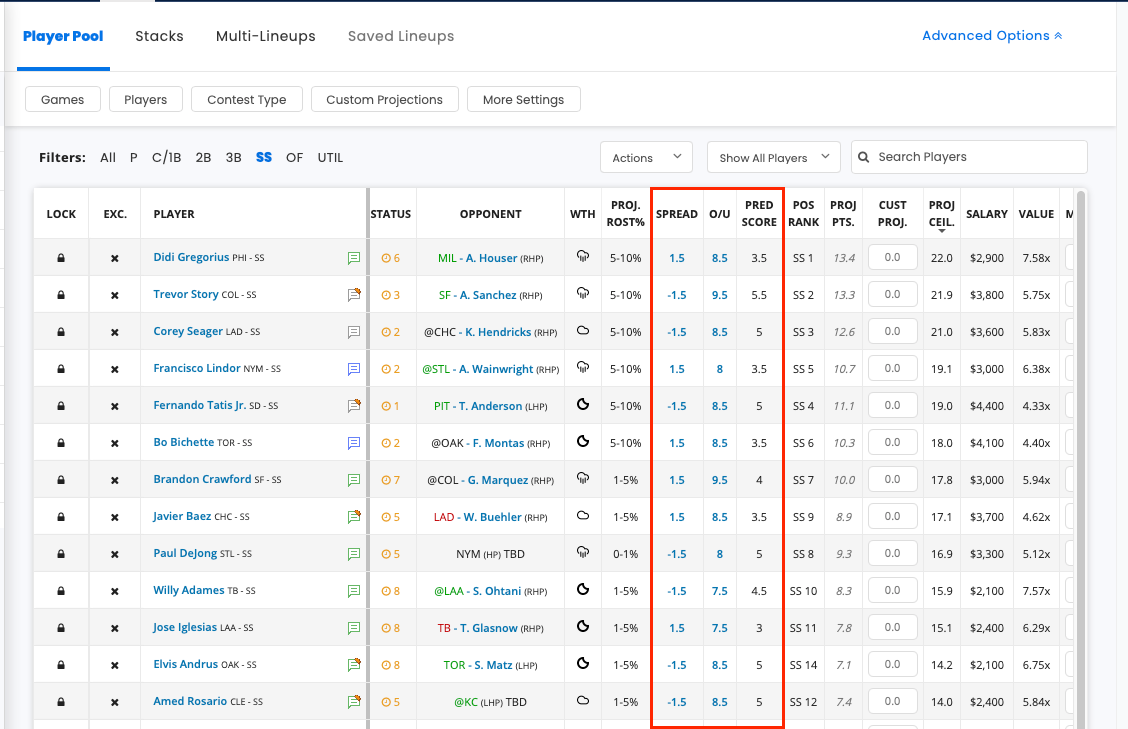 For example, picking starting pitchers that are in a game with a low Over/Under and Spread means that they are likely to score more fantasy points, as bettors believe that they will a) have a high probability to win the game and b) give up a lower amount of runs. This is especially useful for cash games, as pitchers can make or break your lineup, so you'll want to choose a safe option based on Vegas odds-- even if the pitcher may cost a high percentage of your budget. Clicking one of the lines will take you to BettingPros where you can find even more information about the odds and prop bets for that game.
We hope that these tips will help guide you to more daily fantasy success this season! To build winning lineups in seconds, check out our DFS Lineup Optimizer.