[8/2/2019] New Custom Cheat Sheet Tags, ECR Risers/Fallers, Superflex Views in Draft Wizard
Now you can customize an unlimited number of player tags that synchronize across all of your cheat sheets, see which players have had significant rankings movement in the past week, and view Flex only player suggestions.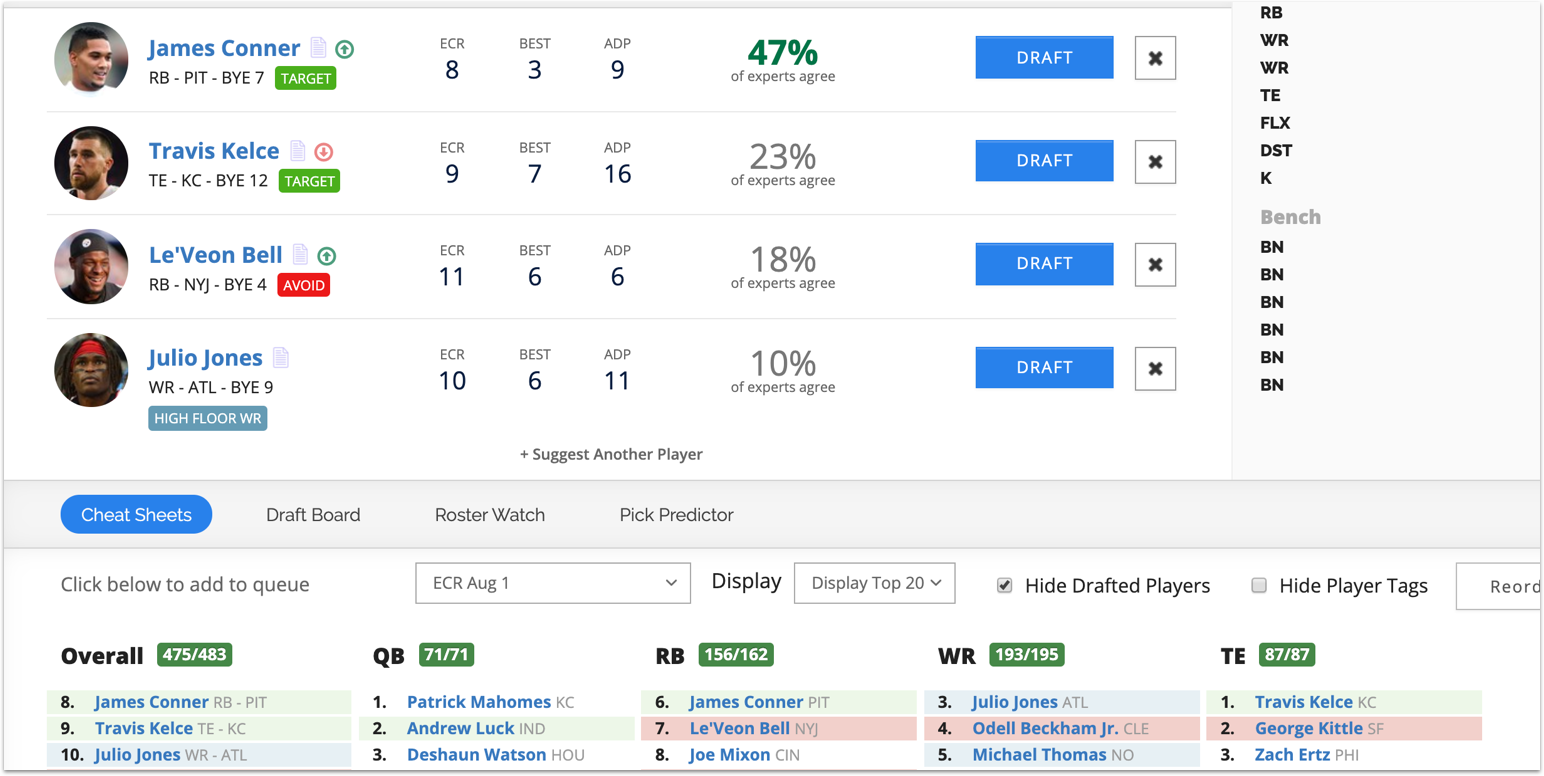 Some exciting new quality of life improvements just in time for your fantasy football draft prep (and real drafts): custom cheat sheet tags, notifications for players whose ECR has had a recent significant change, and new Flex/Superflex player suggestion views.
Custom Cheat Sheet Tags
A long requested feature has finally come to life: custom cheat sheet tags. Previously, our Cheat Sheet Creator allowed you to add 3 tags to players: Target, Avoid, and Sleeper. Now, you can create an unlimited number of tags for players, with custom names and tag colors. Additionally, editing a tag now updates that tag across all players.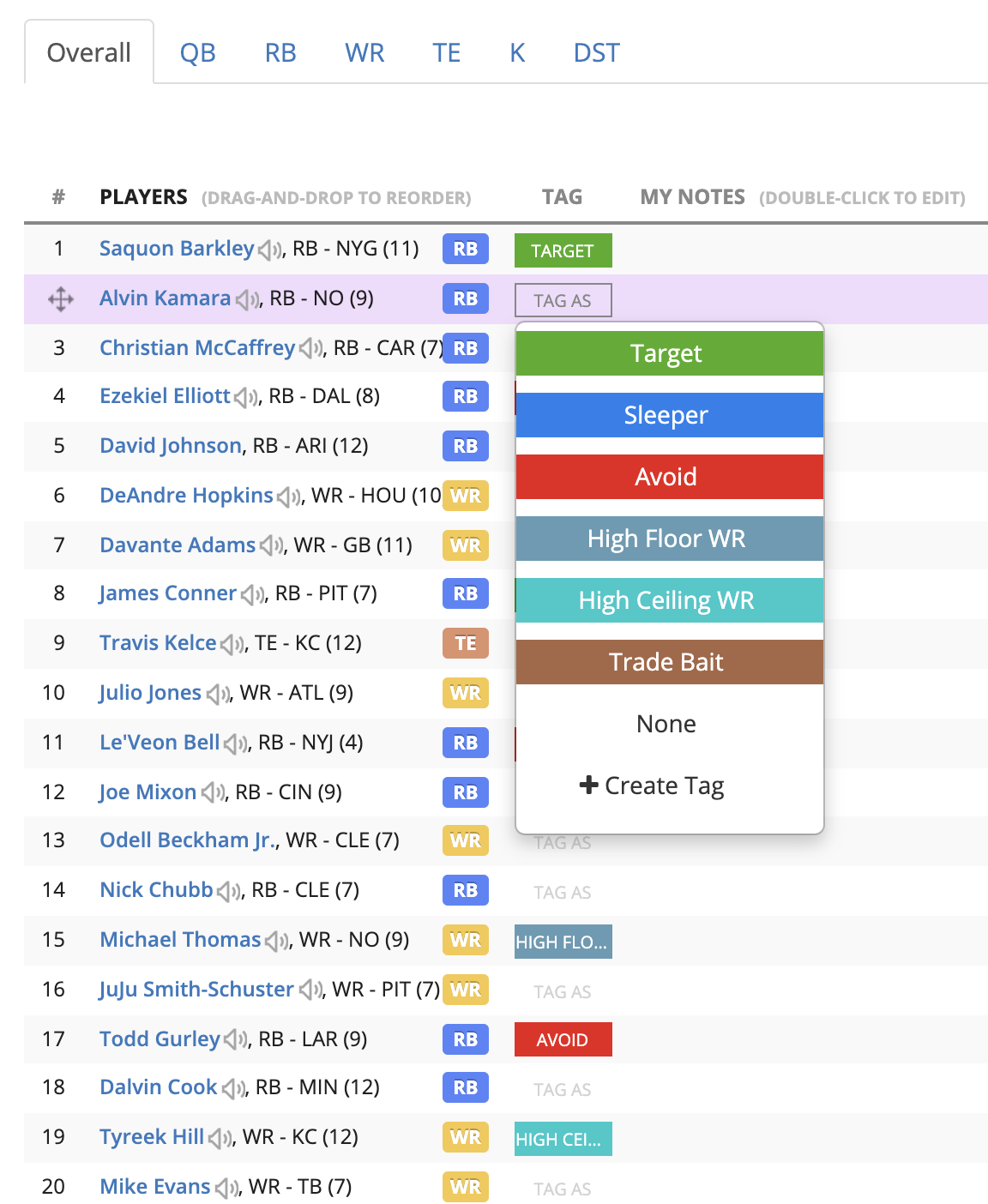 So now, you can identify players with tags like:
High Ceiling WR
High Floor RB
Trade bait
Great smile
Winning Attitude
You can create an unlimited number of tags and assign 12 different colors so they're easy to identify in the draft room: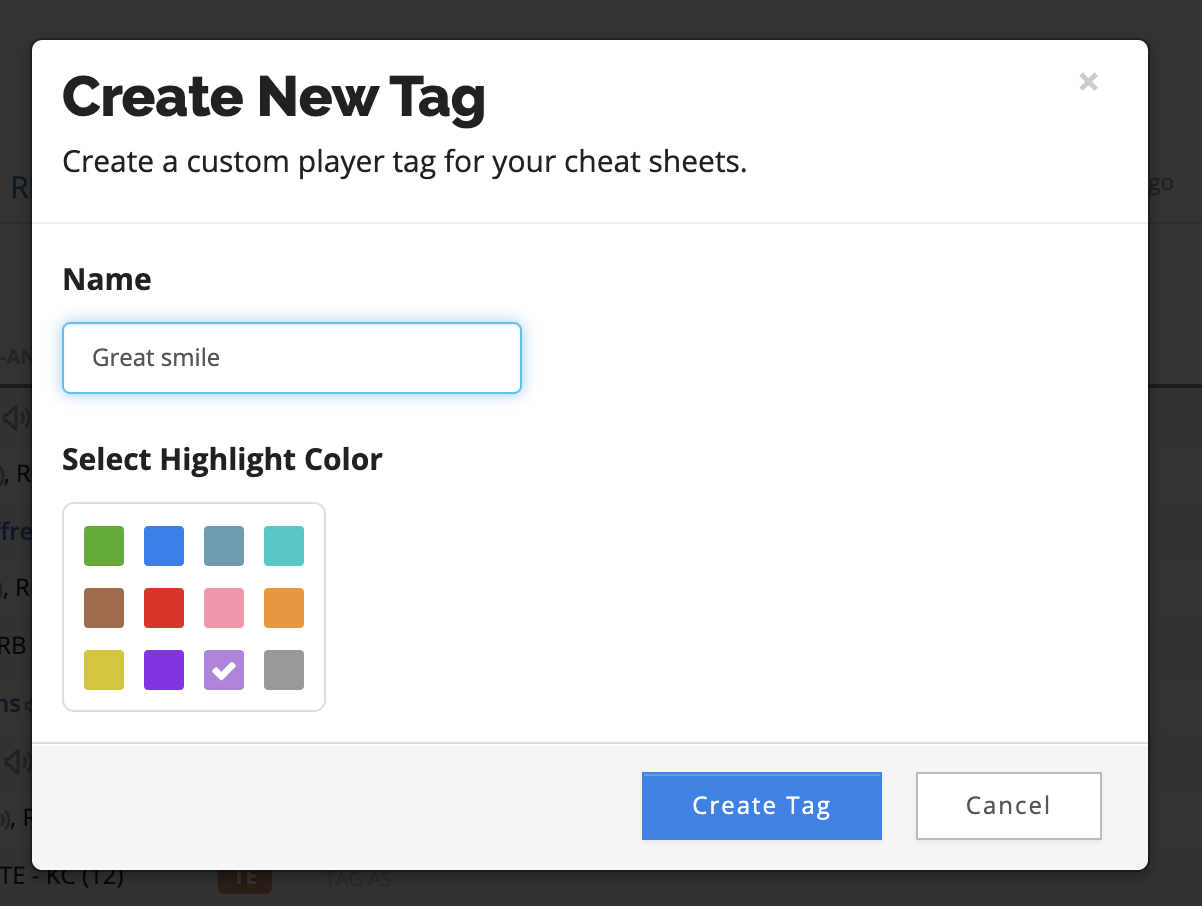 Player tags span all of your cheat sheets, so you only need to tag a player once for that to be reflected everywhere else.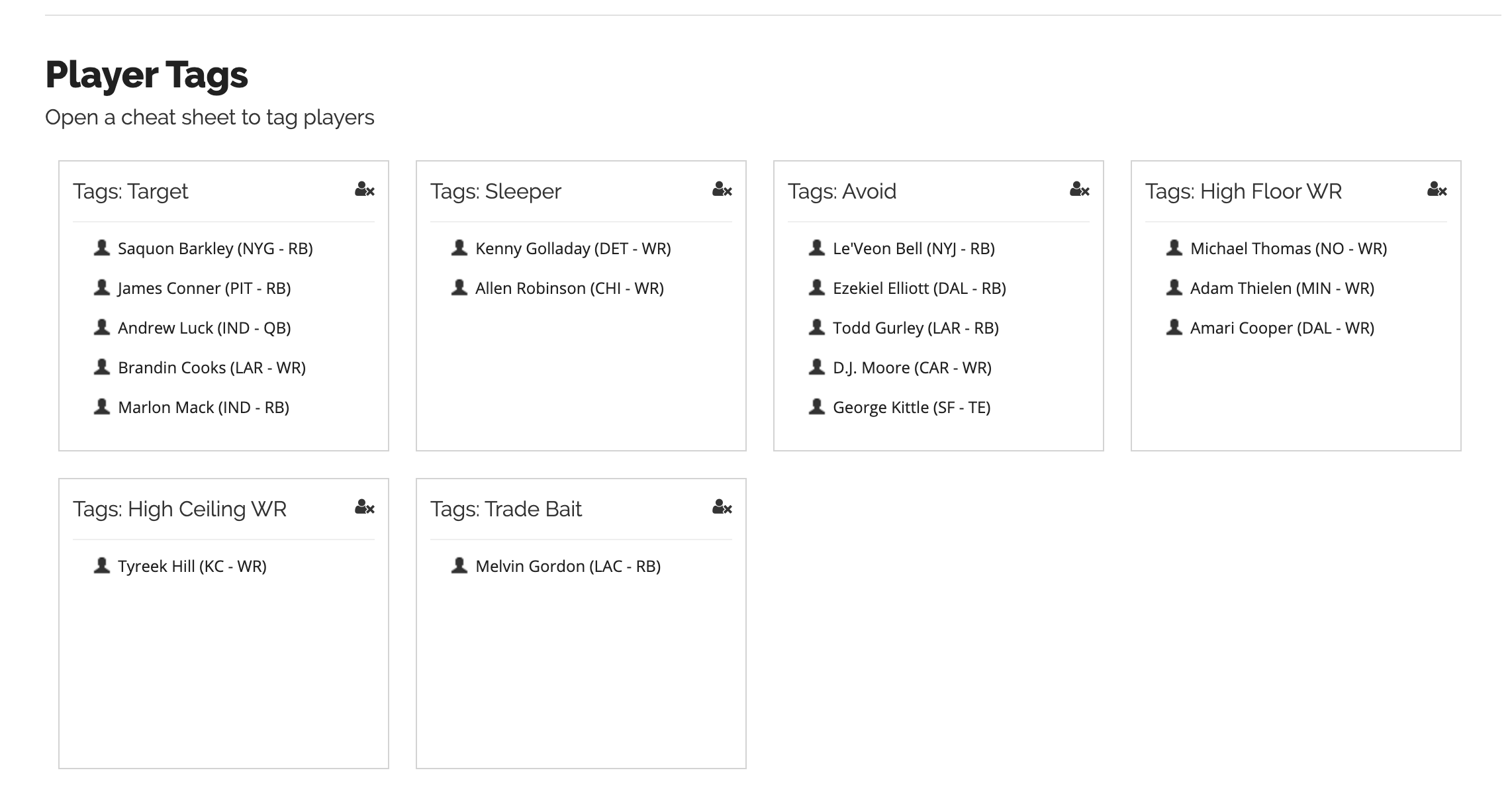 Then, when using the Draft Simulator or Draft Assistant, your tags will appear in the player suggestion queue, the cheat sheets tab, and the Pick Predictor.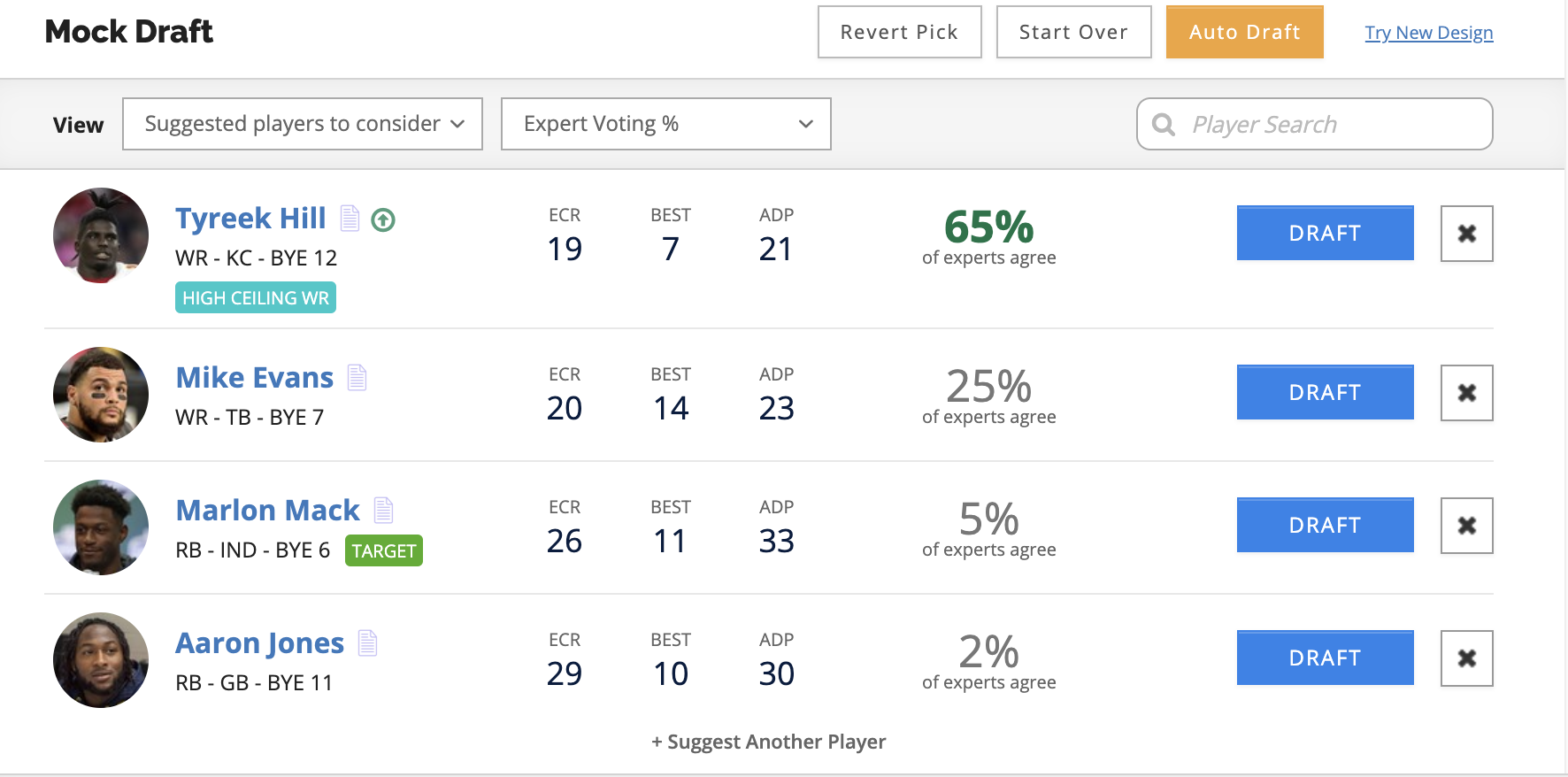 We're really excited about getting this new feature out to you. It's available now. Give the new tags a try in the Cheat Sheet Creator.
ECR Risers and Fallers
Another addition to the Draft Wizard experience is a new notification for players that we're calling ECR Risers and Fallers. If there's significant change in a player's expert consensus ranking in the past week, you'll see a little green or red arrow next to their name in the Player Suggestion Queue. This way you can identify movement based on breaking news, injuries, suspensions, etc.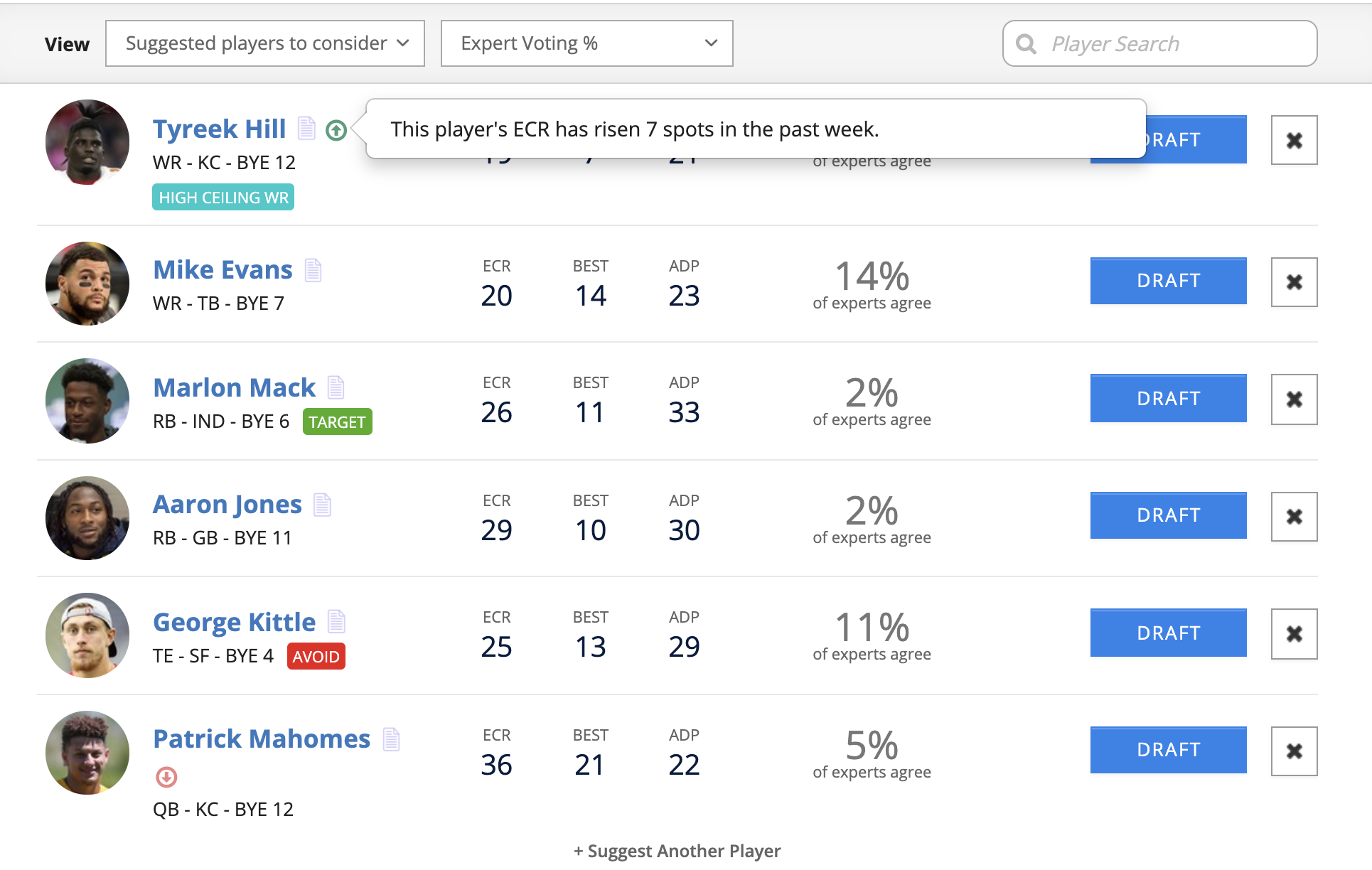 This feature is now available in the Draft Wizard Mock Draft Simulator and Draft Assistant.
Super Flexy Views
We also added updated player views for Flex and Superflex (i.e. QB/RB/WR/TE) positions. This is available in the "View" filter above the Player Suggestions queue.
The new player views allow you to better tailor suggestions for your league's Flex and Superflex roster positions.
As a result, we're also treating Flex and Superflex roster positions separately. This means if you're in a league with both a Flex and Superflex roster position, those players will be treated differently (instead of one flex pool), analyzed differently, etc.

Give the new features a spin and let us know what you think!