Introducing the Bet Dashboard: Your Home to Analyze Every Sports Bet
Introducing the new Bet Dashboard from BettingPros! Track and analyze all of your bets in one place while sharing and comparing with other bettors.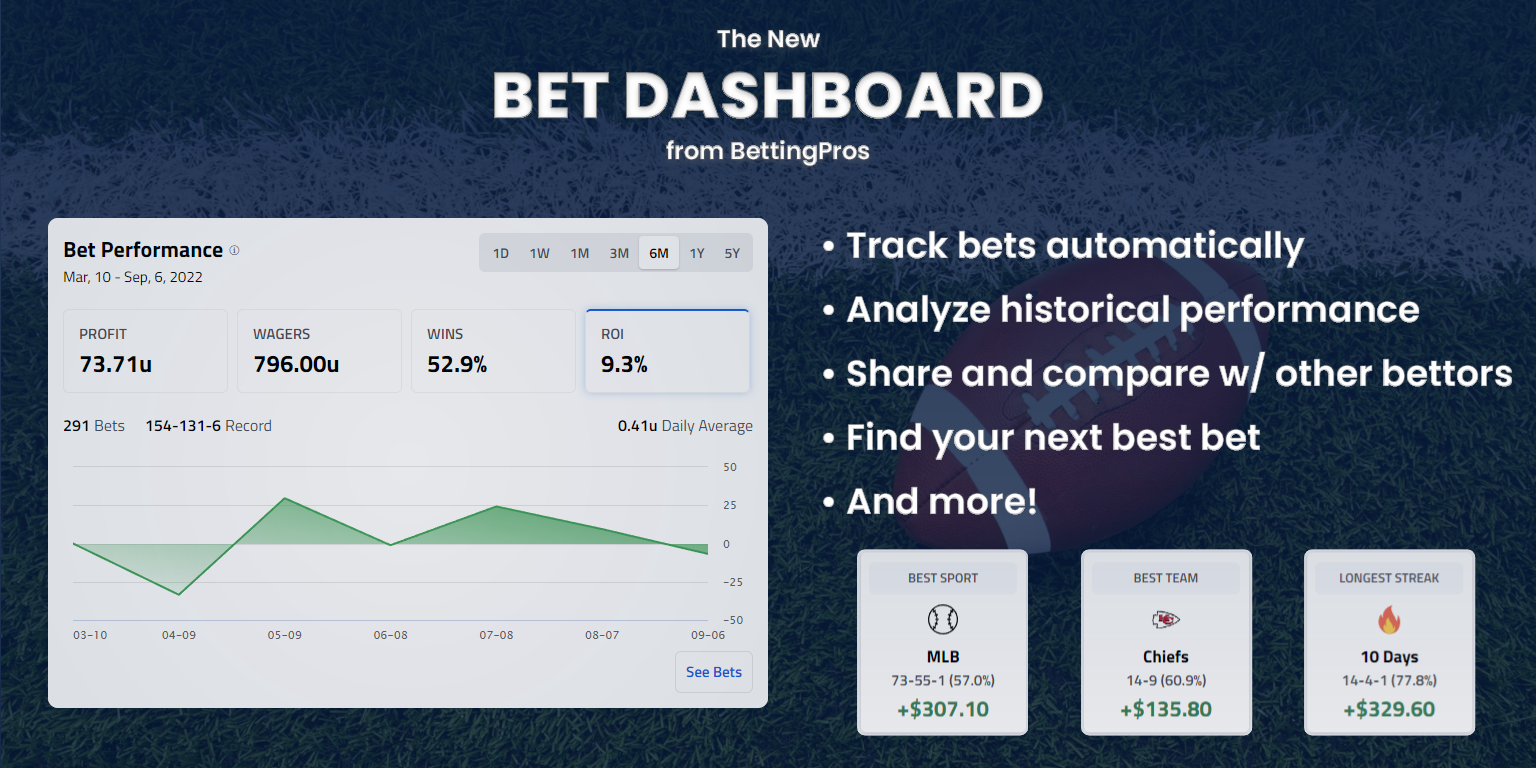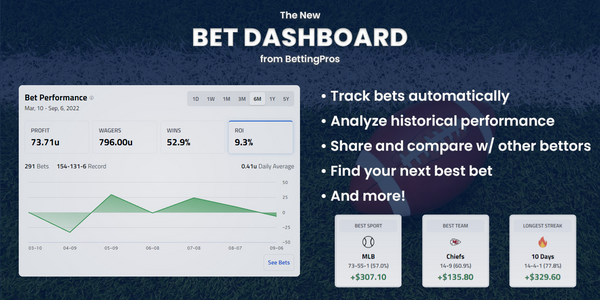 It's simple: knowledge is power, and knowledge about what you're betting on means coming out on top. Introducing the best way to track, analyze, and share bets across the web: The Bet Dashboard from BettingPros.
The Bet Dashboard will give you an overview into your historical bet performance for all of your bets. If you've synced your sportsbooks with BettingPros, your synced bets will automatically be pulled into the Bet Dashboard and will appear alongside your Quick Picks.
See how your bets and trends have fared with ease. The interactive graph will show you trends of how your profit, wagers, wins, and return on investment have changed over time.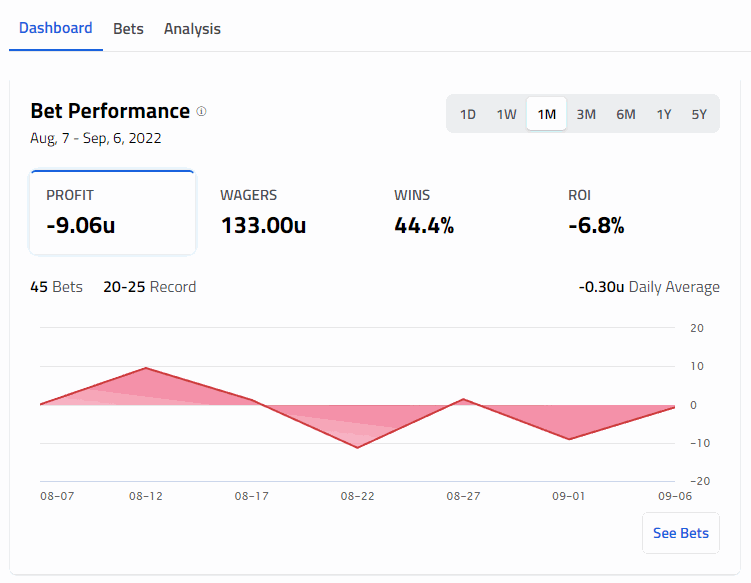 The Dashboard will automatically show your best sport, market, and team, and will find your best streaks to give you a sense of what bets are your strongest.

Note: The P icon indicates features that require a BettingPros premium subscription. Learn more here.
Bet Tracking
Track all your individual bets in one place. Filter and sort your bets to see your historical performance, including overall profit for any given segment, as well as wager amount, win rate, and return on investment.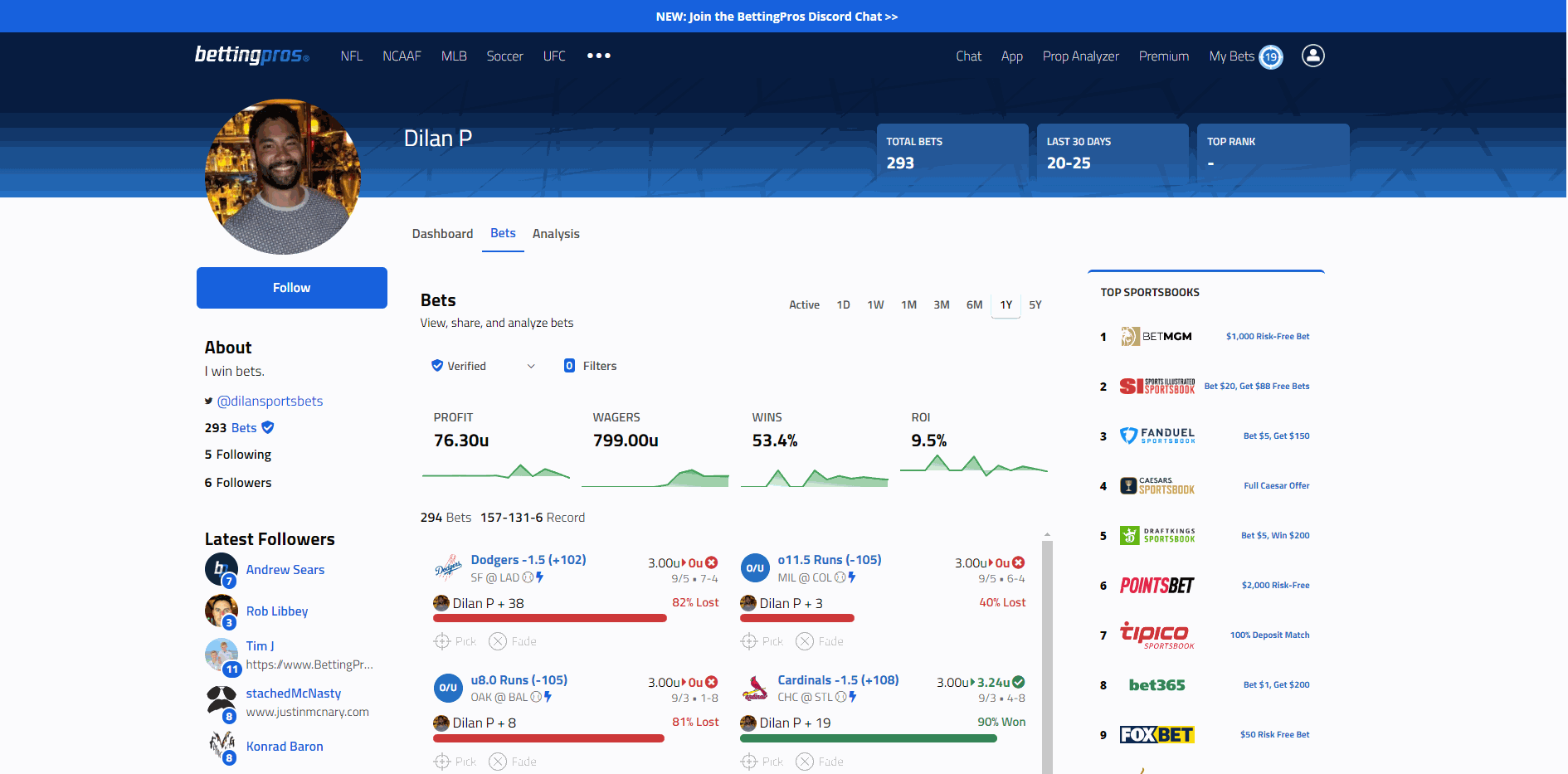 Filtering automatically updates the performance metrics and will show you bets that match the filter criteria. Use this to isolate and analyze specific bet types and how those bets have performed.
Bet Analysis
The Bet Dashboard will also help find your best segments and individual splits automatically in the Analysis section P.
View overall win rates and return on investment by both sport and bet type.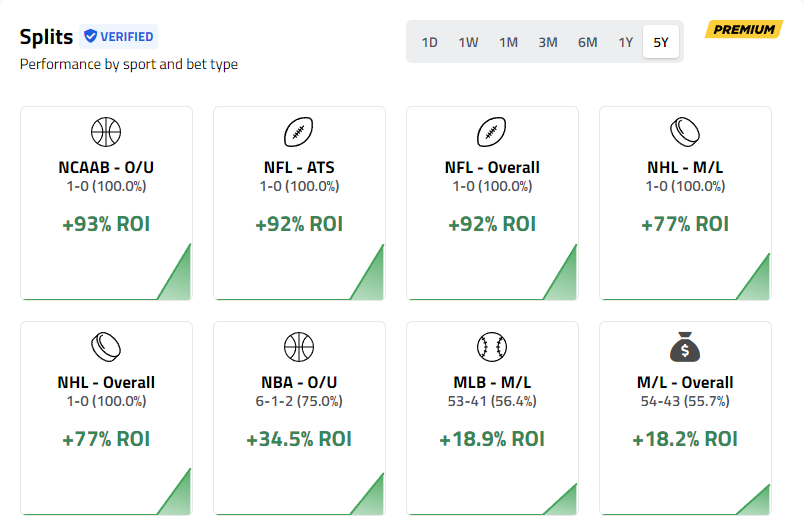 See how your splits have fared across different timeframes and how your betting trends have improved (or where you might want to re-adjust your strategies).
Public & Private Profiles
The Bet Dashboard is both a private look into your own betting trends and analysis, and a public profile to share and compare bets, betting trends, and strategies with others.
In your private view, you'll see all of your bets placed across your synced sportsbooks with real wager amounts.
Your private Dashboard will also show you recommended bets P from users you follow, like-minded bettors on hot streaks, and highly rated bets.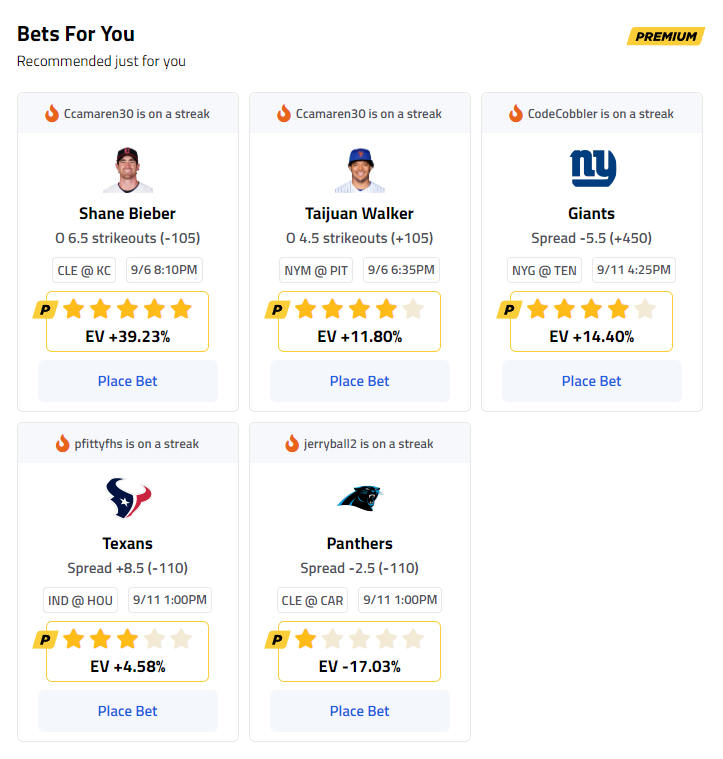 But of course, you have full control over how your bets are used and shown on BettingPros, including on your public profile.
Customize how your public profile displays to others in the Settings menu. Display your bets as units (u) or as dollars ($). You can also choose to keep your synced bets private all together.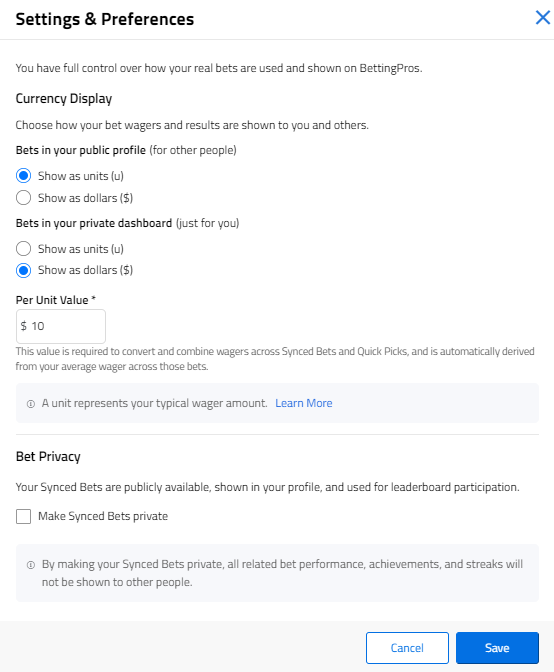 Freely toggle between your private and public profile view to switch between your real wager amounts and how others will see your profile page.
Navigate to the profiles of others to see how they are betting (and their outcomes), and their performance over time. The BettingPros profiles have a simple follow system to allow you to track and re-visit other bettors.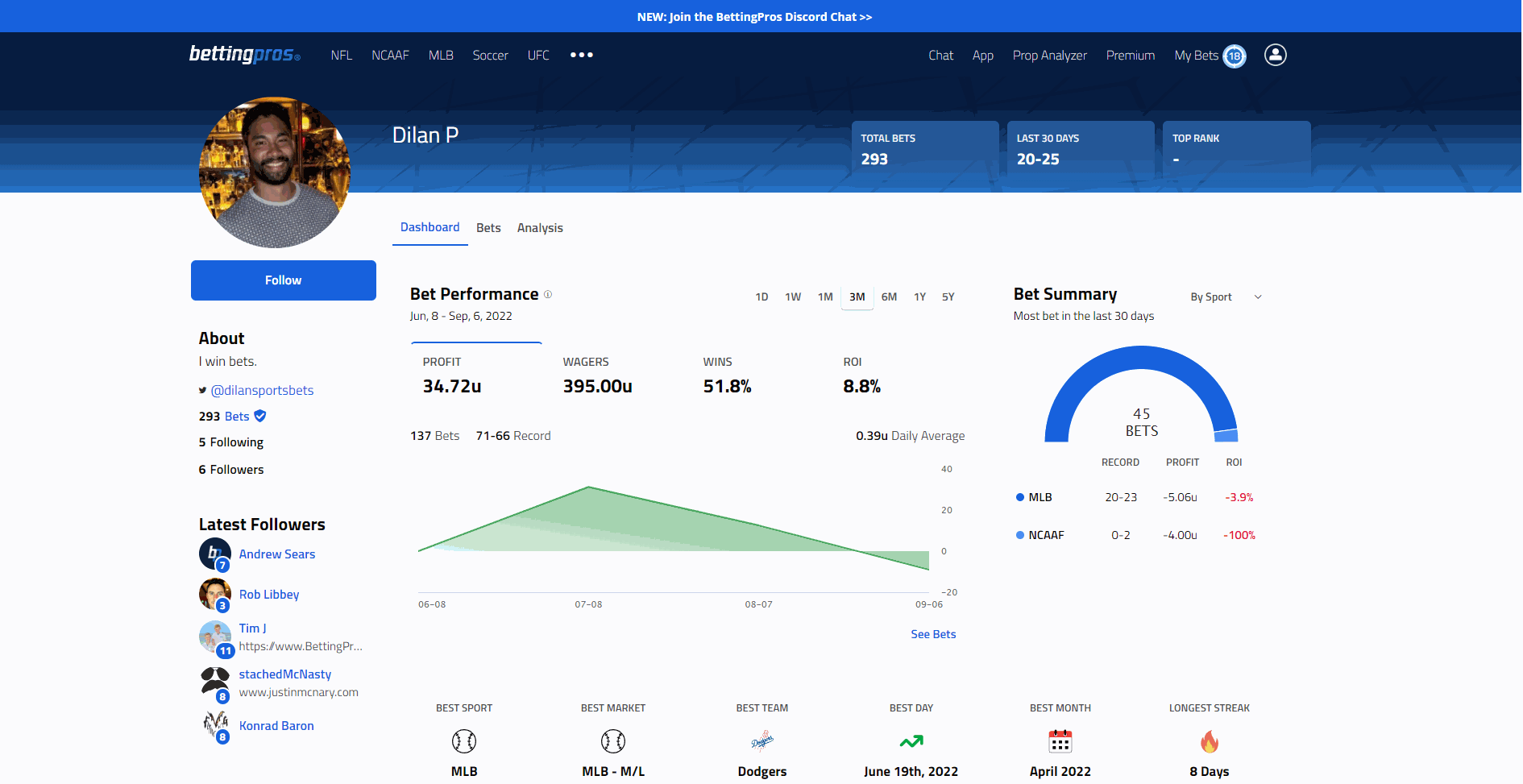 Similarly to your own public profile, see their historical trends and recent bets (both active and settled). If you find someone on a hot streak, follow their page for future bets they might place, and make Quick Picks directly from their Bets page to shoot up the leaderboards.
The Bet Dashboard - Available Now!
The Bet Dashboard is available for all BettingPros users by navigating to My Bets in the header on bettingpros.com or within the iOS BettingPros App found in the App Store.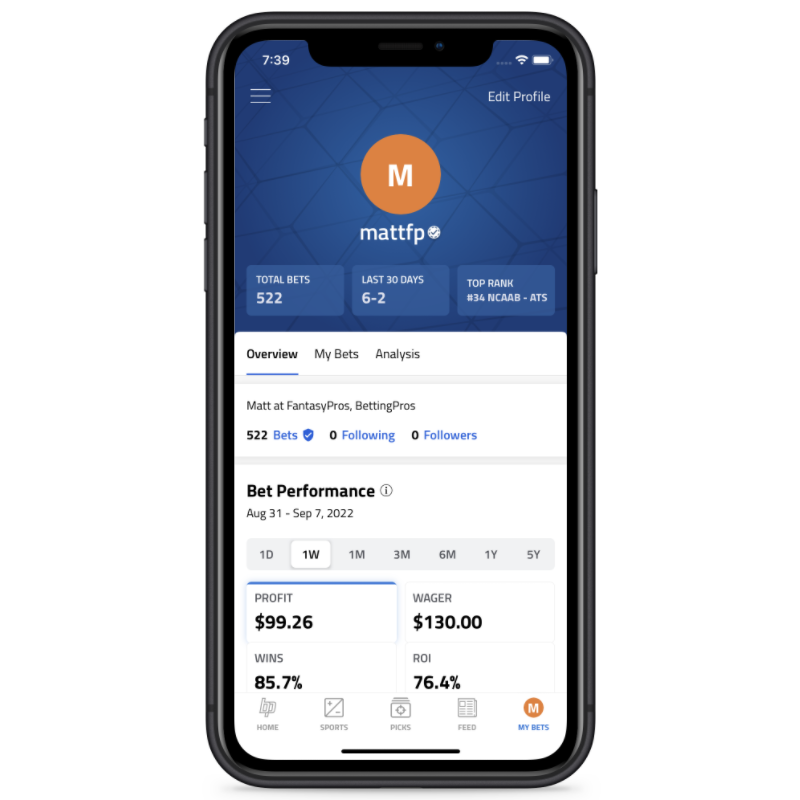 Check out your Bet Dashboard today!