[9/25/2019] My Playbook In-Season Management Wins Championships.
With the 2019 fantasy football season underway, get customized advice all season long to take you all the way to the championship.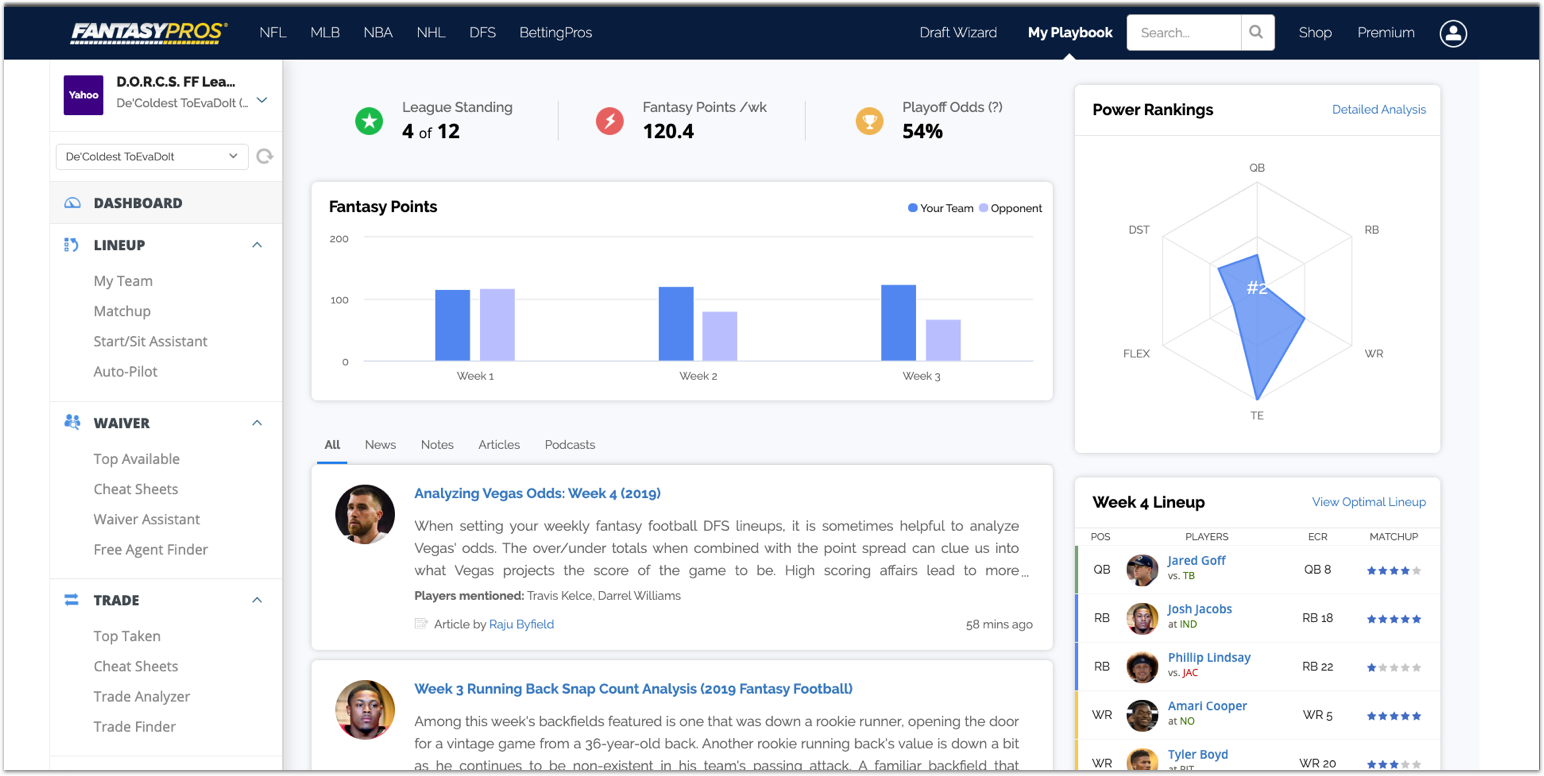 As they say, "You can't win a championship with a draft, but you can definitely lose it." I like to think that you can always make your situation better with proper in-season management: getting those league winning waiver wire pick ups (James Conner, anyone?) and potential breakout players before they show up on everyone else's radar.
If your draft went well, great, you can always improve or add depth. If your draft didn't go so well, now the real work begins. Roster management, along with weekly lineup decisions and trades, is how winning teams reach the playoffs and take home championships.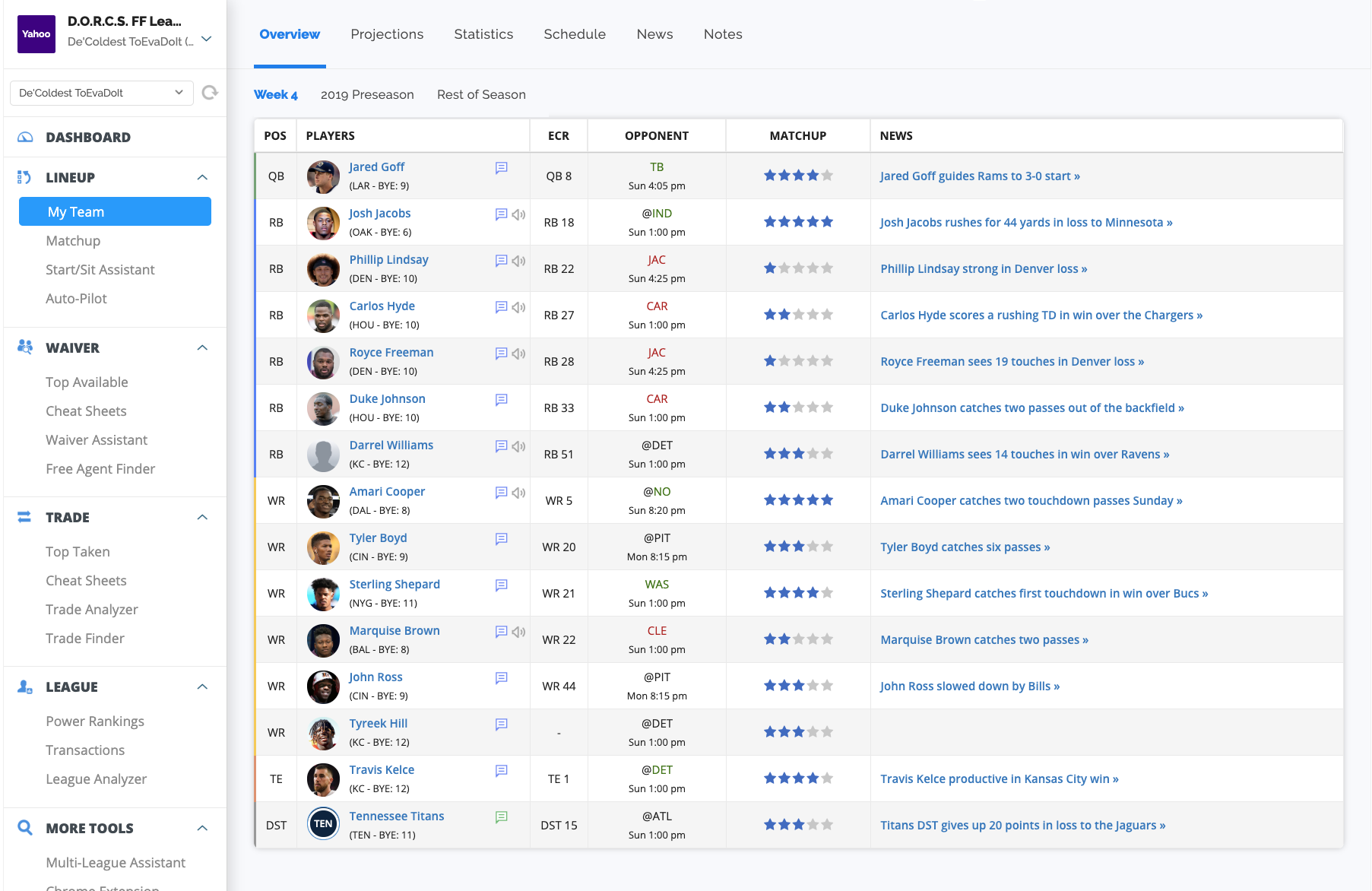 Our in-season management suite of tools, My Playbook, gives you expert-driven advice that helps you set lineups, make player add/drop decisions, find and analyze trades, get detailed league analysis, and for those of you in multiple leagues, easily manage all those teams in one place.
Dashboard: An overview of your team
Power rankings (where you stand relative to the other teams in your league for the rest of the season, broken down by position), fantasy points for/against each week, your weekly optimal lineup (with positional rankings and matchup ratings), along with player news and notes – all in one location.
If you have multiple teams imported, you'll be able to quickly switch and use this as your bird's eye view control center for all things fantasy football.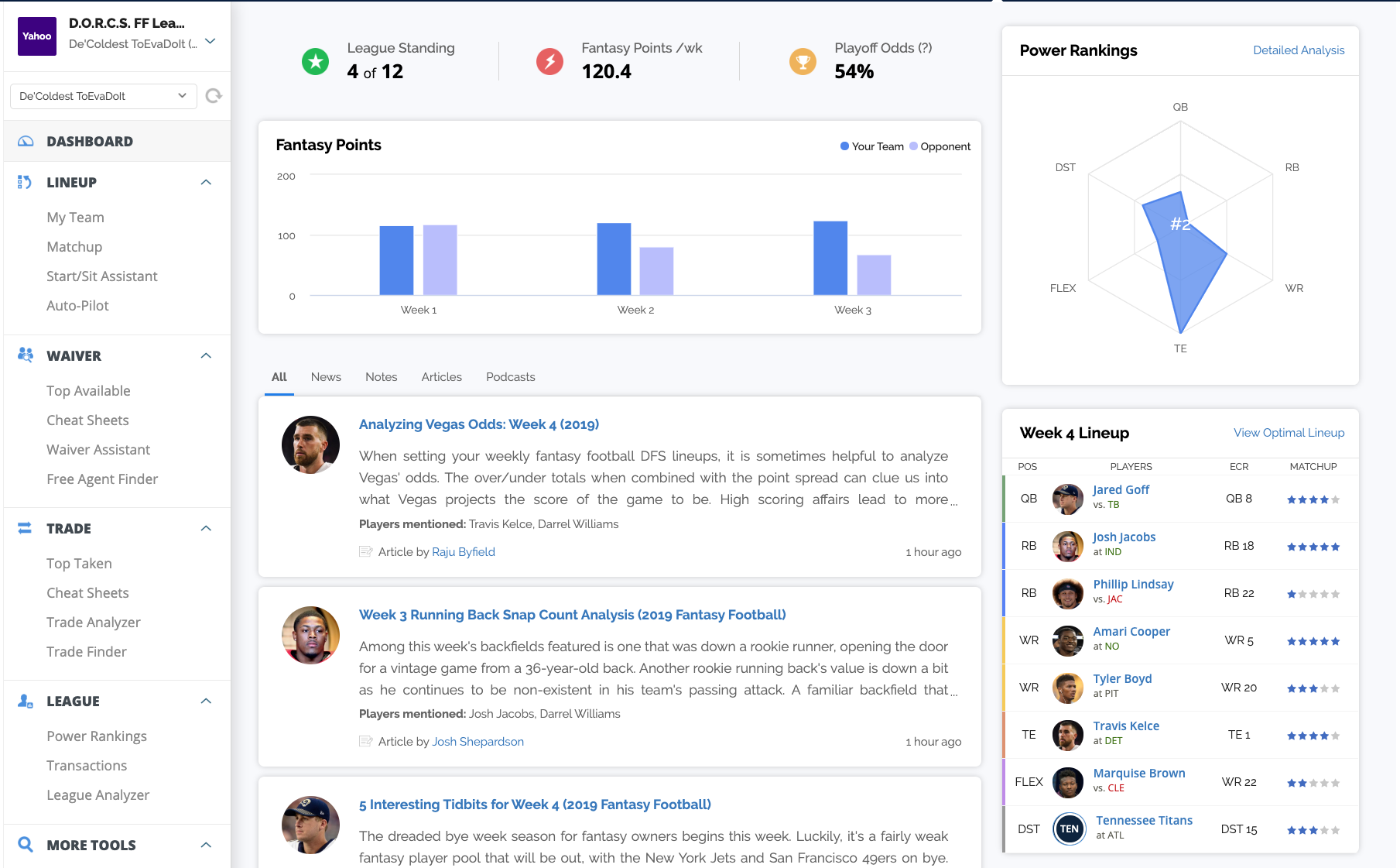 Lineup Tools: Make that weekly decision easier
Lineup decisions, powered by expert consensus rankings, are easier than ever. With the Start/Sit Assistant (premium), you'll also be able to directly submit your optimal lineup to a variety of league hosts.
Additionally, you can enable Auto-Pilot (if available for your league host), which will automatically swap players for you based on either a newly detected optimal lineup or players deemed inactive before kickoff. And you'll either let us do it automatically or require confirmation by email. All your choice.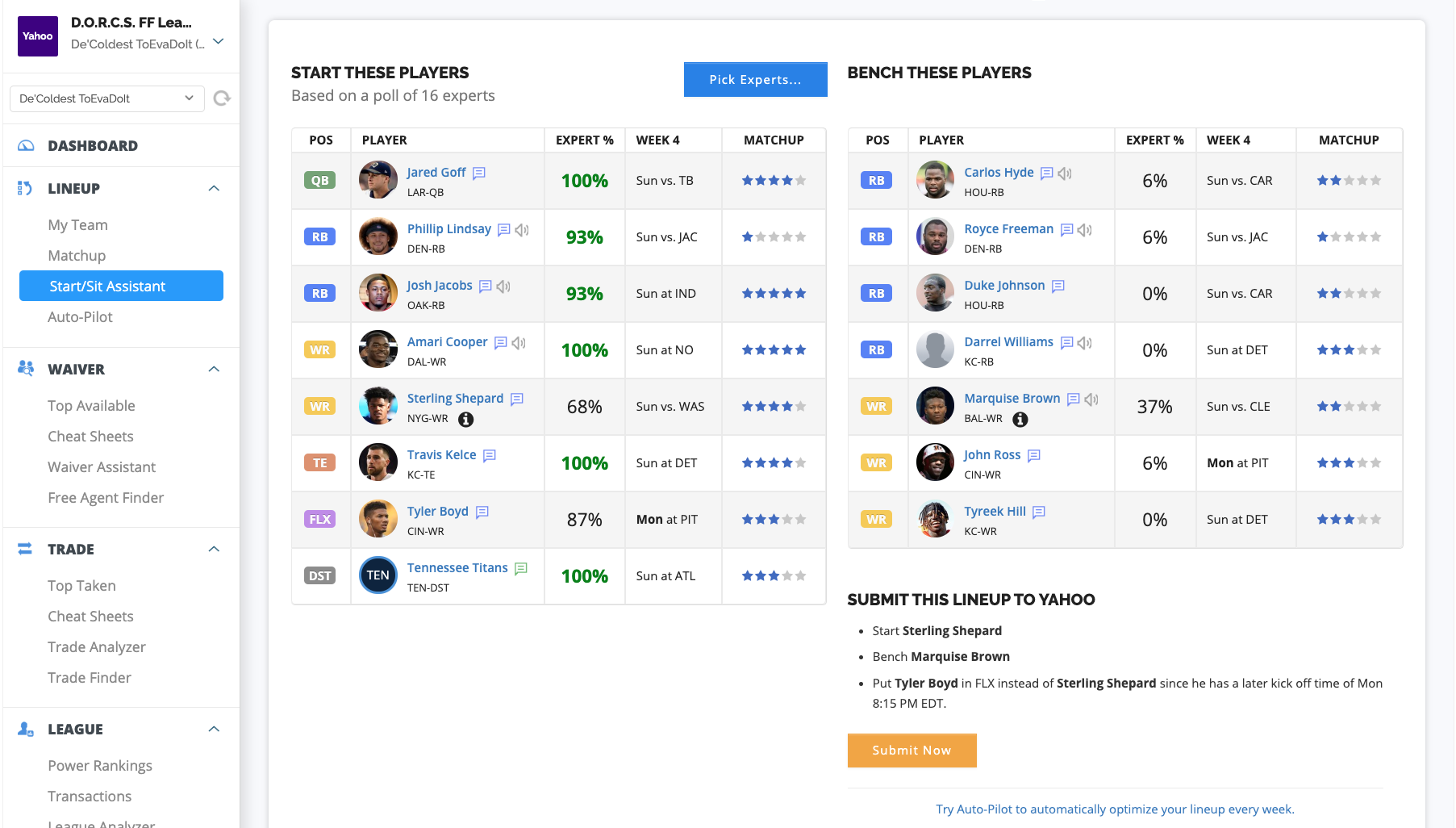 Waiver Tools: Add? Drop? Easy.
Find top available players in your league, including our ever popular free agent finder (search for a player and we'll let you know which leagues they're available in).
The powerful Waiver Assistant will let you evaluate add/drop scenarios (either using Rest of Season outlook or for the next week), with detailed analysis available to see changes in your power rankings.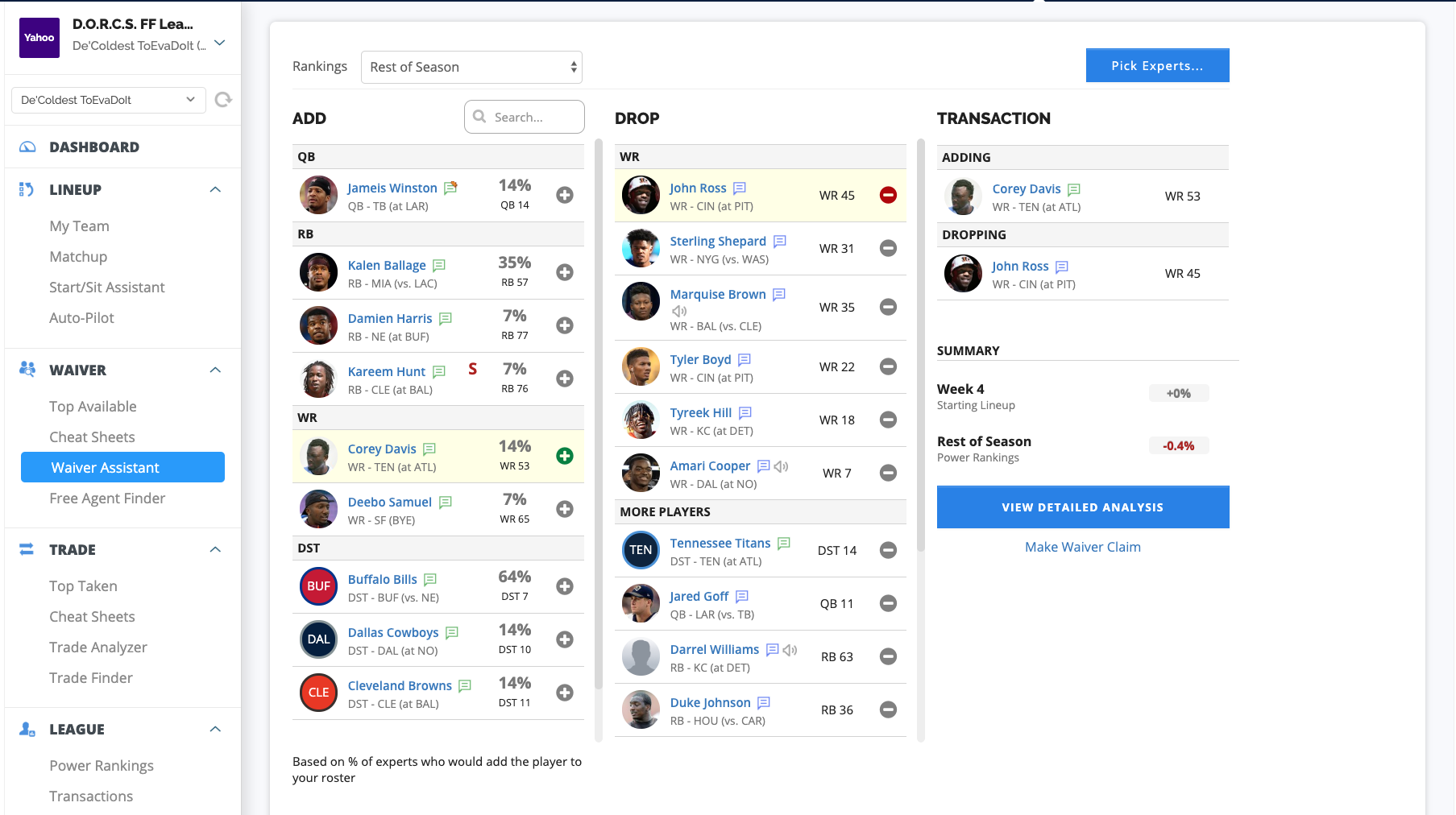 Trade Advice: Quickly Find and Analyze
Not sure about that trade offer your leaguemate just sent you? Is this truly mutually beneficial, as they say? Or is someone trying to pull a fast one on you?
Use the Trade Analyzer to find out.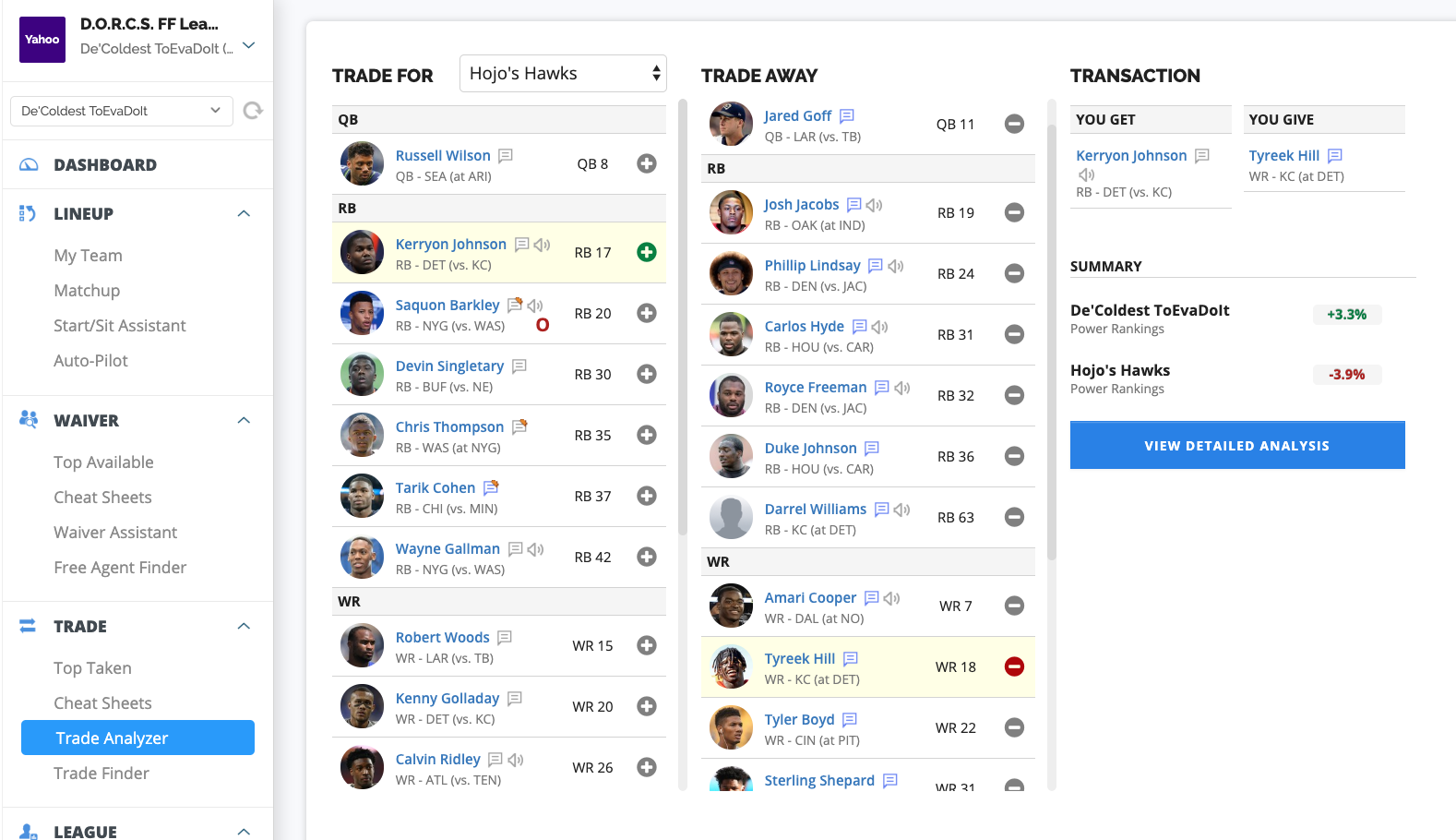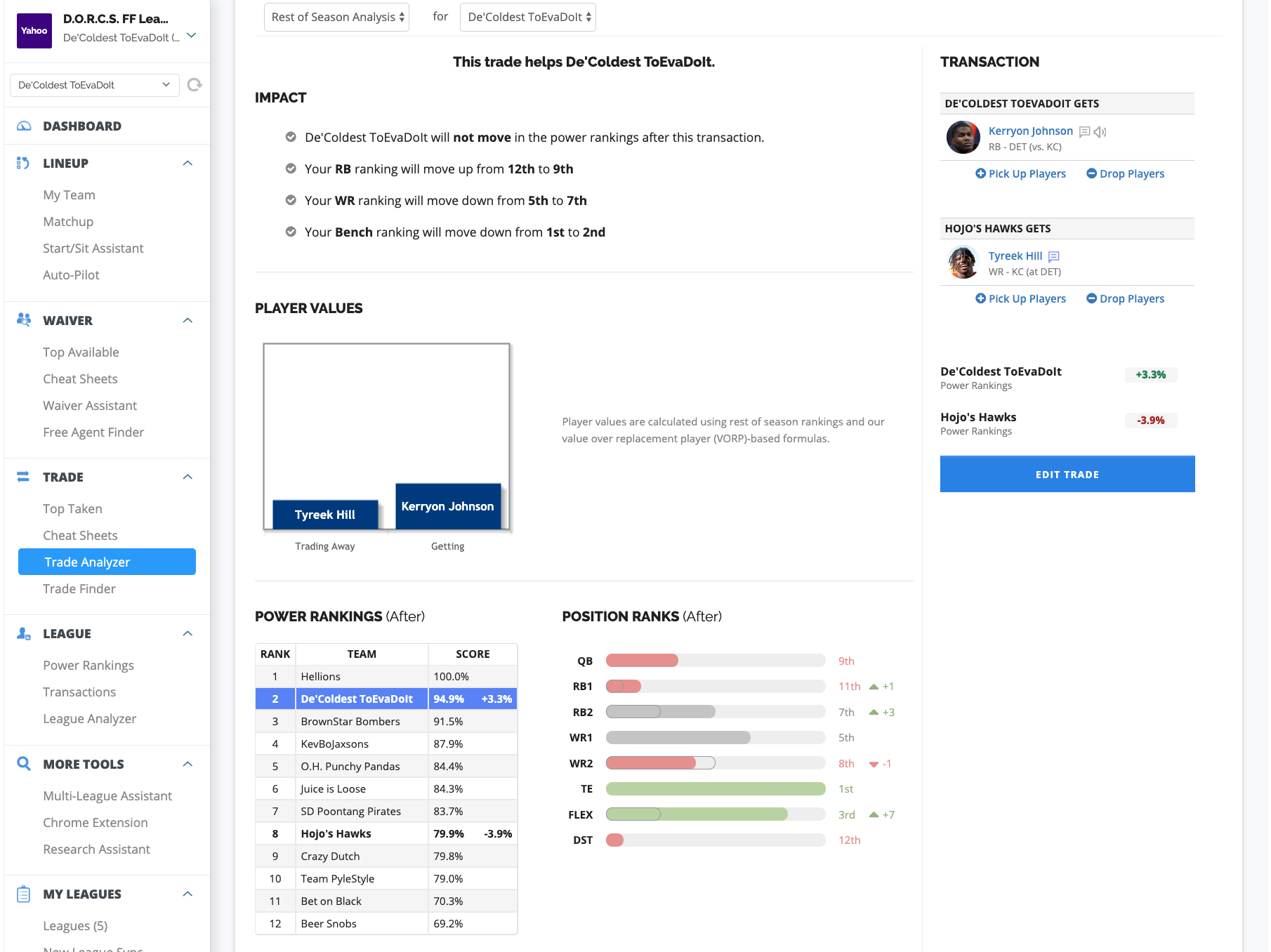 Want to see what sorts of trades may be beneficial? Use the Trade Finder and let us run the scenarios. You can set a variety of parameters, such as specific positions to trade for/away, specify teams to trade with, and decide if you want to only find truly beneficial trades.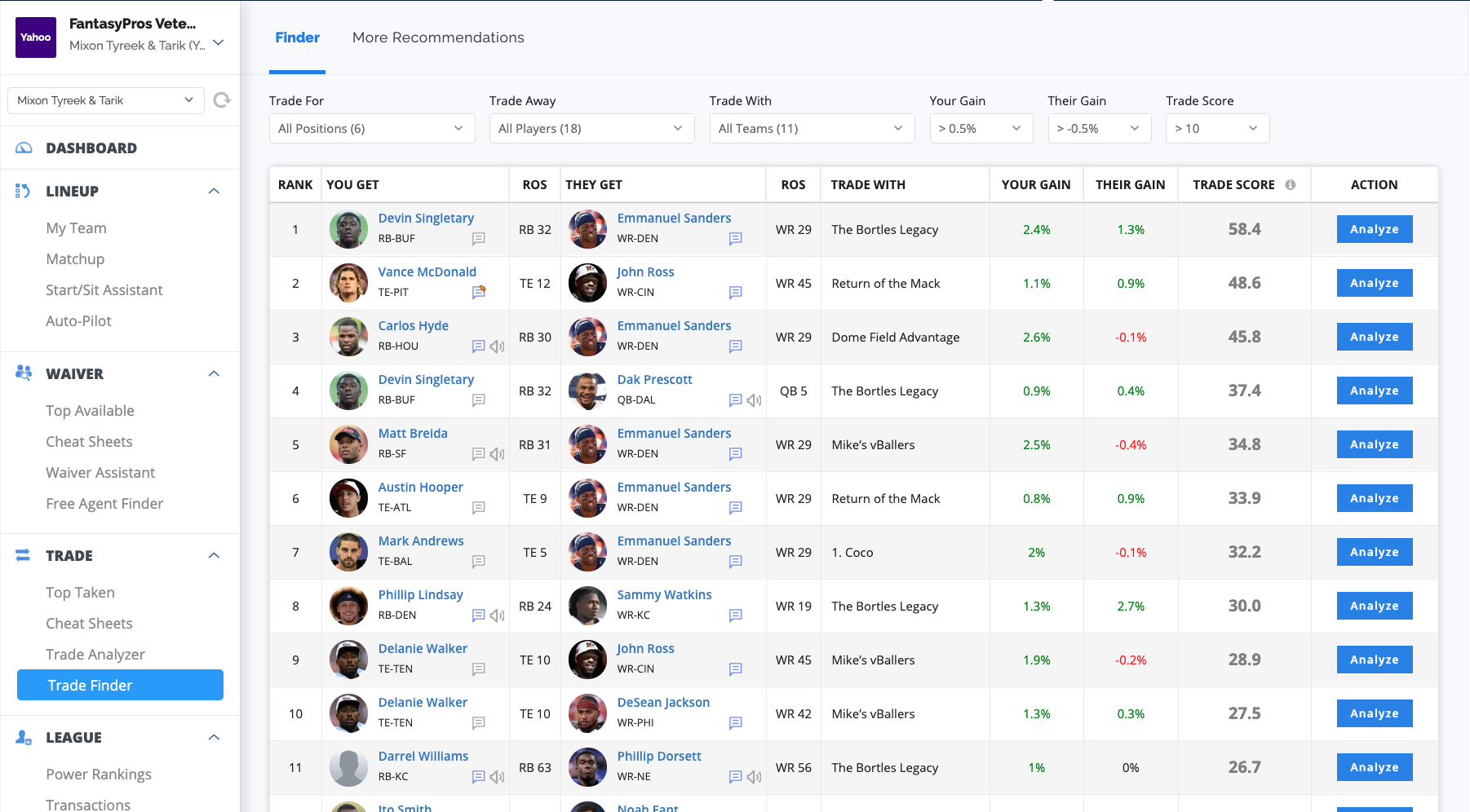 League Analysis: Where do you stand?
Quickly see how you stack up relative to the other teams in your league with Power Rankings. You can also use the League Analyzer to check the odds of you making the playoffs, which is computed running hundreds of simulations through the rest of the season to project your record. It might shed some light on how aggressive you need to be with moves in order to increase your odds of a playoff berth.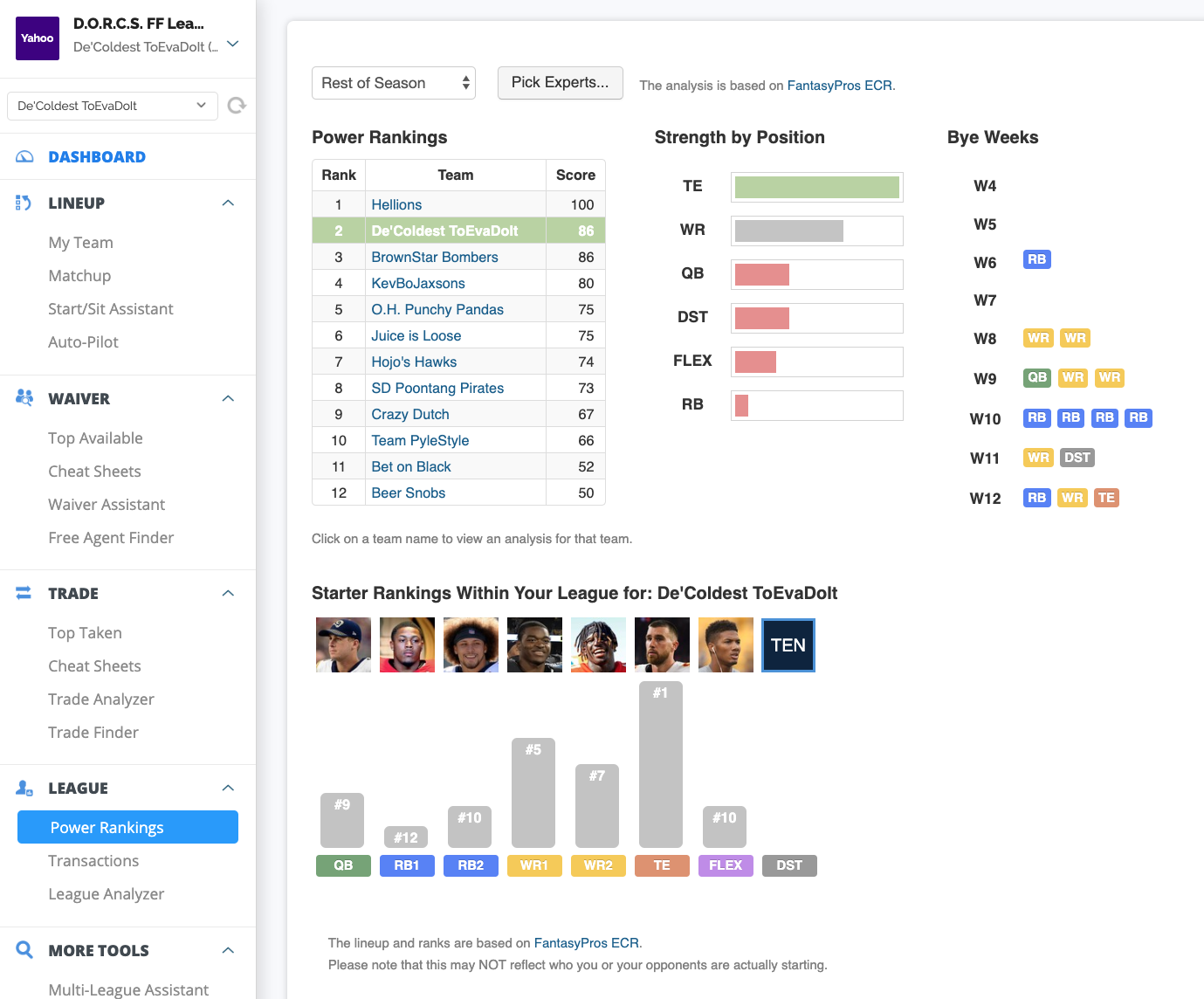 Multi-League Assistant: One view to rule them all
One of my favorite tools, the MLA lets you see all the players you own across all of your leagues, including which players you own multiple shares of. This lets you do things like: find players to sell, determine the impact of an injury across all of your leagues, pat yourself on the back for drafting a strong sleeper that has come to life, etc.
It also consolidates player news, standings, and cheat sheets across all of those leagues into one view.
Nice.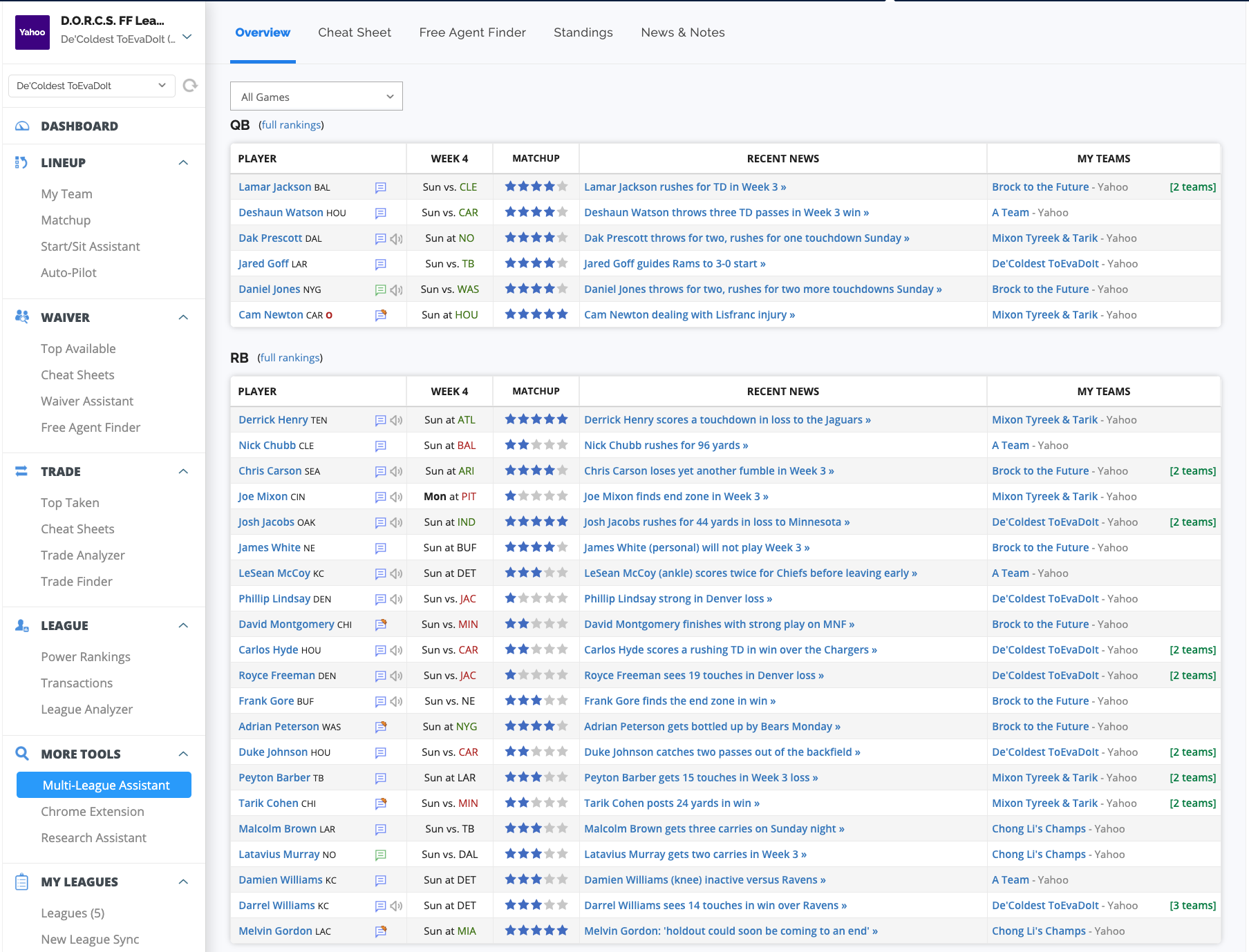 Chrome Extension: FP player cards and rankings on every web page
This isn't just for draft help. Installing the FantasyPros Chrome Extension adds FantasyPros rankings, projections, and matchup ratings to a variety of league hosts including Yahoo, ESPN, and NFL.com.
Additionally, if you're logged in to your FantasyPros account you'll receive on-site advice from My Playbook tools to help set your optimal lineup, identify the best available free agents, and more.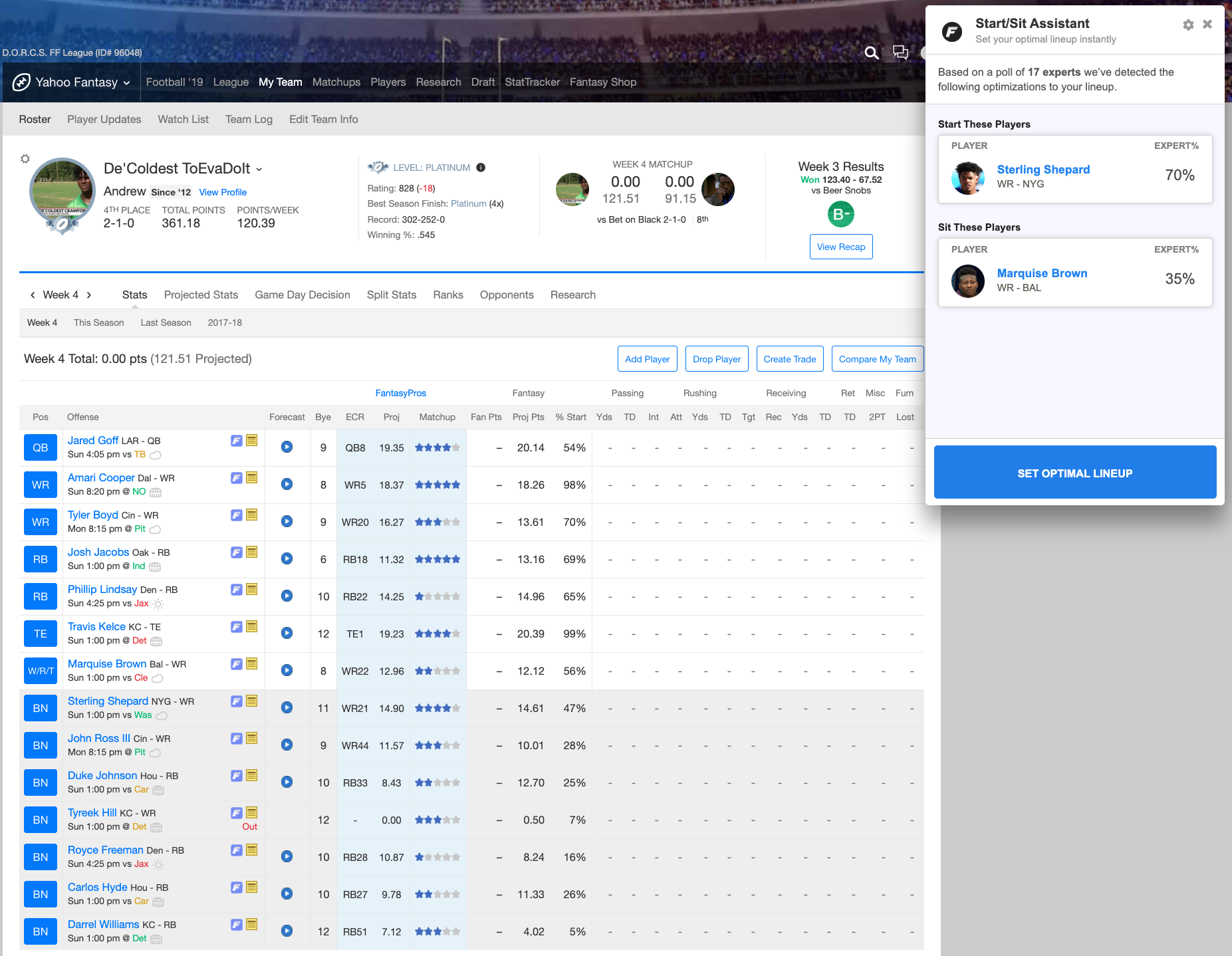 The other incredibly popular feature is to automatically scan any web page you're viewing to add FantasyPros player cards. This lets you immediately see if a player mentioned is available in one of your imported leagues, as well as click to view expert notes, news, projections, and more.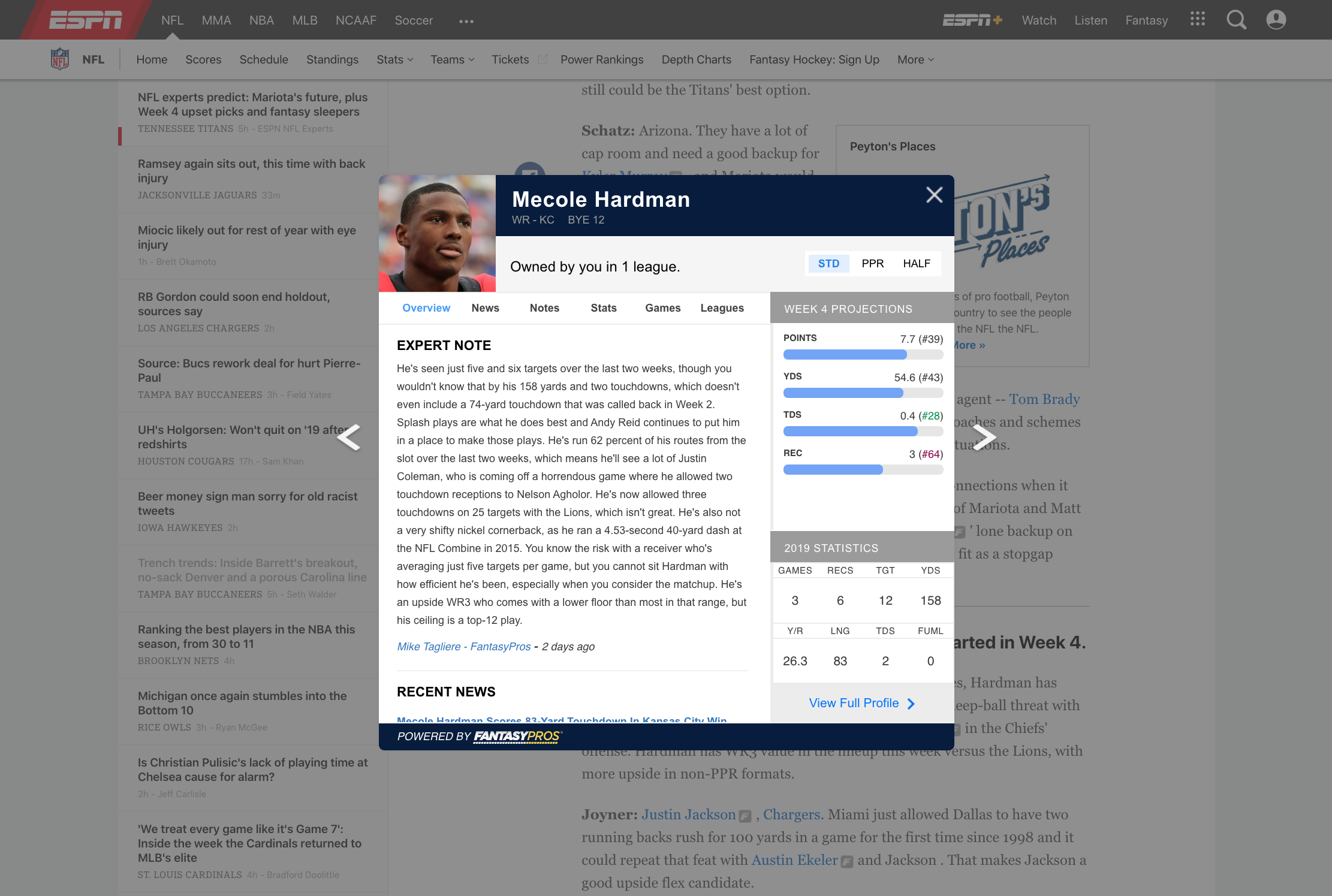 You've dominated your draft. Now dominate in-season.
Your in-season checklist:
Import your team into My Playbook for season-long expert driven advice, customized for your team.
Install the FantasyPros Chrome Extension to get rankings, projections, and player cards on every site you visit.
If you haven't already, upgrade to premium to get access to our most powerful tools. Oh yeah, there are some great offers from our partners that can get you this access for as little as $10.
Manage your team to a playoff berth and beyond.