[3/4/2019] Draft Wizard: Improved Simulations, New Multi-User Drafts
Major updates to Draft Wizard web mock draft simulations and the ability to mock draft against other FantasyPros users.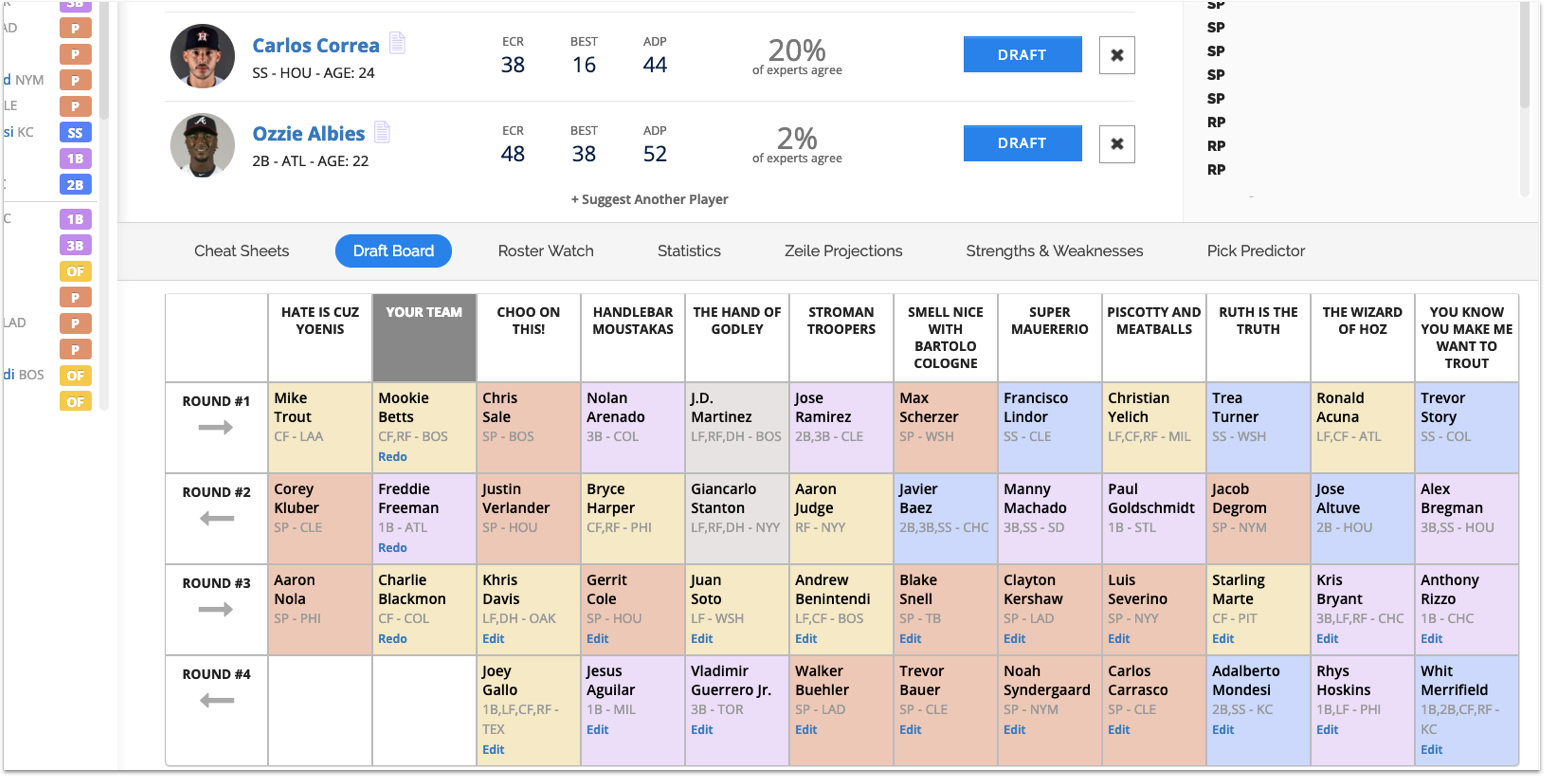 As we get closer to MLB opening day (Is it March 20? Or March 28? hmm...) we're continuing to improve the Draft Wizard experience for you, the intrepid fantasy baseball manager.
We have two big updates: one is an enhancement to our draft simulation bots, and another is the ability to draft (live!) against other FantasyPros users.
More Realistic Mock Draft Simulations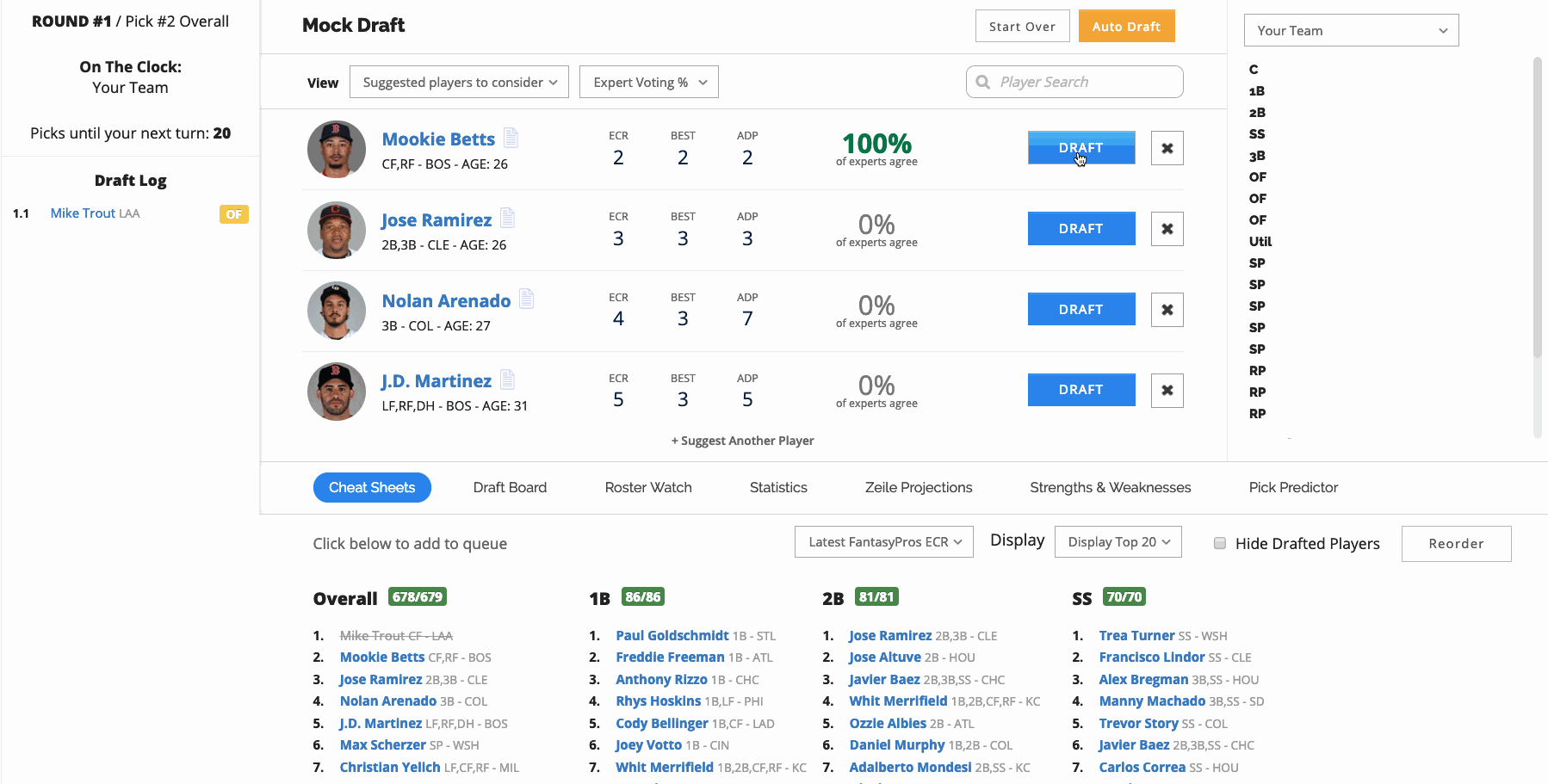 Over the weekend we added improved draft simulation bot personas to the mock draft simulation experience. What does this mean, exactly?
When you run a Draft Wizard mock draft simulation, the "people" you are drafting against are bots, simulating how other managers would be drafting their team. Since we have the largest source of expert rankings and site ADPs (average draft position) on the planet (it's true), we create a cheat sheet from a randomly selected expert/site ADP, and assign it to a team. We do this for every team, so you're drafting against a nice variety of of expert and ADP sources.

Additionally, the bots are not just picking the highest ranked player from their cheat sheet each round. We use a pick algorithm that factors in the team's roster needs, positional scarcity, remaining players in the draft, and more.
So what does this update change? We all know that people bring different strategies to the table on draft day. Some managers like to go heavy on starting pitchers and disregarding relief pitchers until later rounds. Some people like to give up (or "punt") on specific categories – say, AVG and H – and look to dominate other categories – HR, R, RBI. And we all know the people who are homers and will give preference to guys on their team...
We won't fully divulge all of the different personas that have been added, but every draft simulation now includes some of these new strategies. It's up to you to figure them out and see if you can draft a better team.
Live Multi-User Drafts (MUDs)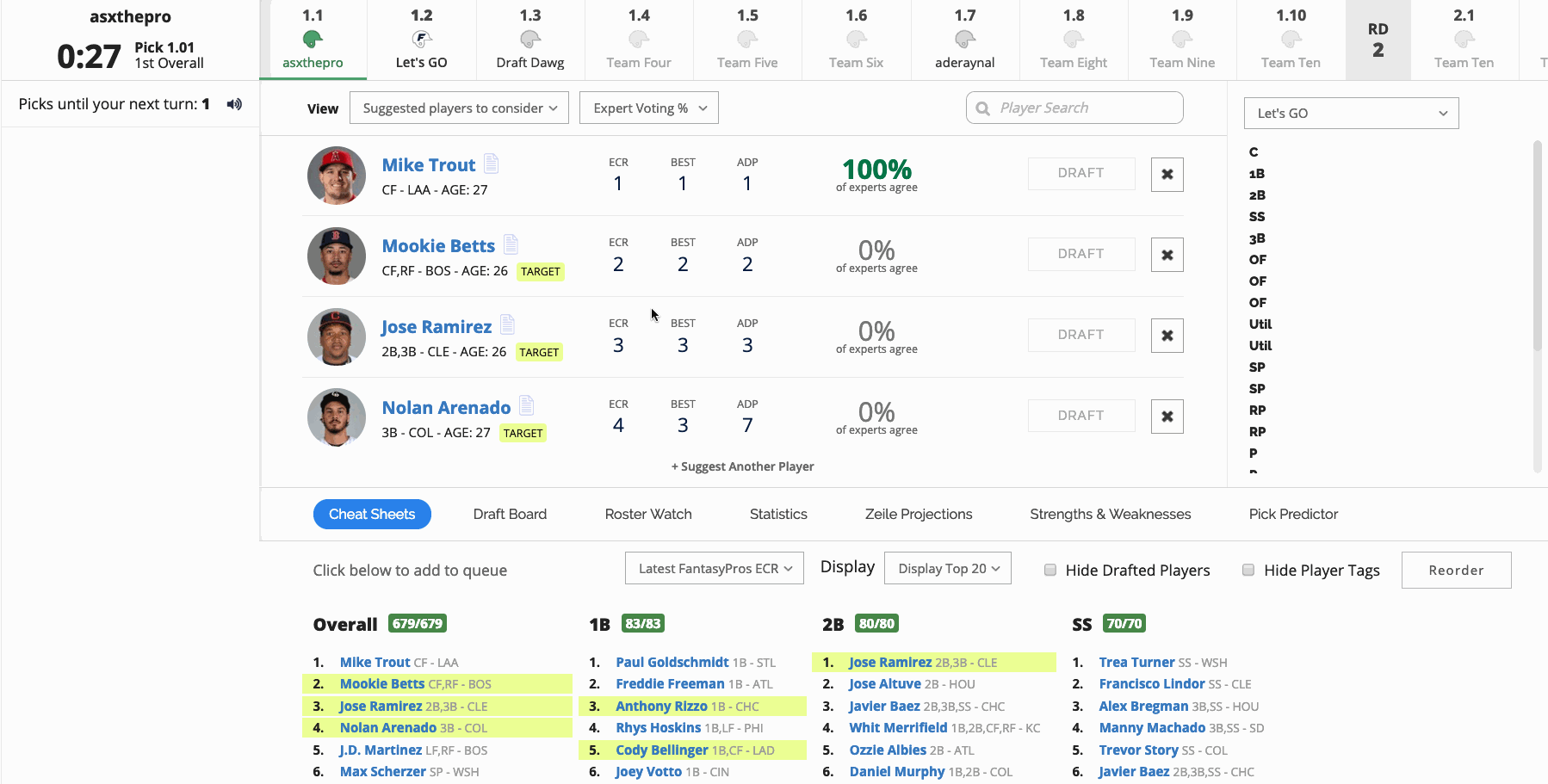 Long a source of consternation amongst fantasy sports enthusiasts, mock drafts on other websites against real people always ends up with either people leaving after the first few rounds or drafting unrealistic people early (or, in football, a kicker in round 1...)
Since you, our users, are awesome, we figured it would be fun to have you draft against each other. We have a variety of draft types available, and you can check them out in the new Mock Draft Lobby. Draft positions that are not taken up by users are filled by our bots (the very same ones that were just improved in our update mentioned above!)
You can join any public multi-user draft (MUD) before it starts; while in the waiting room you can see who else you'll be drafting against in addition to selecting your draft position.
You can also create a private mock draft to share with your friends.
Closer Tags

Relief pitchers: are they going to get you the saves you need to win your pitching categories? How strong of a hold do they have on their closer role – and do you take the second in line to a reliever who can very likely lose their job in the middle of the season?
These are the tough questions you have to answer during your draft and looking up reliever job security in the heat of the moment is extremely stressful. But don't worry – we solved that problem for you.
Now when relief pitchers are added to your suggested players, you'll see a note about job security (if they're the closer), if they're next in line (if the closer loses his job), or if they're a part of a committee (cool).
A little quality of life improvement to help you make the right relief pitcher draft choices for your team.
Opening Day is Right Around the Corner
Prepare yourself with the best draft tools available!