[2/24/2021] Fantasy Baseball Draft Wizard: Expert Advice For All Your Drafts in One App
The Fantasy Baseball Draft Wizard app is the most convenient way to prepare for your drafts. Our tools and expert advice will make you a smarter fantasy manager and help you go through your draft stress-free.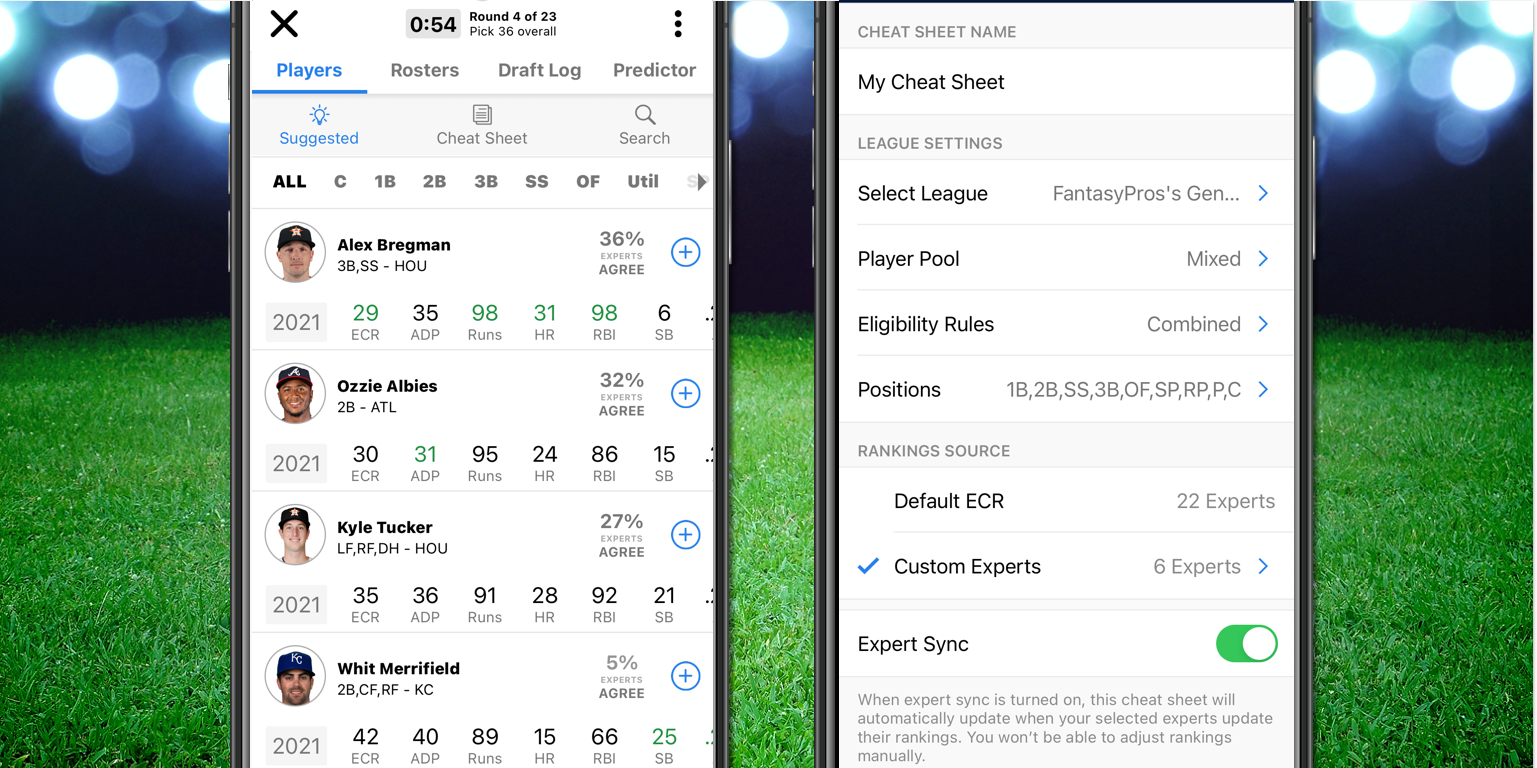 At FantasyPros, we take great pride in providing the most accurate fantasy sports advice in the world. We want to help you win your fantasy leagues, and make your fantasy draft experience stress-free. With the Draft Wizard mobile app on iOS and Android, we make it convenient and easy to get expert advice for all your leagues in one place!
Adding your leagues in the Draft Wizard app is super simple. All you need to do is tap the Add League button on the Home screen, choose your league host, authenticate your account, and select the league you want to sync. It takes less than a minute! We have league sync support for all the popular fantasy baseball league hosts, including ESPN, Yahoo, CBS, NFBC, and more.
After syncing your leagues, you will be able to get expert advice for all of your fantasy baseball leagues in one app, in the palm of your hand.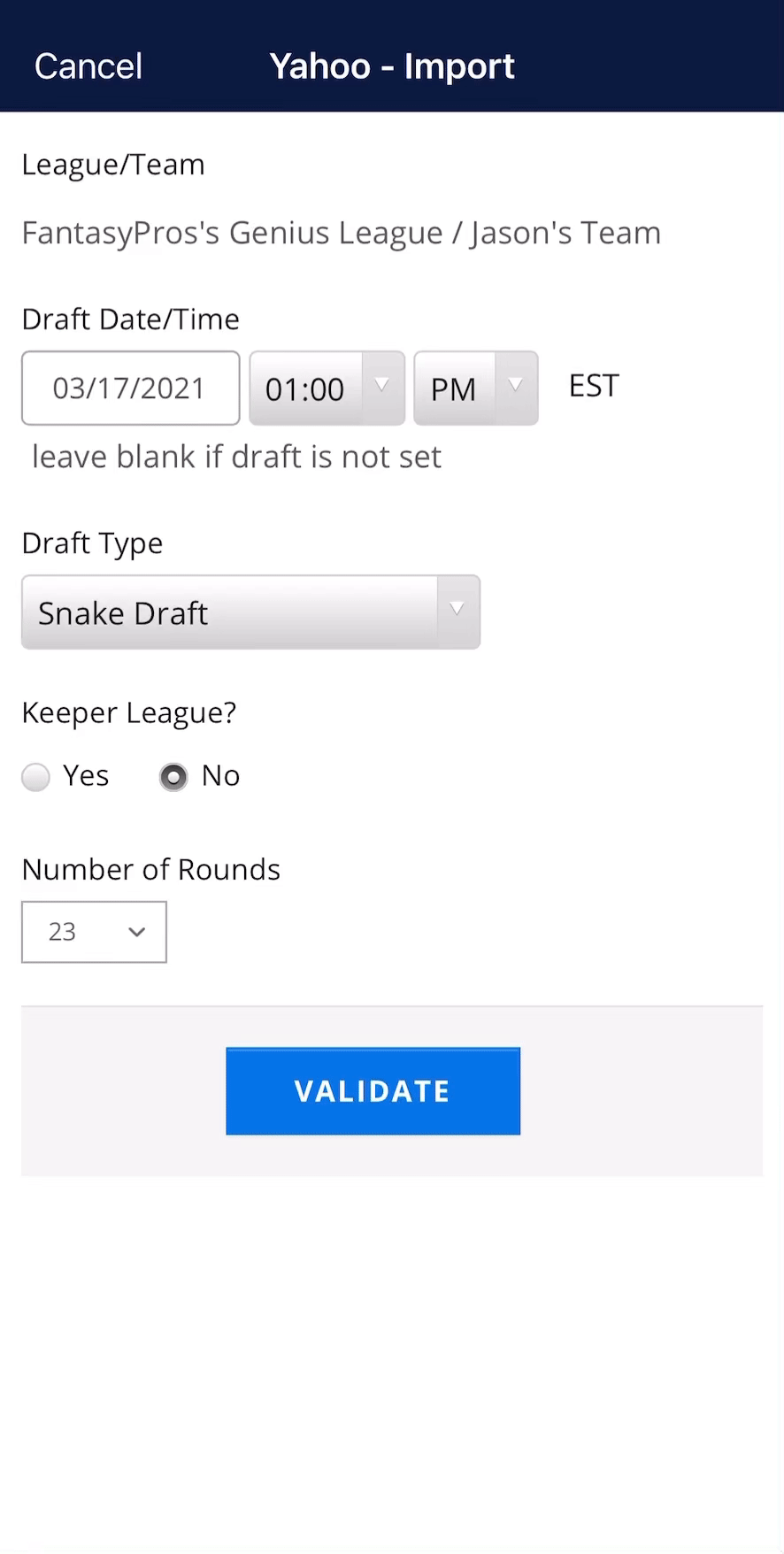 With our Draft Simulator, you can simulate realistic mock drafts in minutes! The Draft Simulator can intelligently simulate draft picks based on your league settings-- this accelerates the mock draft process, so you won't need to worry about slow draft lobbies filled with users who forget to make their pick anymore. When it is your turn to pick, you will receive expert recommendations on who to draft with your current pick. You can use the expert percentages, as well as our projections to help you with your selections.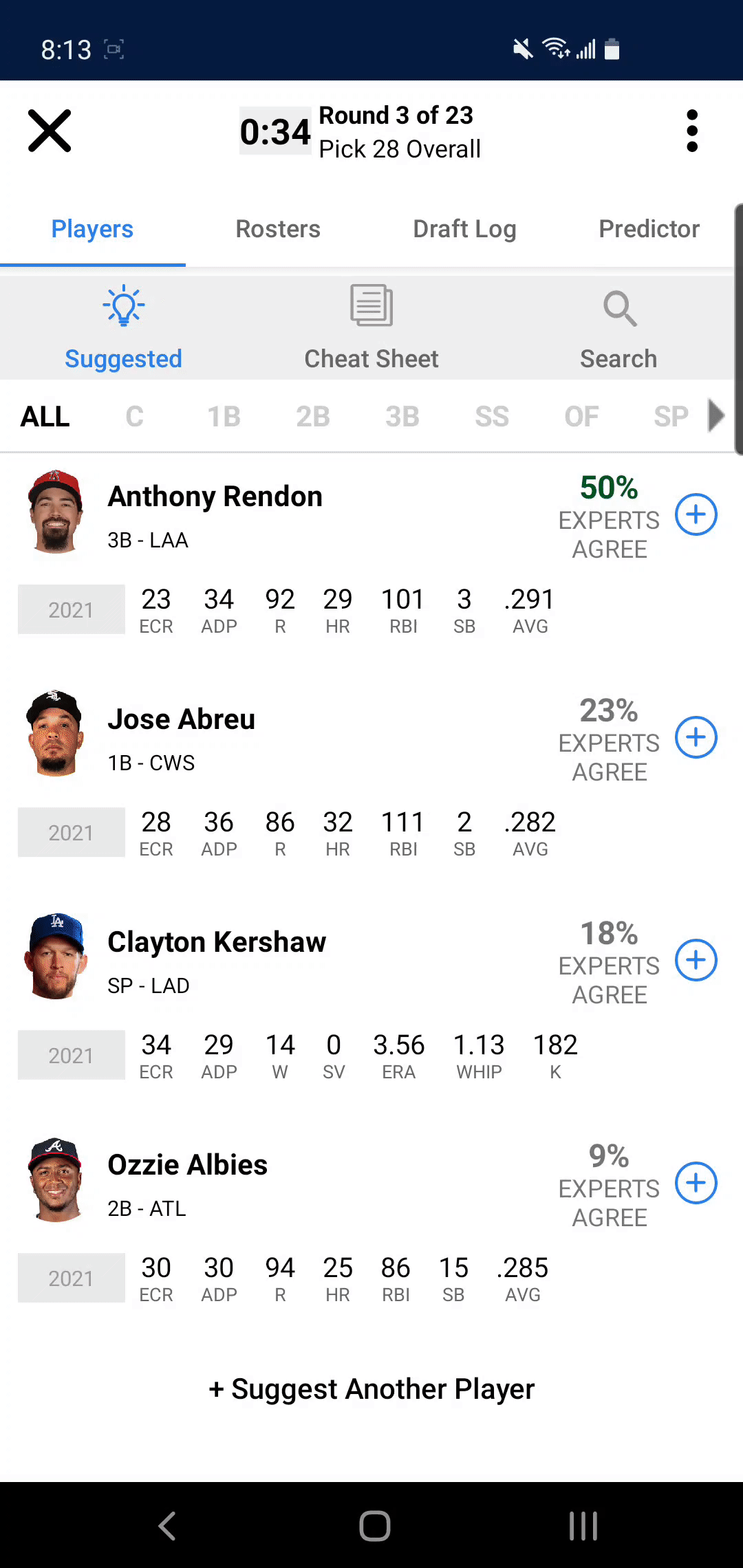 Our Auction Draft Simulator works similarly, as it emulates an auction experience without the long wait times. If you are not interested in bidding for a player, you can simply skip the pick and move on to the next nominated player. Our design helps you easily track the current bid, the remaining salary cap and the rosters of each team. The best part about being able to do quick mock drafts on your phone is that you can practice for your league drafts wherever you are, and whenever you want! If you have a quick 5 minutes to burn on your break, sitting on the couch, laying in bed, or waiting for your dinner to finish cooking, you can always pull out the Draft Wizard app and run a mock draft! It's a fun and addicting way to improve your drafting skills and to prepare for your leagues.

The same great features and advice are also found in our Draft Assistant, where you can get expert recommendations for your draft picks during your real draft! This is great if you are doing your real draft on your computer or in person, and if you quickly need to decide between two or three players; all you need to do is glance at the Draft Assistant and let our expert advice guide your decision! It will make your draft experience smooth and stress-free.
At the end of each draft, you receive instant feedback on how you performed with a Draft Grade. In your post-draft analysis, you can quickly identify your categorical strengths and weaknesses, and view each team's projections. This is an awesome feature if you are doing multiple mock drafts and you are building a strategy for your league; you can quickly identify any opportunities for improvement in your gameplan.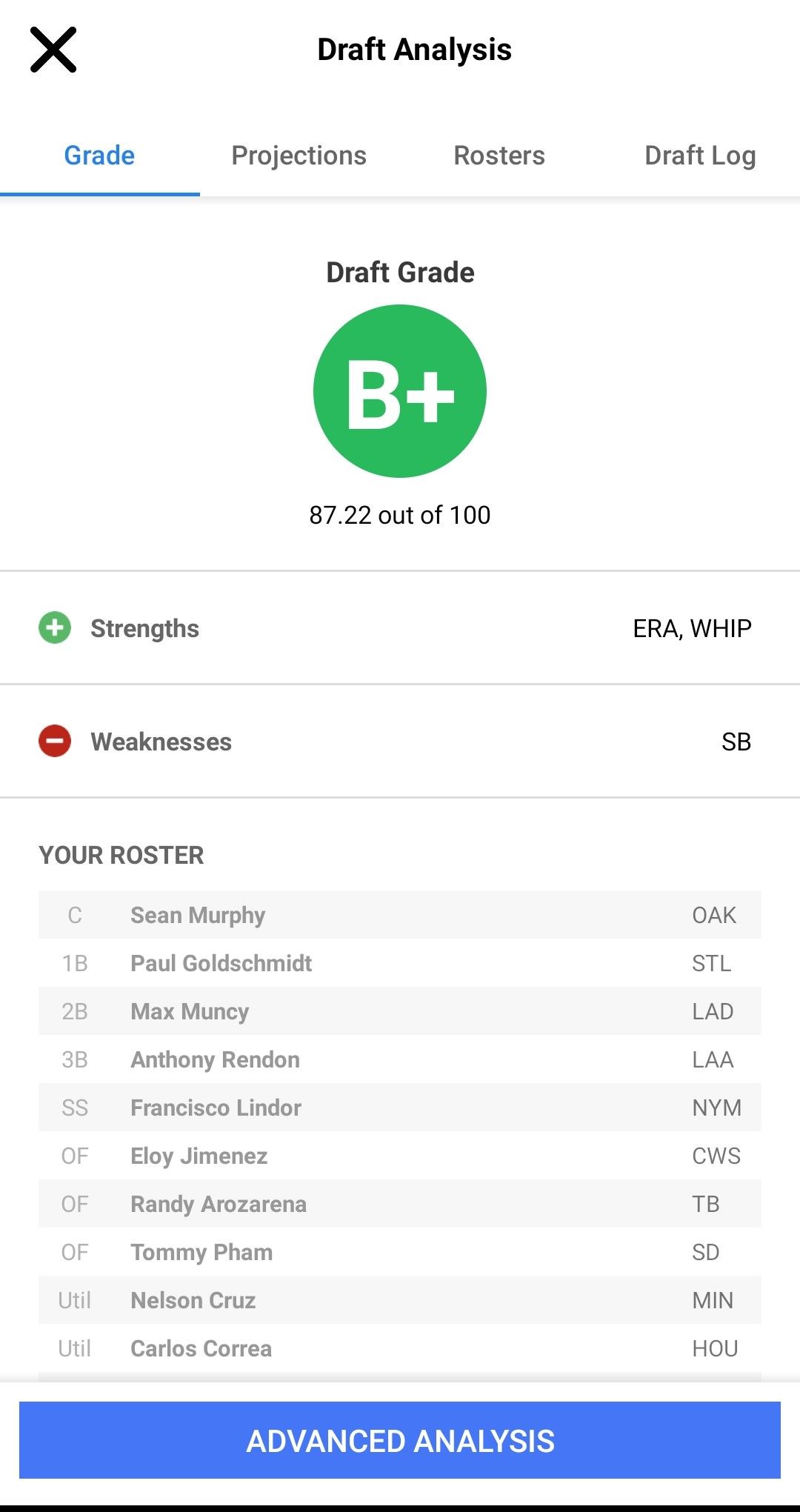 Additional feedback is available on our Mock Draft Trends section of the app, where we track how many drafts you completed in a given draft period, what your average grade was, and get a visual representation of your mock draft performance. Consistency is key, and we believe completing mock drafts on a regular basis will make you ready for anything that comes your way during your draft.


The Draft Wizard app makes it super easy to create and edit cheat sheets for all of your leagues. Our Cheat Sheet Creator will leverage our Expert Consensus Rankings to get your cheat sheet started. Then, you can edit your cheat sheet order by dragging and dropping players into the position you want. You can also add player tags by swiping on the player cell, or by tapping the Add button on their player card. Another major benefit that comes with the Draft Wizard app is the continuity it offers with the web version of Draft Wizard. If you are editing your cheat sheet or starting a mock draft on our mobile app, you can continue where you left off in the web version of Draft Wizard, or vice versa.


We've also added a new Expert Sync feature to the Cheat Sheet Creator, which lets you select a group of custom experts and have your cheat sheet stay in sync with those expert's rankings whenever they're updated. This will make it easier for you to keep your rankings up to date, and you won't need to make any adjustments to your cheat sheet once a player gets injured or if a player gets moved in the batting order, which can influence where a player should be ranked.

The Draft Wizard app is the best way to stay up to date on any player news. You can receive notifications in the app to give you breaking news and player updates so you can be informed right away and make any changes to your cheat sheet if necessary.
More in-depth advice can also be found in the Articles section of the app, where you can find detailed analysis from our experts and writers that covers ranking tiers, positional primers, auction and snake strategy, statistical trends, and more. Staying up to date on news and going more in depth with your research are two ways you can take your fantasy game to the next level, and the Draft Wizard app makes it more convenient for you to find valuable fantasy nuggets so you can be a smarter fantasy manager.
Get ready for your fantasy baseball drafts now by installing the Draft Wizard app on iOS and Android.