[3/15/2021] March Madness Is Here: Optimize Your Bracket and Enter Our Free Contest!
Our new Bracket Optimizer helps you quickly build a killer bracket that's optimized for your NCAAB bracket pool. After building your bracket, enter our free bracket contest to win some amazing prizes.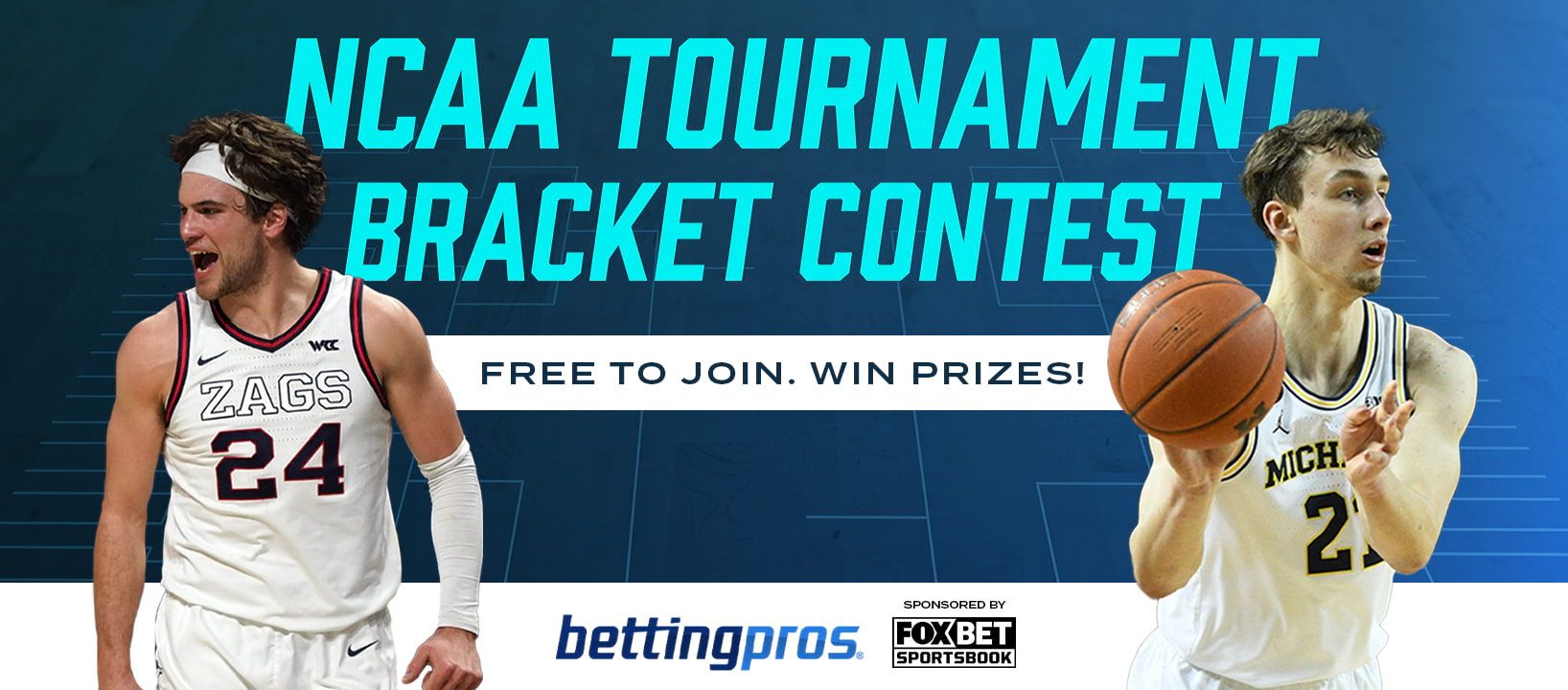 The most exciting college sports tournament is back! We all can't wait to be glued to our TVs and computers again to watch the thrill and the heartbreak that March Madness college basketball brings. Along with the intense competition on the court, March Madness also brings the fun of filling out your bracket and competing against your friends to see who's bracket is about to get busted, and who will win your bracket pool.
With Selection Sunday wrapped up and the first round games awaiting tipoff, we are thrilled to deliver our newest feature: the March Madness Bracket Optimizer!
The Bracket Optimizer helps you quickly build a killer bracket that's optimized for your March Madness bracket pool.
You can optimize your bracket using betting odds, consensus power rankings, or our consensus expert bracket. We know that March Madness always has its fair share of upsets and "Cinderella story" teams; our leverage algorithm will pick the teams that have the best probability of pulling off an upset in their matchup.
Our Bracket Optimizer also takes the host scoring format and contest size into consideration. Whether you are entering a small bracket pool with your buddies on CBS, or entering a celebrity bracket pool on ESPN with hundreds or thousands of entrants, we've got you covered.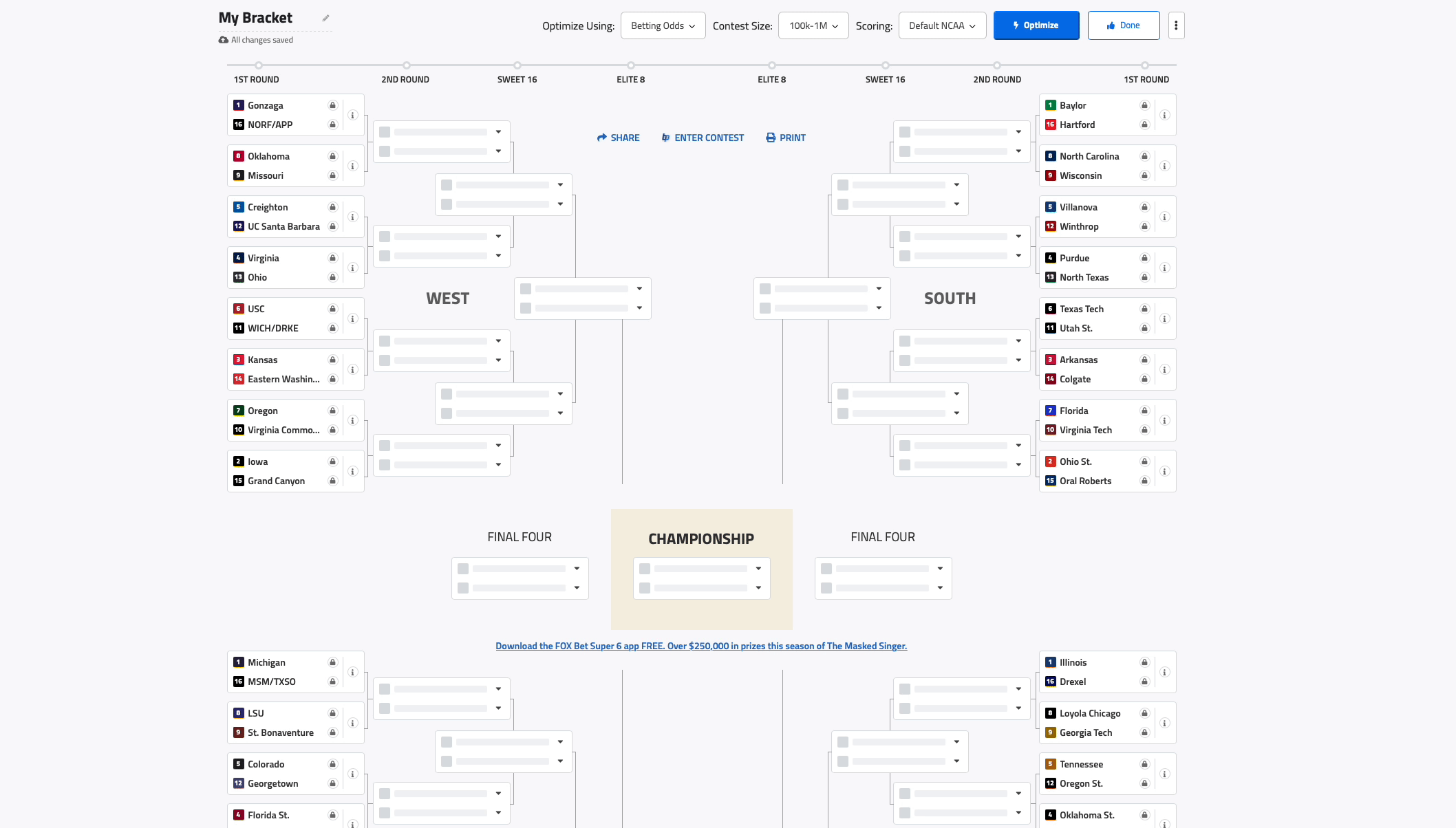 If you would like to start using the Bracket Optimizer by filling out some of the bracket yourself, you can enter your picks for a matchup by clicking the team to lock them in and advance them to the next round.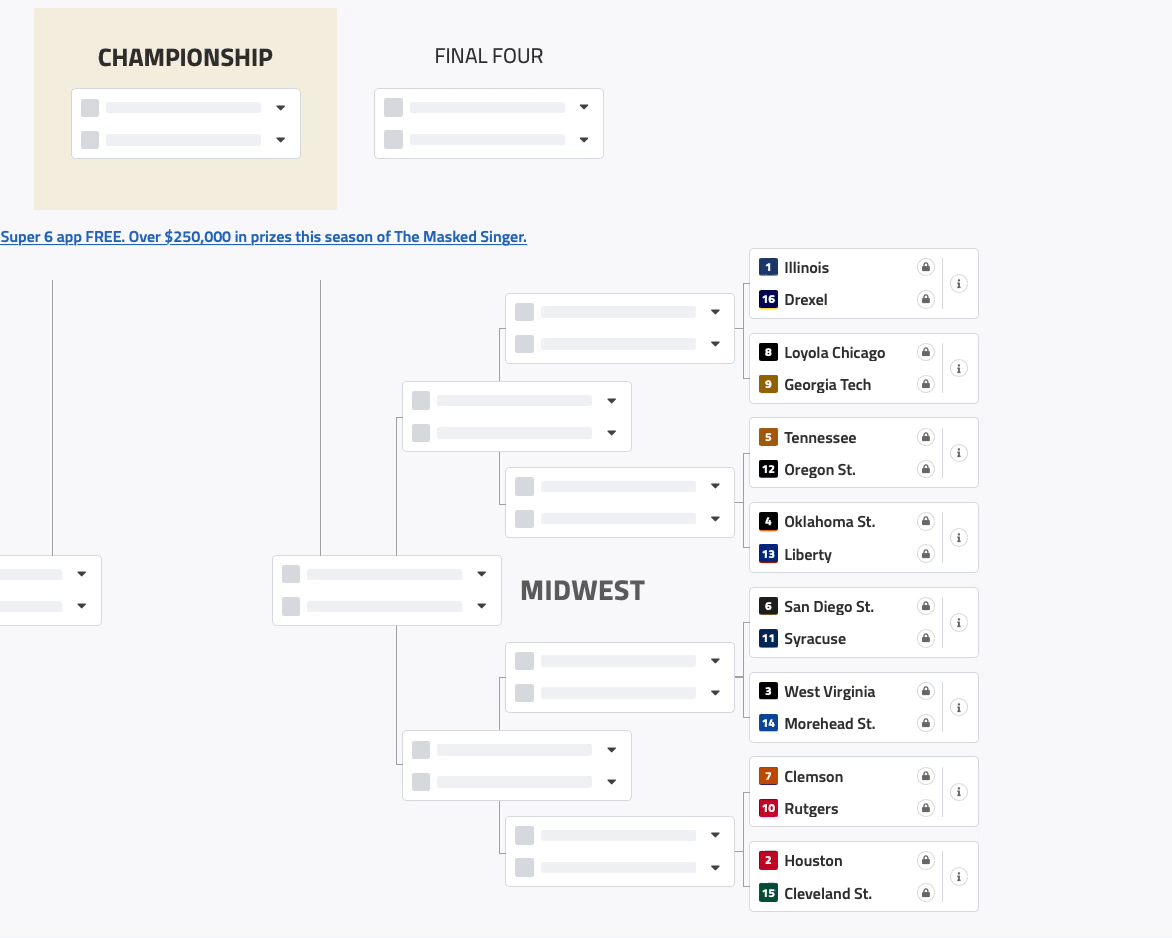 You can view matchup info like consensus rankings, odds, and records to help you make your picks by clicking the Info icon next to each matchup. When making your own picks, looking at this info for the first round matchups is key, especially for the matchups with closely seeded teams (8 vs. 9, 7 vs. 10, 6 vs. 11) so that you can understand how the teams compare from an odds and record standpoint.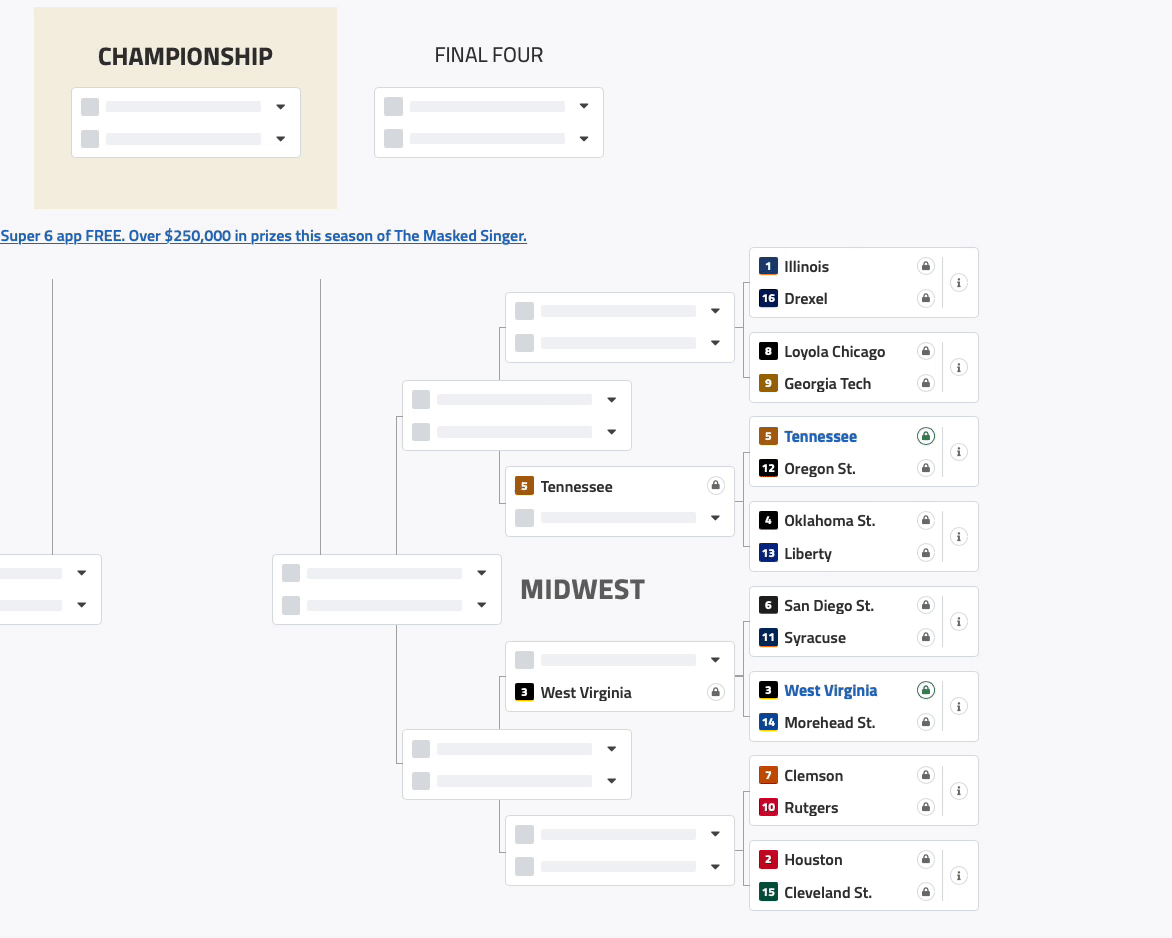 Do you want to make your personal game picks faster? If you have a handful of favorite teams that you think will go far in the tournament, you can enter your teams into the later rounds of the bracket -- we'll backfill the bracket and lock those picks in for you.
After locking in your personal picks, enter your settings and click the Optimize button to fill out the rest of your bracket with our optimal picks for the remaining matchups.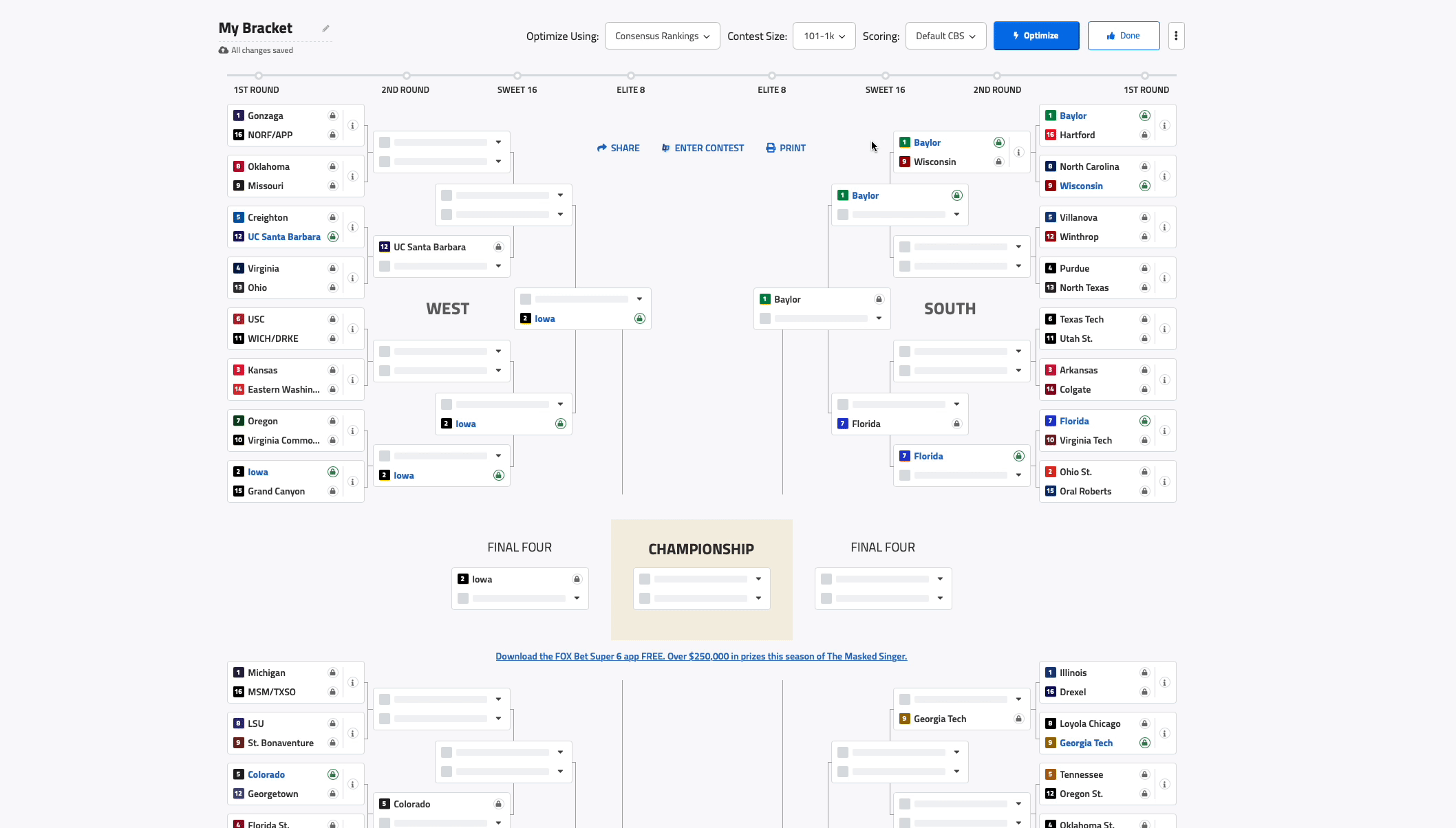 When your bracket is finalized, click the Done button. Don't forget to enter our free Bracket Contest to get a chance to win some great prizes, including signed memorabilia from basketball legends. Prizes include:
$500 in cash + A Shaquille O'Neal signed jersey
A Magic Johnson signed Michigan State Spartans 6x6 custom engraved floorboard piece
A Jerry West signed jersey
You can also create and save multiple brackets in the Bracket Optimizer, which is clutch if you are entering several bracket pools and would like to optimize different brackets. If you're on the go, the Bracket Optimizer is also available on mobile web and in our BettingPros mobile apps on iOS and Android.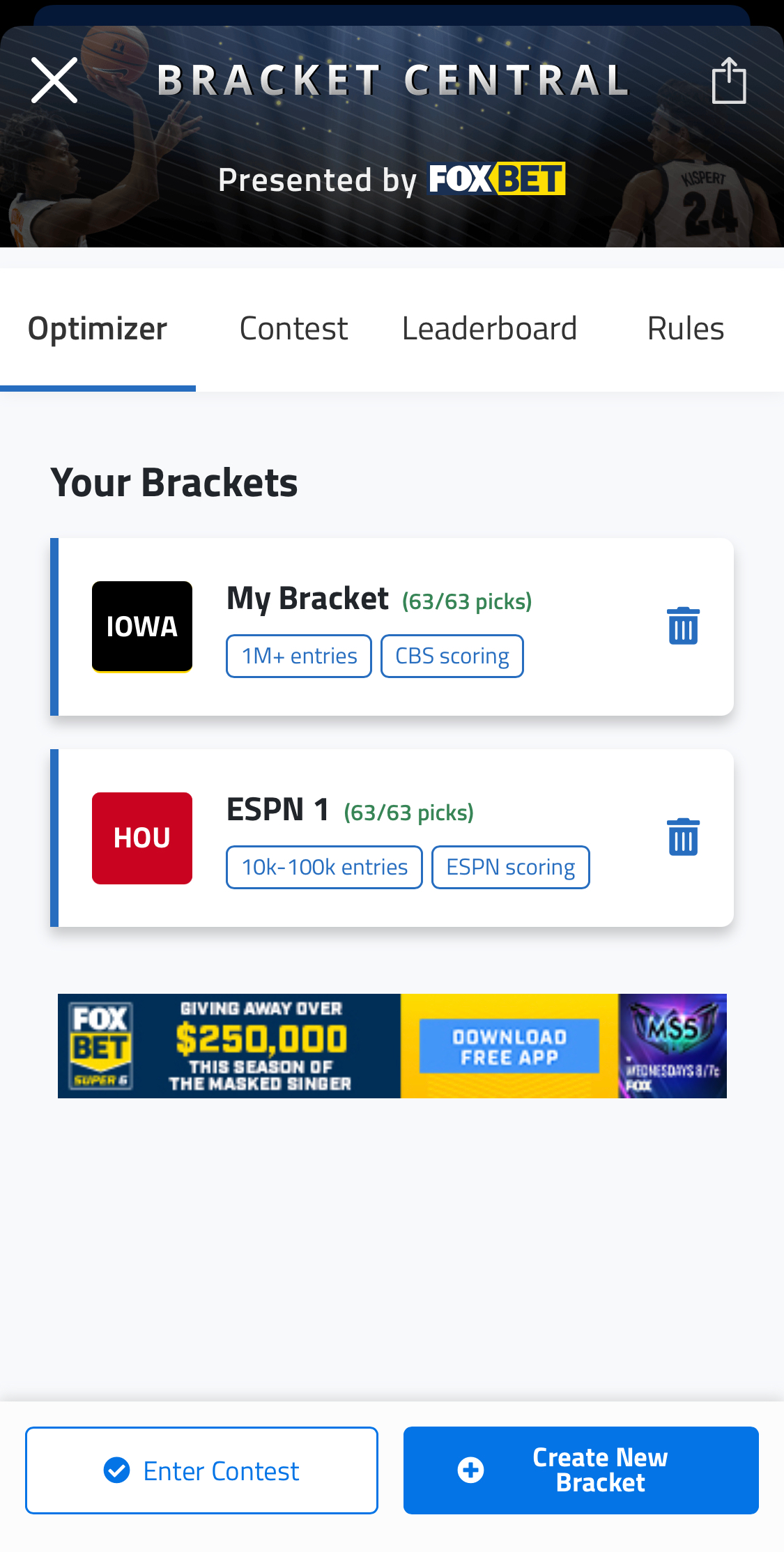 Fill out your brackets now with the Bracket Optimizer and join in on the March Madness by entering our free contest and sharing your bracket on social media!