Optimize Your NCAA Tournament Bracket and Compete to Win a LIFETIME Premium Subscription!
Use the updated Bracket Optimizer to leverage the BettingPros experts and algorithms to quickly create a dominant bracket. Plus, enter our free Bracket Contest to win prizes.


The big dance is back again!
And while you've begun to fill out your brackets, you may be asking yourself - which upsets are the most legitimate to happen? Is that #1 seed really a lock, or will they fall early?
With the 2023 NCAA Tournament Bracket Optimizer, you can create winning brackets quickly and easily.
Bracket Optimizer
To get started, configure your bracket's settings to reflect the pool you're entering into. Then, simply make any selections you're confident in... or upsets you would like to see happen... or blind homer picks... it's your bracket, after all.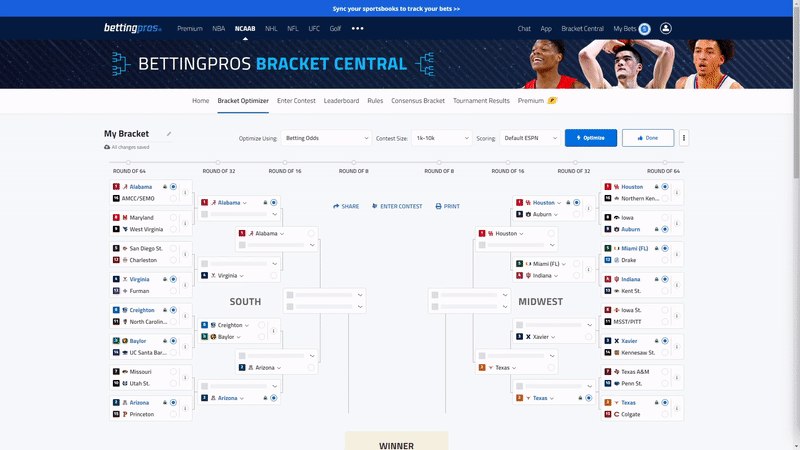 And, to make things even easier, you can start with your big winners and work your way back. Lock in teams anywhere in the bracket and we'll automatically backfill your bracket for you.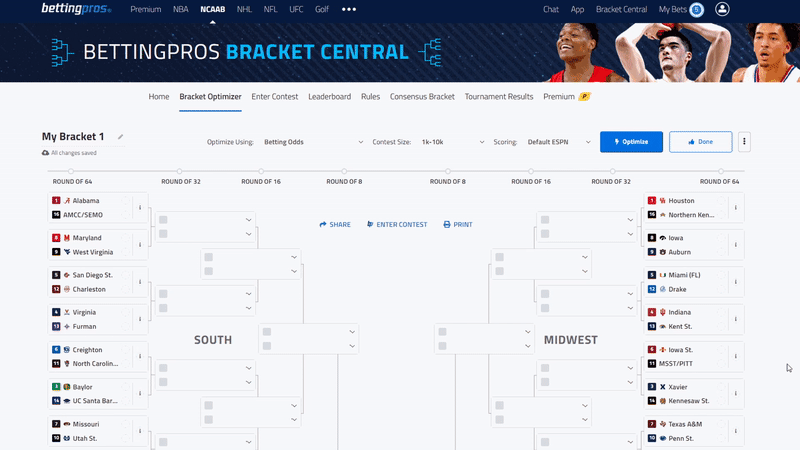 Use key matchup information including betting odds and advanced stats to choose your winners. Create winning brackets for every contest and every platform with ease.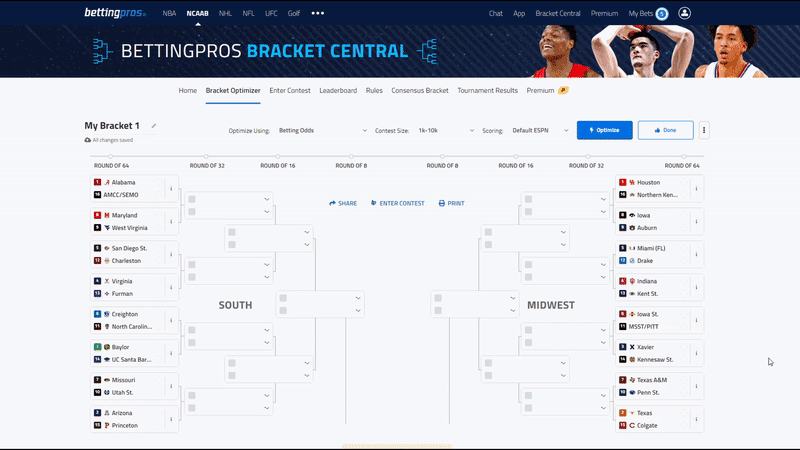 Feel free to make as many (or as few) picks as you're confident in, and when you're unsure of who to pick next, let the Bracket Optimizer do the rest.
We'll optimize the rest of your bracket based on your preferences using our leverage algorithm that factors in seeding, historical performance, betting odds, and more.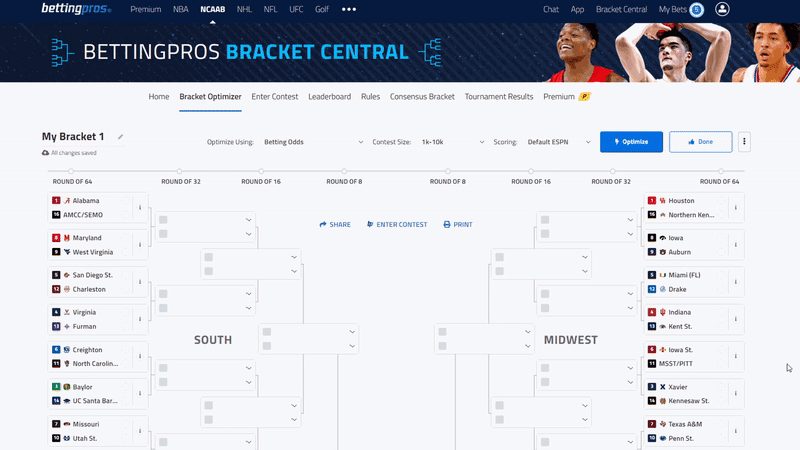 And - we all know one of the best parts of the tournament is the upsets - the Bracket Optimizer will pick just the right upsets to give you a competitive and unique bracket to fit your scoring settings and contest size.
Bracket Contest - Win Prizes!
After you're done creating your winning brackets, enter your top bracket into the FREE BettingPros Bracket Contest for your chance at bragging rights and a chance to win some great prizes, including a LIFETIME premium subscription to BettingPros & FantasyPros and a signed NBA jersey*.
*For full information on prizes as well as terms and conditions, visit the BettingPros Bracket Contest page.

Once the tournament is underway, be sure to follow every matchup and see how your bracket is performing on our Tournament Results page.
Bracket Central, including the Bracket Optimizer and the Bracket Contest, are available on BettingPros.com and on our mobile apps, now!
Go Premium for the NCAA Tournament
After you've completed your brackets, win your bets with expert game picks on the spread and totals, access Matthew Freedman's favorite player props, and set custom line alerts with BettingPros Premium.