[4/12/2021] Fantasy Baseball My Playbook 2021: Getting The Ultimate In-Season Edge
Whether you need advice on setting your lineup, navigating the waiver wire, or analyzing trades, My Playbook covers all the bases.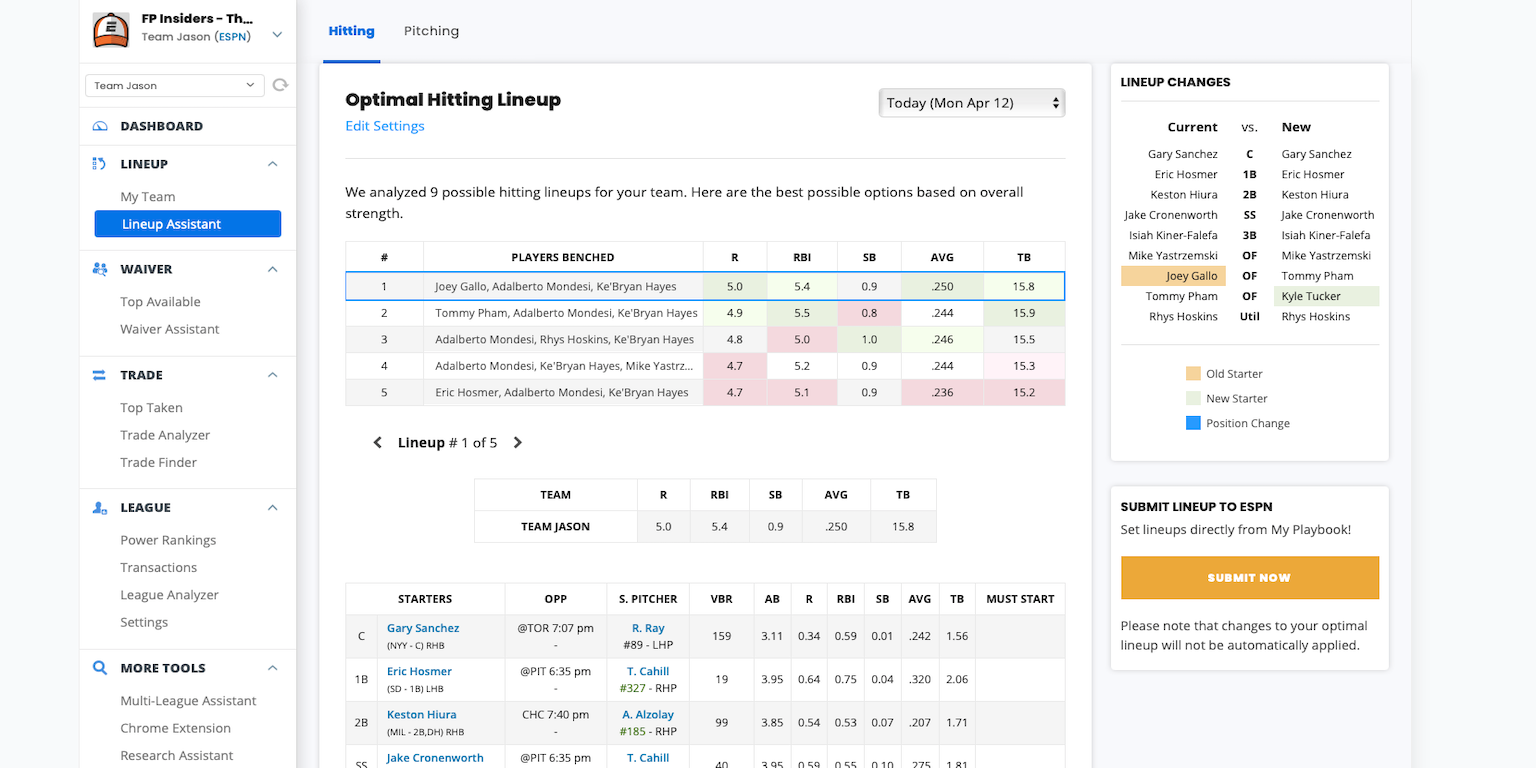 Fantasy baseball is a marathon, not a sprint. The baseball season is long, and a lot can change between April and August. In fantasy baseball, consistent roster management is essential to success. Staying up to date and constantly finding ways to improve your team in the short term and long term will take you far.
With My Playbook, we'll give you the ultimate edge during the season, as we'll provide the best tools and advice to manage your league. Let's go over how My Playbook will guide you in all the various facets of managing your teams, and how we'll help improve your roster throughout the season so you can bring home a fantasy championship this year.
Set your optimal lineups with the Lineup Assistant
Setting your lineups in fantasy baseball can be tricky. There are a lot of factors that go into setting the best lineup. The location of the game, how the player fares against lefties vs. righties, and the overall success the hitter has against the starting pitcher he's facing play a hand into their success.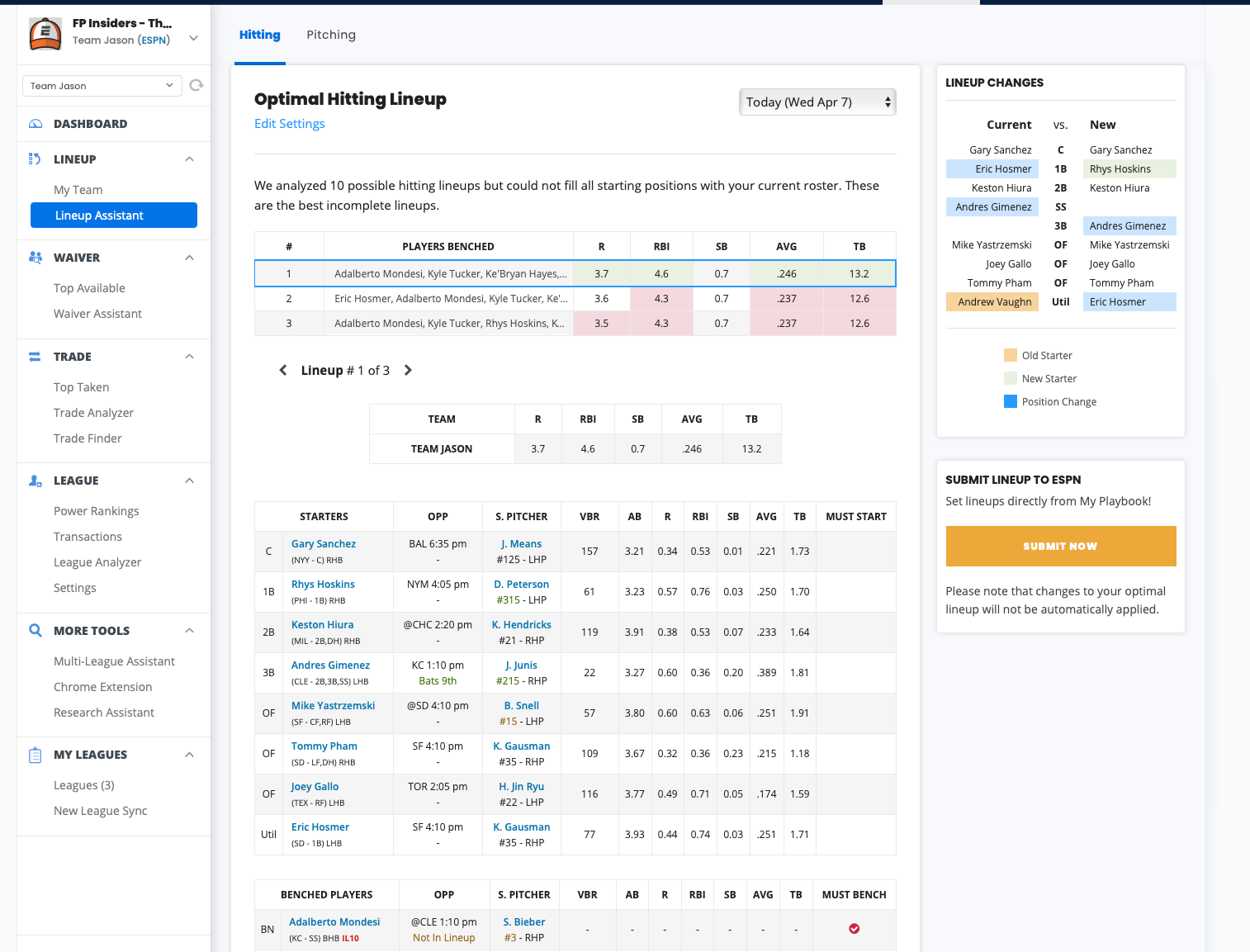 The Lineup Assistant makes setting your lineups easy, as we'll provide your optimal lineup for the day and week. We suggest multiple lineups, giving you the option to target categories that you want to be strong in depending on your opponent and matchup. Our daily and weekly projections take into account the factors listed above, so things like splits and location are taken into consideration.
If you're in a Yahoo or ESPN league, you will be able to submit your lineup directly from the Lineup Assistant, which is super convenient and takes out extra steps in going to your league host to set your lineup.
Pick up the best players available with the Waiver Assistant
Working the waiver wire and free agency is crucial to success in fantasy baseball; with the Waiver Assistant, we present to you the best available players, and help you see which add/drop scenarios improve your roster. Simply pick one player to add from waivers and drop from your roster, and you can see whether the transaction will have a positive or negative impact on your team. When viewing the detailed analysis, you can see which categories will be boosted by the transaction.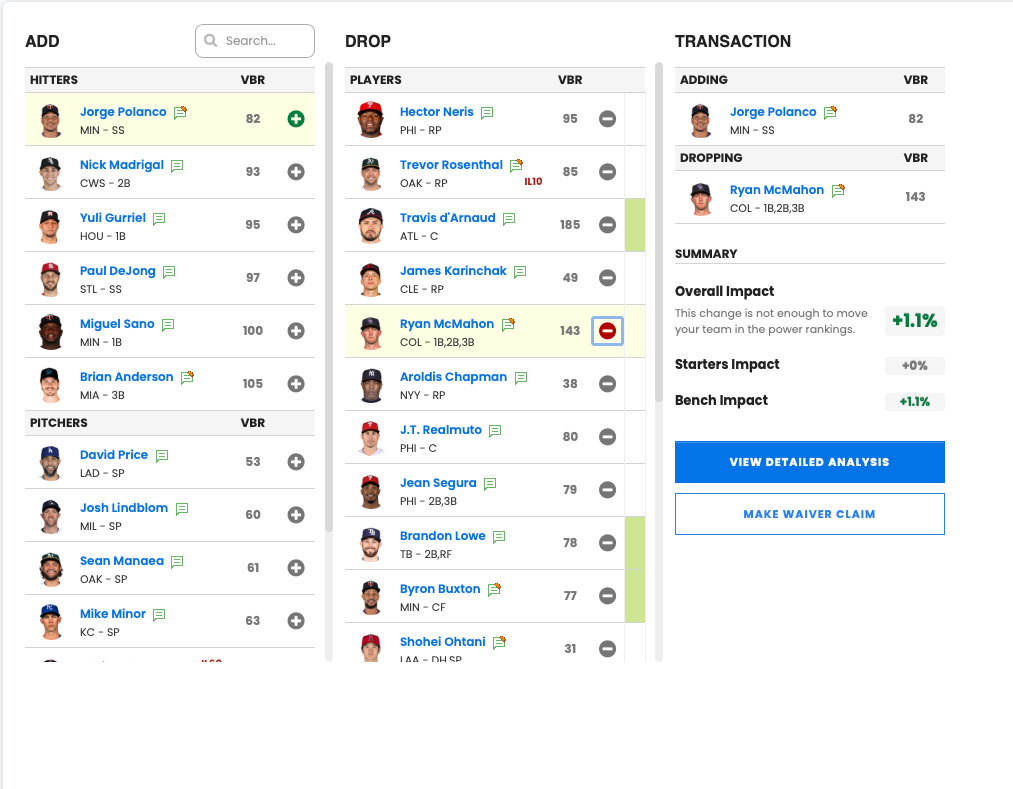 Make the right trade decisions with the Trade Analyzer
Have you been offered a trade and you're not sure whether you want to accept the trade or not? The Trade Analyzer makes your decision easier, as you can instantly find out whether the trade will benefit you or your opponent more.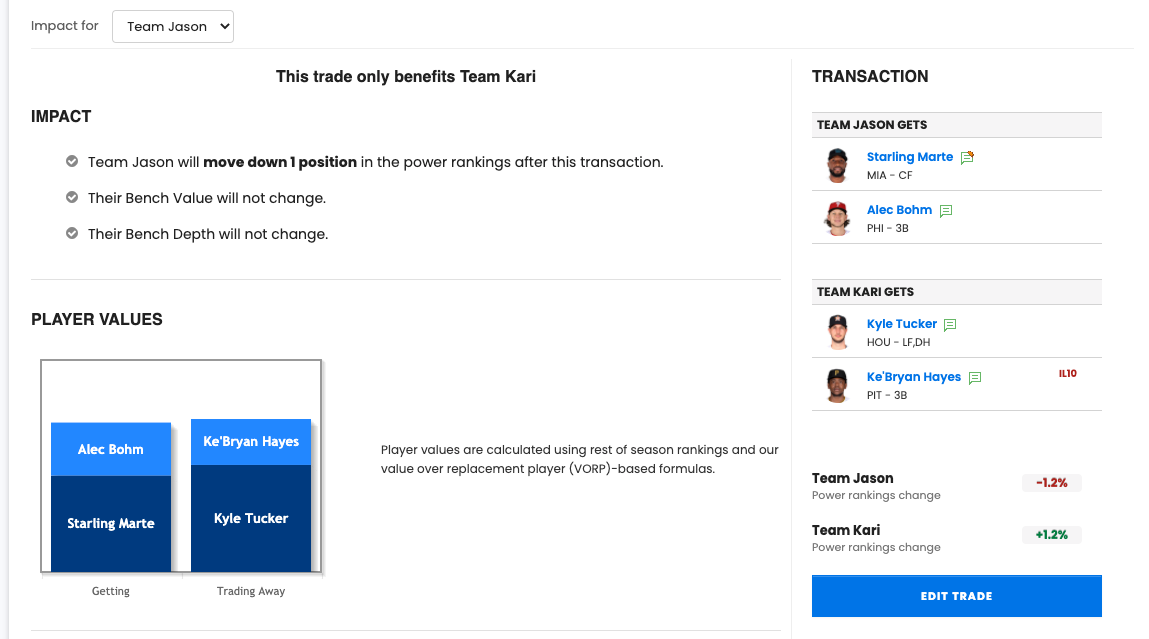 The Detailed Analysis in the Trade Analyzer shows you the direct impact the trade has on your starting lineup, and how your rest-of-season projections are positively or negatively affected. I was offered a trade to receive Starling Marte and Alec Bohm for Kyle Tucker, and the analysis showed that this trade would benefit the opponent more, because I would only be seeing a net gain in AVG, but losing more in other  hitting categories (R, RBI, TB). You can also use the Trade Analyzer to come up with your own multi-player trade scenarios and see which trades you can offer to improve your team.
Look for potential trade opportunities with the Trade Finder
If you want to improve your team via trade, and you don't know where to start, the Trade Finder is where you want to go. The Trade Finder will suggest trades based on who you are willing to trade away, who you are willing to trade with, and what area(s) of your team you are looking to improve.
The Trade Finder will evaluate all possible one-for-one trades based on the criteria you have set, and we show you how much the trade will benefit each team, and how likely the opponent will accept your trade.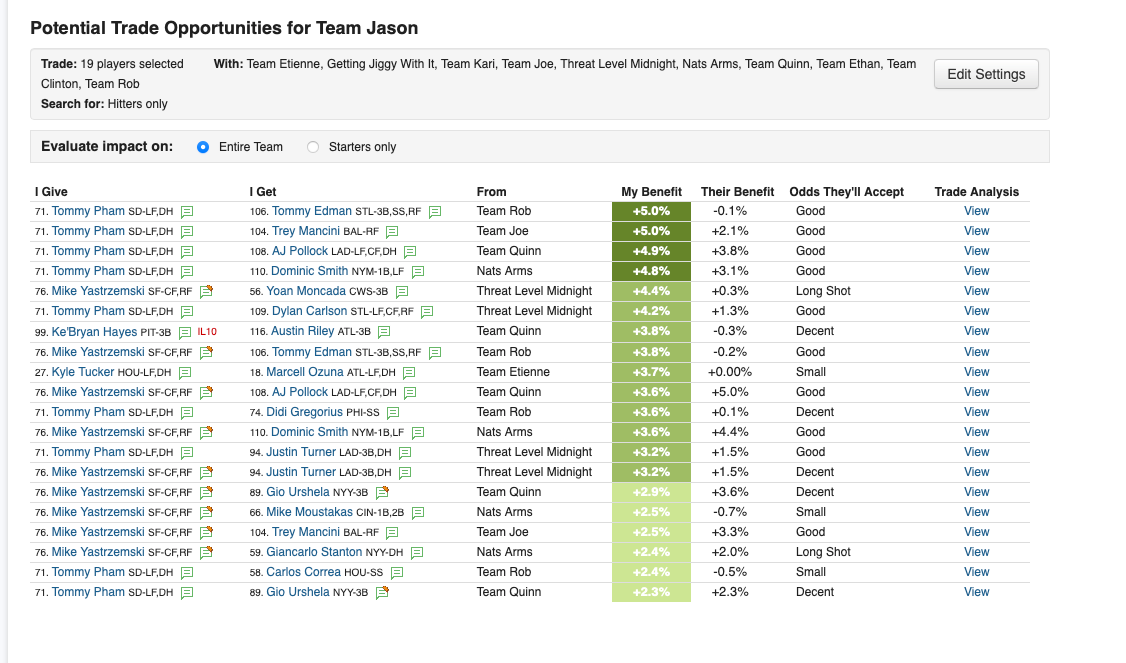 Manage all of your leagues in one place with the Multi-League Assistant

If you have more than one league and your leagues are hosted on different websites, keeping track of all of your leagues can be challenging and time-consuming. When syncing your leagues with My Playbook, the Multi-League Assistant gives you an overview of which players you have rostered and on which teams/leagues they are rostered in.
An example of how this comes in handy is if a player gets injured, you can visit the Multi-League Assistant and check to see if you own that player in multiple leagues; you can click each league to open them and then make roster adjustments accordingly.
You can also search for players in all your leagues at once with the Free Agent Finder. If you find one player that is trending upward and want to see if they are available in any of your leagues, you can search for the player in the Free Agent Finder; this cuts out a lot of time going between each league individually and searching for the player.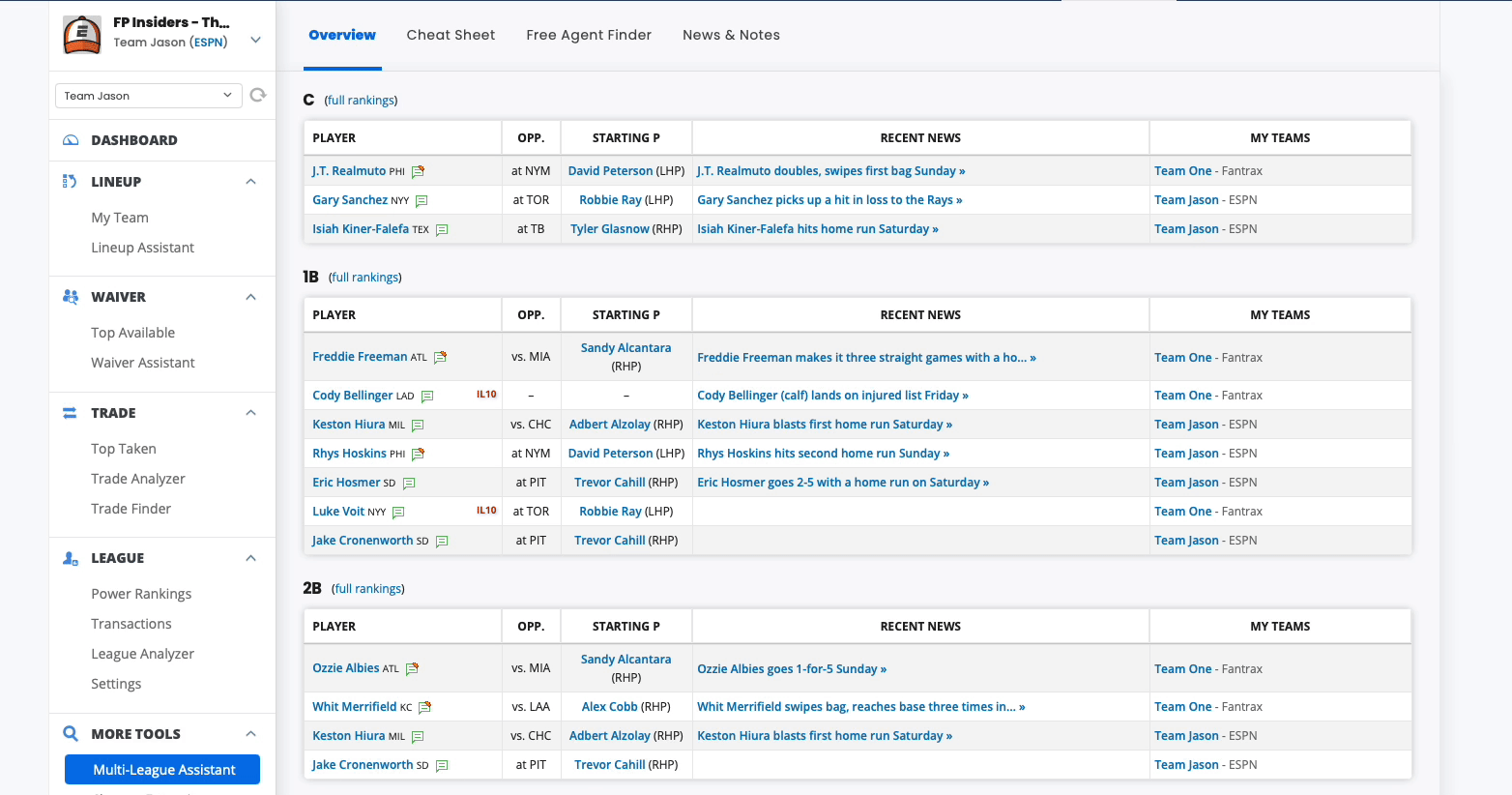 Whether you need advice on setting your lineup, navigating the waiver wire, or analyzing trades, My Playbook covers all the bases. With My Playbook, it's easier than ever to consistently manage your rosters without any hassle.

Sync your league and lead your teams to the championship with My Playbook now!