[5/26/2022] Who Should I...? 2022: An Updated Interface for an Upgraded Experience
Use the updated FantasyPros Who Should I Draft?, Who Should I Start?, and Who Should I Trade? tools to get instant draft, start/ sit, or trade advice powered by FantasyPros projections and experts.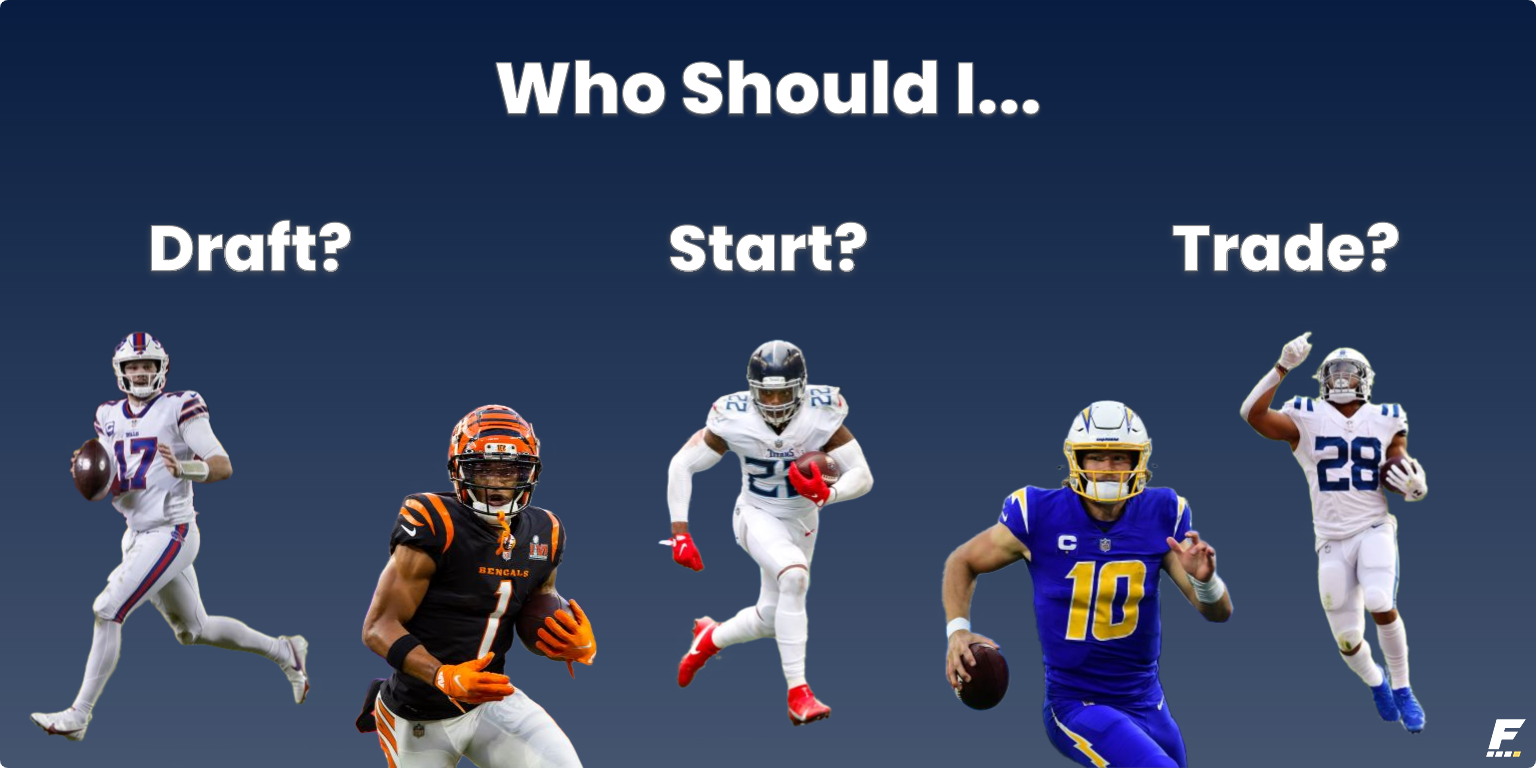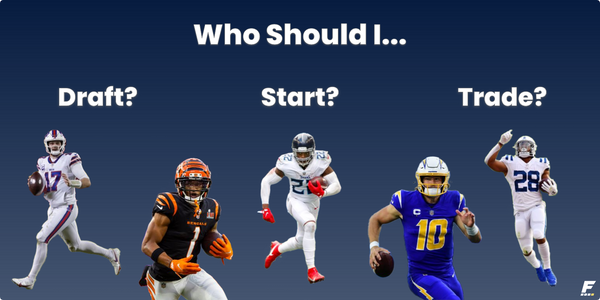 For those who have been with FantasyPros since the days of ole', our "Who Should I?" tools are synonymous with the company itself. Aggregate recommendations and detailed analysis are the backbone of FantasyPros, and our Who Should I Draft?, Who Should I Start?, and Who Should I Trade? tools bring that information into one easy-to-digest place. We know how difficult and stressful it can be to make those last minute decisions (shoutout to Miami DST for putting up a dud in Week 17 last year causing me to lose the championship...), so we've put our all into elevating your experience when making those tough calls.
With the MLB and fantasy baseball season in full force, and the NFL and fantasy football season fast approaching, we're excited to bring you the updated Who Should I Draft?, Who Should I Start?, and Who Should I Trade? tools.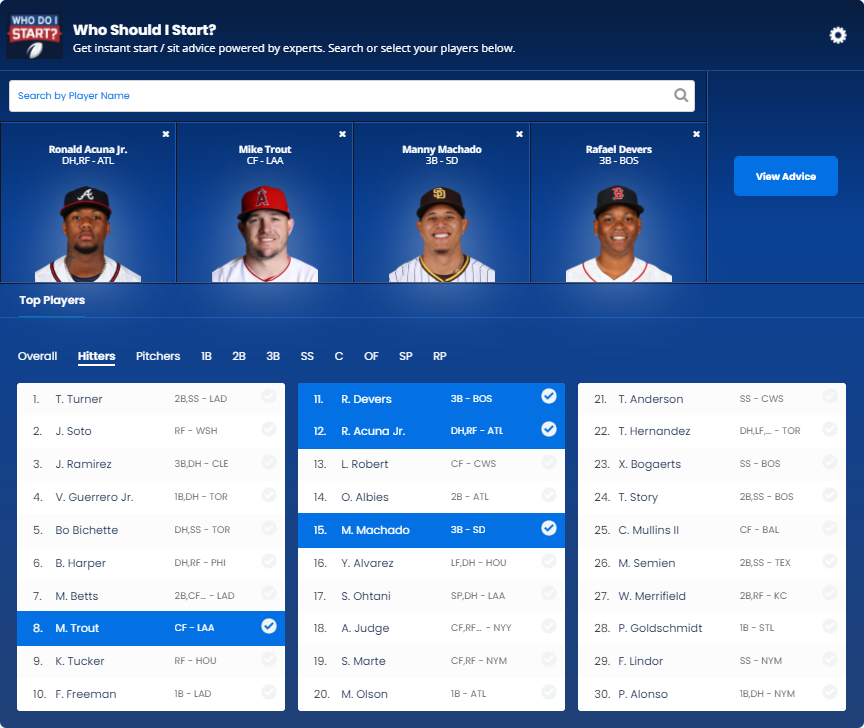 Get instant analysis and expert opinions on comparisons of up to four players. Whether you have to fill a flex spot that needs a deep dive, you're trying to decide which WR to trade for, or just unbelievably undecided on who to start at any given time (especially in those heavy bye weeks where you. are. scraping. for some points), see how the players stack up in projections and in the eyes of the analysts.

Search by players directly, or choose from the top ranked players from each position. Customize the advice further by changing the scoring settings to get suggestions specific to your league's format. Premium subscribers can also hand-pick which experts are factored into the advice page.
The Who Should I...? series is available on desktop, tablet, and mobile web and is live for the NFL, NBA, and MLB.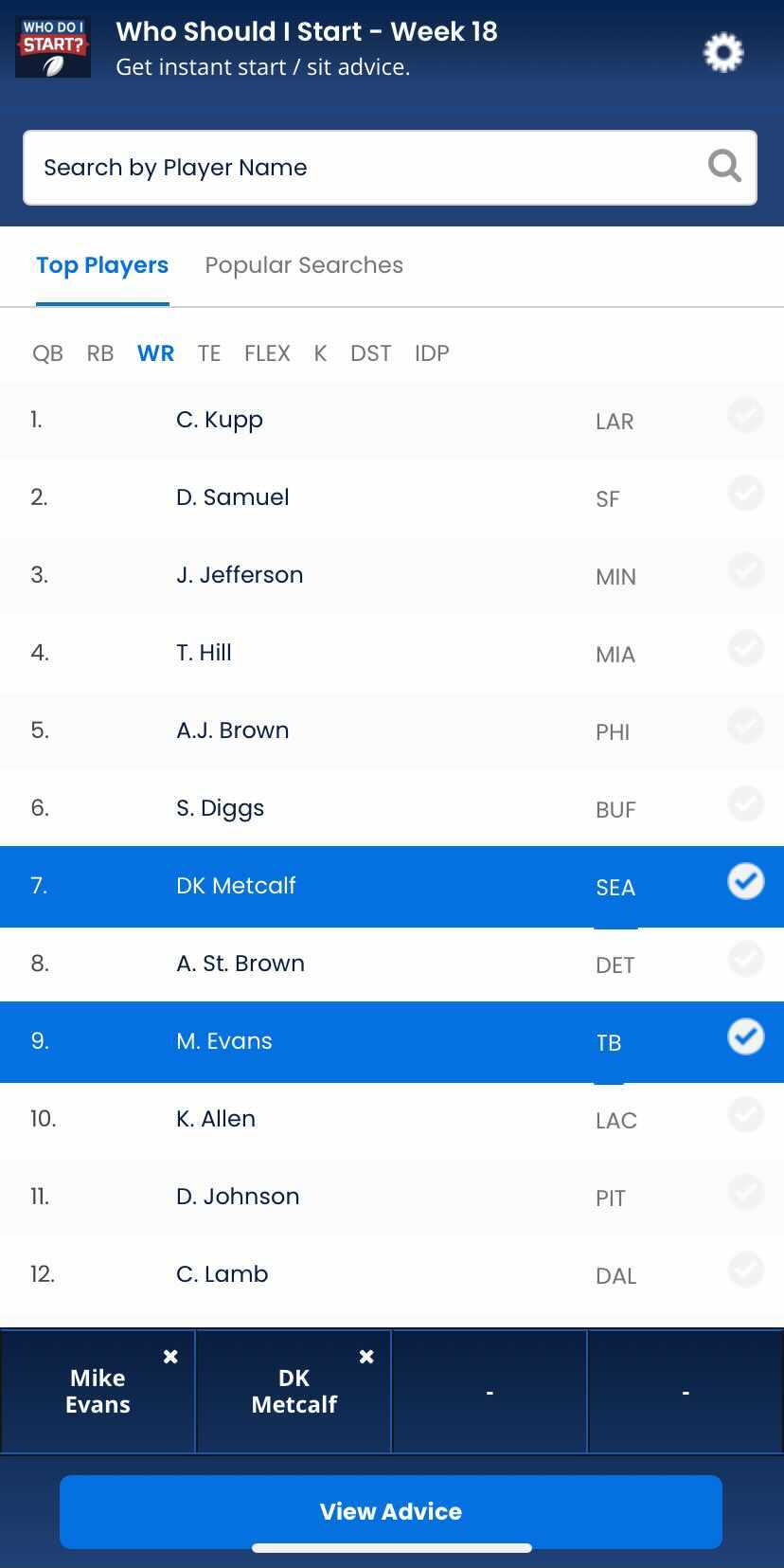 And, if you still can't decide who to start after checking out the matchup in detail, you still have the most cutting edge way to help make your decision available at your fingertips: the FantasyPros Spin the Wheel tool.