[4/15/2020] Getting Ready For Your Fantasy Baseball Drafts With The Draft Simulator
Mock drafts are a key part of draft prep. Learn how to mock draft like a pro with the Draft Simulator.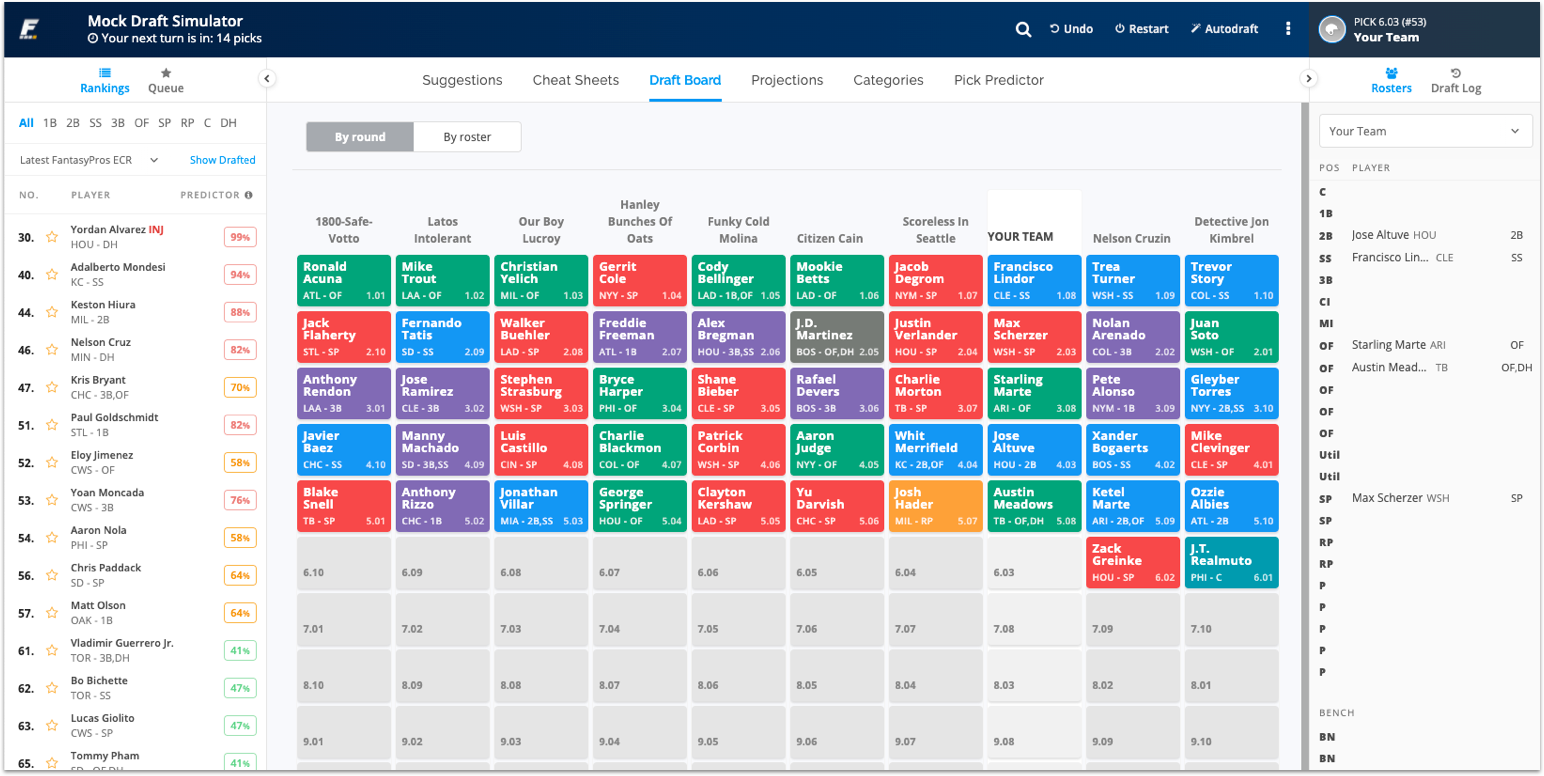 As we await the start of the fantasy baseball season, it's important to get some practice rounds while you're at home to stay prepared for draft day. Getting ready for your draft is easy with the Draft Simulator. Here are a few tips on how to use the Draft Simulator effectively for your categories leagues:

Get familiar with your league settings
Before getting started, it's critical to get a better understanding of your league's settings in order to draft the most optimal team.
The Draft Simulator enables you to quickly mock draft using your league's settings. When syncing your league with Draft Wizard, your league's settings are automatically pulled in from your league host.
We strongly encourage you to do as many mock drafts as possible for each of your leagues to get familiar with your leagues' settings, and where players are relatively valued. The rankings and the bots you draft against in the Draft Simulator dynamically adjust to your league settings.
Experiment with different strategies
Once you are familiar with your league settings, you can start to experiment with different strategies to implement in your draft. For example, this could mean picking certain positions early, or targeting specific categories if you're in a categories league. Then, you can look back and see what worked and what didn't with the Draft Analyzer.
You can evaluate your core strategy within the Draft Simulator using the Categories tab, as it gives a live look at your current projected rank at each category.

For instance, you can choose to pass on AVG or OBP and focus on finding value in hitters with good counting stats (R, HR, RBI, SB). Or, you can forego starting pitching and target elite relievers in an attempt to lower your ratios (ERA and WHIP) and stack up your SV. This is shown in the screenshot above for the team "Come Sale Away". You might lose out on Strikeouts, Wins, Quality Starts, or Innings Pitched by targeting elite relievers. This strategy is known as "punting categories".

For advanced draft strategies, here are some articles written by our experts that will help you take your game to the next level:

9 Advanced Fantasy Baseball Draft Tips

Bobby Sylvester's Pocket Rockets, Bichette, and Marmol Draft Strategies

Archive of FantasyPros Fantasy Baseball Strategy Articles
Test out draft scenarios by reverting picks
Testing out different scenarios for each round is a good way to familiarize yourself with situations that may arise during the draft. The ability to revert picks in the Draft Simulator allows you to test out scenarios. If you know your league-mates' tendencies, you can change the picks to what you think your league-mates will do.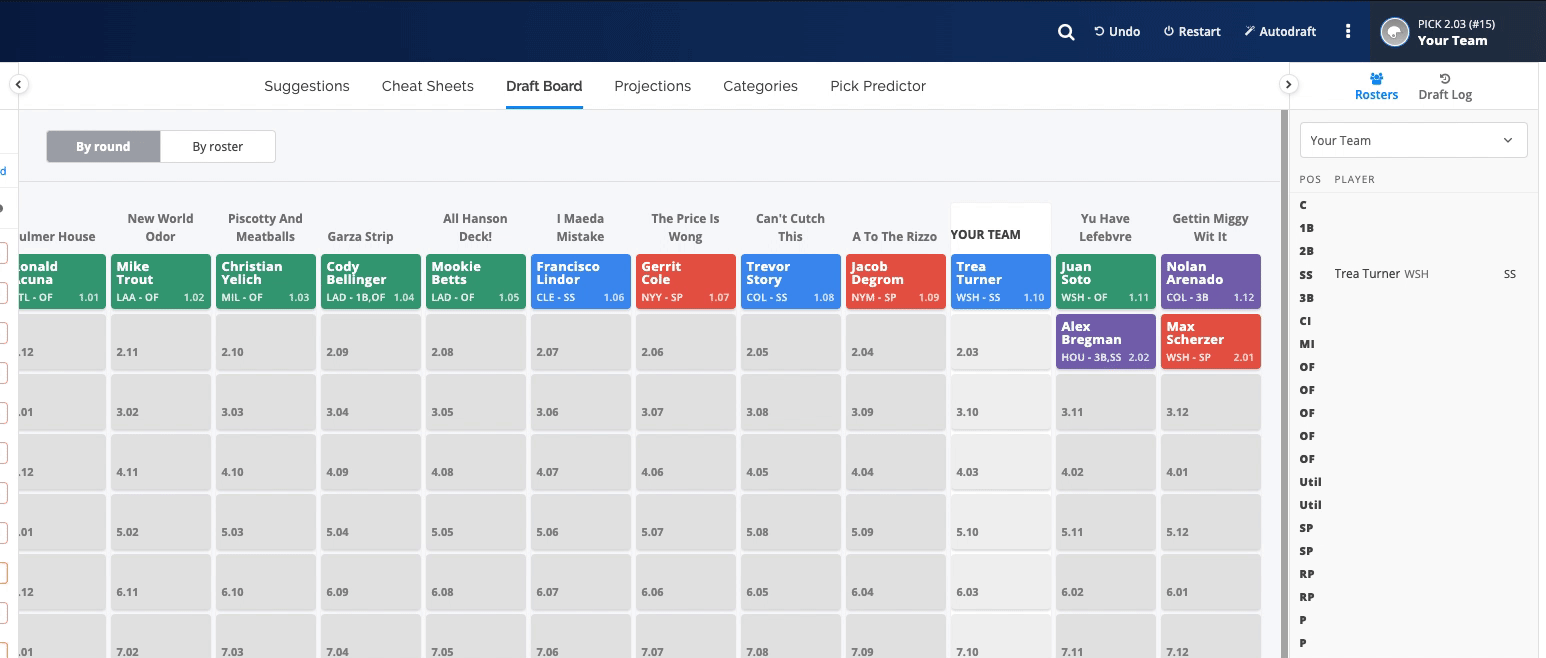 In the second round, I wanted to see how the draft would change if Freddie Freeman was picked before me in the second round instead of Alex Bregman. You can edit picks for the previous round by going to the Draft Board tab, clicking Edit when hovering over the player/pick you want to change, and then you can search for a new player as a replacement.

You can also undo entire rounds to go back and make your previous pick again using the Undo button at the top of the Draft Simulator.
If you're unsure, lean on the experts

For each pick, players will be recommended in the draft queue. The recommendations will be based on our Expert Consensus Rankings. By default, there are 4 recommendations, but you can change the amount of recommendations in the Draft Simulator or add a new suggested player by clicking the Suggest Another Player button. You can add and remove players from the queue to see who experts would choose to draft among the players in the queue.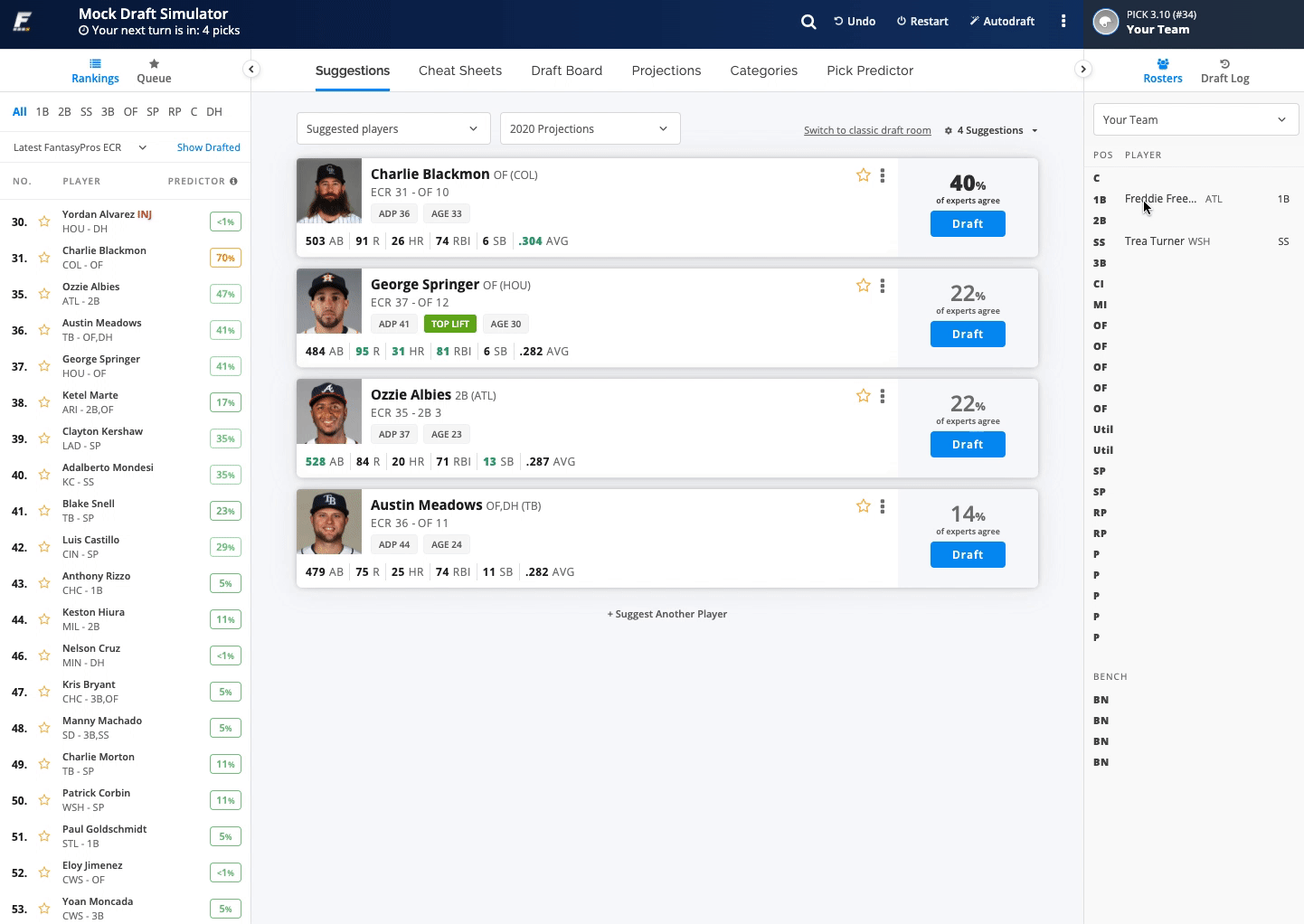 Sync your league and start mock drafting with your league's settings today.