[5/6/2019] MLB Lineup Assistant Update: Major League Lovin'
One of our most loved fantasy baseball tools gets a makeover, with optimal lineup advice for daily, weekly, H2H, and Roto leagues.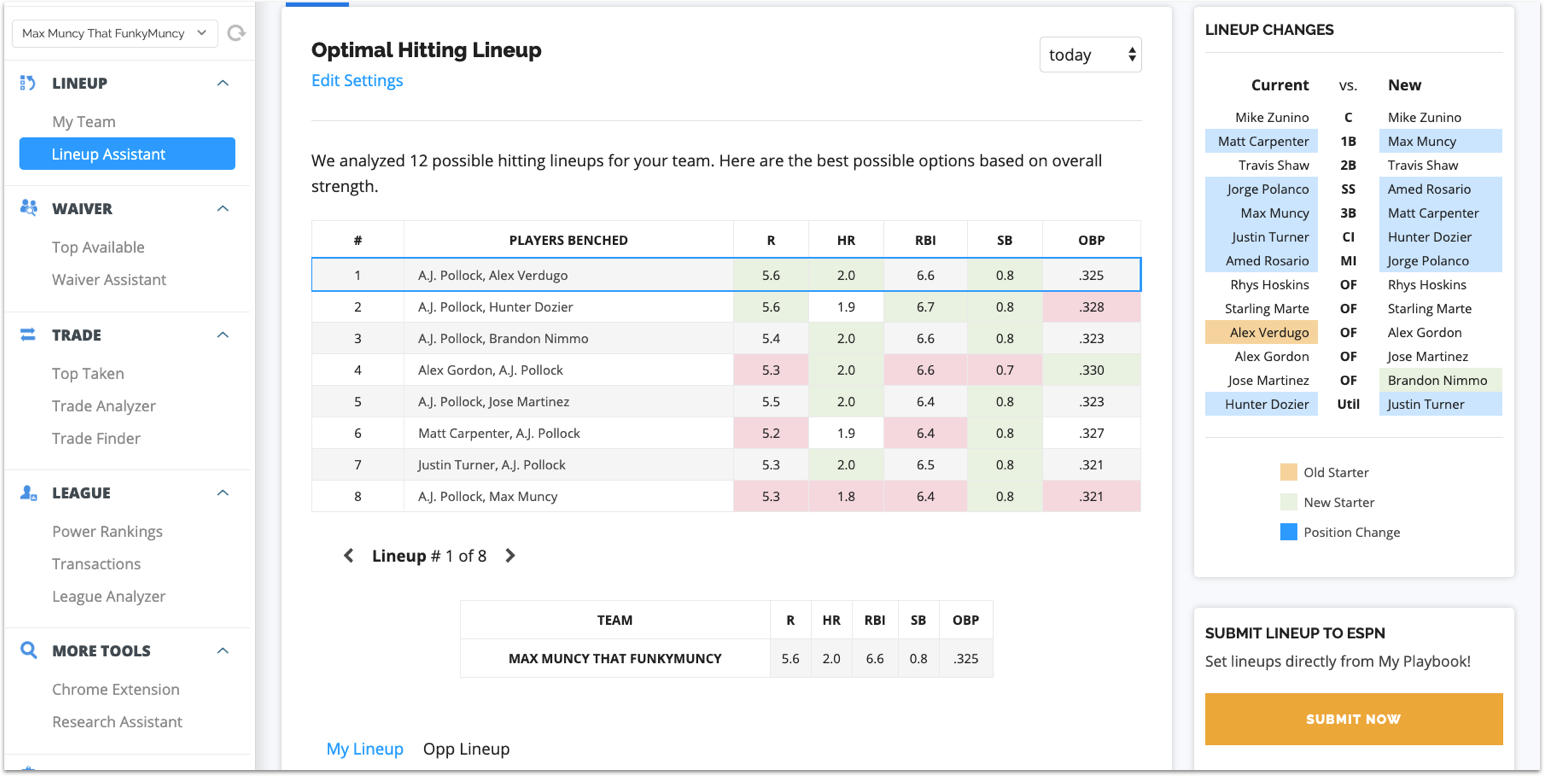 Continuing with our updates for fantasy baseball, we've given some love to one of our most popular My Playbook tools: the Lineup Assistant.
If you're not familiar with the Lineup Assistant, we go through all possible lineup combinations for your hitters and pitchers and give you optimal lineups.
For those of you in leagues with weekly lineups we use our weekly projections to give you the optimal lineup for the week; for daily lineup leagues we use our daily projections. If you're in a head-to-head league we'll also give you the projected outcome of that week's matchup based on your league's scoring categories.
For pitchers, you can see a variety of categories you're projected to win/lose, along with win probability, to help you decide.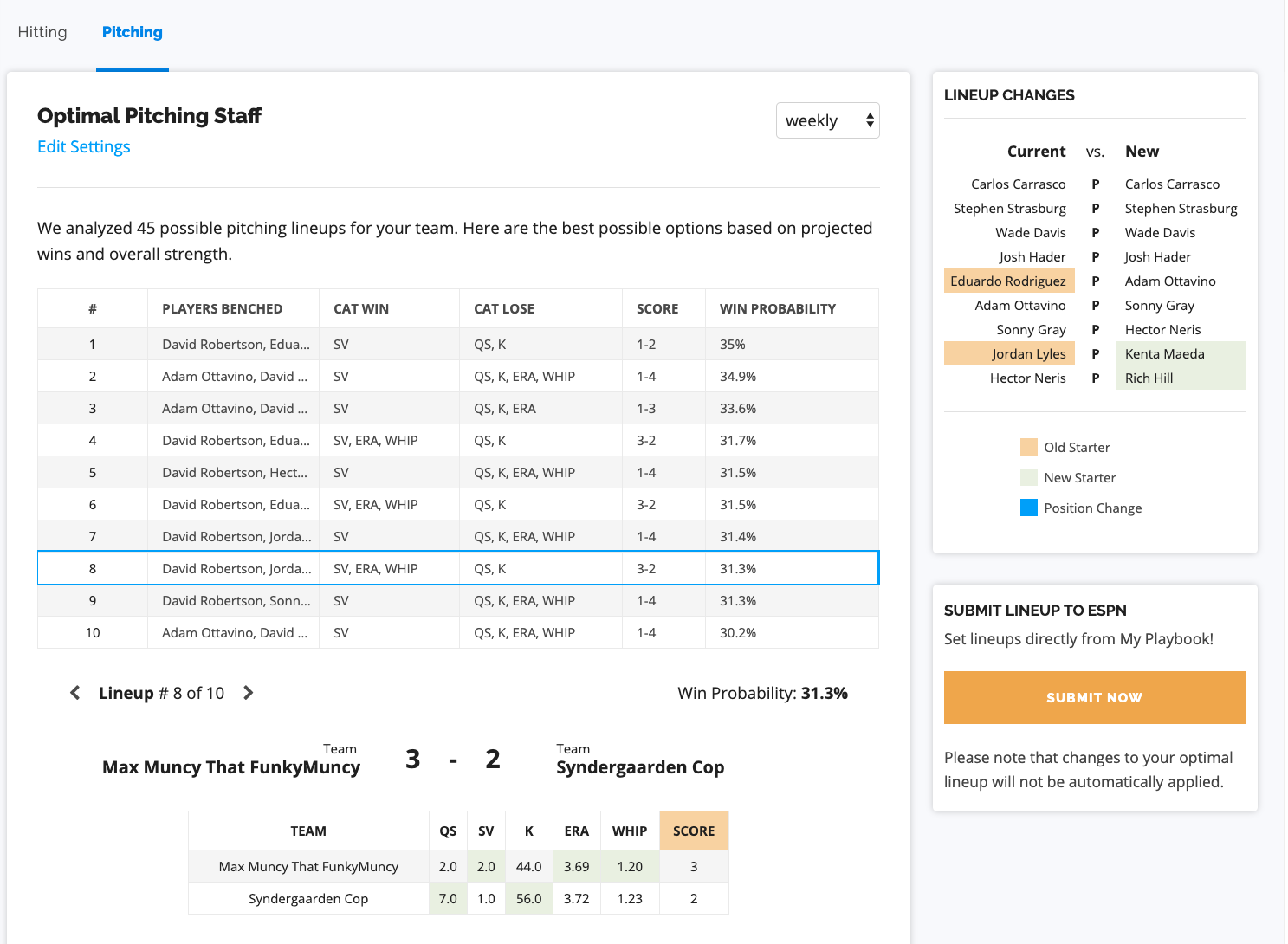 Streamlining Advice
We used to ask you who your must start/must bench players were before giving you advice. That didn't really make sense to us – the whole point is for you to get advice as quickly and easily as possible. So we just skipped that part (don't worry, you can still adjust your must start/bench players)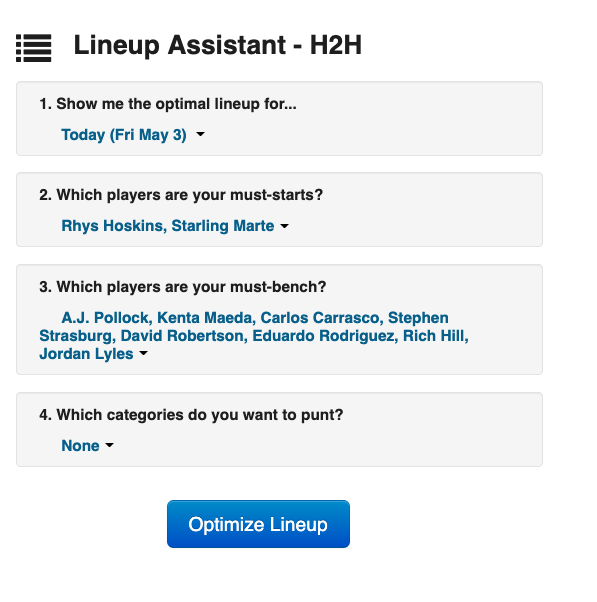 You can now select must start/bench players from a settings view that also allows you to quickly select categories you want to punt (e.g. do not optimize for SVs).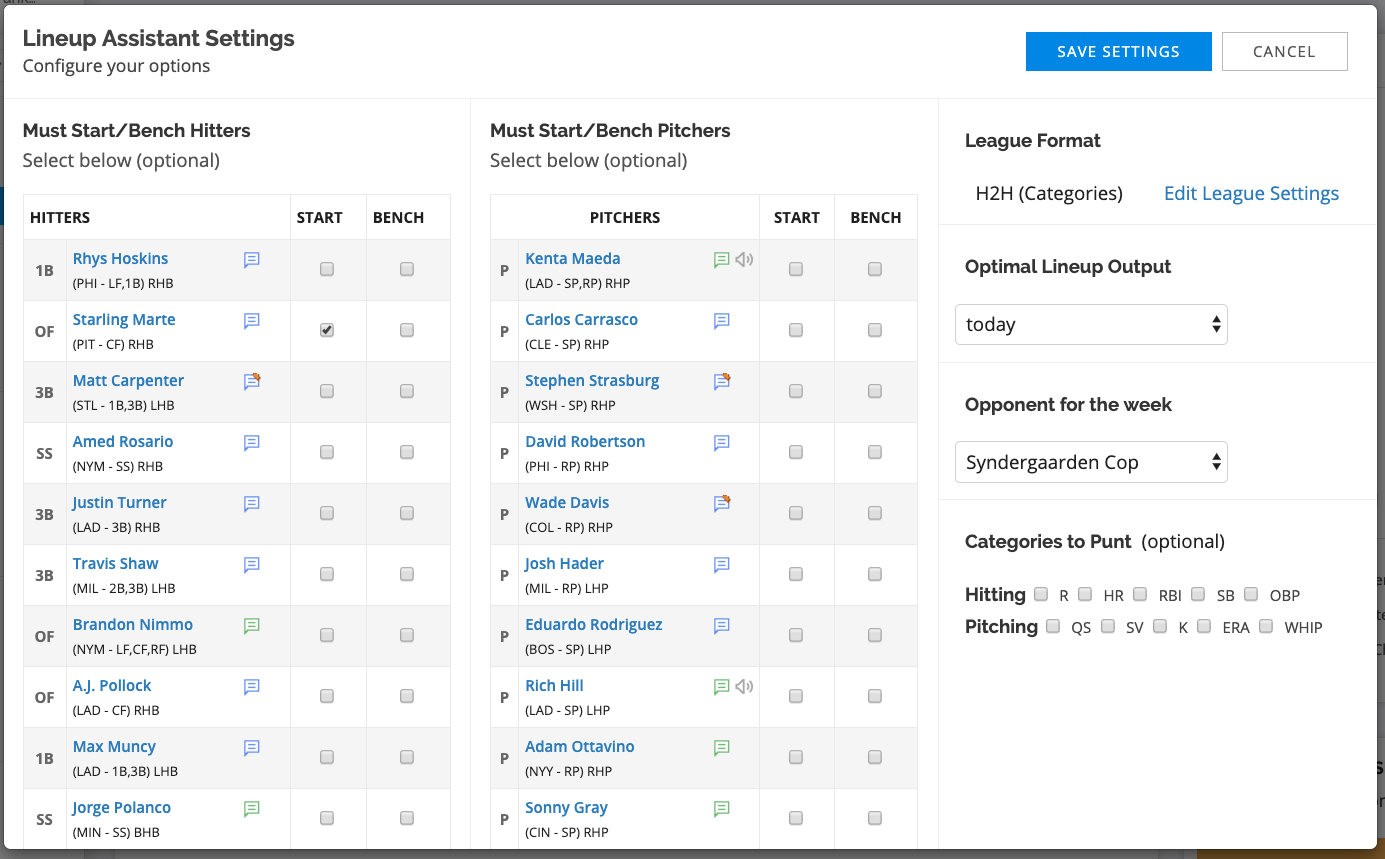 We updated the way the optimized lineups were presented as well, giving you an easier way to see the impact of each lineup combination as well as a quick overview of how your lineup will change.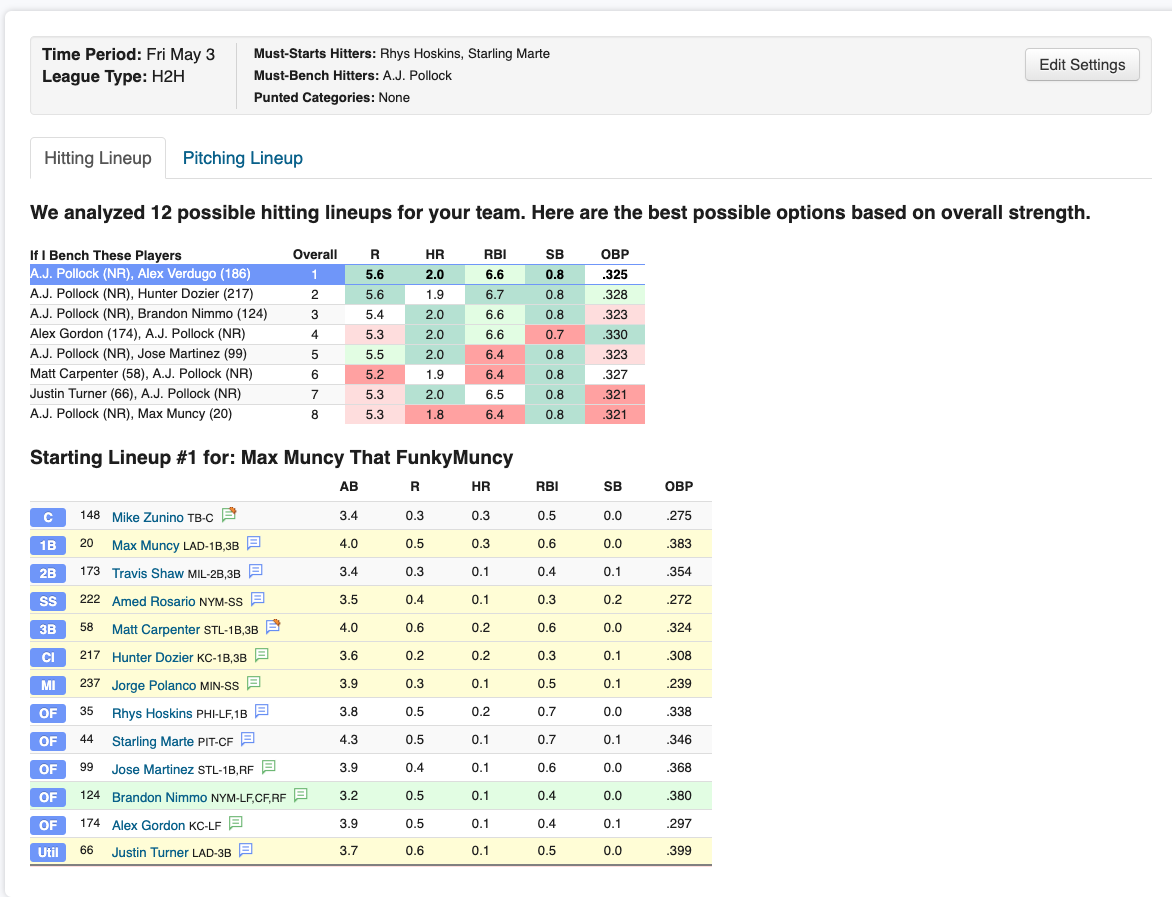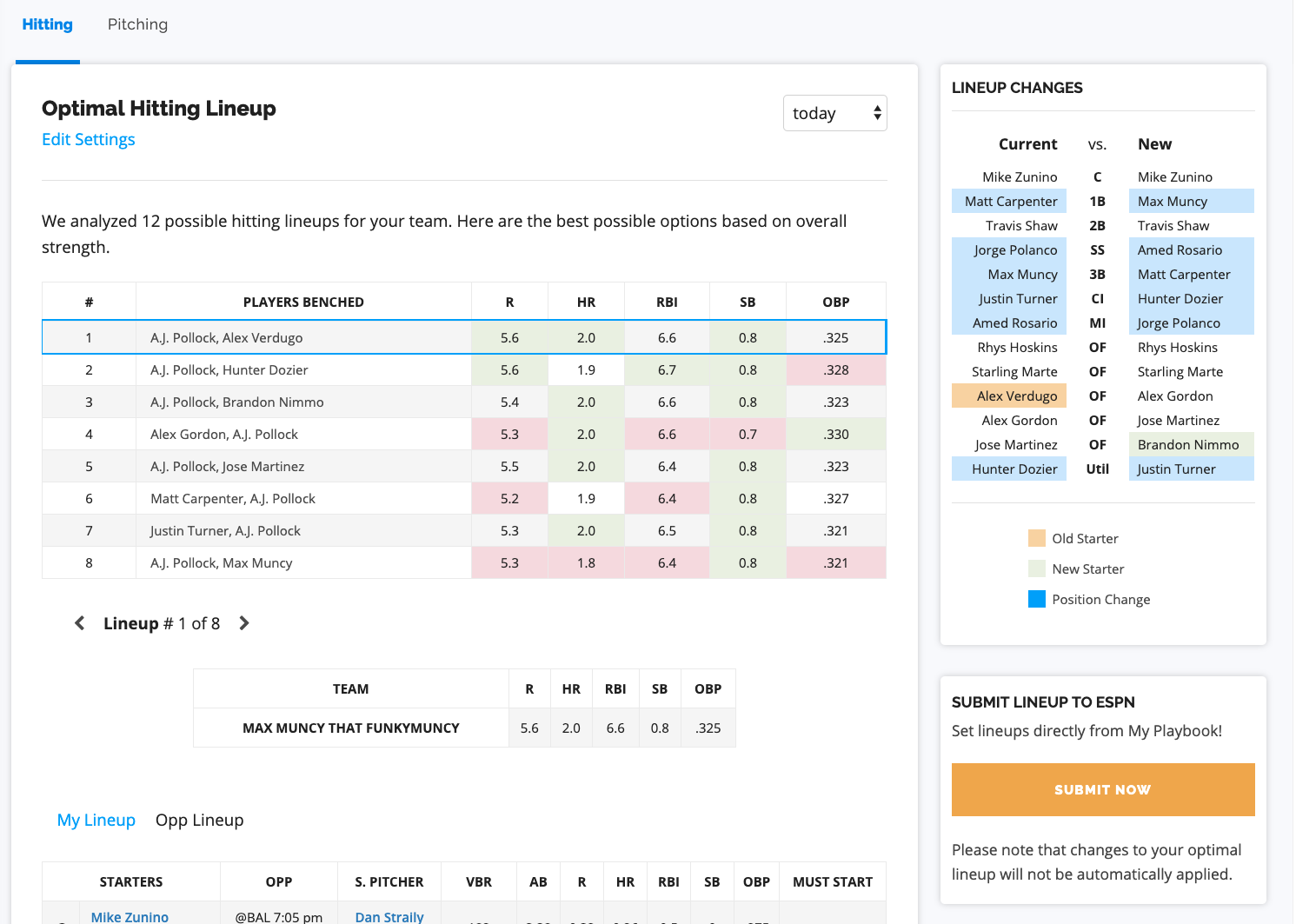 As you can see above, our MVP and HOF premium subscribers can also submit the selected lineup directly to Yahoo or ESPN. This makes life a lot easier since you don't have to flip back and forth between the Lineup Assistant and your league website to make changes.
We hope you like the new update!
Premium users already have access to this new version of the Lineup Assistant. Check it out here.
Haven't tried My Playbook yet for in-season fantasy baseball management? Import your team for free.