[2/24/2020] Major Draft Wizard Update for Fantasy Baseball
A major re-design of our Mock Draft Simulator. With enhancements to suggestions, rankings, cheat sheets, pick predictor, draft board, draft log, and much more.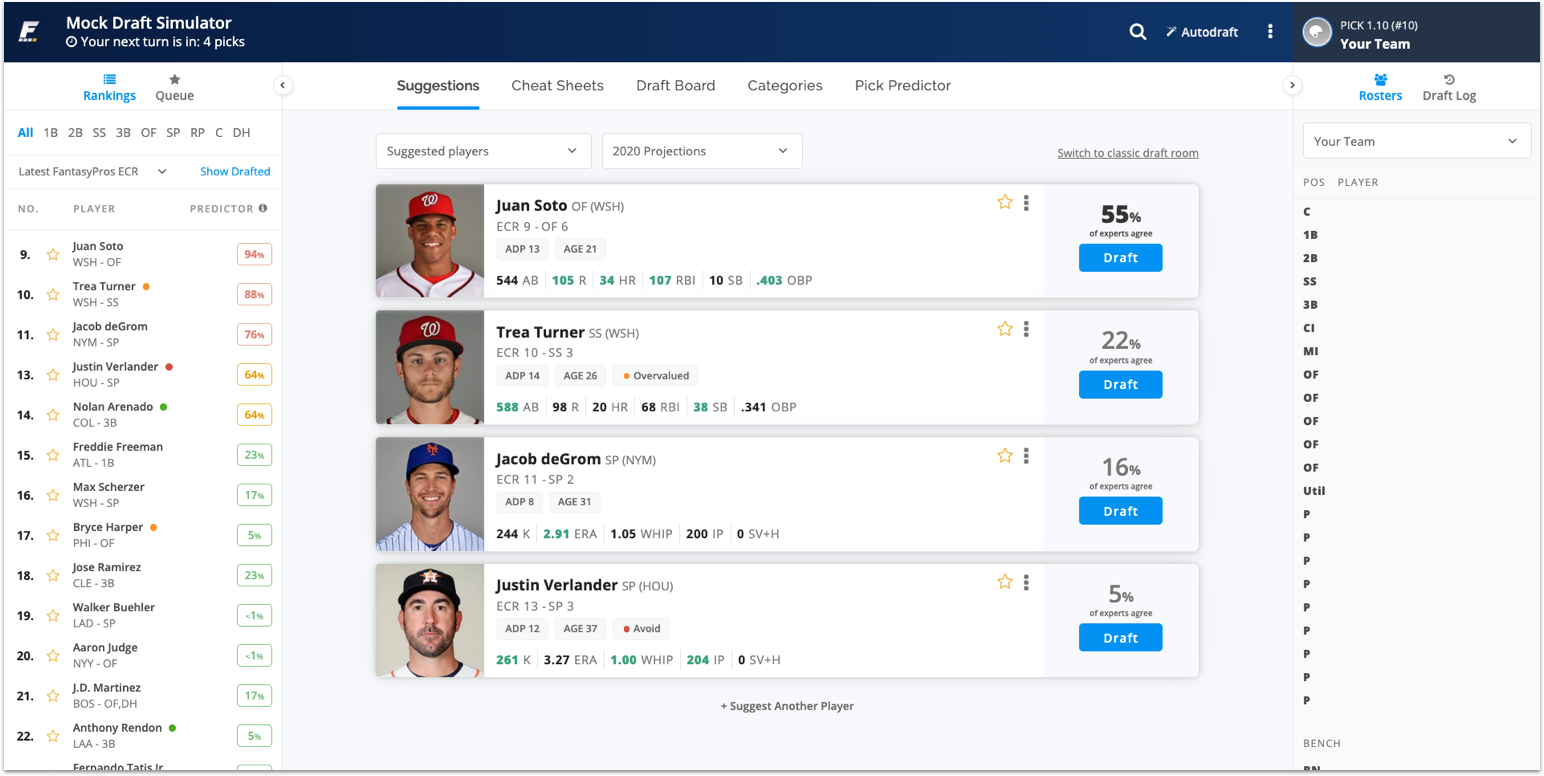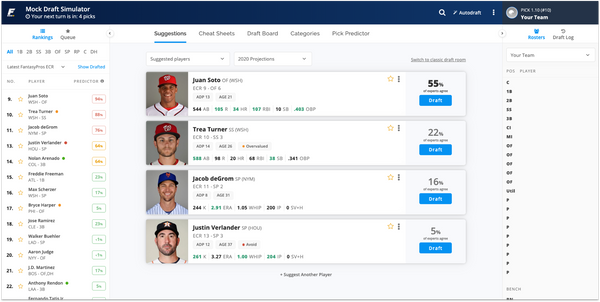 Our team is really pumped to announce a major update to the Draft Wizard MLB Mock Draft Simulator. Currently available for all users, the update is a complete revamp of the Mock Draft Simulator experience.
FantasyPros users run tens of millions of mock draft simulations every season in preparation for their real drafts. Last year, we updated the core simulation experience for our fantasy football users. Now, we're bringing all of those enhancements to fantasy baseball, just in time for Spring Training (and your draft prep).
Completely new and updated for 2020, this update is an overhaul of the entire interface, bringing a clean, updated design along with useful new features such as the Pick Predictor integrated into rankings, the ability to queue players, and so much more.
Another major benefit is it being much more useful for those of you that prefer to use Draft Wizard on your mobile browser (that is, if you prefer that instead of our native Draft Wizard iOS and Android apps for fantasy baseball).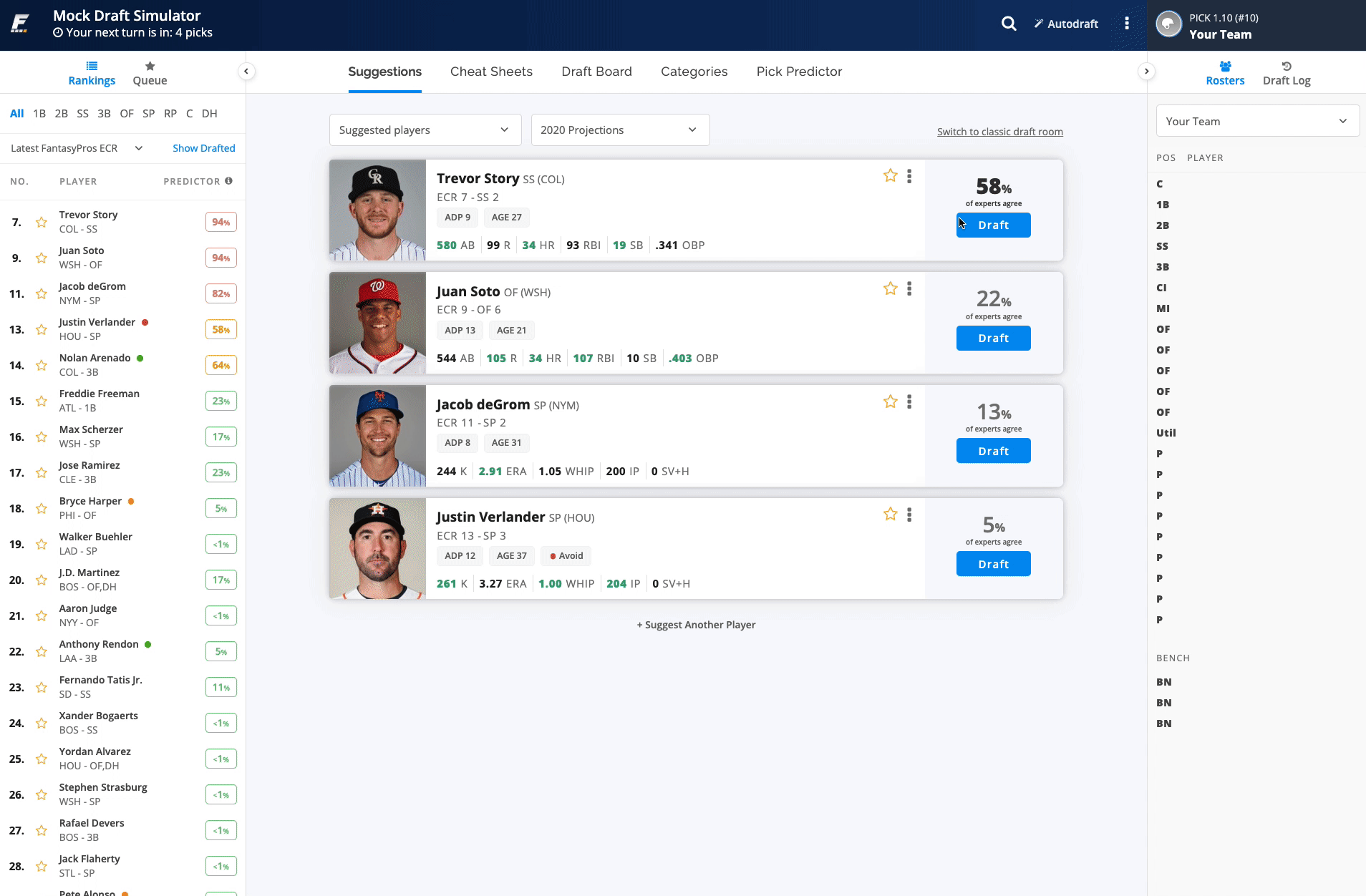 The Draft Wizard expert player suggestion system remain untouched, so you'll still get the best players suggested for you to draft based on available players and who the experts like the most.
As you can see above, the way information is presented to you has been significantly updated. The Player Suggestion Queue remains front and center, but you now have a left pane and a right pane that can be individually hidden based on your personal preference.
The left pane has your rankings with the ability to view by Overall or position, along with new functionality to add players to your draft queue. The right pane has the roster view and draft log, where you can quickly see who's been picked and what your roster (or other rosters) looks like.
To access this update Mock Draft Simulator experience, you'll first need to be a Premium member. Then, go to the mock draft settings screen, and start a new mock draft simulation. You'll be presented with an invitation to try out the new draft room.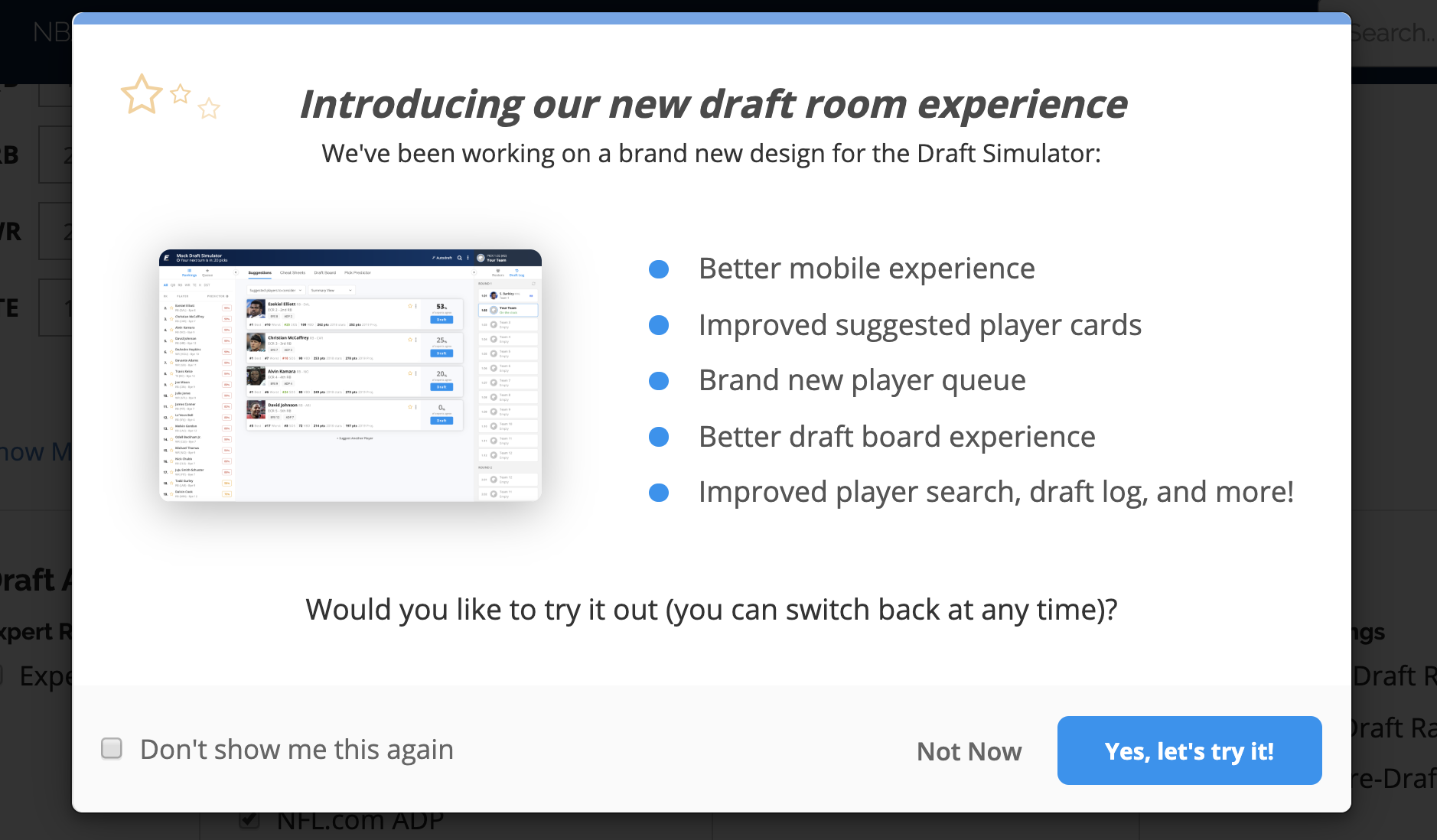 Player Suggestion Queue: Same Best Friend in a New Suit (and Fresh Shave)
The updated Player Suggestion Queue is an enhanced version of what everyone already knows and loves. You get expert recommendations based on available players, with the Expert % for each player displayed on the player cards.
You can view by suggested player, overall best by position, view stats, projections, value-based drafting data, and more.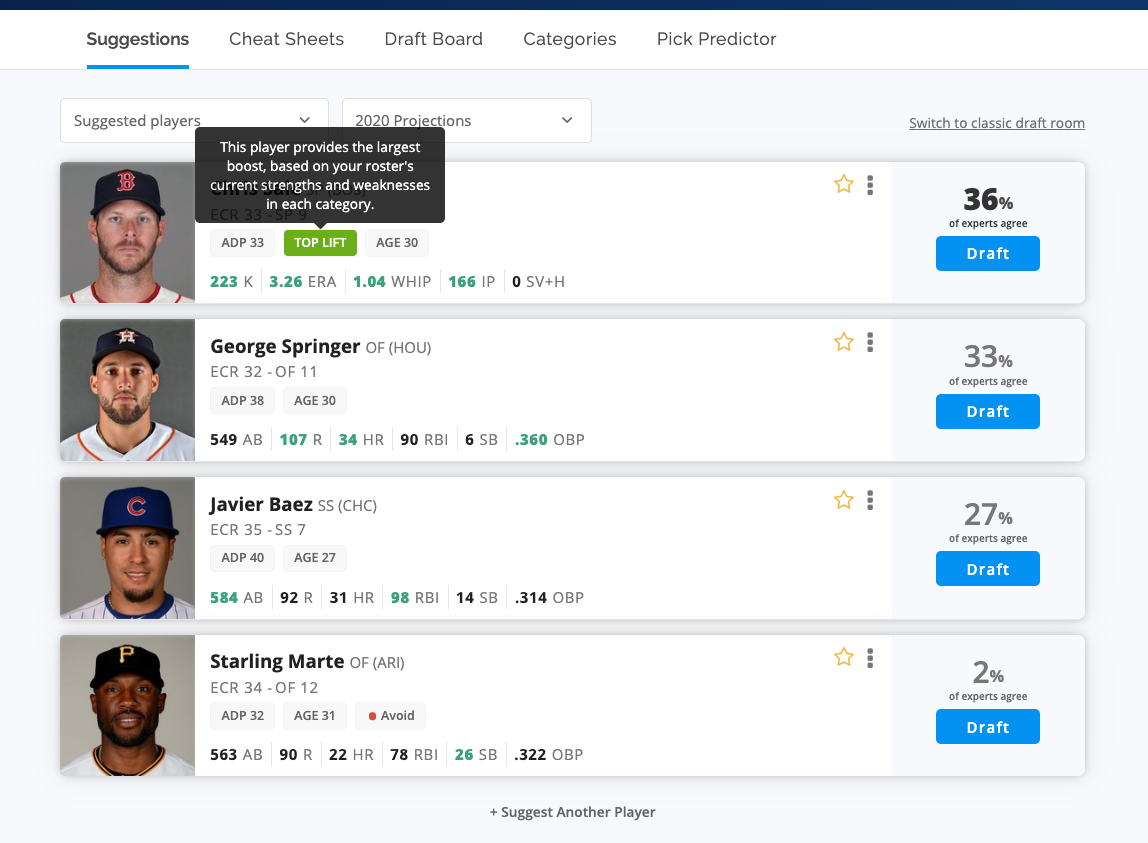 Additionally, the new Player Suggestion player cards integrate one of our newest features: custom cheat sheet tags.
Custom cheat sheet tags now display in the player cards, and the color-coded dots appear everywhere else, including the rankings pane and Cheat Sheets tab.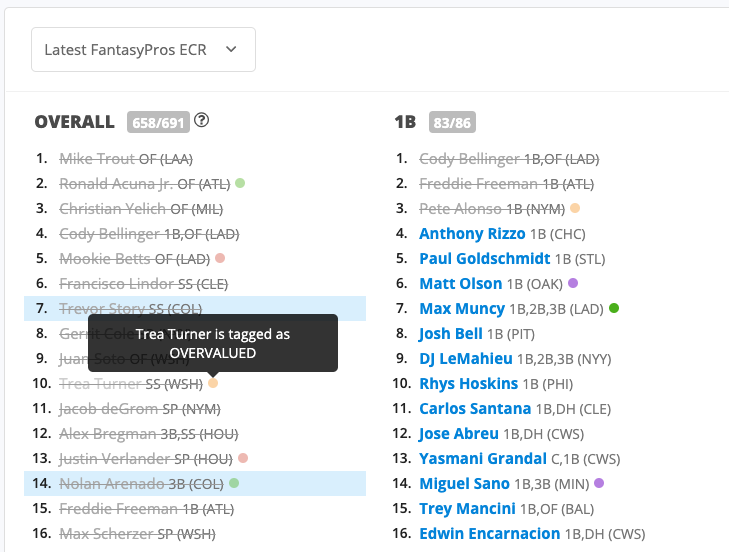 Updated Player Rankings, Queue, and Cheat Sheets Views
Your cheat sheet's player rankings are displayed in the left pane for quick access, along with the newly integrated Pick Predictor %s (which is also available in its own dedicated view). You then have access to the classic main views: Suggestions, Cheat Sheets, Draft Board, Categories, and Pick Predictor.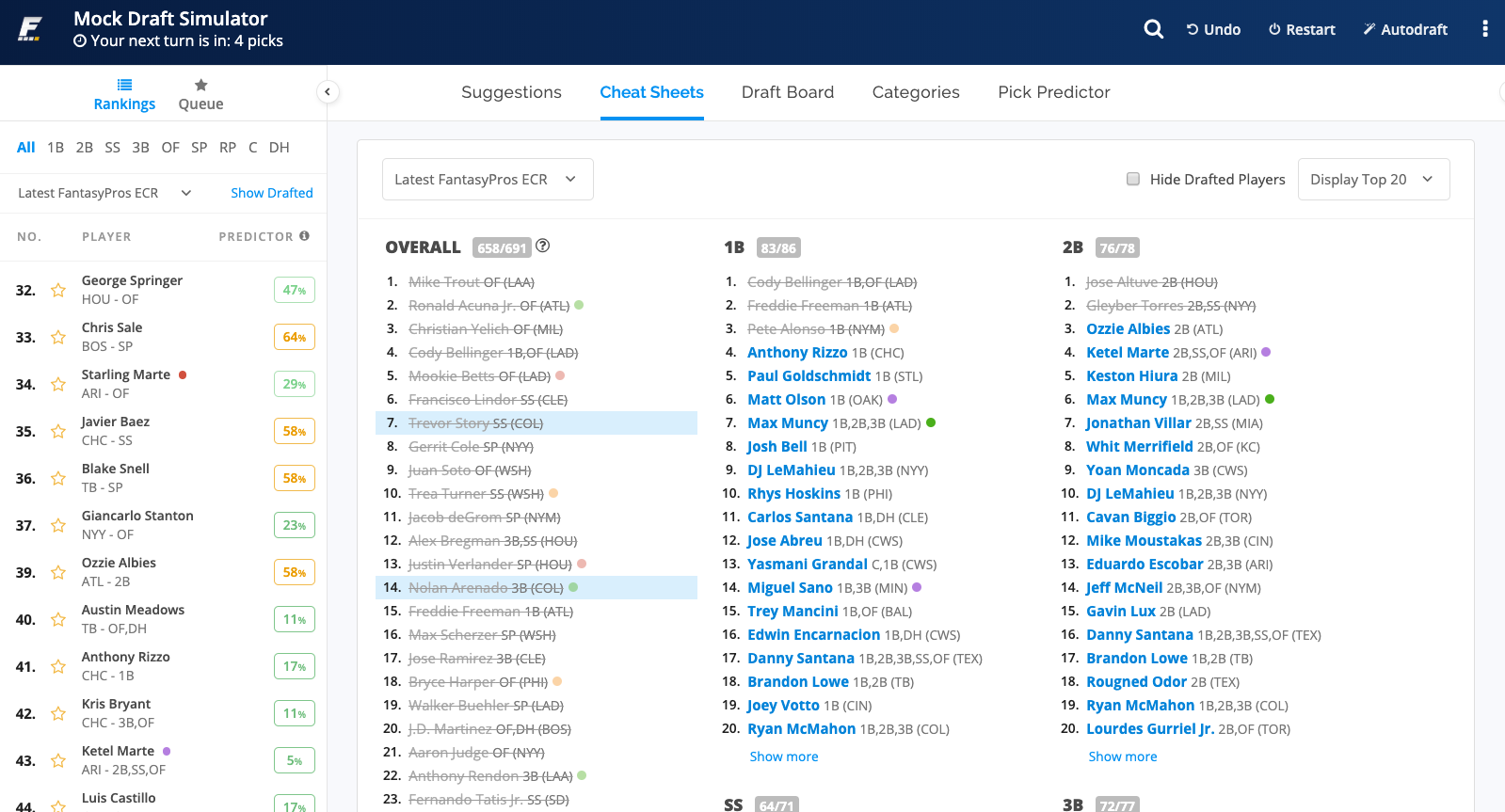 The player queue was a frequently requested feature from you, our fantasy enthusiast. You can add a player to your queue (just like in a real draft room) by clicking the star next to the player name either in the rankings pane, the Player Suggestion view, or the Cheat Sheets view.
It's an easy way to highlight players you want to target. You can then switch to the Queue and drag and drop players based on preference or remove them from favor by un-starring them.
Pick Predictor: Draft Now or Later?
The Draft Wizard Pick Predictor is the closest thing you can have to a crystal ball on your draft day. While it can't totally predict your buddy who will draft all the players from his favorite club regardless of what round it is, it's the next best thing.
Available both in the tab view and as part of the rankings pane, it shows you who you can expect to be drafted by your next pick, helping you calculate the odds of your targeted reliever being available so you can grab another bat.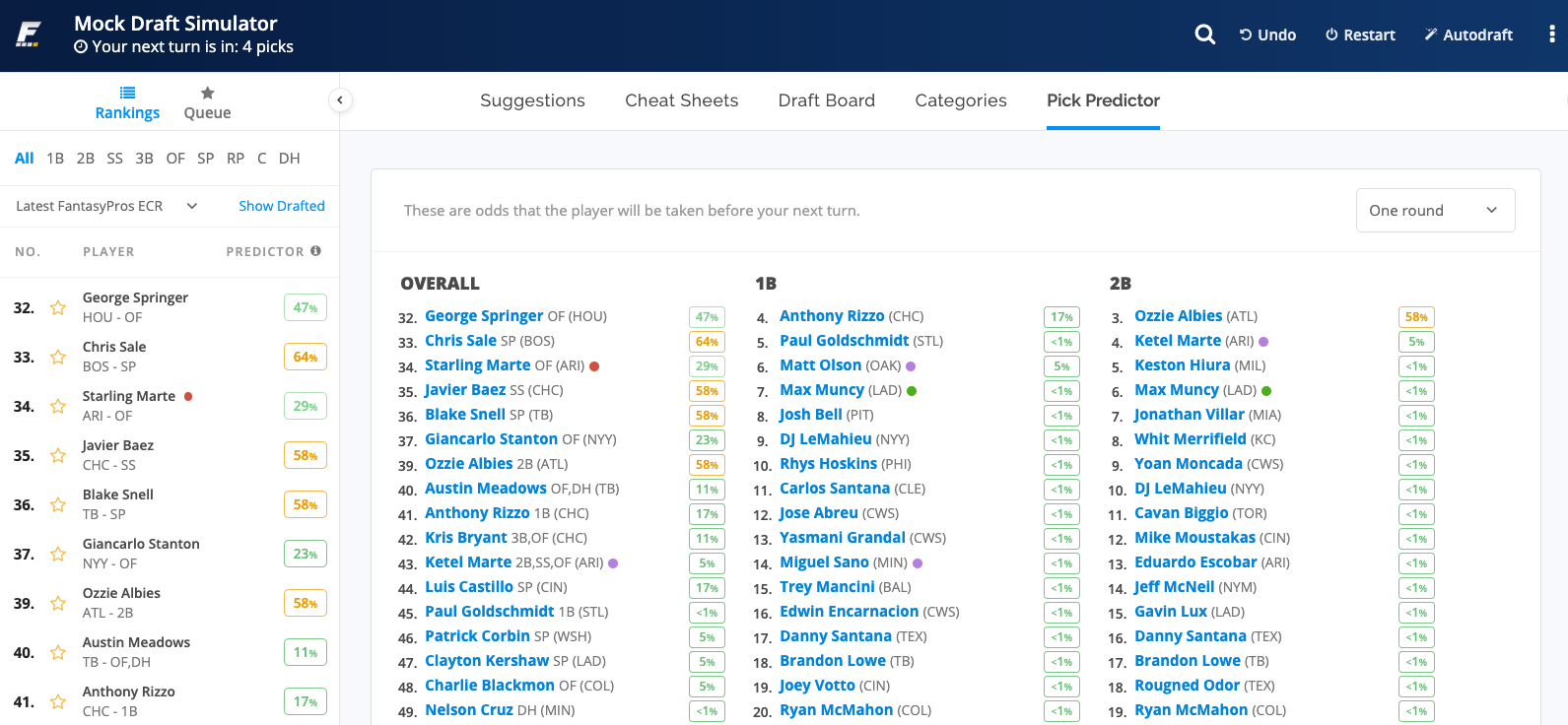 Draft Board: Bigger & Bolder
We made the draft board a lot more legible with bolder fonts and colors. It's a great way to quickly see the progression of your draft and identify where your league's roster needs are at.
You can switch between views By Round or By Roster, with the former being your traditional draft board.
The other great thing is you can hide the left and right panes away to get a large single draft board for your in-person drafts. More on that in another post.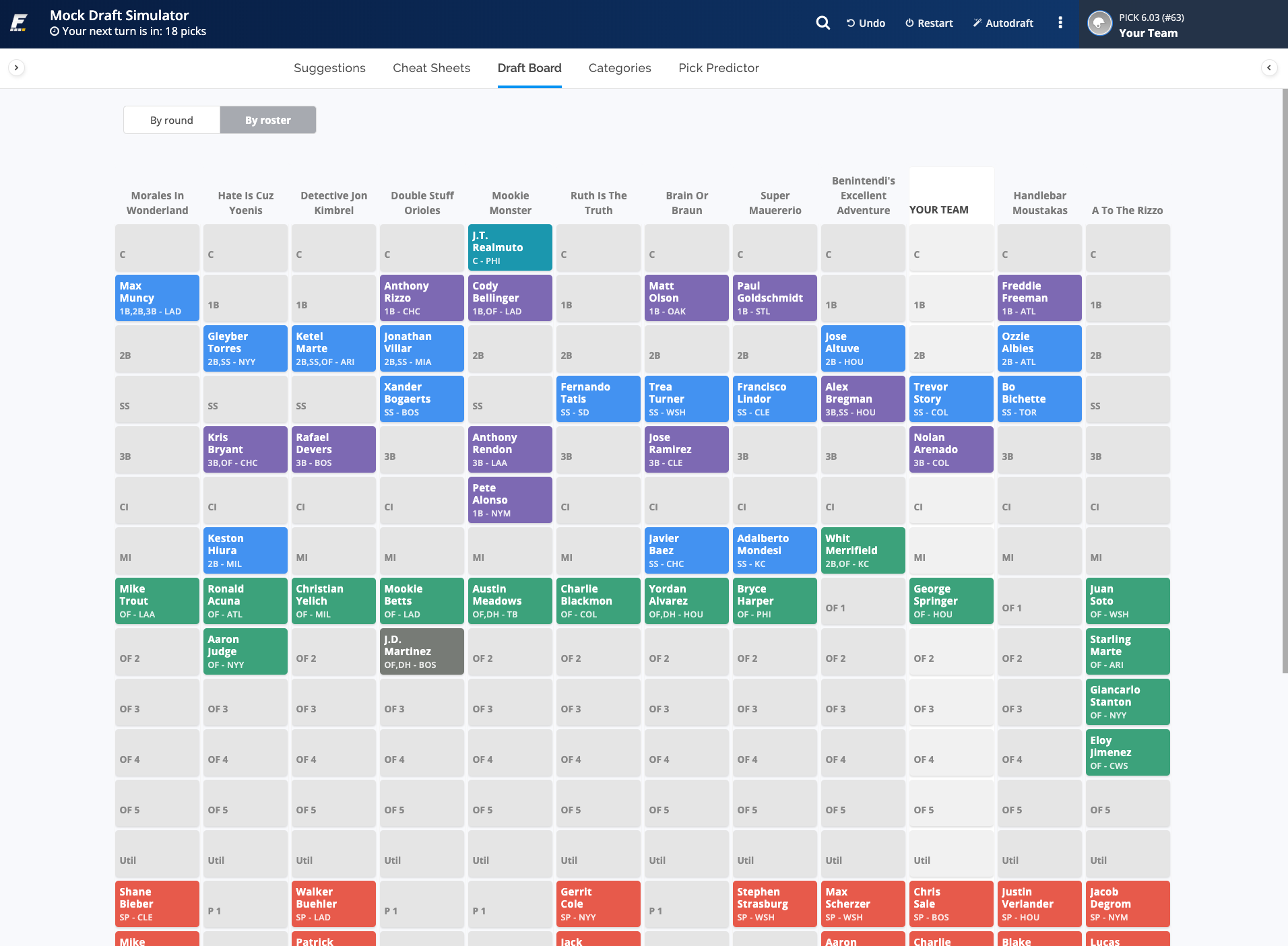 Autodraft and Undoing Picks: Speed Things Up, Slow Things Down
We wouldn't think of touching these two favorite features. With Autodraft you can pick the first X rounds, then let Draft Wizard simulate the rest of the picks for you to see where you net out. It allows you to quickly wrap up a draft to test out a variety of draft strategies and analyze your results in the Post-Draft Analyzer.
You can also Undo a pick in the event another team picks the SP that you wanted. It's possible for you to now snag that SP, but what's the trade off? A great way to play out multiple scenarios.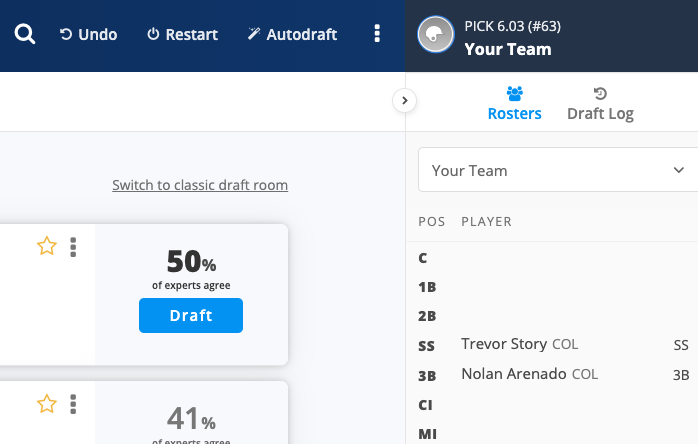 Mock Drafts on Your Mobile Browser: Niiiice.
Another significant focus of this update was to improve the experience for those of you that prefer to draft on your mobile device's web browser. Our native mobile apps are still available, but some users prefer to the web experience due to a feature set that they're familiar with.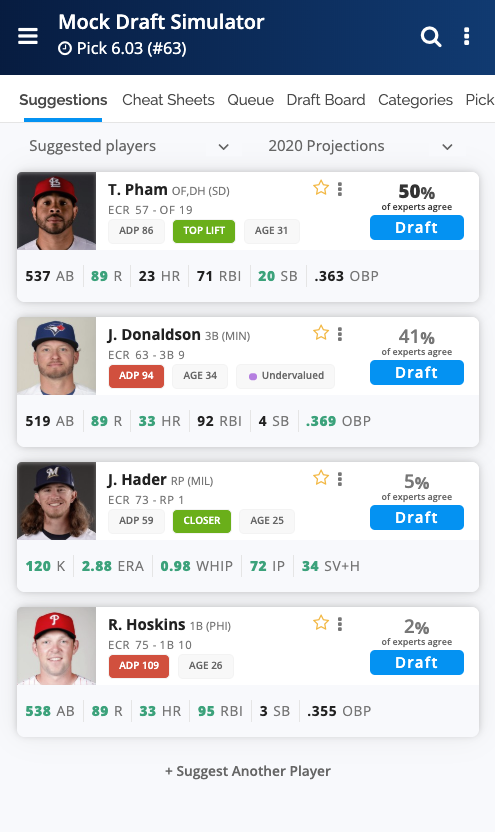 A Major Update for the Major Leagues
The entire team has been working hard on this update, starting with what we learned last year with the fantasy football update and getting that implemented for fantasy baseball.
We hope you'll really enjoy these improvements. If you prefer the classic draft room you can always go back and stick with what you know. However, we really do hope you give the new experience a thorough shot.
The new draft simulator experience is currently now, for everyone.
Please send us your feedback: what do you like? What don't you like?