BettingPros App Update: Win More Bets with Updated Analysis and Advanced Bet Metrics
Our BettingPros apps are here with a major update! Full prop bet breakdown, complete personalized analysis on all of your sports bets, advanced bet metrics, and more!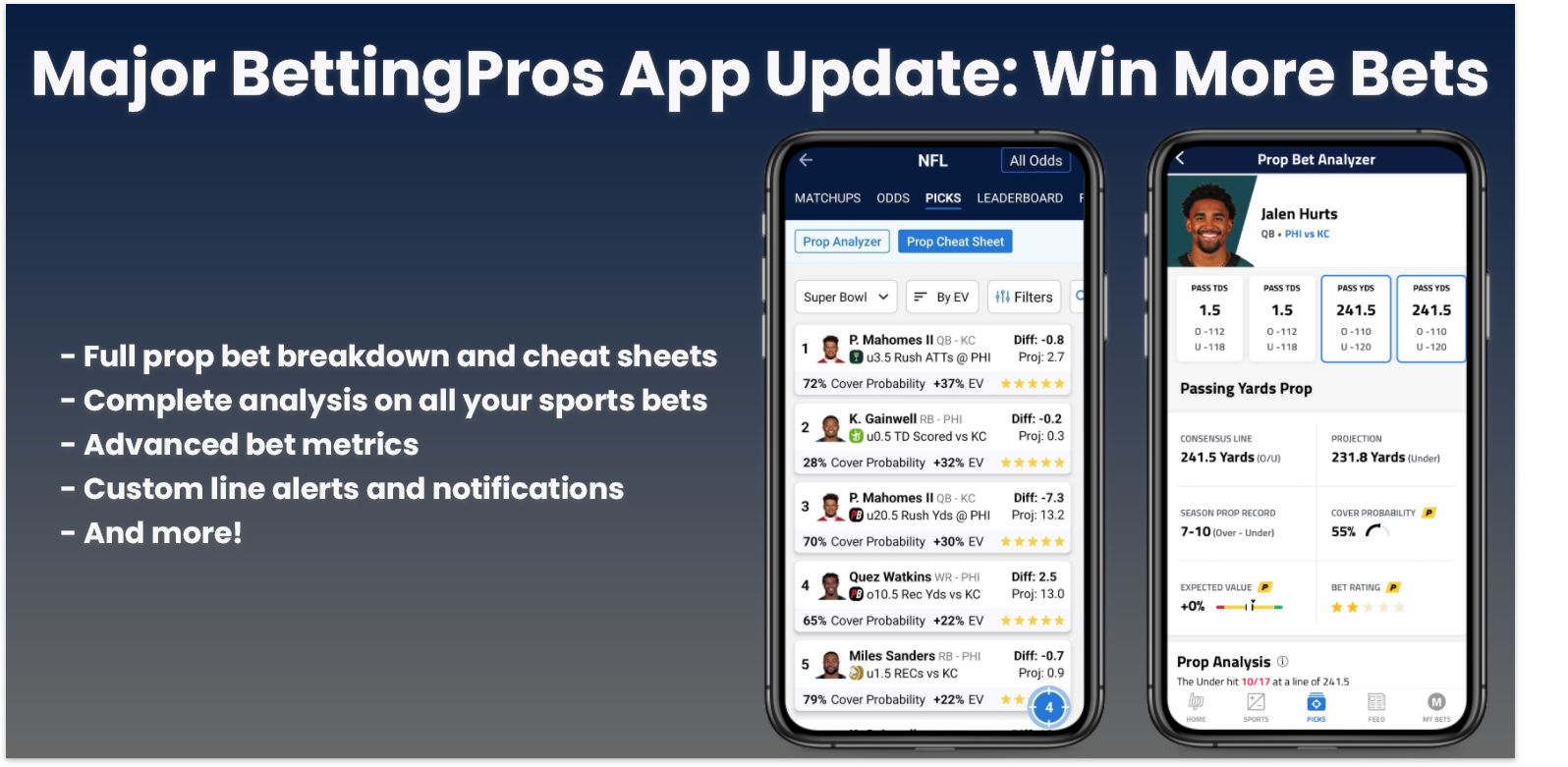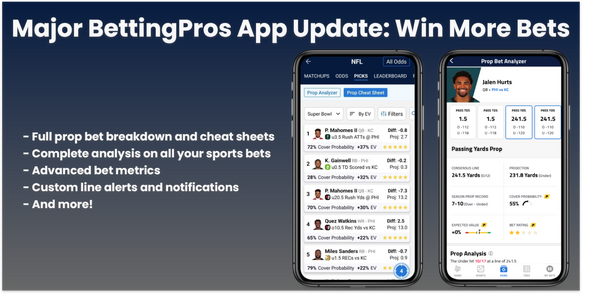 In the growing world of sports betting, staying informed and ahead of the sportsbooks is essential. That's why we're thrilled to announce our latest BettingPros app update, packed with ways to help you win big.
Note: The P icon indicates features that require a BettingPros premium subscription. Learn more here.
Profiles & Bet Dashboards
BettingPros Profiles and Dashboards have arrived on our mobile apps! From the BettingPros Dashboard, you can get complete details on your overall betting performance. See complete betting history including your bets placed and those placed by other sports bettors.
See all active and past bets in one space, with the ability to filter and sort to isolate markets. Bet performance can be broken out by sport, bet type, and more. Use this to isolate winning bets and capitalize on best splits.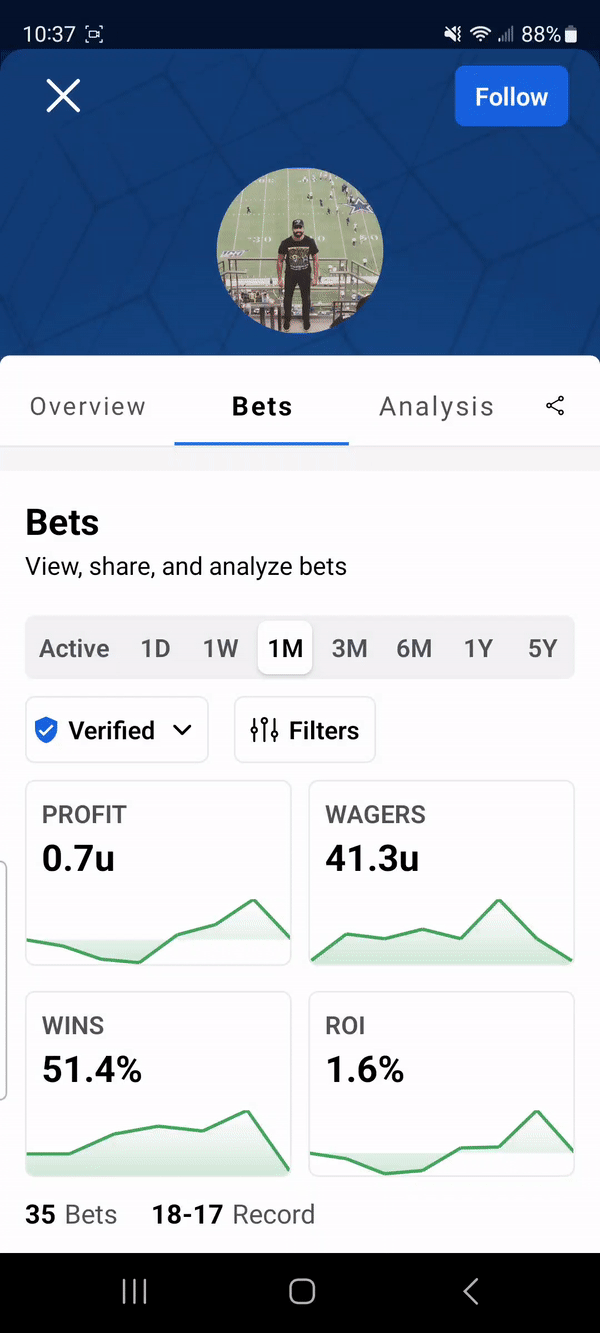 Get personalized bet recommendations based on your bet history, or for a more personal touch, navigate and follow other users to see their bet performance. You can even tail or fade them directly from their Dashboard.
Advanced Bet Metrics
Advanced bet metrics give you the edge you need to make informed decisions and maximize your profit potential.
Advanced Bet Metrics P give you the edge you need to make informed decisions and maximize your profit potential.
See top-rated bets based on profitability metrics including Cover Probability (the likelihood that a bet will cover) and Expected Value (the average ROI a better will achieve for any given bet).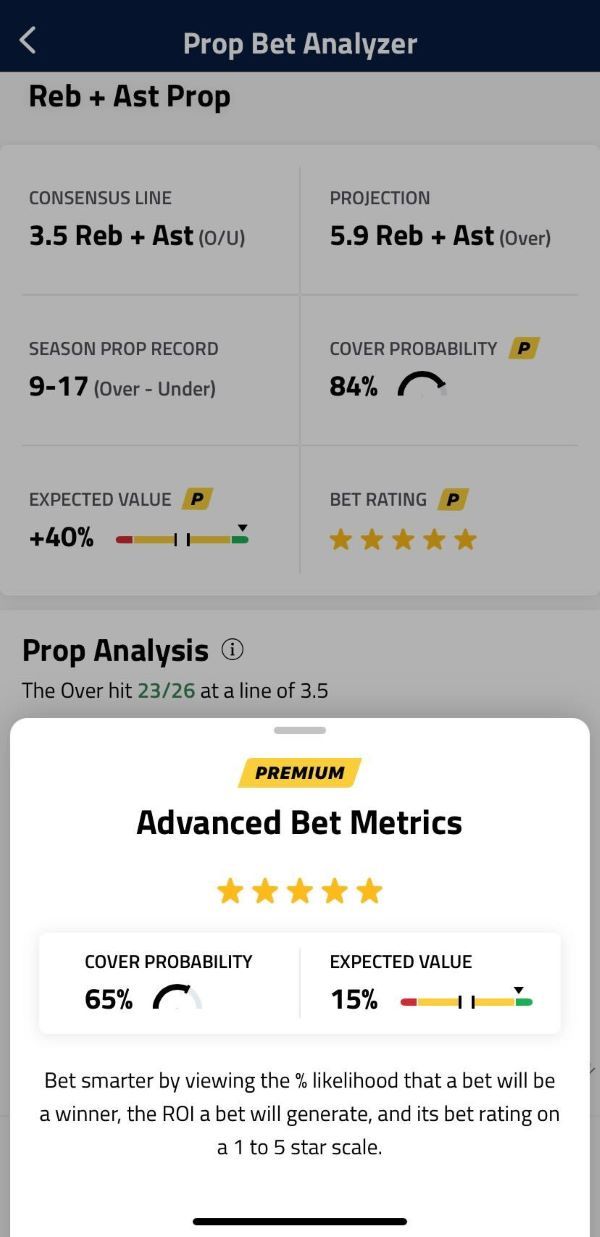 Use advanced metrics to gain an edge across the BettingPros app, including in the Prop Bet Analyzer and Prop Bet Cheat Sheets, and find the strongest bets to place.
Updated Prop Bet Cheat Sheet
The updated Prop Bet Cheat Sheet is the ultimate resource to isolate strong prop bets. Get a snapshot of the top recommended player props alongside projected stat lines.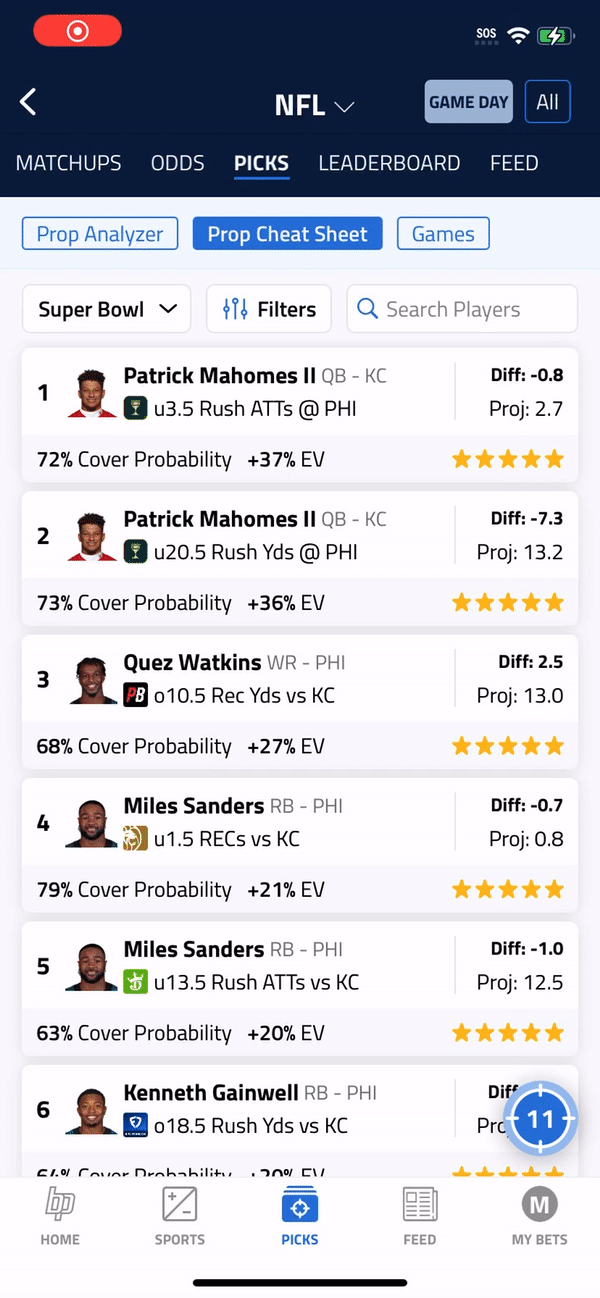 With BettingPros Premium, you'll also see Cover Probability and Expected Value; analyzed across every sportsbook and market.
And, for a detailed look into a specific prop bet, check out the Prop Bet Analyzer.
Prop Bet Analyzer
With the Prop Bet Analyzer, get in-depth analysis, projections, and data for each prop bet. The Prop Bet Analyzer tracks everything in one place to empower you to capitalize on your winning potential.
See the prop consensus line compared to past results in an easy-to-digest visualization with the Prop Analysis tool.

Compare historical data and similar player performance with the upcoming lines to make informed decisions on your prop bets.
Custom Line Alerts
In case you missed it: Custom Line Alerts are here to help you track movement across all matchups. Target specific matchups and track line movement with ease by setting an alert within the BettingPros app.
Feel confident and comfortable with the wagers you place by ensuring you have the best odds possible.

Custom Line Alerts is available on the iOS BettingPros app and will be coming soon to Android.
Get the BettingPros app update today, free!
The BettingPros mobile app updates are packed with brand-new features to help you win big, and we're always adding more to help you stay ahead of the books.
And, to win even more bets on the web and on the go, be sure to check out BettingPros Premium.